Jared Bolton
Time
Thursday, March 14, 2019 | 3:05 PM
AMSOIL is proud to be the title sponsor of the GNCC Racing series for the past 7 years. New for 2019, AMSOIL is partnering with the series to bring a GNCC AMSOIL Moto Hero to each and every round. Racers, Fans, and Industry Personnel are welcome to nominate themselves or someone they know who are currently serving in the military, retired from the military, are a first responder or former first responder for this prestigious honor.
Welcome to Quick Fill.
It's time to go racing once again! There's been an insane amount of rumors going around this week and they are all untrue and pretty ridiculous. To clear things up, we ARE racing this weekend, we ARE racing at The General and the track is NOT under water. In fact, it's dry enough right now that when I've stopped to put up arrows my dust catches up to me, so a little bit of rain would actually help the track out a bit. They're calling for scattered showers tomorrow (Friday) and if you're not sure what that means, "scattered" means there will be small on and off showers throughout the day, which would be nice to help keep the dust down!
We'll have the low-down on the racetrack coming up a little bit later in this week's edition of Quick Fill. Ken Hill is back this week with some good ATV info to share, so I'll discuss a few items on the bike side a little later as well. I do have one note on this weekend I want to share here and that is a reminder that NOBODY is allowed on the motocross track while the race is going on. There's no ifs, ands, or buts to this rule. Stay OFF the motocross track while racing is going on! Just wanted to give that quick reminder as we head into the weekend.
Another reminder is that the folks at Aonia Pass Motocross have put a lot of work into their facility and are actually now a registered campground. As you know, when we visit other campgrounds (such as Steele Creek) there are additional camping fees that apply. It's nothing crazy as the folks from Aonia Pass are only charging $15 per night for primitive camping, or you can call (762) 994-6721 to reserve a full hookup spot for the weekend for just $130. Check out the event page for more info.
Well, there's still a lot of work that needs to be done, so we'll end the intro here. Good luck this weekend and we'll see you at the track!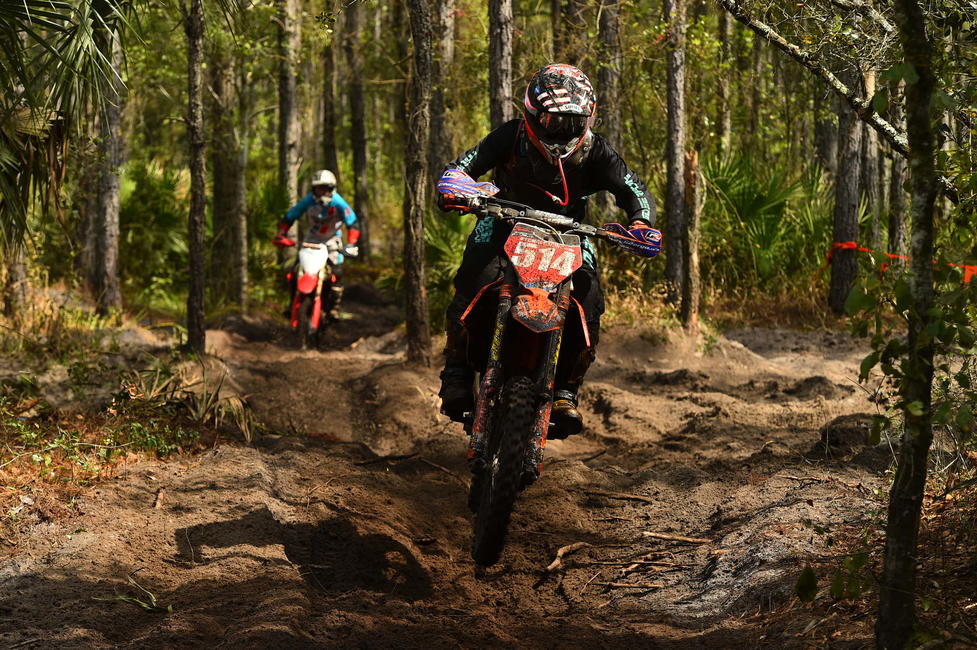 Yes, Stu Baylor IS One to Watch! (Jared Bolton)
Alright, so if you read the article I wrote for our friends at Racer X prior to the Wild Boar, then you'll know that I left Stu Baylor off the list of key storylines leading up to the opening round. Well, Stu noticed and after he won the race, he's been giving me a little bit of a hard time on the matter. It's all good and there's no hard feelings, so to make good on leaving him out, I just want everyone to know that Stu most definitely IS someone to keep an eye on! He wasn't intentionally left out of that article, it's just the fact that there were SO many storylines to discuss that you simply can't fit them all into a list of just five items. I think it goes without saying that you can never truly count Stu out, because he always seems to be able to dig deep and challenge those guys up front when it counts.
This weekend the series heads into round two, and Stu will enter as the points leader. This means that all eyes will be on Baylor as he will be looking to show people that his round one win was not just a "good day" but instead it's a good indication of what he's capable of this season. For quite some time now, all eyes have been on Kailub Russell and Thad Duvall as the clear favorites to contend for the race win. However, even if some people leave him off of a list written on the Internet, Stu Baylor still has the speed and talent to beat those guys straight up. What's even more interesting is we now move out of the Florida sand and into the Georgia clay.
Stu hails from just a little bit north of The General, which means the red clay we're racing on here is pretty similar to what he rides at home. This could help add another factor to Stu's performance this weekend. At the same time, both Kailub and Thad will be hungry to push to the front of the pack and challenge for the win. Both of these riders are also comfortable in the clay, so we could be in for a serious race this weekend. Don't miss it because it's going to be exciting to watch it all unfold!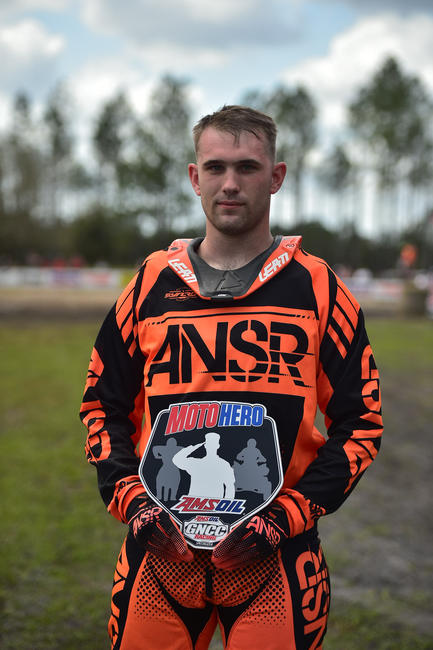 AMSOIL Moto Hero
The newest addition to the 2019 AMSOIL GNCC series will be the AMSOIL Moto Hero Program. This program will award one to two people per round who are currently serving in the military, retired from the military, are a first responder or former first responder. Racers, fans and industry personnel are encouraged to nominate themselves or a family member by filling out the form online HERE.
Our first nominee was Zachary Rohr. Zachary is 21 years old and currently an active duty Marine from Little Hocking, Ohio. However, he is stationed in North Carolina. Zachary placed 2nd in the 4-Stroke C Lites class points standings last season, and has made the move to the 250 B class. AMSOIL and GNCC Racing are proud to honor our military and first responders Racing Nation members.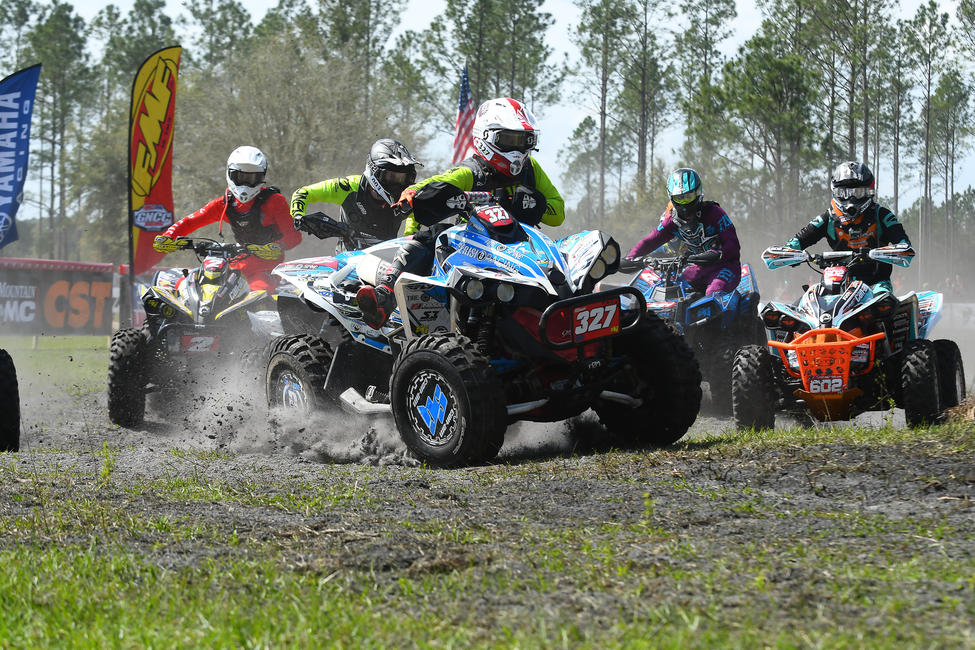 Catching Up With Ken (Ken Hill)
After being on the road for a few weeks now, I am back! I had every intention of sending in a contribution to Quick Fill but I ended up being swamped and went missing in action, but that is how life rolls sometimes. It was a blast getting to shoot some of the series biggest stars before the Wild Boar and the weather sure was nice for most of the trip so far. The rumor mill started early about The General being cancelled or postponed yet here I am in Thomson, Georgia ready to get this round underway!
Last weekend's Wild Boar showed us the shape of things to come, especially in the WXC classes. Katelyn Osburn was on a mission and rolled to her first win of the season followed by a very hard charging Megan Shepherd and Alicia McCormick who graced the podium with an abundance of smiles and much satisfaction in the day's results. Osburn proved last year she could run up front, however the big surprise was Megan Shepherds rally to a solid second! At the podium she commented to me that she might have turned a corner and has started figuring out this GNCC stuff and her results proved just that. Its a long season but I have a feeling we have just begun to see the first chapter in her XC career and it should be great to watch her climb the ladder especially if she brings the tenacity she was known for claiming several ATV Motocross championships! McCormick debuted her new Yamaha as she toughed it out for the final podium finish. That is one tough lady and I have no doubt the return of having several riders capable of finding the podium will really be exciting.
The 4x4 Pro class picked up where most of us felt it would as Landon Wolfe ripped to his first win of the 2019 season. Dwight Pollard hounded Wolfe throughout the race and claimed second and Robert Smith was back in the mix as he rounded out the podium in third. This class should be watched closely as rounds start being run simply because if they want any chance of pulling Wolfe out of the center of the box they are going to have to do it quickly so he doesn't build up a cushion. In any event, 4x4 Pro should be very intense at every round!
Now a big change that was ironed out after the finish of the 2018 season was the addition of the micro classes to Saturdays line up and it all seemed to go pretty smooth. It sure makes for a long day but the fun side of this sport can really be found amongst these young superstars! If you get a chance, get out there and give them some encouragement and help keep an eye on them!
Overall, the Wild Boar was a success as everyone headed to the beaches it appears to enjoy a few days of relaxing and healing. No predictions from me for round two in the XC1 Pro class, as this round can really be anyone's to win. It is not known for being super tight or technical so it may come down to who has the conditioning to run it wide open for two hours! It is a long way to Ironman and so much can happen that one round just doesn't tell the story so it will be another epic season that is just getting fired up.
That's all from me this week; its a down day and I have to clean gear, do laundry and get my truck in order before destroying my fine packing jobs yet again. I was also stoked to see the series included a link to my galleries on each "Photo Report" page so be sure to check them out! Now keep in mind I do not have time to edit or delete anything so hit me up if you need a print size file or want something tweaked. I am also in the market for an assistant to control the weather and sun so if you have those skills find me! Up and down light will have me in a grouchy mood! As always, be safe in your travels and in all you do and may God continue to bless you all!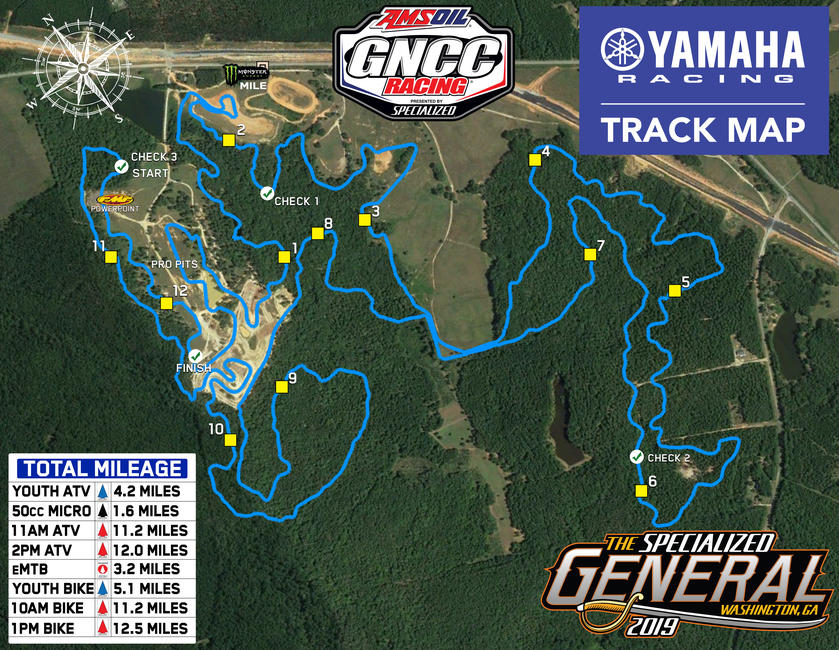 Update From the Woods of The General! (Jared Bolton)
Things are coming together really well here in Georgia and we're looking at a great racecourse for this weekend's General GNCC. As usual, I'll give you a little teaser of what to expect out of this weekend's track. Now, keep in mind this is always based off the full racecourse, which is what the PM racers encounter. I'll throw in a few tidbits here and there for the AM racers, but for the most part this is all about the PM course. You're starting at the end of the lap, so when you take off from the start, you'll enter a good piece of woods that twists back and forth before you come into a section of trackside pitting to the 12-mile mark.
You'll drop back into the woods and off the start, you'll bypass the finish and head towards the motocross track. You've got one short section of motocross before the PM bikes will tear off and go through the pro pits and work their way back to the motocross track again. Once you're off the motocross, it's an open section of woods to the one-mile mark, that will then bring you to a back and forth field section. From there, you're heading towards the Monster Mile and some cool dirt piles that are a little different than what you ran here last year. That brings you back into another woods section at the two-mile mark, where you'll be zigzagging back and forth through some older trails and some new trails.
That brings you to another field section before dropping back into the woods at the three-mile mark. There's some fairly fast trail here before another field section takes you to the other side of the property and the four-mile mark. When you pass the four, there will be some sections that tighten up a little bit all the way to the five-mile mark. This brings you over to a failed housing development we're calling "Mister Roger's Neighborhood" and if you're familiar with The General, you've ran this before, it's actually just a road cut around and you'll hit the tight woods in between these roads. That leads you to the six-mile mark where there's some more tighter woods that eventually open up on your way to the seven.
Just past the seven, you'll cross back over the field again and head towards the eight-mile mark, which is just below the motocross track. There's some open trail between there and the nine, but at the nine it begins to tighten up again all the way to the ten. After you pass the ten, you'll pop onto another section of motocross before dropping back into the woods once again as you head through some tight trail to the 11. After the 11, it opens up for just a minute before you hit some slightly tighter woods and tie back into where you started.
As you can tell, it's not overly difficult this year but there's a good mix of fast and tight trail that you're constantly going in and out of, so there's a little something for everyone! Overall, you're looking at a really fun 12.5 mile race course. If you're on the fence about coming, get off and get here because it's going to be a good one!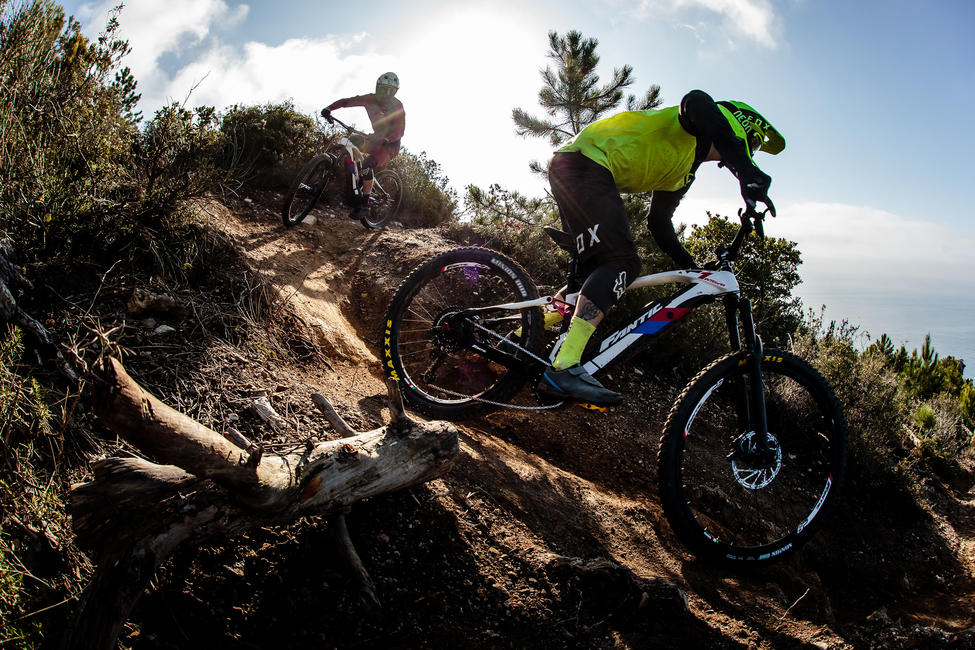 Specialized Turbo eMTB National Championship
Fantic's Squadra Rewards Program
Ahead of the upcoming opening round of the 2019 Specialized Turbo eMTB National Championship, Fantic announces a new Squadra Rewards Program pledging over $25,000 in contingency! Check more out HERE.