Jared Bolton
TimeThursday, May 18, 2017 | 12:40 PM
AMSOIL is proud to present the new AMSOIL Garage for the 2018 GNCC Racing season. Located in the Finish Line Village apart of the KR4 Arrive-N-Ride team pit area, the AMSOIL Garage will be the one-stop-shop for all of your oil needs, as well as advice and assistance on minor repairs or installation. Staffed by professional mechanics and an AMSOIL dealer, stop by and visit the AMSOIL Garage at each of the 13 rounds of the GNCC season. 
Welcome to Quick Fill.
The season rolls on and things get back to normal this weekend with the inaugural X Factor GNCC. As I mentioned a couple of weeks ago, we know that rescheduling this event was not ideal, nor was creating back to back rounds with The John Penton GNCC, but there's many, many factors involved and while it will prove to be a challenge, it will be well worth it.
With that said, don't believe the ridiculous rumors floating around, we ARE racing this weekend in Indiana. Yes, there's rain in the forecast but it's nothing like the more than four inches that was forecasted to come on the original race date. The venue can handle any rain coming this weekend and the good news is, believe it or not, there are a few places here that could use a little rain because it's dried out very much in some areas.
A few things to keep in mind. Check the X Factor event page for specific directions, address and GPS coordinates. We are NOT using the main gate to the X Factor Ranch. The GNCC gate is located on the other side of the property. Also, please respect the property. They have many fenced areas containing large deer and this facility is a business first and a off-road race facility second, so please respect their business. If theres a fence, DO NOT CLIMB IT and DO NOT OPEN ANY GATES. There's NO excuse to do so and if you are caught inside of any deer pens you will be removed from the property.
As usual, I'll have a little teaser of the track coming up later in this week's edition of Quick Fill. So we'll keep the intro short this week and jump right into the Quick Fill action!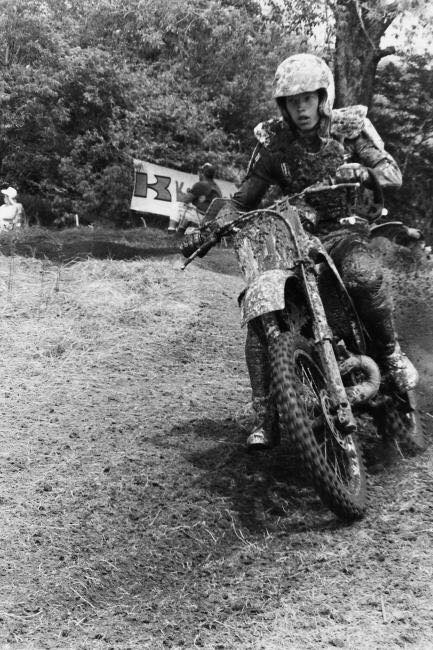 Weekly Updates (Chelsea Taylor)
Hopefully you enjoyed your time off the past two weekends. When I was scrolling through my newsfeed I saw where people were able to spend extra time with family, participate in mountain bike races, attend high school proms, college graduations and more. Of course, there were the die-hard racers who spent their time practicing at the track and doing local races. Whatever you did, we hope you enjoyed your extra time off!
As we turn our attention to the rescheduled X-Factor GNCC the anticipation only continues to build. We realize that rescheduling may not fit into everyone's plans. If you're not able to come to the race this weekend and you pre-registered please email [email protected] for a full refund. If you did pre-register and you still plan on coming, don't worry! There's no need to update your registration form. We will automatically update it for you and you'll be good to go this weekend.
Fuel Ministries will be teaming back up with Team Faith this weekend to provide some good, clean fun and by that it can only mean one thing… pit bike racing! After having so much fun in Florida, they've decided to bring it back for both Friday and Saturday night! Racing will take place both nights from 5:30-7 p.m. On Saturday night there will be a hot dog dinner at Team Faith from 6:30-7 p.m. and chapel service will begin at 7 p.m., with more pit bike action taking place after chapel is over.
We are still searching for a school to visit for The John Penton GNCC. If you have any connections please send me an email at [email protected] so that I can reach out to them and try and schedule the On-Track school program visit.
The AMA recently announced the 2017 nominees for the AMA Hall of Fame, and two very special names in the GNCC and ATVMX families are nominated. Nine-time GNCC National Champion and three-time AMA National Hare Scramble Champion, Ed Lojak Sr., has been selected as a nominee for induction into the 2017 AMA Hall of Fame Class. Lojak dominated the off-road racing world through the 80's, winning GNCC titles from 1980 to 1984 and from 1986 to1989. Lojak was the first GNCC Champion and the first 5-time champion. His record has been matched by Hall of Famers Scott Summers and Rodney Smith, but never beaten. Gary Denton from the ATVMX family has also been selected as a nominee. Since this is such a prestigious honor, you have to be an AMA lifetime member to vote. We encourage you to help get the word out. Everyone who is eligible to vote received an email with a link to the online poll.
We're looking forward to seeing our IXCR family this weekend! I hope everyone has safe travels to Indiana and good luck at round six!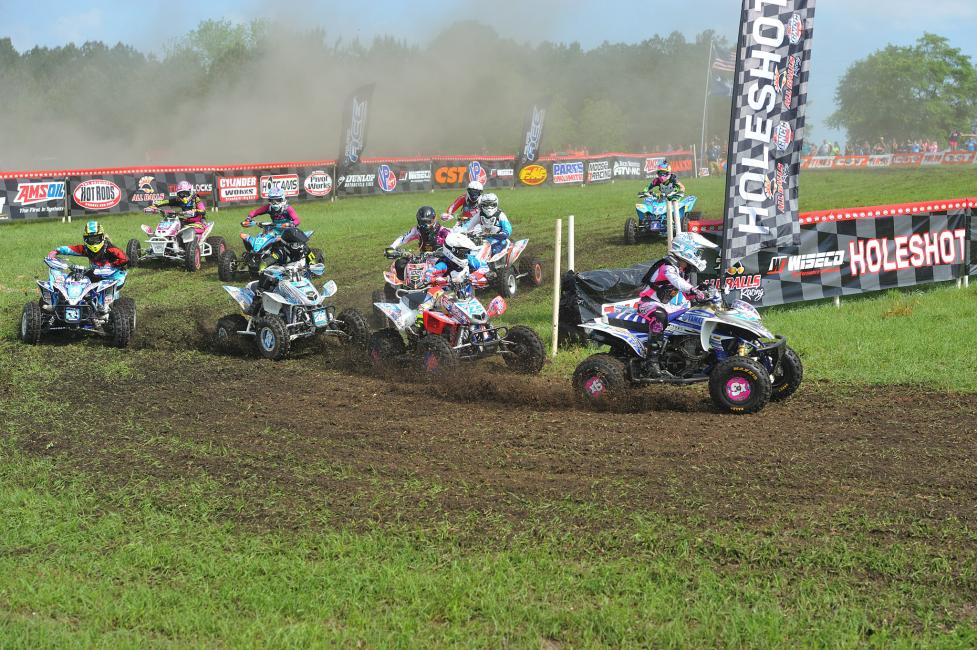 The Action is Heating Up! (Rodney Tomblin)
Alrighty then! Where does one begin? An unscheduled break and rescheduled event still has me a little off track. I am certain the feeling will pass soon though as the coming X-Factor GNCC makes its first of hopefully many stops in the future. The idea of racing on such a rich preserve is rather exciting and the video reports leading up to the race have been rather inspiring. The new territory to chart coupled with one of the most intense championships in a few years equals a perfect opportunity for instance greatness.
The idea of what to write in my contribution has been rather taxing this morning. So many things flood into my mind that it is hard to sort out. The youth racing has been off the scale in both ATV and bike as have the 10am races. It is a great build up to the afternoon Pro, A and B class competition that has left the racing fans in awe and excitement for the next round. Finally the X-Factor is here and the back to back weekends of GNCC is about to be set in motion. It will be a war of attrition and though we are not used to back to back weekends on the schedule, most everyone races every weekend so it shouldn't be that big of a deal.
One of the battles I will be paying close attention to will be the 4x4 Pro class. I'm not really sure what it is about this class, but as good as it has always been it may be getting even better. If you pay any attention at all in the morning there is always a hint of uncertainty looming as to who will actually take the win. Defending champ Kevin Cunninham has been seemingly unstoppable until our last round when he ended his win streak to finish 12th in the class. Former 4x4 Pro champion Bryan Buckhannon took his first win of the season and is hoping it is the first of many. I know it will not be easy but Buckhannon has been this far back and came from behind to pull off a championship in the end. Winning races and staying consistent is the only way to make this happen and even then its no guarantee as the competition in this class is reaching all new levels.
The WXC class has also been rather interesting on both Saturday and Sunday. The influx of more female riders with multiple classes has been bringing a stronger number of riders to the lineup. It has also elevated the premier women's classes making them the new pinnacle for the young ladies growing up through the ranks. Currently in the two-wheel side of things the competition is world status competition with Tayla Jones and McKenzie Tricker both from Australia. Felicia Robachaud makes her way in from Canada and throughout the season you will notice more and more. You know when more international riders start focusing on GNCC it says something about the world prestige our little GNCC Racin' Nation has gained.
The ATV WXC has created a lot of excitement as well. Defending champion Alicia McCormick has only posted one win this season but she has been in it to win it on many occasions. Bad luck and misfortune prove to be her obstacles but like any new champion she is learning the age-old truth that it is easier to win a championship than defend a championship. She is also faced with great challenges like former champs Traci Pickens and Angel Knox. Though Pickens is "retired" she still comes out to mix it up with no pressure. Her consistency of second place finishes and one win place her second in points behind Knox. Angel has three wins and only a one-point lead over Pickens while McCormick sits fifth in class and down 16 points. This championship will heat up even more and the final half of the season will tell the full story.
The obvious things on most people's minds heading into the weekend of racing is Walker Fowler's possible sixth win in row this season and the highly intensifying battle between Kailub Russell and Thad Duvall. On the Fowler note he seems to be starting to want to set a few records of wins in a row with the bigger unspoken picture being a perfect season. The Russell versus Duvall battle is one that folks are watching closely and no matter who you like most you have to be cheering for both riders. As they push each other to new levels it should position them to be heavy favorites in this year's ISDE to bring the cup back to the American soil.
Walker has only mentioned in passing the "perfect season" basically saying that it seems unlikely given the fact his competition is positioning themselves better and better each round but that he has been as lucky as he has been fast a few times to get the wins this season. Starts are obviously critical as if you let him get away early it could become a battle for second spot instead of the win for everyone else.
Kailub and Thad have presented us with some of the best battles we have seen in a while. Likely since the Charlie Mullins battles Russell had a few short years ago. The one thing different with these two is that each one seems to push the other to levels they have not ever seen. The proof is in their faces and the way they carry themselves after the race. It is obvious they leave it all on the track each time they battle. The other name we have not mentioned but expect to be a factor at the X-Factor is Stu Baylor. Stu has ridden some remarkable rides to finish third at each round since his season opening win. One has to assume if he gets a start with these guys and can break away that he could be real threat to win.
The one thing I feel is certain. It's that we are all ready to get back to the track and see how it all turns out. I am rolling out as I send this contribution and the anticipation level builds, as I am so excited for what the unknown outcome of this weekend will bring. It has to be good from a race fans point and to miss this one would be a shame. Make sure you tune RacerTV.com at 1:00pm eastern Saturday and Sunday to catch all the action.
That's it for me for now. Till next time God Bless Your Heart and All Your Vital Organs.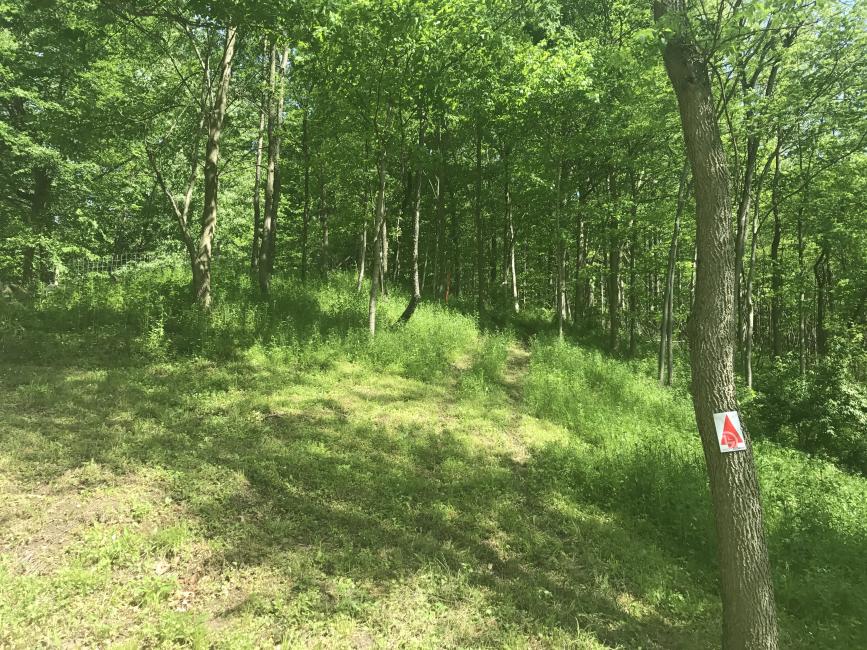 Update From X-Factor! (Jared Bolton)
As I mentioned earlier, the race is on! We have a great racecourse coming together for this weekend and it promises to make X Factor a popular addition to the world of GNCC Racing. This place is pretty cool. It's kind of a mix between the early days of Ironman before the motocross track existed and The Gusher GNCC course we raced in Foxburg, PA back in 2013. It's very green and since there's never been any sort of race hosted on the property, there's very little existing trail.
You'll be starting just beyond the finish line, a little before the one-mile mark. When you make your way off the start, you'll go through a fence and into a little bit of a large bowl type area that is all grass. It's pretty cool and has a few opportunities to make some passes before heading through another fence and into your first section of hardwoods to the one-mile mark.
In those woods, there's a small optional creek jump with an easy go-around. It's some nice open but twisty trail that will cross a paved road by the main entrance to the X Factor Ranch, which is actually in a totally different location than where the main gate is for the race. On the other side of the road, you've got a little hill climb that will take you through some more twisty trail to the two-mile mark and another cool hill climb with a few different lines up it.
From there, it's a mix of some fast and slow trail to a little dry creek bed that will lead you to the three-mile mark. Once you pass the three, you're going to be doing a bit of zigzagging through some open trail out to a little downhill to the four-mile mark, then back up hill to some off-camber that will bring you to a little creek crossing. There's a long hill climb after the creek and it's a super fun climb. That will lead you around to some more open trail to the five-mile mark. There's some twisty and slightly more technical sections from the five to the six-mile mark, including one really cool dry creek crossing and uphill climb coming to the six. After the six, there's some tighter trail and another creek crossing with a lot of lines that will bring you out into something really cool for the 1PM races.
What could I refer to as really cool? Well, there's a big superspeedway style banked turn, but there's a catch! It's on a large area where mulch has been dumped and we were told that the mulch is six feet deep. So, you're going to have one little section that could look like Florida sand whoops if they were made out of mulch! After that, you'll cut back up to the top of a hill, pass the seven-mile mark and work your way to a downhill section back to that paved road I mentioned earlier. It's a good mix of tight and fast trail that will bring you back to the main parking field and some zigzags through some open woods past the eight-mile mark. Then you'll pick up a big field section back to another patch of woods with the nine-mile mark before you head back out into the field again, where the ten-mile mark is.
That field will lead you all the way to the finish, making the grand total of a lap just shy of eleven miles at 10.7 miles. This track is an absolute blast, so if you're on the fence about coming, get off the fence and come on out, it's going to be a good one!
Headlines
America's Premier Off-Road Racing Series Takes on Peru, IN
Russell, Duvall and Baylor Lead the Pack Into the X-Factor GNCC
Ed Lojak Sr. Nominated for AMA Hall of Fame
Tuesday Toolbox: Prestin Raines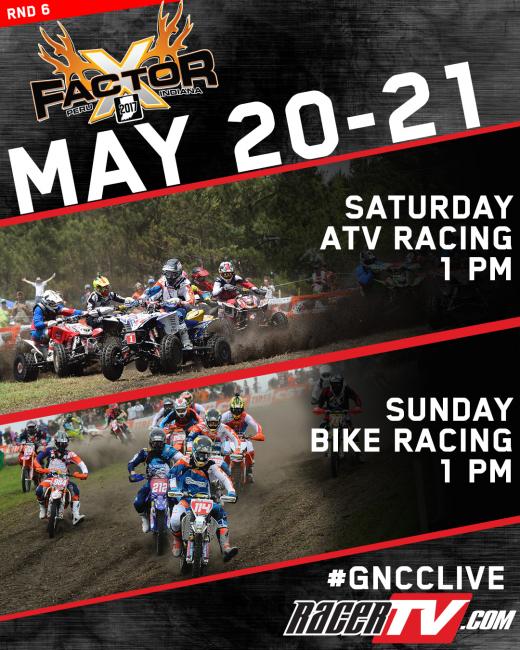 What's New on RacerTV.com
RacerTV will be LIVE from the inaugural X-Factor GNCC this Saturday and Sunday at 1 p.m. from Peru, Indiana. You won't want to miss this action from the first-ever race held at X-Factor Whitetails Hunting Preserve.