Rachel Gutish
TimeTuesday, May 16, 2017 | 12:00 PM
Prestin Raines definitely has some family history with the GNCC series! Both of her parents were GNCC racers: Her father Jason Raines is a six-time National Hare Scrambles Champion, with eight overall XC1 class wins under his belt; he is now in charge of the Yamaha Demo Ride program. His wife Emily formerly raced women's professional motocross and competed in the WXC class here at the GNCCs. Now she focuses on teaching the RainesRacing.com riding schools.
Despite only competing in five rounds last year, Prestin was able to bring home a third place finish in the Girls 8-15 class. This year will be her first season competing in the full series, hopefully the first of many more. She competes on a Yamaha YZ 85cc and is currently sitting second place in the Girl's class points.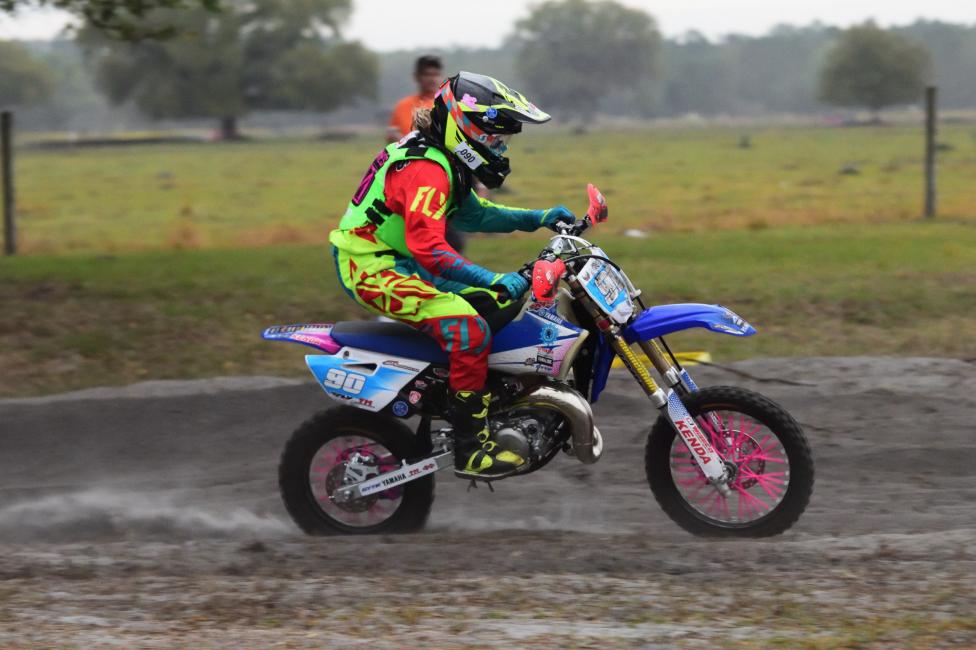 GNCCRacing.com: Hey Prestin, hope you're enjoying the off-weekend! Any fun plans?
Prestin Raines: Yeah, I got to have a sleepover with a friend of mine, which is cool since I don't get to do that often – I'm always racing!
Both of your parents were (and still are) really skilled riders. Were they the ones who encouraged you to start riding?
Kind of, but I didn't really get serious about it until I was on my 65cc [about three years ago]. I did a little bit on my 50cc, but not much. When I met TJ Reeves down at The Farm (Randy Hawkins' AmPro Yamaha training facility), shortly after moving up to the bigger bike, we really started to push each other and get faster. That's when it actually started to get serious.
Who is TJ?
He is a friend and training buddy of mine. His dad announces at the Mideast Racing series and our families are close because of racing. He's in the Supermini 7-11 class now, for both Mideast and GNCCs, but last year we were in the same class for Mideast which was really fun! [Prestin races the boy's classes in the Mideast series]
Speaking of training, do you get the chance to ride or train with either parent on a regular basis? Especially since Emily does riding schools.
I don't train so much with my mom at the riding schools [because she's coaching other people who are paying her], but I do help her out by being her example when she's trying to explain drills and stuff like that. My dad travels a lot for work, but when he is home we always go riding together for fun. We'll usually work out a little bit too.
I know Emily can be quite the taskmaster and does everything she can to help you succeed. Is it difficult having a mom who is also your trainer?
Well, my mom doesn't always try to be my trainer, she tries to be there on hand as my mom more often. My parents say that they've seen too many parent-kid relationships ruined because of the stress of trying to be a parent and a coach can cause. My mom and I do always travel to the races together and it's a lot of fun, but I wouldn't really call her my trainer. There's a friend of ours that I work with sometimes, Robbie Neeley. He kind of fills in that role of being my trainer instead of my mom. This helps my mom and I have a really good relationship and it allows us to work better as a team.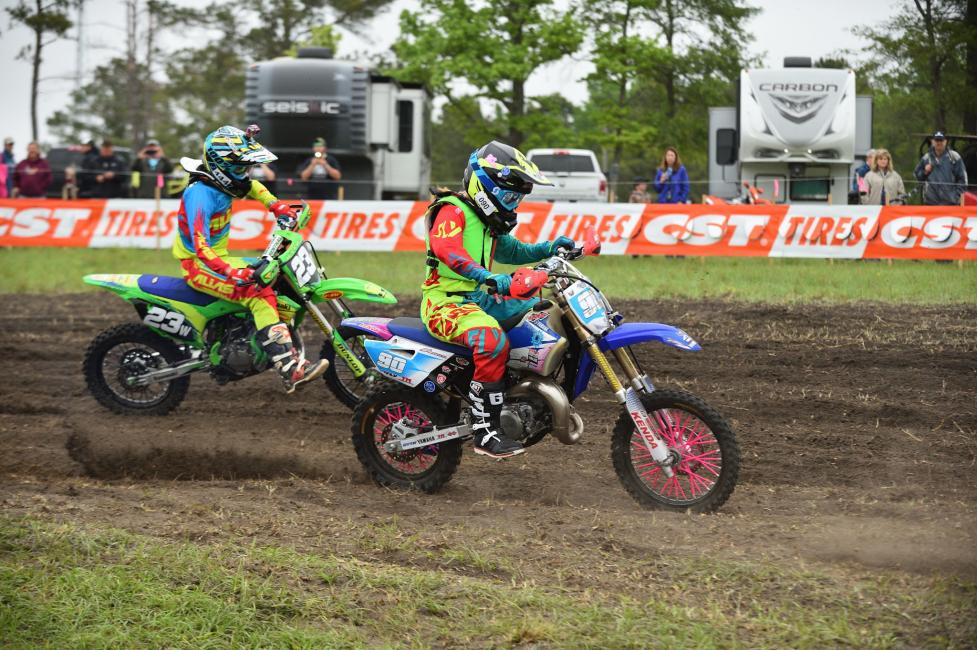 It looks like this will be your first year running the full GNCC series. I know we touched on this a little bit in an earlier question, but how much racing have you done before this year?
I've been racing four or five years, and we had actually planned on trying to do the full GNCC series for a couple of years now, but I've struggled a lot with getting hurt. One year I had a nasty crash, dislocating my elbow, and breaking my wrist as well as my arm in two spots. In a different incident I broke my ankle, and then another time I broke my tibia on the other side and got a nasty burn as well. This year I'm hoping that I'm not going to be stupid or do anything stupid and stay in one piece! We're planning on doing all the GNCCs, running for points. We'll also do the Mideast series for practice. I race with the boys there though. So I have done a little in the past, but not as much as we're doing now.
About the girls 8-15 class, I went back and looked at the results from the past several years. It looks like more riders than ever before are doing the full series. Do you think the class is really competitive this season?
Oh yeah, definitely! There's a lot of girls now. Last year there weren't as many. One thing that makes it cool too is that I'm racing with a lot of my friends this year – Alexis Phillips, Jocelyn Barnes, and Allie Phillips, to name a few. We have a lot of great battles and we're always pushing each other to our limits. We always want to come off the track as friends, but once we put on that helmet it's game on!
Absolutely! It sounds like you're close with a lot of the girls you race with. Are there any older racers that you really look up to or view as role models?
Yeah! In the WXC class I really look up to Mackenzie Tricker. She's not conceded at all, she's always so nice to people and she's a really good rider. At all the races she always comes up to me before my race and wishes me good luck, which really means a lot. It's cool that we live in the same area [Traveler's Rest, SC] too.
Going back to the results in previous years, I noticed that there's a pretty quick turnover in the girls class. Most riders only stay a season or two before advancing into the Women's B or C classes. What are your long term plans as far as that is concerned?
Well, in my local series I plan on staying in the 85cc age groups as long as I can. In the GNCC series, I'll probably stay in the girl's class as long as I can too. As soon as I'm tall enough I'll move to a big wheel, but I still plan on being in the girls' class for awhile since I'm only 12 right now.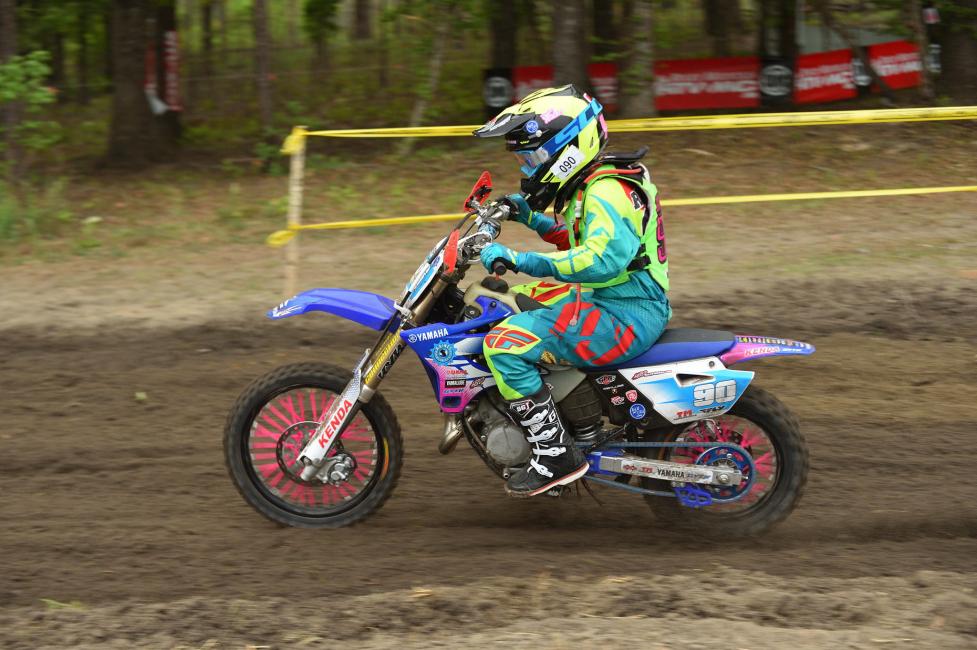 Are you hoping to race in the WXC class someday?
I would definitely like that, and my parents say that I can race professionally so long as I stay in school and go to college. My biggest long-term goal needs to be having a good balance in life and a making a good future for myself.
I'm impressed you're able to look at your long-term future at such a young age, and your family is making a very wise decision. Sometimes it's difficult for women to make a living in racing. Anyway, back to things that are a little more immediate, was Camp Coker your favorite round so far this year? You had a pretty strong finish, it's in your home state of South Carolina, and I heard you were having a pretty good time at the rope swing on Saturday…
Oh yeah, by far that was definitely my favorite track. I just love sand, I like being in something that will hold me so I can just hit it as fast as I can. I liked that track since it was sandy and wide open. Plus any track that gives me and my friends some fun activities besides the race is always a nice bonus. And that rope swing and high dive [at Camp Coker] are pretty fun!
Between racing and school, I know you're pretty busy. But is there anything you like to do for fun that doesn't involve dirt bikes?
Well, on the weekdays I play softball, so I have a lot of games and practices with my friends. I train a little bit too. I actually love to ride my little stationary bicycle I've got at home after school. I like to just have fun with my friends and of course, ride with them too. A lot of the kids I ride with in my local series and the GNCCs go to my school too, so we get to spend a lot of time together.
Alright Prestin, that pretty much wraps things up here. Is there anybody that you'd like to thank?
I'd like to thank GNCC racing first, for putting on such a good series and for doing this interview with me. I would also like to thank Yamaha, Yamalube, Yamaha Generators, Kenda, GYTR, Fly Racing, Blu Cru, Factory Connection, Enduro Engineering, Raines Racing, Scott, IMS, Rekluse, HBD Motografix and Wiesco.