Journal Review: Announcing Races a Joy for Local Resident
TimeMonday, May 15, 2017 | 11:00 AM
Crawfordsville resident Mikey Waynes received a phone call last fall that could not have made him happier.
On the other end of the call was a representative from Racer Productions and GNCC Racing. He was offered the job announcing GNCC racing events and the ATVMX series, which was in Crawfordsville.
It did not take Waynes long to say yes to the job offer.
Waynes, 31, has long been a fan of GNCC racing. Growing up near Nucor Road, he attended the Ironman race at Tom Shaver's farm, which is now known as Ironman Raceway. Waynes never competed at the race, but attended the race with buddies.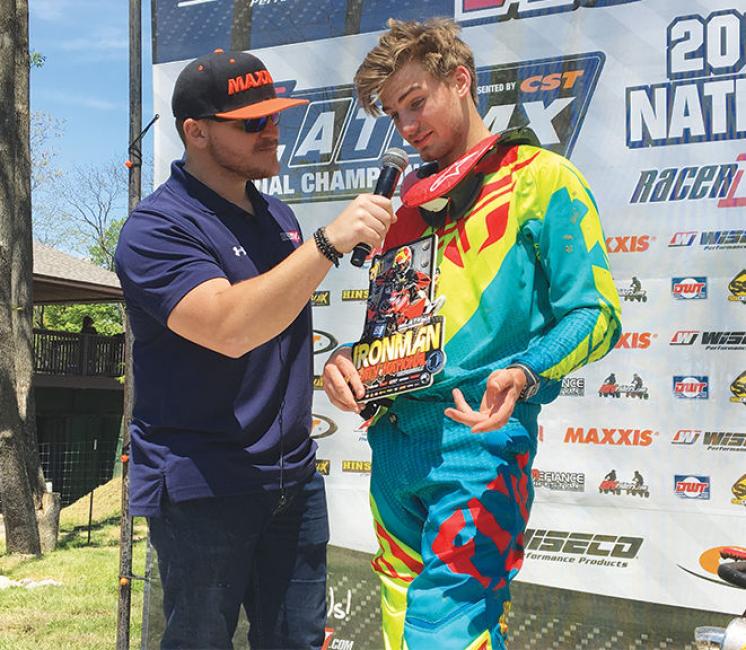 "I would tag along with my friends who race motorbikes in GNCC," Waynes said. "I told myself I gotta find something for me to do at these races."
It didn't take long for Waynes to find his niche. He now travels all across the nation doing what he loves.
"I started announcing local leagues," Waynes said. "I found that announcing is my fit and I love it."
Waynes worked as an announcer during the ATVMX races at Ironman Raceway this past Friday, Saturday and Sunday. He is quickly becoming a fan favorite, said GNCC and motocross race director Tim Cotter.
"We posted the job and as I was reading resumes, I saw the word Crawfordsville," Cotter said. "That got my attention and he is working out great. He really is good and has a great voice for it."
Along with a resume, Waynes sent a video of him calling races. However, he claims the most help he got was from Indiana GNCC race fans who let it be known their friend was the right person for the job.
"I cannot say enough about the Indiana racing family because they are the ones who harassed GNCC to give me a look," Waynes said. "GNCC is exploding, especially in Indiana. The Indiana racing family helped me get this job and I owe them a big thank you."
Waynes is looking forward to continuing announcing GNCC and ATVMX racing events, but he would like to keep climbing the race broadcast ladder.
"I love doing this, but I also would love to land a job with ESPN or ABC," Waynes said. "I am hoping to help announce some of the Lucas Oil Motocross events this summer."
For now, as long as his employer Gannett and his wife Erin Simpson, are OK with him being away on weekends, he will remain thrilled to be announcing all over America.
"I am just trying to do my best and represent Indiana racing and Crawfordsville," he said. "We have one of the best motocross and GNCC facilities in the country. Now, when I tell people I am from Crawfordsville, they know exactly where it is. That's really cool."