Jared Bolton
TimeThursday, January 12, 2017 | 3:05 PM
Welcome to Quick Fill.
Time continues to tick away during this GNCC off-season and while much of the east coast was blanketed with snow last weekend, there are still a number of folks who have made the trek south to get in that important off-season training. This means we're officially reaching that point where we're going to start seeing all sorts of cool teaser photos of everyone on their new machines, with new graphics, new gear and more. It's perfect timing too because now that we've passed the holidays and the Christmas fun is all behind us, this is like having a second Christmas!
I'm sure there's quite a few of you who are also getting in fresh parts, fresh gear, fresh graphics and more goodies each and every day. This adds to that second Christmas feeling as well and we've also been getting a little bit of that feeling as well here at the Racer Productions headquarters. Earlier this week saw the arrival of fresh Moose Racing gear for our track crew and RacerTV crew members who ride motorcycles, and we also just got our first batch of new vehicles for the year thanks to our friends from Polaris and Tom's Marine.
This is definitely an exciting time of the year, but the biggest excitement is yet to come. However, it will be here in just 51 days in the form of the opening round of GNCC Racing. Time is ticking by. Are you ready?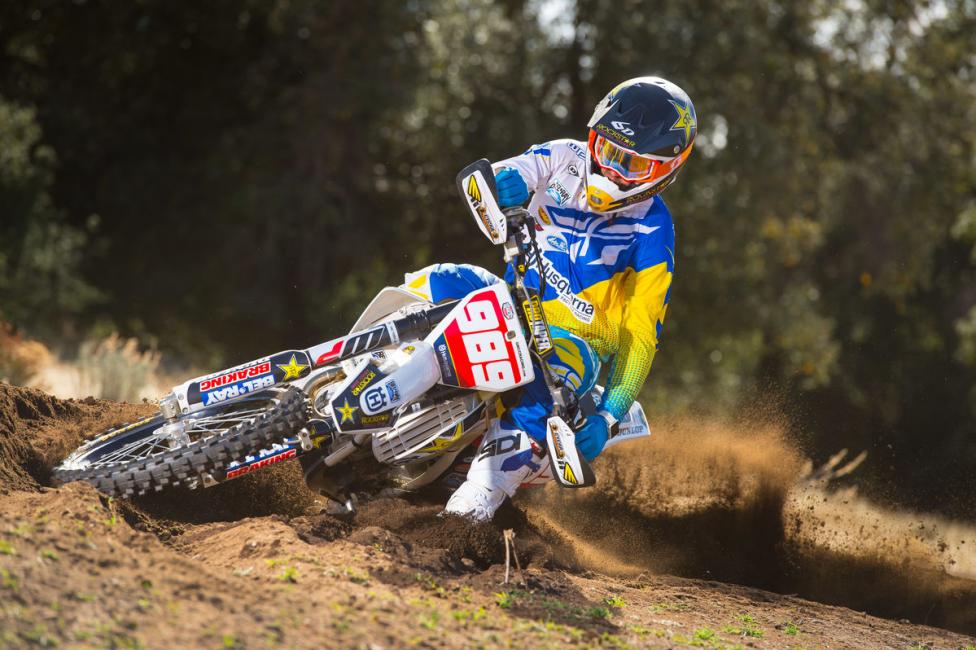 Weekly Updates (Chelsea Taylor)
Earlier this week we released the first set of confirmed national numbers (Check them out HERE!). If you requested and didn't see your name on the list, don't worry. We will have more coming out next week. I know it may seem like you have to wait forever to hear back about your number, but unfortunately the process is rather long and tedious. Our employees have to go through each number individually so it takes a while, but each Tuesday the webpage will be updated with new information.
You can purchase credentials once again this year for the price of $250. They are good for the entire 2017 season and will get you in the gate at each event. It may seem like a lot of money to pay up-front, but it will save you money in the long run and speed up the gate process once you arrive at the track. If you're interested in purchasing a credential, click HERE.
On Tuesday, Ben Kelley with the Trail Jesters/KTM Racing team was on the Pit Pass Moto podcast. The interview is archived HERE and it starts at 1 hour and 18 minutes in. Ben discusses the history of Trail Jesters and his plans with the team for 2017.
Cody Miller made a huge announcement on social media this morning. He won't be returning to the 4x4 Pro class to continue his quest for the title, but instead he will focus his efforts on the UTV championship as he looks to make it two-in-a-row. However, Cody will continue to be at all 13 rounds where he will be chasing another dream on two wheels. He didn't clue us in on what class he will be competing in, but it's promising to see it all unfold.
We've heard some rumors circulating since Powerline Park, but it's finally official – Thad Duvall will joining the Rockstar Energy Husqvarna Factory Racing team with Josh Strang. We witnessed Thad run up front and battle with Kailub toward the end of the year, and I think this is a turning point in Thad's career. With this new factory support Thad may have what it takes to become a regular on the podium and challenge Kailub for the National Championship.
Another switch was announced this week as well, Grant Baylor will also be a Husqvarna rider, but for the Rocky Mountain ATV*MC/KR4 team. This seems like a good move for Grant and we all hope that this new experience will be able to vault Grant back into the top of the standings. Things are finally falling into place for all the pro riders, and it's showing some promise of intense racing this season.
One last update for the week; we received an email from Doanna Settimio with this really cool GNCC themed poem, so check it out!
TEN SECONDS by Doanna Settimio
Bikes lines up at the start in order of class,
Pit crews by their side to top off the gas.
Anthem is played. Prayers are said,
Riders rev their motors after bowing their heads.
TEN SECONDS is yelled as the flag is dropped,
Riders fight for the holeshot, while wheelies are popped.
Into the turn, fans are hit with the roosts,
Bikes entangle together, now riders reduced.
Lap 1! Lap 2! Each rider hits checkpoint,
Another rider goes down, then up, could it be his hip joint?
The last flag is shown before the checkered for the finish,
Here comes the winner, the others diminish.
As the dust and the dirt clear the air at the end of the race,
The riders proudly head over to get their trophy for place.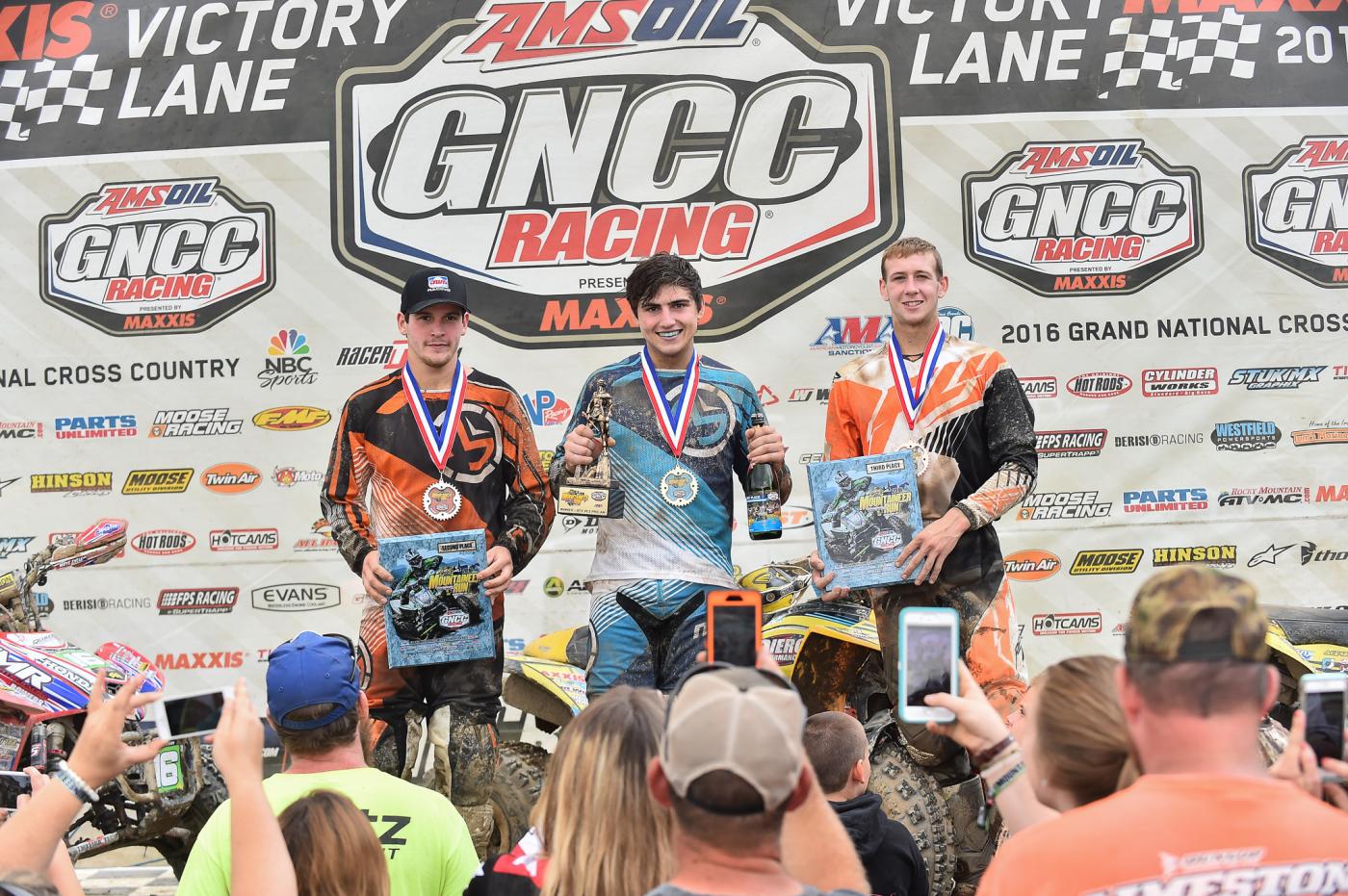 Different Strokes (Rodney Tomblin)
The saying "it takes different strokes for different folks" probably isn't more true than what it is for 2017 XC1 Pro ATV rookie, Cody Collier. Cody became a fixture in the GNCC Racin' Nation as youth rider several years ago. He further cemented his place at the track and in the history books as being the youngest rider to ever win a 10am overall quad race and the youngest champion to ever wear the 201 number. It was such prestigious moment in his career that he has kept it since that time.
Since that time, Cody has remained a fixture and became a threat for the XC2 Pro Am title two years running. Aside from some misfortune, he has remained a constant threat in the class, and now the time comes for this young prodigy to make the step into the Pro ranks. As a senior in high school, Cody maintains a college prep regiment and finds a way to train and prepare for the upcoming seasons. Unlike many, you will not see Cody spending the upcoming weeks training in Florida or some other tropical locale. He will actually remain at home mostly and focus on school.
As far as GNCC, it may not be the main focus but it is still a major focus. Cody has been busy in the off season and said "I recently got with Brent from Carb Sport and he's got me on a new training program and diet that I am really liking and already seeing improvement. I'm preparing myself to move up to XC1 and just want to see what I can do against those guys." That seems very logical to do. The training regiment may not seem as intense as many for Cody but it's his extra curricular activities in school it certainly helps keep him in shape. He told me "I haven't had a chance to head south yet but I plan on hitting a SORCS or Mid East race before the season starts. I'm expecting consistent top 10 rides and maybe I can get one top 5 by the end of the season if I get lucky. All of the working out and preparation it takes to get ready for the Pro class is rough. Plus trying to also manage with schoolwork, applying to colleges, and entertaining my lady makes it tougher. I'm still keeping consistent A's and B's, even with my college level courses and getting a couple hours in at the gym each night."
It really seems like Cody has got things dialed in. It may not be your traditional GNCC top gun contender's way of approaching things but it is a very wise one, especially from such a young man. Cody said "I am just going to see how things go trying to balance being a full time student as well as keeping up the racing program to train for the Pro class. I'd love to be able to do both, but education and my career will come first if my grades begin to slump. It'll make me extremely busy this fall to excel at both but I'm ready to put in the work so I can pursue my career as well as my passion in racing."
Cody has obviously thought a lot of things through. He has separated what is most important to him and his future. Being good at what he loves may be the ticket. What may seem a little different for someone with his talent relieves the pressure and keeps it all fun. Anyone that knows Cody knows that when he's having fun, he does his best. The upcoming season will be a challenge but Cody will be ready and there may be a few surprises on the horizon.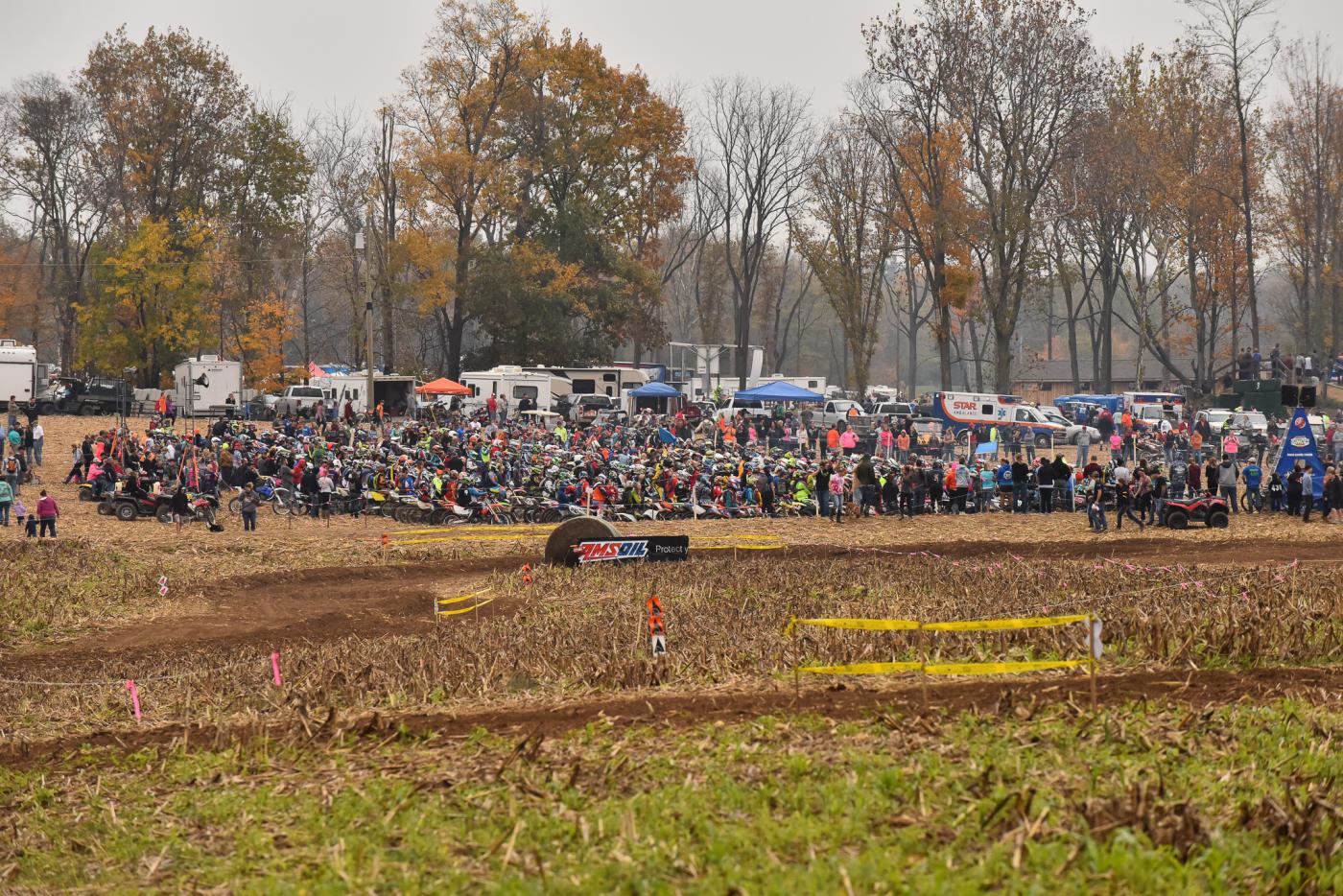 The Golden Rule (Jared Bolton)
With the 2017 season fast approaching, I'd like to take a little time to remind everyone of a few different things. Everyone should know "The Golden Rule" which, just in case anyone has forgotten, is "Do to others as you would want them to do to you" This can apply to pretty much anything, and it does apply in the racing world. There's many, many ways you should apply this rule when you are at the track. Not just during the race, but during your whole visit as well.
When you're walking around in the woods with snacks, drinks, etc, would you want someone throwing that trash down in your backyard? I'd say the overwhelming majority of you wouldn't like that, so carry it to a trash can and throw it away! I know myself and other members of the track crew would appreciate it because many people don't know how time consuming it is to be working on pulling down arrows, tape and everything else on a Monday, then have to stop to pick up trash in the woods. Each GNCC event owes a huge thank you to an extremely generous landowner that lets us come enjoy their property for the weekend, and one of the easiest ways to say thanks is by respecting their property and helping to keep it clean.
Another big thing should go without saying and that's simply to make sure you're following the rules! Staying on the course, riding in the correct class and riding the correct machine are all big things here. Staying on the course is a huge one as well. You are allowed to 25 feet away from the course arrows unless you're on a motocross track, grass track or staked area. Double arrows mean you have to go between them. It does NOT mean run over the stakes and now it's free game. I mentioned this during the riders meeting at a few of our later rounds last season and I'll mention it again and again.
When a section is double arrowed, just because you don't see anyone watching, doesn't mean that there's nobody there. You can and will be penalized if you're caught going outside the double arrows or running them over. Another thing is that it's not always done solely to make you go through a specific path, but it may also be done to keep you away from danger. When you're blasting through a field section with double arrows, you have no way of knowing if there's a hole, big rock or numerous other things off the marked course. We don't want to penalize someone, but more than anything we don't want to see you hurt.
So when the 2017 season rolls around, please keep all of these things in mind as not only are they the right thing to do but, how would you feel if someone finished better than you and accomplished it by unfair means? Doesn't sound too fun, does it?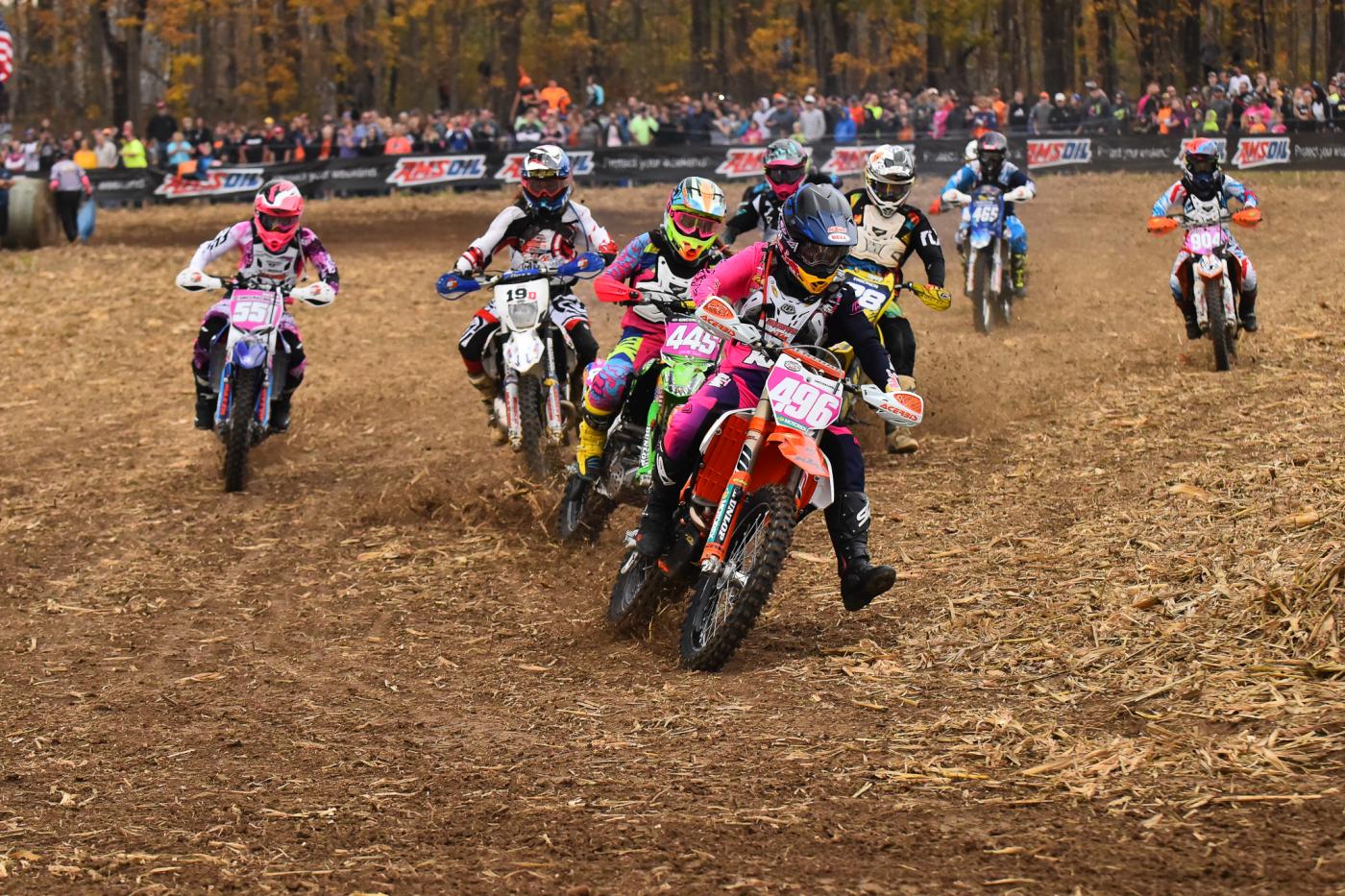 2017 WXC Changes (Chelsea Taylor)
Change always comes with a new season, and the WXC class is no exception. Perhaps the biggest change-up is the fact that two-time champion, Kacy Martinez will be missing from the front row. Kacy has decided to pursue the National Hare and Hound Series and EnduroCross series on the West Coast, while staying on the FMF/KTM Factory Racing team.
Current champion, Becca Sheets, has some changes coming her way too. After years of riding blue, Becca has posted some teasers that she will be switching to a KTM. It hasn't been announced if Becca will be riding with a team or creating her own team, but one thing is for sure… If Becca rides anything like she did last year she will be hard to top.
Another rider making the switch to orange is Mackenzie Tricker. Mackenzie had to part ways with the Obermeyer/MCS Suzuki team once they decided to end the team, but it looks as if Mackenzie has been getting a lot of seat time on her new bike. She's in her home country of Australia right now, so I'm not sure if she will be competing in the full GNCC series, but every time she does, the motocross racer makes herself known.
Tayla Jones will be making the move from Australia to compete in all 13 rounds of the GNCC series for the first time in her career. Tayla competed in a handful of races this year, where she landed a spot on the podium. She's definitely a rider to keep an eye on this year where she'll now have the support of a full-time team behind her.
While Brooke Cosner will continue riding a Yamaha she is now on her own and has been working with sponsors to create her own team. This may give Brooke an advantage because she will be able to custom tailor her sponsors to her needs. Kendall LaFollette decided to venture on her own team as well, aboard a KTM.
Just last night, Allie Spurgeon hinted she will be riding a Yamaha. It's not official that she will be a member of the N-Fab/AmPro Yamaha team, but there was a team bike in the background of the photo, so that remains a possibility.
Shelby Rolen hasn't made an announcement regarding her ride for the upcoming season, so it looks as if she may be staying on Team Green. That's as much information that I can gather regarding the WXC class as of right now. There will be quite a few changes once the ladies all line up at Big Buck, but the exciting racing that comes from this class will remain the same.
4x4 Pro Class in 2017 (Jared Bolton)
With the 2017 GNCC Racing season on the horizon, now is a great time to look ahead at some of the things to expect in the upcoming season. Since the addition of a true 4x4 Pro class in 2014, the 4x4 ranks have becoming increasingly interesting and the 4x4 Pro class itself is full of talent. It's hard to pick a clear winner week-in and week-out, making it one of the most exciting classes in all of GNCC Racing.
In 2016 the class saw six different winners throughout the season. Michael Swift, Kevin Trantham, Jordan Phillips, Kevin Cunningham, Cody Miller and Bryan Buckhannon all scored class wins. When the season was all said and done, it would be one of the class rookies, Kevin Cunningham, claiming the championship in his first full season in the 4x4 Pro ranks. However, another class rookie, Cody Miller would also have claimed a total of four wins in 2016, including winning the final three rounds.
As mentioned already, Cody won't be returning to the 4x4 Pro class in 2016, but will shift his focus to defending his title in the XC1 UTV class, but will also be giving it a go on a two-wheeled machine on Sunday at each round. This could prove to tighten up the battle for the 4x4 Pro championship a little closer with one of the class's top racers focusing on something else for 2017.
Bryan Buckhannon claimed the first two 4x4 Pro championships and even with a few rounds he'd probably rather forget in 2016, he still finished runner up to Cunningham in the final point standings. Team UXC teammates, Kevin Trantham and Michael Swift both claimed wins in 2016 as well but also had their fair share of tough luck. Both of these guys are 4x4 veterans and will be coming into 2017 looking to claim the class championship as well.
All of these guys have a shot at the title but it's going to be tough to dethrone Cunningham as class champion. Kevin is extremely consistent, only finishing off the podium two times in 2016 and only outside the top five one time. Regardless of who comes out on top at the end of the season, it's going to be a pretty interesting season watching it all unfold. Stay tuned!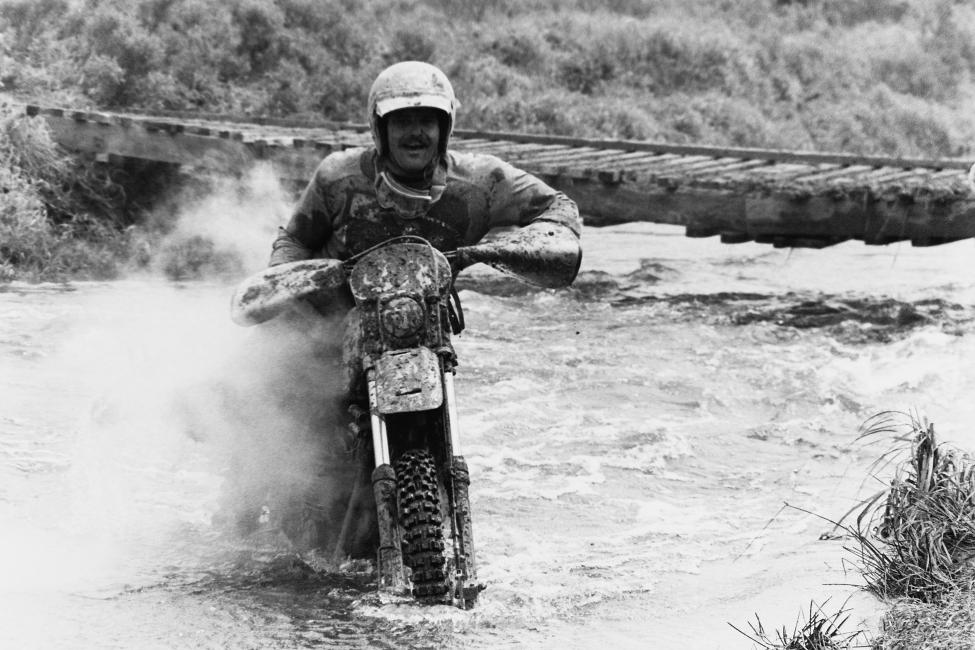 #ThrowbackThursday (Jared Bolton)
It's Thursday, and it's been a while since we posted a few of these, so let's check out some cool old school photos once again!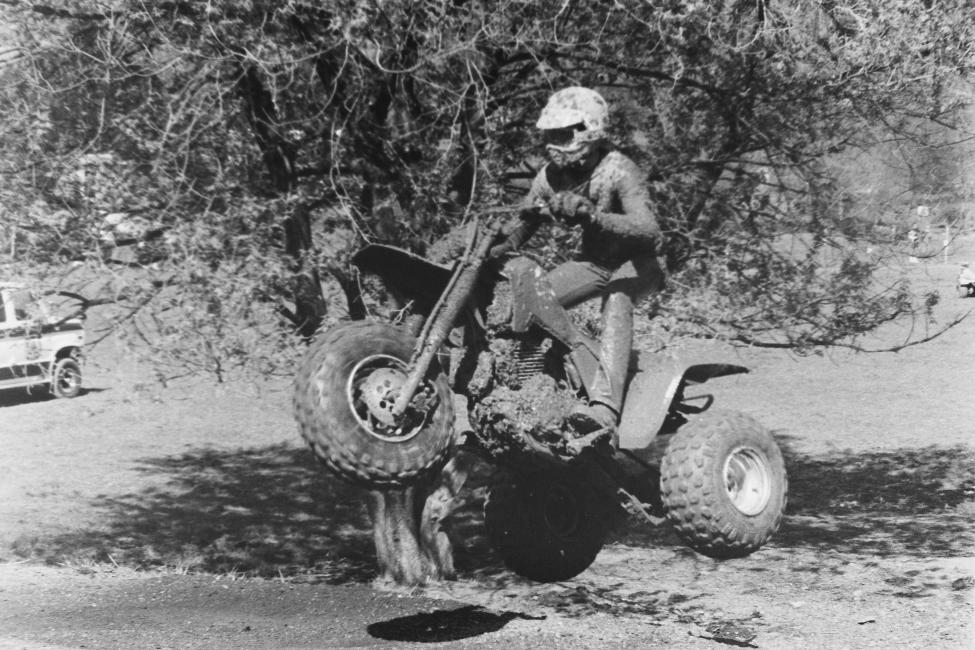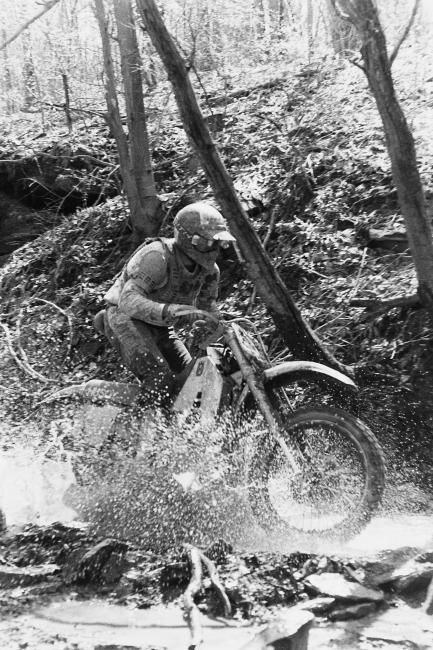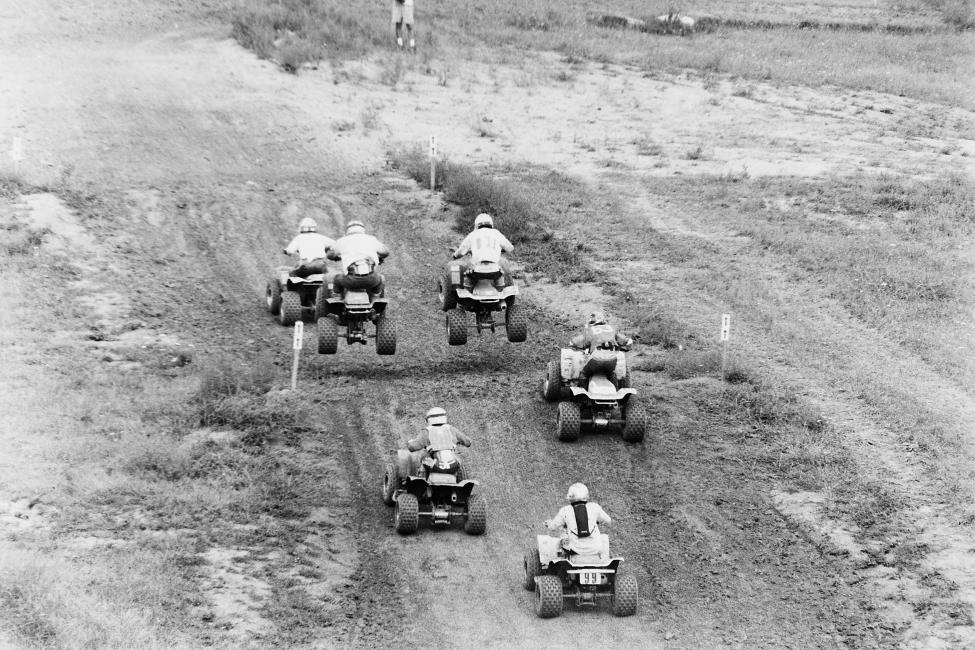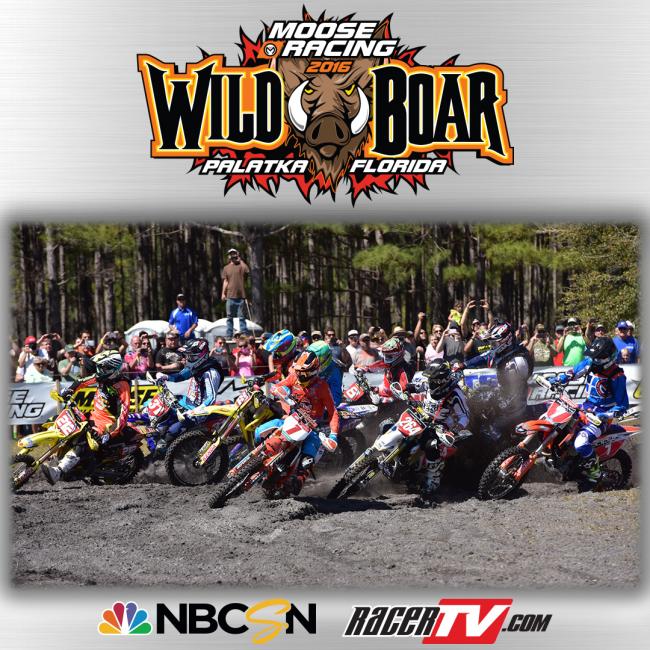 What's New on RacerTV.com?
With all 13 rounds of the AMSOIL Grand National Cross Country (GNCC) Series presented by Maxxis, an AMA National Championship, now complete, Racer Productions is pleased to announce the release of RacerTV's full-length highlight episodes from each round.
Throughout the year, RacerTV broadcasted the most exciting action from each round on NBC Sports Network (NBCSN) after each event in a 30-minute highlight show. Each show focused on the most intense racing action of the weekend, either pro ATV or bikes. An additional 13 brand-new full-length highlight episodes featuring the discipline that were not displayed on NBCSN are also available to view on RacerTV.com. To view all 26 highlight shows, click HERE.
News from GNCC, Sponsors and Riders
1. Competition Bulletin 2017-4: ATV: Youth Class Restriction Clarification
An inquiry has been received with regard to new Amateur Rule B.5 which restates the pre-existing AMA Racing Rule prohibiting "A" class riders from competing in Youth classes, as it relates to ATV Schoolboy Sr riders. Given the skill level of riders in the ATV Schoolboy Sr division and the fact that there are little options for them to compete locally in non-AMA events other than "A" classes, the rule has been clarified to exclude riders under the age of 16 from this prohibition.
Accordingly, Section B.5 of the 2017 GNCC Amateur Competition Rules is amended as follows:
5. Youth Classes: No "A class" riders are permitted to compete in any "Youth" classes. AMA Racing Rule, Section 2.1.E.1.e. Hence,Youth riders are prohibited from competing in any "A" division in any non-GNCC off-road event/series. For purposes of clarification, this restriction does not apply to the ATV Schoolboy Sr. division, so long as the rider is under 16 years of age and does not receive a cash prize.
For further inquiries, contact [email protected].
2. Offroadmotorsports' Wicked Bilt Can-Am Team UTVs For Sale
We have 2016 and 2015 Can-Am Maverick XXC Custom GNCC and X-Country Race Machines for sale!
These machines are in EXCELLENT condition and turn-key ready to race. These machines have won many races, and have been meticulously maintained. Below is a list of specs and performance parts:
2016 Maverick 6 hours and 98 miles complies with GNCC/AWRCS rules XC1, XC2, XC3
2015 Maverick 74 hours and 907 miles complies with GNCC/AWRCS rules XC1, XC2, XC3
Custom Built Chromalloy roll cage with roof and doors.
Custom Built Bumpers
Trail Armor Skid Plates
Kirky Aluminum Race Seats equipped with 5 point harness safety belts
Custom made radiator relocation kit
Light weight lithium Shorai Batteries with a 24 volt starting system
STM Clutching
Heavy Duty Radius Rods and Chassis plates (Tie rods with double shear knuckles)
Custom suspension with Fox Shocks Tuned by PR2
Custom full floating HUB and Knuckle Assembly on all four corners.
OMF NGX2 Racing "14 performance racing wheels
GBC Dirt commanders 27x9x14
Tire blocks
Wicked Bilt custom built QUICK STEER EPS system and the Ultra Tough RACKZILLA rack and pinion.
ALL THIS FOR $19,995- $14,995
Call 724-272-2998 for details.