Chuck Lemaster
TimeTuesday, January 10, 2017 | 2:50 PM
Mikey Nickels is knows around the track as an outgoing, fun-loving and super fast racer! He wrapped up the GNCC Youth ATV Championship this past year. GNCCRacing.com caught up with him to find out how the off-season is going and what his plans are for next year.
GNCCRacing.com: Hi Mikey! Congratulations on a great season!
Mikey Nickels: Thank you! It was a long season and a lot of work was put into it.
I'm sure there was. Aside from a couple bad races, looks like you had a dialed program!
Yeah, there were three races where I broke a chain. Unfortunately, one of those was Snowshoe where I was leading at the time. But like you say, other than that, there was only one race where I was out of the top 5. That was John Penton and I still earned points. I knew all season long that every point was going to matter so I always had to push.
You had some strong competition. Timmy Sroka racked up a series of wins there in the middle of the season.
He did! He was on fire there for a while! He'd get a good start, get out front and I'd be buried. I just wasn't fast enough to run him down. I'd come through the pack but by then he was gone! And there were other guys, too. Dylan Walraven and I had a good battle in Georgia. Rhett Cox was on it the last race. Casey Simmons gave me a challenge at Unadilla. All year, the top 5 were just so fast!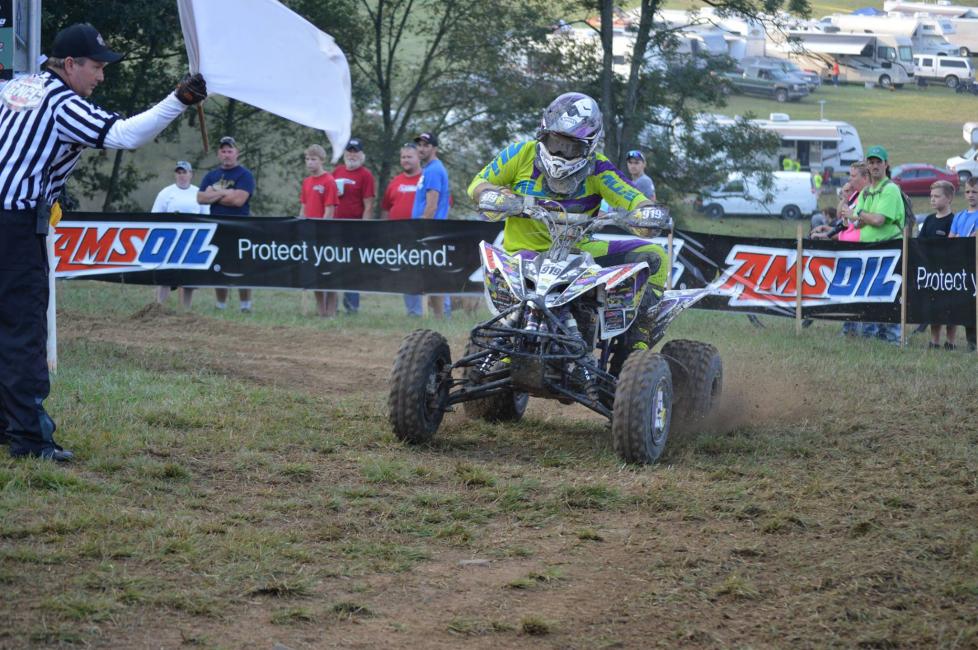 Indeed! That was a battle all year long and I believe it came down to the last race?
Yeah. Coming in to Ironman, I was 1 point down in the overall championship to Dylan [Walraven]. And that's really because he had a bad Powerline Park race. I was fresh off two wins and closed the points gap. So Ironman was a "Winner Take All" event. I knew I had to win or beat him by two positions. As the race got going, Rhett [Cox] was leading, but I got the pit board that Dylan was out of the top 5 so I knew to just ride smart and bring it home!
Congratulations again! That was truly an exciting season! What are your plans for 2017?
My dad and I have been concentrating on getting next year's bike dialed in. The plan is to step up and race the Schoolboy SR. I know it will be tough with Ronnie Rusch and some of the other guys that have already moved up from the youth. But we feel confident and are looking forward to it!
Did you say you and your dad are building this bike?
It's always been dad and me! We built the Yamaha 150 that I won this year with. We've actually built several of those bikes and one was used locally to clinch a WYNOA championship! So now we are focused on the bike for next year. We've gone with a Honda TRX450 frame and a CRF250R motor. I've been racing it locally and we are sorting through some rear end changes. We should have it dialed by the time the season starts.
Wow! That's a lot of work. Does your dad own a shop?
He owns a car shop! From 8am to 5pm, it's a car shop. After that, it's a Quad shop! [laughs] We put in some late hours, but it's definitely been worth it. I've learned a lot and feel it's an advantage to know how the machine works. You never know what's going to happen on the track and my knowledge could be the difference between a DNF or fixing and finishing!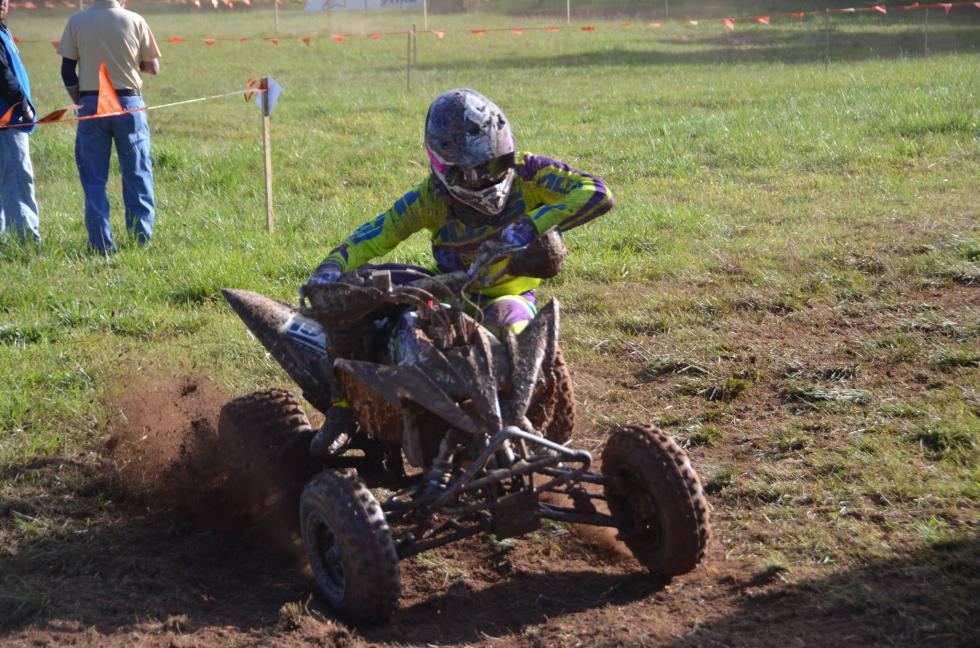 That's a really good point and I'm not sure every teenage racer is thinking that way! Speaking of education, how do you fit school into your schedule?
I live in Upstate NY, near the Tomahawk. We looked into homeschooling because that would make it so much easier for the travel and time off. But NY State doesn't recognize any cyber school as legitimate. My mom and dad both work, so straight homeschooling isn't an option. So I go to public school and try not to miss many days. It means a lot of late night traveling and I have to manage my time with riding, homework, working on bikes and all that.
I have to ask, what got you interested in racing four wheelers?
My dad used to race stock cars. And so when I was little, I drove carts. But a guy that worked for my dad was racing WYNOA and said, "You have to come check one of these out!" So we did and I really wanted to try it. My dad got an Apex 90 and we went racing! I was actually leading that first race until the bike broke. I've been hooked ever since!
Looks like you made the right choice! You have talent and work ethic. That's what it takes! This ATV racing isn't easy, but it is rewarding!
For sure! I wish there was more support for ATVs. It seems like the bikes get more sponsorship. I see 85cc motocross riders get Factory support. But then you look at The Limestone 100 race in 2014. Chris Bithell showed up in a truck with a quad and a toolbox and won the overall! That was so inspiring! That's how my dad I do it. We drive all night in a pickup. We have minimal equipment and we get to go do what we love!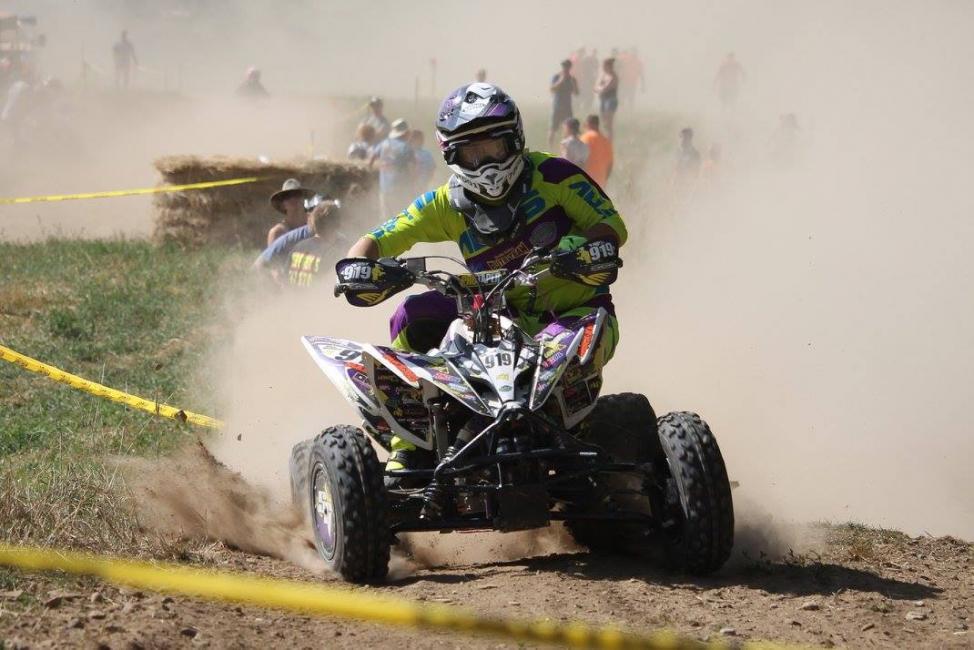 You're right! That was a really inspiring ride. And that's part of what makes GNCC such a unique series. It's racing at its finest! And now you are a GNCC Champ and there are kids looking to you. What advice do you have for the next up-and-comer?
Get good starts! There were so many races where I felt like I was probably the fastest on the track, but I was buried back in 20th off the start. Guys like Timmy and Dylan would check out because they had a top 5 start and didn't have to deal with traffic. Starts are key!
And another thing, don't give up. My first win was Unadilla. Coming in to Unadilla, I wasn't really a contender for the championship. I didn't have any wins. Timmy [Sroka] had a pile of them and I was probably about 3rd in points? But I still gave my best effort and got my fist win. And then a second win in WV. And then at Powerline, I knocked my footpeg off on the first lap and had to ride the whole race without a footpeg on that side! I was back in 14th when that happened and still came through to 4th. And every point counted at the end of the season, so I'm glad I never gave up when weird things happened! It's not over 'till it's over!
That's a pretty inspiring story right there, Mikey! Thanks for taking time to talk to us. We look forward to seeing you in SC in a couple months! Who would you like to thank?

My Dad and Mom, DMR, 100%, Alias, Spider Graphix, Many Happy Returns, Muddy Kotton, Vanilla Gorilla Racing, Amsoil, Leatt Brace, Ogio, Sunstar, Sidi, Northeast ATV, Rusch Racing, Camp Lazy, the Larson family, and everyone else that helped me or that I forgot.