Jared Bolton
Time
Thursday, September 8, 2016 | 3:30 PM
Welcome to Quick Fill.
Well, summer break is officially coming to an end, as we'll be returning to racing this weekend with the Unadilla GNCC. We've talked time and time again about how big Unadilla is and how exciting it is to return from summer break with a huge number of riders on one of the world's most famous motocross facilities. This year looks to be just as promising with a great weather forecast and a great track laid out, Unadilla will once again be a great way to kick off the final four rounds of the season.
Speaking of the track, I have all the details on that coming up a little later, so be sure to read ahead to find out what you can expect this weekend. With that said, there's more work to be done and we've got an action packed edition of Quick Fill coming up, so we'll keep the intro short and jump right in. See you this weekend, it's going to be a good one!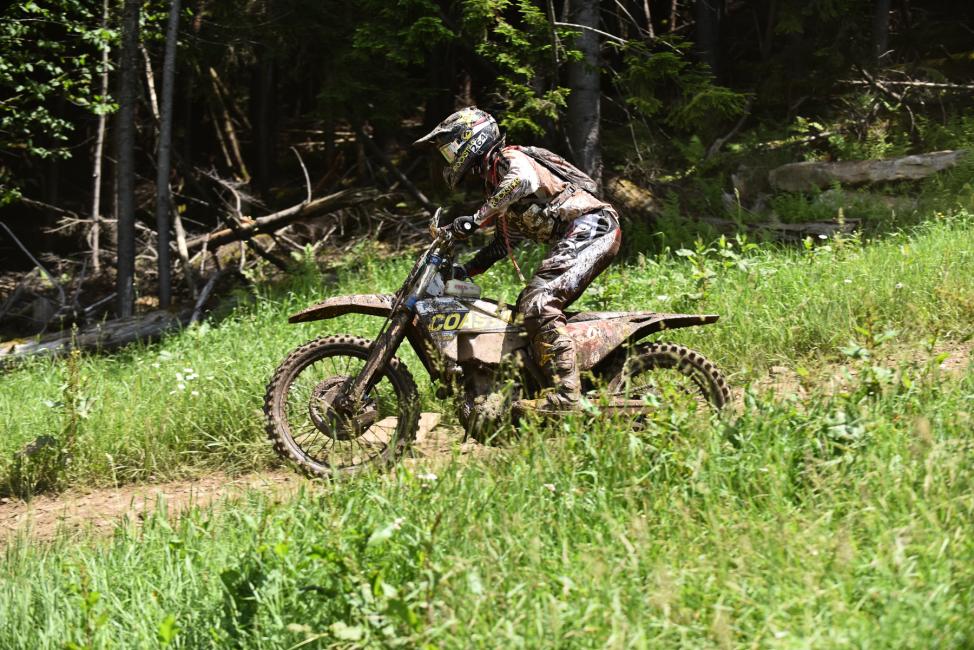 Weekly Updates (Chelsea Taylor)
This edition of Quick Fill comes from I-86 as we cruise down the road to Unadilla. After what seems like forever, we are finally getting back into the swing of things and back to GNCC racing. This weekend Racer TV will be doing a special feature that focuses on amateur racers and how they spent their summer break. If you happen to see the camera crew walking around and want to be involved feel free to jump right in! The goal of this feature is to showcase the diversity of GNCC racing to the many viewers that watch from home!

Parts Unlimited will be sponsoring a dinner on Saturday night at 6 p.m. The dinner will take place at the Parts Unlimited rig in Sponsor Village, so make sure to stop by, grab some free food and hang out with friends. After dinner Team Faith will be conducting their youth activities and then a chapel service at the brand new Team Faith rig!

We will have two additional racers join us this Sunday as part of our partnership with JNCC (Japan National Cross Country). Saiki Tatsuya will be competing in the XC1 Pro class, while Ren Ishidoya will be in the XC2 Pro Lites class. Both riders will be on KR4 bikes so make sure to keep an eye out during the pro bike race and stop and welcome them to the GNCC Racing Nation!

That's all for the updates today. Safe travels and we'll see you in WNYOA country!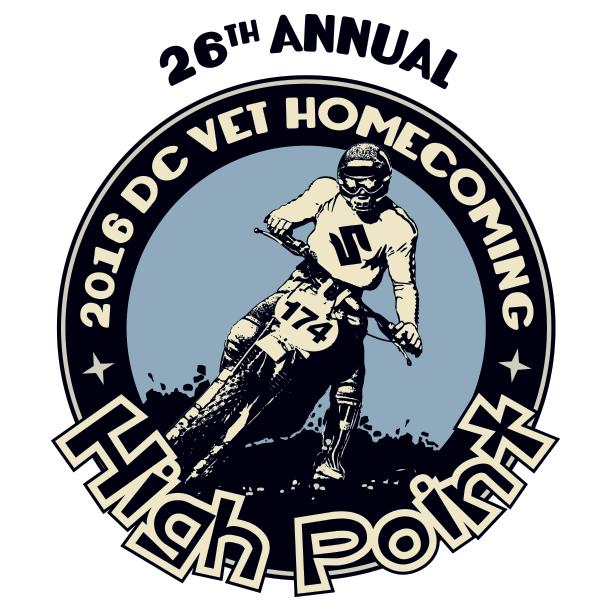 DC Vet Homecoming Is Just Around The Corner! (Jared Bolton and Chelsea Taylor)
For the 26th time, the DC Vet Homecoming will be taking place at the famous High Point Raceway in Mount Morris, Pennsylvania. This event is one of the most fun, laid back weekends of racing that you will ever experience and best part of all, it pays tribute to Dave Coombs; the man who did so much for the world of motorcycle and ATV racing, including starting GNCC Racing as we know it today!
Saturday, September 17th will be dedicated to the GP Moto-X Country event which will be a hybrid motocross, grass track and woods mix. This year we've upped the motos to 30-minutes and have changed around the class structure to give everyone on big bikes an opportunity to race more than one class. We have classes for everyone on big bikes ranging from the Pro class to C classes, and of course it wouldn't be a Vet Homecoming without vet classes!
The GP course will be just around three-miles with a good chunk of the High Point motocross track, a couple of big grass track sections that promise to be a lot of fun, plus a few sections of woods that are some of the same trails we used during the GNCC events at High Point for 15 years. The GP format will be a lot of fun and two 30-minute motos will make for a good day of racing, even if you only opt for one class! To see a full list of classes click HERE.
Now here's Chelsea to let you know about Sunday's racing…
Thanks! The following day after the Moto-X Cross Country race is dedicated to motocross. I know what you are thinking, "we are woods racers!" But one of the coolest parts about the DC Vet Homecoming is that there is absolutely no pressure, there are no paying points or championships on the line, so if you're willing to try something new then there is no better time than now!
In addition to the multiple age classes available there is also a host of support classes available so that the whole family can join in on the fun! There will be 65cc and 85cc open divisions in addition to Schoolboy (12-15), 18+ Novice and 18+, making it a great day of racing for everyone. Some of the Racer Productions staff will even be joining in on the fun and racing on Saturday and Sunday! If you race any class we are in, then you're guaranteed not to get last! We may be lacking in our riding skills.
Registration for Sunday's DC Vet Homecoming motocross race begins at 7 a.m. September 18th, with practice to follow at 9 a.m. For a detailed list of Vet Homecoming classes, click HERE. The race entry fee for both days is $40 for the first class, and $30 for each additional class, per day. You'll even receive a free event souvenir t-shirt if you register in advance. To register now, click HERE.
Perhaps you weren't involved in racing back in the good ole' days and don't know much about vintage bikes. Don't worry! This event is a don't-miss event no matter if you are in to vintage racing or not, but it's awesome to see the guys and girls out there racing the old bikes and jumping them like they have brand new suspension on them! There are three different vintage classes in addition to the many vintage contests that will be taking place on Sunday.
Speaking on contest, the vintage contest categories are: Vintage Race Gear, Oldest Race Program, Vintage T-Shirt, Best Old-School Trophy, Furthest Traveled Competitor and Oldest Competitor. The winner of each category will receive a free one-year subscription to Racer X Illustrated, as well as two (2) all day pit passes to the 2017 High Point Pro Motocross National. And for being so awesome, the Furthest Traveled Competitor will receive two (2) VIP Super Passes to the High Point National, a $400 value. If you're interested in competing in any contest just stop by the Racer X booth in Sponsor Village by 11 a.m. on Sunday to register your items. The lucky winners will be announced during racing intermission.
We'll see you next weekend at the 26th Annual DC Vet Homecoming race at High Point Raceway!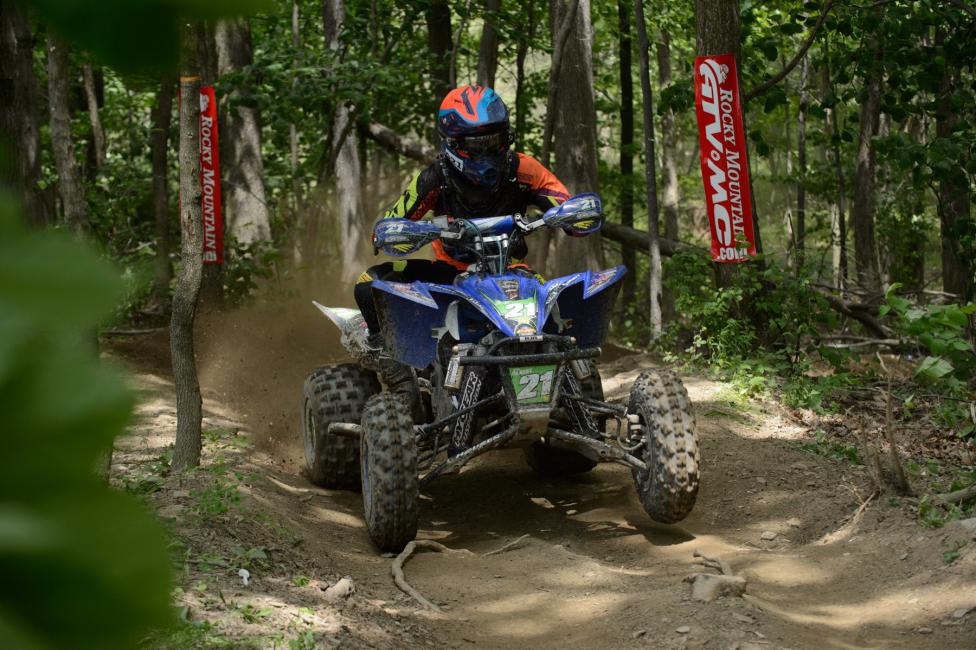 Covert Operation (Rodney Tomblin)
The 2016 GNCC summer break will soon come to an end this weekend, although many may say the break has already been over, as the preparations have been being made for weeks. Regardless, racing resumes soon and this will all be a distant memory. The waiting that takes place during this time could be a little unbearable if it were not for so many other things going on during the summer. Most of the Racer Productions staff stayed very busy with ATVMX, Loretta Lynn's and Lucas Oil Pro MX. Many others in the GNCC Racin' Nation stayed busy with vacations, marriages, new training regiments and of course most recently some pretty big races. Between the 10-hour Heartland Challenge and Pont de Vaux 12-hour race in France, as well as local and regional racing around the states, there has been some action happening as of late.
Some of the action close to home has gotten a little heated to say the least. As we prepare for our co-sanction race with WYNOA next weekend at Unadilla, we hear of some action taking place this past weekend in the Empire State. It looks like things are going to be pretty good right off the bat when we roll into New York as top GNCC competitors in the XC2 class battled it out for the overall win in, of all places, Speedsville, New York. Marty Christofferson and Greg Covert battled not only each other but also six-time GNCC champ Chris Borich, as he too got out and knocked some dust off the boots.
Chris Borich has been relatively unheard of most of the summer. Doing what? It's a question many have wondered about. Is he recharging the batteries, laying around, working, riding or training? I've seen the former champ quiet before but not so much like this. It makes you wonder if he has anything up his sleeve for the final four rounds. It is kind of exciting in many ways because we know what he is capable of even though he has had struggles making it to the winner's circle for nearly two years. One would think this would make him hungry enough to go on the ultimate soul search and find whatever it is that he is looking for to reach the next level. Things are quiet and as much as we speculate, it could also not mean a thing.
The thing that could mean something is the way the day ended amongst the two XC2 GNCC foes. Even though both are from New York and are big staples in the WNYOA nation, this battle means a lot for the national series as well. It could mean things may have just gotten more intense between Christofferson and Covert for the national title. It's kind of interesting how the two battling for the national title are battling at their local series as well. It can only mean its going to be better for the fans to watch this one.
This past weekend saw Greg edging out Marty for the overall win. Borich followed them in third but Borich broke a clutch lever, which resulted in some complications but was able to still salvage the final podium spot. Chris said he clipped a tree stump going down a hill and crashed pretty bad. He said when he got back up the clutch lever was broke off. Covert currently leads the XC2 points by 22 over Christofferson and with four rounds to go, you know it is going to get exciting.
The interesting thing about the national point standings is that Covert's lead comes down to pure consistency. He has two wins on the season which is impressive but quite likely the most impressive thing about his lead is the fact that he has not finished no worse than fourth in class. The XC2 is a highly competitive field of riders with a deep talent pool and is one of the toughest classes to win.
It takes a lot of different things to win the title in any class but in the XC2 it takes a little more of everything, and then some. Consistency is a good key but that alone will not win the championship. It will take wins but it will require the maturity of knowing how to win and when to win. A point cushion is a good thing to have but anyone knows that it takes only a moment for that to tighten up or even slip away. So being wise will be key. The only problem is that most of the competitors are rather young in this class and remaining focused is key.
As far as being focused goes, we know Greg Covert and Marty Christofferson have both been tested in the past. Marty, by former XC2 champ Cole Richardson, and Greg by XC2 class competitor, Westley Wolfe. Greg and Westley went to the wire last year in the College A class and this year they are separated by 35-points with four rounds to go. The likelihood of Wolfe winning this title seems rather slim but this is when he is most dangerous. Greg will have to be especially consistent and in the front of the class to defend the points lead and claim the title. With the ferocity we have seen him battle at in the past it is exciting to imagine how Covert will operate. Will it be quiet and precise or will it be an all our war?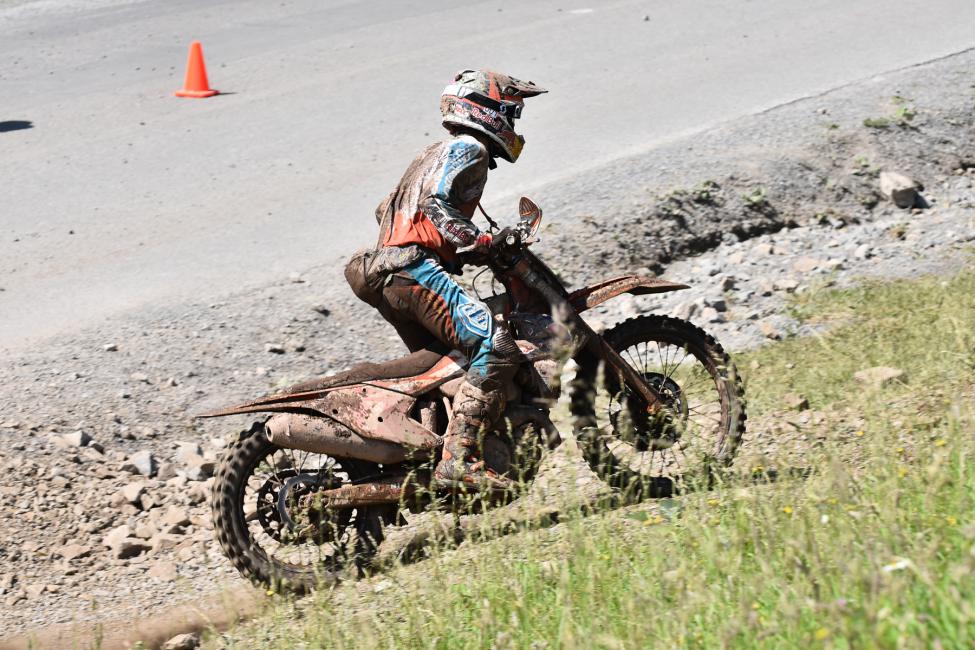 Unadilla Update! (Jared Bolton)
The track is coming together and we're almost ready to go racing at Unadilla. This year's track promises to be a good one as everyone who has been around it thus far all agree on something, the flow of the course is a blast! You'll actually be starting at the beginning of the lap and will have some open trails out to the one-mile mark.
From the one to the two-mile mark is some familiar Unadilla terrain, including the easier section of the old railroad grade. The past few years this section has seen some deep whoops but I'm happy to say that trail is in the best shape it's been in in a long time! Once you get to the end of that, it's a good uphill section to the big milkweed field that you cross a few times.
After another little section of woods, you'll pop out onto the U2 motocross track for the first time and work your way around to the Pro track, then up and over skyshot. I'm happy to say that skyshot will be open for the 1PM races, but please keep in mind that NO spectators are allowed anywhere on the motocross track. We'll have staff patrolling the track to remind anyone who may forget.
You'll work your way up to the three-mile mark and off the motocross track, then back to the woods where you'll work your way out through some up and down sections to the four-mile mark. After the four, you'll cross the milkweed field again into a little valley, which will take you down a nice downhill section. You'll work your way to the back corner of the property to an uphill section, across the milkweed field for the final time and out to the five-mile mark.
From there, you'll work your way up to the front gate, through some sections of trackside pitting and onto the motocross track once again. This is a long section of motocross, including Gravity Cavity, to get you to the six-mile mark before another section of woods and trackside pitting to the seven-mile mark. You'll then hit your last section of the Pro Motocross track before heading back onto your last section of the U2 track. You'll cut off the U2 track on the backside and hit another section of ups and downs to the eight-mile mark. The eight will get you to the last section of trackside pitting around the top parking area and into another section of woods that will start working you towards the nine-mile mark and into the finish.
All-in-all the track will be just over nine miles with one of the most fun, flowing Unadilla courses we've ever had. The track will be a little bit on the fast side, which will help to accommodate the large number of riders we're expecting. Good luck to everyone this weekend and we'll see you in the woods!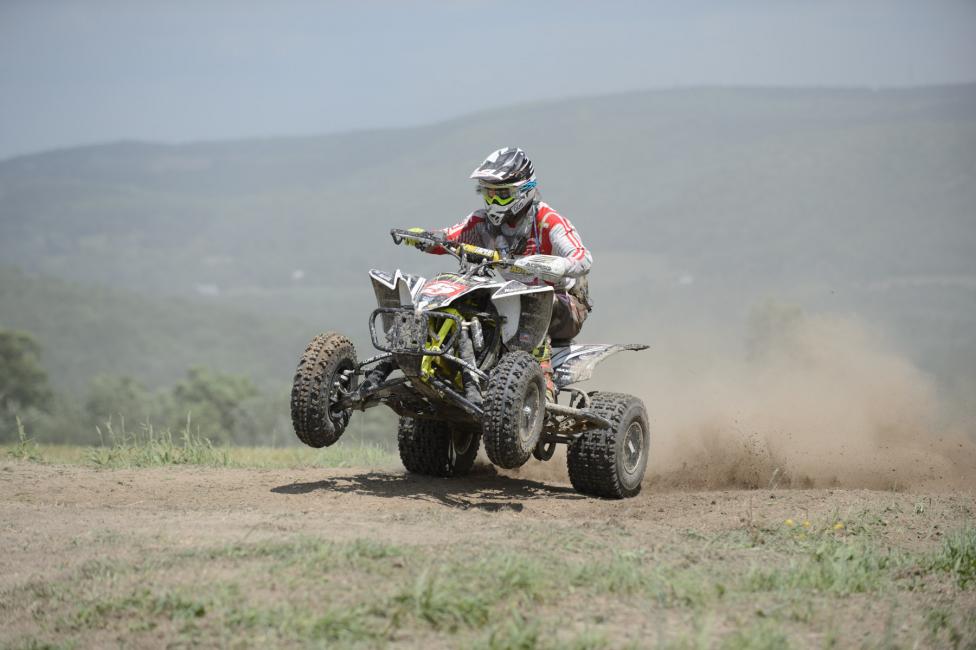 12 Hard Hours (Rodney Tomblin)
The annual 12 hours of madness held each year in France known as Pont De Vaux was recently held as well. You may have followed social media and saw Jarrod McClure, Brycen Neal and west coast rider Beau Barron competed as a team in this years meet. A great team and one that you would think should win without much problem but problems seemed to be the story. At least at the most important parts but it was an exciting race and could set the stage for a return of three back for redemption in 2017.
Jarrod sent me a message to let me know how it all went down and explains just exactly what this race is all about:
Hey Rodney,
12Hour PDV Racing Mondial Du Quad…
Many people may not have heard of this race but looking at the results it reminded me of the Olympics of ATV racing, seeing all the flags of different countries in the results was super cool, especially seeing the USA on top after the first round….
Last week Doug Henline (former owner of Douglas Wheel) rounded up three of the top ATV racers from different parts of the USA to head to France and compete in the 30th running of the 12 Hour Mondial Du Quad PDV racing presented by Maxxis. The team name would be '"4Liberty Motorsports" and consisted of Beau Baron, multiple time WORCS champion, Brycen Neal, and myself (Jarrod McClure). The race is not a walk in the park by any means and the logistics of it and pit strategies play a huge part in finishing well, and in my opinion often times underestimated. I competed in this race last year for the first time and we learned a lot about the event and what kind of setup we needed.
This is a 12-hour event that is broken up into three sessions. Four hours during the day on Saturday, then five hours that same night, then three more hours on Sunday to finish. After each session the ATV goes to impound where it cannot be touched, so like I said pit strategy is a big deal in this race!
We struggled with our setup in qualifying trying to make changes and having things take longer than they should have so we never got to run a fast lap and had to qualify 19th which made us look bad. We kept our heads high though as the race began.
I started the race and pulled a seventh place start and after two hours of racing came into the pit in fourth where Baron would get on for the final two hours. He made up ground quickly and got us into the lead by the end of the session. We did miscalculate the race time and missed our last lap pit, which would force us to pit early in the night session.
Brycen Neal would start the night session with a dead battery and dim lights and unfortunately had to pit right away moving us to dead last (which was around 80th). Once on track Neal proved his speed was there as he began moving up the rank and had us up into the top twenty until he tangled with a lapper stalling the bike and having a hard time to kick start. This knocked us back in the pack again as I got on for my two hour ride. I had us back into 19th I believe and then handed the ATV back to Neal who would go out and bring us into ninth at the end of the night session.
I think but am not sure that we were sitting 7th overall at the start of the third session. Hopes of winning were gone, but the possibility of a podium was doable. I started the race struggling to get the machine to start with the kicker. I came through the pack after one hour and had us into fourth position. Beau Baron was feeling fresh and ready to put a hurting on the field for the last two hours but got stopped 30 minutes in with a blown motor.
The trip was an awesome experience even though we did not place. We definitely made some waves over there winning a heat and running good laps, we proved we had the riders, and with a little fine tuning of our equipment we can win that race. I know Brycen had a blast being in France for the first time, and was blown away by the ATV racing scene over there. Maybe next year we will have better luck. Now its time to get ready for some GNCC Racing!!!!
Jrod
Thanks "Jrod"! Good stuff and good times. I can't wait to see the boys and pat them on the back. Let's all do that. They did a great job representing the USA.
Headlines
GNCC Racing Set to Invade Iconic Unadilla MX for Parts Unlimited Unadilla GNCC
Fowler Heads into Parts Unlimited Unadilla GNCC with Eyes Set on National Championship
DP Brakes in Attendance at Unadilla GNCC
AMSOIL Introduces New Lubrication & Cleaner Products for Firearms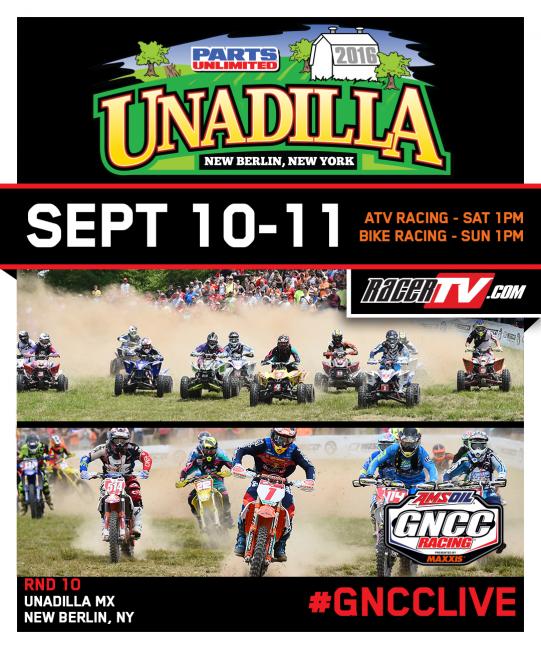 What's New on RacerTV.com?
RacerTV returns this weekend with GNCC LIVE from Unadilla MX in New Berlin, NY. Catch all the action as we return from our GNCC Summer Break. The Pro ATV riders take to the course on Saturday, September 10 at 1 p.m. while the Pro Motorcycle riders will be live at 1 p.m. on Sunday, September 11. If you can't make it out to watch the race live, be sure to tune in each day to catch all of the racing action.
News from GNCC, Sponsors and Riders
Parts Unlimited Hospitality Dinner on Saturday, September 10 at 6 pm.
Camping is for racers, their familes, and AMA members only. No fan camping is permitted.
This event is co-sanctioned with our friends at the Western New York Offroad Association (WNYOA).
Ty Kesten Memorial Golf Outing
The 1SIX Foundation is a nonprofit organization that has been created to bring awareness to how short life is. Ty was bigger than life, so it only makes sense now that he is no longer with us, that his memory would help many causes in need that were near and dear to his heart. Read More...