Chuck Lemaster
TimeTuesday, September 6, 2016 | 4:15 PM
Shelby Rolen has been a long time GNCC competitor, Loretta Lynn's contender and WMX professional. As we come off the summer break and get set for Unadilla, GNCCRacing.com thought it would be good to take a look at all the other series that MX Sports is involved in – and Shelby is just the rider to do it!
GNCCRacing.com: Hi Shelby! Most of us have enjoyed a bit of a break, but it seems you have kept the throttle twisted! What have you been up to this summer?
Shelby Rolen: Well, I took some time off, too! As you know, I've been doing WMX, GNCC and Loretta Lynn's this year. Once I got through Loretta's, I went to West Virginia and just did some trail riding. There's no cell phone service and it was just a nice break!
But you didn't stay there too long! You had one more WMX race before summer vacation was over!
Yes! I'm really pumped! We went to Ironman and came away with a top 5 finish. I know it wasn't the podium, but personally, I feel that was the best I've ridden in all my life! I even crashed in each moto and still finished 5-5. Something just clicked and that race was so much fun!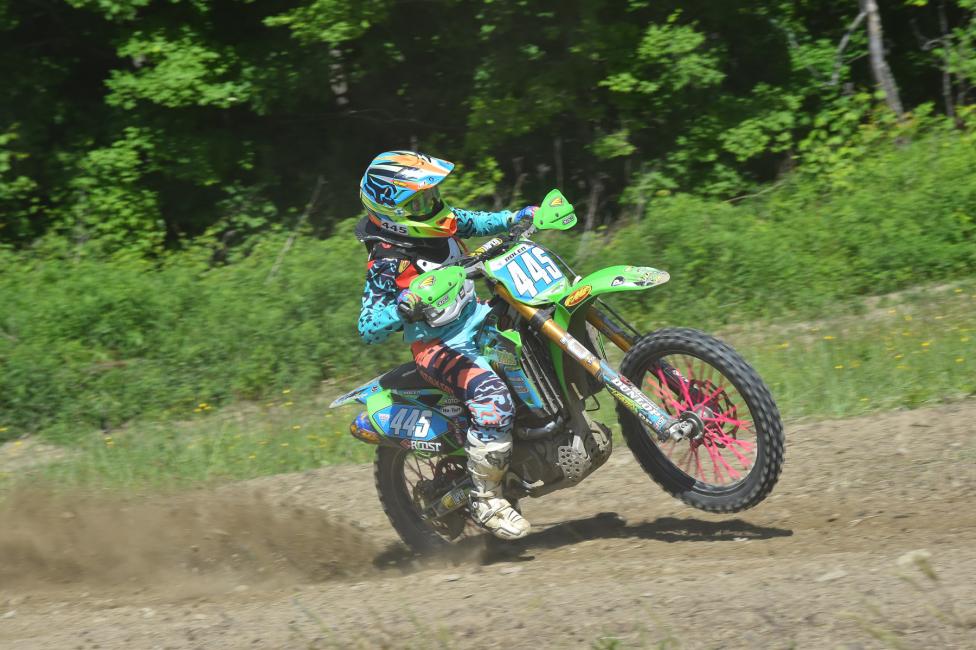 Congratulations! You've really had a breakout year! Personal best results in WMX, best results at Loretta's and sitting just outside the top 5 in WXC despite missing Florida. What has happened?
[Laughs] Yeah, I've been having a lot of fun this year! I was originally focused on WMX and Loretta Lynn's and had the opportunity to go to South of the Border and live and train. That has probably made the most difference in my riding. Getting to ride every day on a prime track with top-level instruction…there's no substitute!
So with a focus on motocross, did you plan on a return to GNCC this year?
No! I was down in Florida to practice for the WMX at Daytona and went for a trail ride. I realized during that ride that I was having a ton of fun and said, "I miss this!" I called my mom and said, "Let's do the Georgia GNCC!" It was totally spur of the moment! I honestly didn't do that well. I finished outside the top 10 in the Women's XC Class. But I haven't raced GNCC since 2013. I was running the series consistently for several years, but then it just got too much about halfway through 2013. I showed up at Ironman last year and raced, but never considered, "Let's do this again." But with my riding and training improving through SOB, I just felt like going all-in this year after that Georgia race! I came back and got 6th at Steele Creek and finally broke the top 5 at Penton and Tomahawk.
Do you feel like you were running ragged?
Oh my goodness, yes! April and May were brutal! There were the GNCC's, the Freestone WMX National and Loretta Lynn's Area and Regional Qualifiers. I think I went 12 weekends in a row without a break! But all that riding was good myself and my fitness which was peak, so in all, it was okay. My family and I got through it and I started getting the results I was looking for.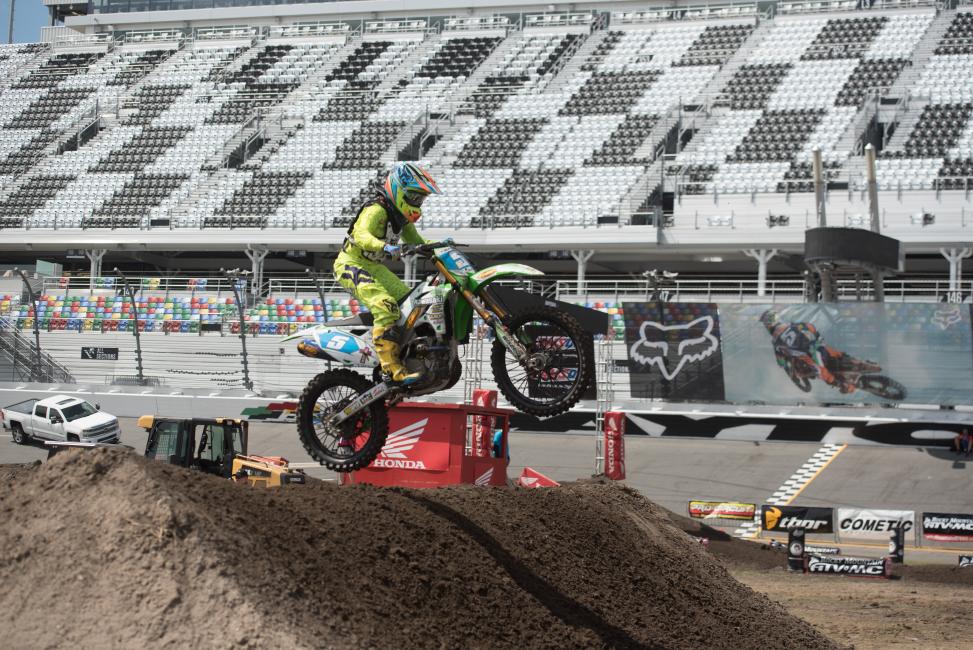 You sure did! Take us through your Loretta Lynn's experience this year.
It was my best year ever at The Ranch. I finished 7th Overall, but felt I had more. I finished 7th in the 1st moto and then actually pulled the 2nd moto Holeshot! It was nice to be up front for a little while. I ran 5th for most of the race and then tangled with a lapper toward the end. I finished that one in 6th and then finished 6th in the 3rd moto for 7th overall. The competition there is unbelievable! It was my goal to come out in one piece and with a top 10, so I was really excited at the end of the week!
Did it help to come in with some confidence from your WMX High Point Podium?
Well, I definitely came in with some confidence because of how well I had been riding, but High Point was almost a month before Loretta's. I had done the Snowshoe GNCC since then and finished 8th there, so I guess I'd have to say that I just knew I had to be focused on the task at hand!
It's probably difficult switching between three series?
It is, but I'm at a point in life where my mental toughness is catching up, if that makes sense? I'm 27 years old and been riding my whole life. I've made some lifestyle changes and living at SOB (South of the Border) has been positive thing. My physical strength and conditioning is strong and now I'm managing work, life, relationships, riding, training and travel. It's a lot to keep up with but I've always had the support of family and I know I can't do this forever, so I'm making the most of it now!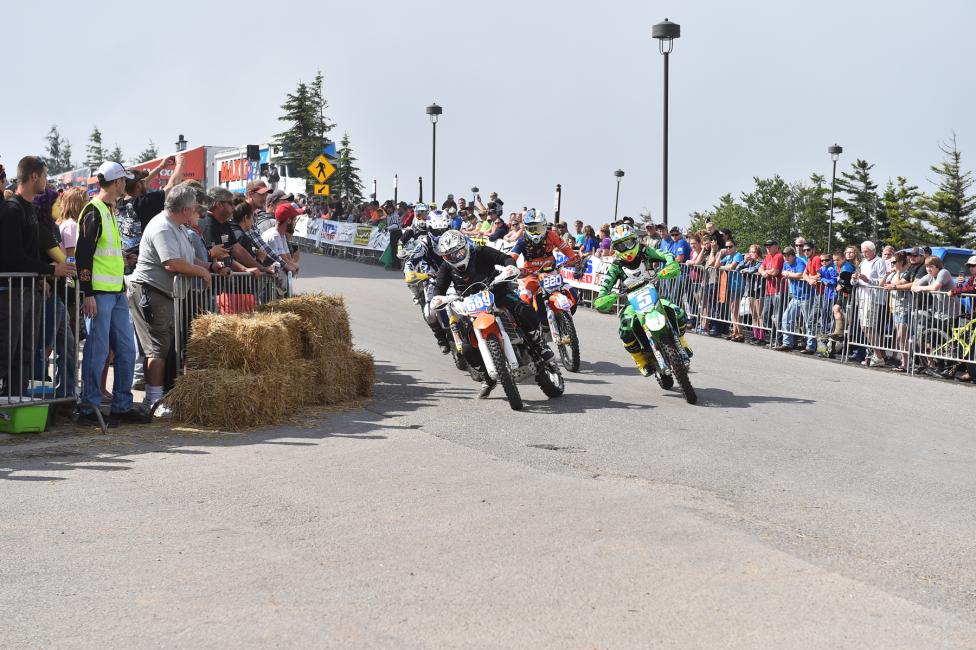 That's a great outlook! I touched on it, but can you tell us more about that WMX podium? That was your first time on the box, right?
Yes, it was! And that was a day when everything just clicked for me! It was awesome! I had a bad gate pick for the 1st moto and started outside the top 5. But I charged to 3rd and fell back to 5th and then back to 3rd! And that was a great day because I had never been on the podium even for a moto! So then I got 3rd gate pick for the 2nd moto and pulled the Holeshot. I was able to lead for a little bit and fight for my position. I finished 3rd, so two moto podiums plus an overall podium! I was super satisfied! I'm really looking forward to the Kawasaki Race of Champions on October 2nd. Unfortunately, that is the Powerline GNCC and I hate to miss that, but with a High Point podium and a 5th at Ironman where I crashed twice, I'm excited to go to New Jersey and give it my best effort again!
So that brings us to, "What are your plans for this fall?"
Well, I obviously have the schedule conflict with WMX and GNCC. I'm 6th in points for GNCC and 7th in points for WMX so I need to get to as many of each race as I can! I'm planning to hit 3 of the last 4 GNCCs and the NJ WMX and then to Mini O's in November. It's a full schedule but I like riding dirt bikes!
Since you do motocross and woods, what's the biggest difference to you?
Probably the jumps! I've never been much of a jumper. When I first got to SOB, there was a big jump that I wasn't hitting. The instructors were like, "Aren't you going to hit that?" I said, "No. I'm good." They were like, "So…are we going to teach you flat track, or what? I thought you were here to learn motocross?" So I went out and gathered up my nerve! Once I did it, I realized it wasn't that big of a deal.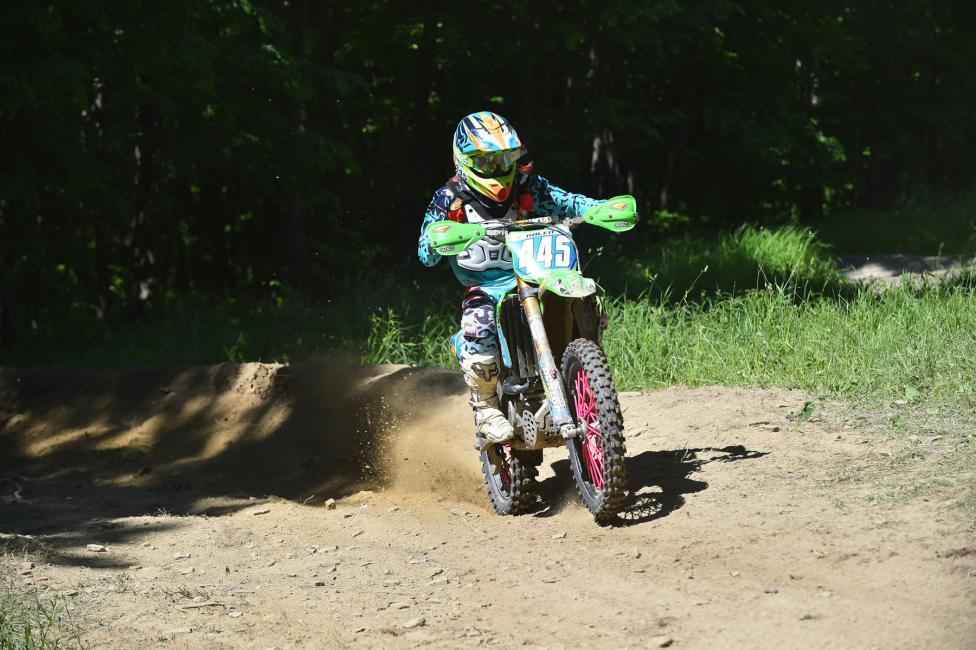 Well, congratulations on a great year! We look forward to seeing you at Unadilla. Who would you like to thank?
I mentioned my family earlier; mom, dad, my little brother Kendall. There is also the Astudillo Family. Everyone really comes together to make things happen! I also have great sponsors behind me: Kawasaki, Team Green, Fox, Leatt, Scott, Pro Taper, NoToil, Evans Coolant, MGX unlimited, Dunlop, Crushed MX, DP Brakes, Wiseco, ProX, Cometic, Maxima, Rekluse, Works Connection, Öhlins, Cycra, Brewer Cycles, Spokeskins, Gateway Cycles, and South of the Border training facility.