Jared Bolton
Time
Thursday, May 19, 2016 | 3:25 PM
Welcome to Quick Fill.
Round six is in the books as the 2016 GNCC Racing season continues to push forward. This year's Limestone 100 GNCC was nothing short of challenge for just about everyone. Rain in the week prior to the race saturated the track and made for a fairly tough and muddy race throughout the whole weekend. Even though the last bit of rain fell Friday night, it was still wet enough that even the bike races on Sunday saw a bit of mud, even with a good bit of sun helping to dry things out. By no means was it a full-blown mud race, but it added a challenge for sure.
We're now basically half way through the 2016 GNCC season, which as we've mentioned before, is hard to believe because it seems like we just got things started! Next up we head to Ohio for The John Penton GNCC, the longest running event on the GNCC schedule. The John Penton is always a cool event as it pays tribute to the man who did so much to further the sport of off-road racing. This year the event title sponsor, Wiseco, celebrates their 75th anniversary and they'd like to celebrate with everyone throughout the weekend, including a Saturday night screening of Rob Mitchell's full-length off-road film, From The Other Side.
It's an excellent movie for those who haven't seen it, and even if you have, what better time to re-watch than when you're at a GNCC event? The film highlights a number of top off-road racers and race series, so make plans to catch the movie Saturday night. It's going to be a good time!
4x4 Pro Update (Jared Bolton)
The guys in the 4x4 Pro ranks have been setting the bar high in 2016, creating some of the best 4x4 racing the world of GNCC Racing has ever seen. The first five rounds would see five different winners, but last weekend's Limestone 100 GNCC would see Jordan Phillips become the first 4x4 Pro rider to claim two class wins in 2016. Of course, one of the biggest surprises thus far is that two-time and defending 4x4 Pro class champion, Bryan Buckhannon has yet to claim a win in 2016 and in fact, he's only finished on the podium one time all season!
Speaking of podiums, something else interesting about the 4x4 Pro class in 2016 is that there's only been three instances where the 4x4 Pro class winner has also claimed the 10AM race overall win. Bryan Hulsey and John Glauda Jr have been on fire as well in their respective classes and have claimed overall wins of their own in the 10AM race. However, in the 4x4 Pro ranks, we're beginning to see a championship battle shape up once again.
Last season everything came down to the final round for the 4x4 Pro class championship and thus far in 2016, we're once again seeing the same kind of battle begin to shape up. After six-rounds, Kevin Cunningham has proved to be one of the more consistent riders in the class and controls the class points lead by five points over Michael Swift. Currently holding down third place is Swift's Team UXC teammate, Kevin Trantham. Kevin sits just six points out of the lead and one point behind Swift.
I see these guys walking the track every Friday, and I jokingly told Swift that he better watch out because Ryan Echols and I have been training and if we ever decided to try racing a 4x4, it's going to be very tough competition. Swift offered to take care of everything and told me to "just bring my gear" which sounds like a challenge. Maybe one day but there's no way either of us, or any sort of mortal human being would stand any chance against these 4x4 warriors. I know there are always the "bike versus ATV" discussions and there are plenty of bike racers who don't show up for Saturday's ATV races, but I think everyone needs to check one out at sometime. What these guys do is absolutely incredible and it's amazing to see these guys wrestle those big 4x4 machines around the woods at the speed they carry.
Regardless, this year's 4x4 Pro class championship could once again prove to be one of the most exciting championship battles of the entire 2016 GNCC Racing season. There's still a lot of racing left to go and a lot can happen, but one thing is for sure, these guys are putting on a heck of a show making it happen and it's one that you don't want to miss!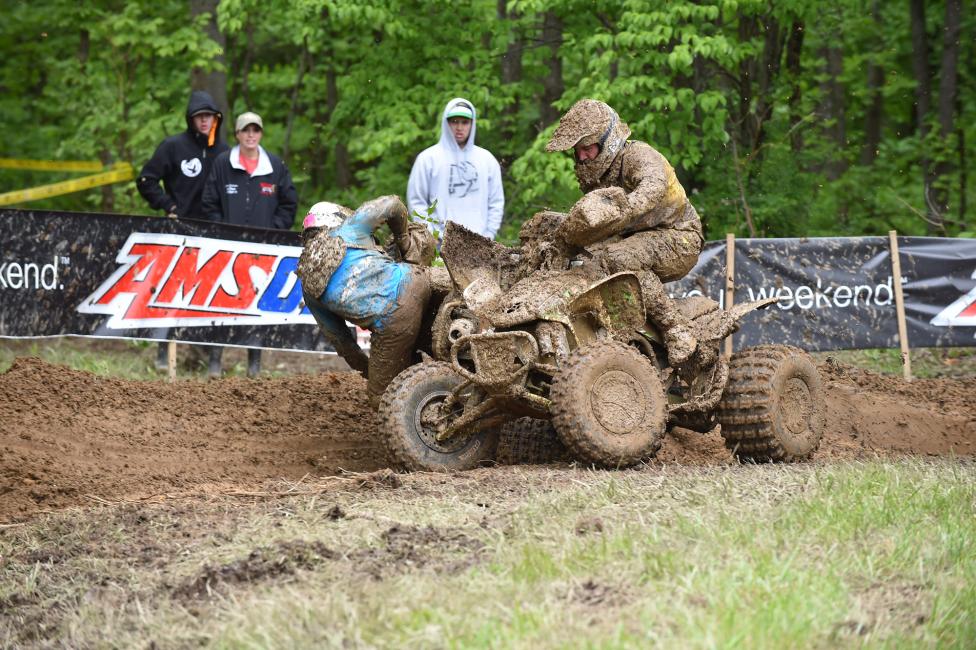 One for the Books (Rodney Tomblin)
This past weekend's Limestone 100 GNCC may go down in the history books as one of the greatest weekends of battles in the "New Era" of GNCC. No one could have predicted what took place other than in a race fan's fantasy world. It was quite possibly legendary. I live by the hype and the "realm of possibilities" that things like this could happen. What I never expected was to see the torrid battles to the final moments that left us on the edge of our seats from the wave of the green flag.
The ATV racing that kicked off on Saturday was a nail biter from the beginning. As Walker Fowler, Adam McGill, Chris Borich and Brycen Neal set out early to take control of the day it became very apparent that each one had their minds set on the win that day. None were willing to relinquish the thought until the checkers waved. I noticed that Adam McGill might be a little more serious and even more of a threat to win the championship than ever before. I am not taking away anything from the Adam of recent years, but what I am saying is that all the pieces may be about to fall into place for him that have seemed to elude his efforts in the past. A three race win streak will by no means win the title for him at this point but it puts him in a position of power as the point difference between he and Fowler slowly shrinks.
As we approach the midway point of the season, the there's now just seven points that separate McGill from Fowler. Then there's a twenty-point cushion back to Brycen Neal in third and another nine back to Chris Borich in fourth. Theoretically these four are the title contenders at this point and depending on how things go from here on out the championship could prove to be very similar to the race we just watched at Limestone. A little bad luck here, a twist of fate there and all of a sudden things change and the surprises start coming.
The way things are looking at the moment, it appears there will be a title battle between McGill and Fowler but Neal, Borich, McClure and a host of others could help shake things up at any given moment. We also know that it is almost inevitable that each rider has at least one really bad round that can shake things up. The thing is that no one can afford to let that happen, but the situation may be out of their control.
The XC2 Pro-Am class welcomed a big and interesting battle this weekend. Marty Christopherson, Greg Covert, Westley Wolfe, Cody Collier and James Green battled it out for the top honors in this class. Anyone who pays attention knows how stacked this class is. In the end though James Green, whom has been somewhat off the radar all season, scored his best race ever with second in the class as Cody Collier captured the win.
Collier has seen his struggles this season so far and has watched his hopes for a title become more challenging but days like this past weekend will keep his confidence where it needs to be to keep advancing. He sits over 40 points out of the title at the moment but knowing Collier this may be a sign of what's to come. If that's the case, then Greg Covert and the rest of the title contenders may have their hands full. The rest of the season will be very interesting as each rider will be making their strongest bid to win that title.
The battles that took place on Sunday may have been an even bigger surprise to race fans. The heart, desire, passion and skills shown on the very technical Indiana racetrack left a number of folks with their mouths open a little. Admittedly I am one of those with the look of surprise. I may have hyped it and may have wanted it but never dreamed it would happen the way that it did. In circumstances like this it is almost a shame everyone can't be declared a winner because each one put it all on the line on Sunday. The final laps came down to Kailub Russell, Josh Strang and Thad Duvall and each one was in position to do it and each one wanted it equally as bad as the other, but in the very end Russell squeaked out the win only inches ahead of Strang and followed by Duvall not far behind.
In all honesty, my head is still spinning from this weekend's race and my mind has gone into overdrive. This may be a sign of things to come or it may have just been one of those days we won't soon forget. Either way it sheds some rather interesting light on the championships and how they are shaping up at the midway point of the season. The race this past weekend will be noteworthy regardless of what the rest of the season brings and in my opinion will forever live as "One for the books."
Warriors of the Woods (Jared Bolton)
As Rodney already meantioned, last weekend's Limestone 100 GNCC arguably saw two of the most exciting finishes we've seen in the 2016 GNCC season. Much like the close finishes of the 2014 Limestone 100 GNCC that I talked about in last week's edition of Quick Fill, Limestone would once again produce not just a close ATV battle, but also a close bike battle as well. For those who may have missed it, well, you missed out on two amazing finishes.
Saturday's ATV race saw a battle down to the wire between Adam McGill, Chris Borich and Walker Fowler. On the final lap, McGill and Borich would begin to pull a slight lead on Fowler, making it a two-rider battle to the wire. In the next to last turn, Borich would attempt a last minute pass on McGill, but unfortunately he would drive into the corner just a little too hard. Borich's right front wheel caught the berm, which would pitch him sideways. At the same time, McGill stayed so close to the inside of the corner to try to stay ahead of Borich, that he would ever-so slightly clip the white pole corner marker, which bumped him slightly to the right while Borich's rear end was coming around.
This would make McGill inadvertently make contact with Borich, which would cause Borich to tip over. McGill would go on to take the win, while both Fowler and Brycen Neal would make their way around Borich to round out the podium. It was a huge bummer for Borich, but you absolutely have to give him credit for attempting to make the pass for the win. It's been quite a while since we've seen Borich claim a win, in fact, Borich's last win came at the 2014 Ironman GNCC when he would take the win, and the 2014 GNCC ATV National Championship.
Sunday would be equally exciting, as a three-rider battle would develop in the later stages of the race. On the final lap, Josh Strang would hold the lead over Kailub Russell and Thad Duvall. Just a few feet throughout the final lap separated all three of these guys. Strang would hang tough and Russell admitted that he had settled for second. However, just before the final section of the race, Strang would take one line and Russell would see the opportunity to make the pass. Russell would go for it and make the pass stick. The two would come into the finish close enough to throw a blanket over them, but Russell would once again come away with the win, his fourth consecutive win of the season. Thad Duvall also put in an excellent ride for third place, his second podium finish of the season.
There's no doubt that with a race that exciting, it leaves everyone wondering what the next round could bring. The thing about The John Penton is, you never know what to expect. We've seen incredibly muddy races, incredibly dusty races and we've also seen some races that seem to be just right. It's hard to pick a clear favorite but one thing is for sure; if it's as exciting as Limestone was, then we're in for a real treat. There are several riders on both the ATV and bike sides who will be coming into round seven extremely motivated and hungry for a win. At the same time, there's two riders coming into round seven with a string of wins, riding a wave of confidence and looking to extend their win streaks further. What will happen? Only time will tell, but it's going to be one you don't want to miss!
Never Too Late (Chelsea Taylor)
On Saturday, the Limestone 100 GNCC saw a new face on the podium for the top amateur award. For those of you who aren't aware, we recognize the top three amateurs on the podium in both 1 p.m. pro races, but the rider who has the highest overall finish is named the top amateur.
While the majority of the award contenders are up-and-coming A-class riders, this weekend the recipient was a Vet A (28+) racer. Dustin Hendershot took home the class win and finished 14th overall in front of many XC1 Pro and XC2 Pro-Am racers. This was Dustin's first top amateur, but it wasn't the first time we have seen a Vet rider take the Top Amateur Award. Jeff Pickens put forth an impressive ride at the Camp Coker GNCC and also won the Vet A class.
Of course, these aren't the only ultra-fast Vet riders. In 2014, Vet A rider Matt Pierce went on a tear claiming several Top Amateur finishes throughout that season and even earning Amateur Rider of the Year honors for the season. There have also been Vet class riders on the bike side to put in impressive rides. In fact, five-time GNCC champion Scott Summers spent his final year of racing in the Vet A class claiming wins in all eleven rounds he entered that season.
Guys like this go to show that you don't have to be contending for premier class wins to make a big name for yourself in the world of GNCC Racing. If Johnny Gallagher ever decides to step away from the XC1 Pro class for the first time in 47 years, the guys in the Masters A (50+) class better watch out, Johnny might be tough competition! Just kidding, Johnny! (Editors note: Bolt-On wrote that paragraph)
This season has seen some of the best racing in years. As we move into the halfway point of the circuit, make sure to keep your eyes on the fight for the top amateur win while watching the pros. It promises to be just as good.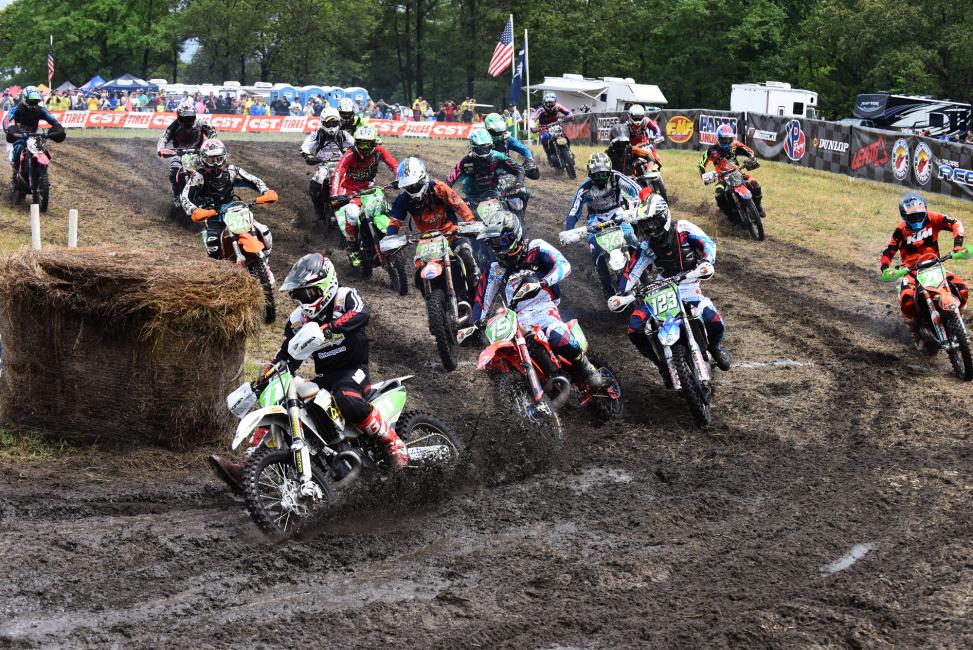 XC2 Update (Jared Bolton)
While the main focus is always on the XC1 and overall finishers, the guys in the XC2 class have been a pretty exciting season of their own once again. Trevor Bollinger swept the first four rounds, but a mechanical issue at round five would cost him a perfect season and give Layne Michael his first-ever XC2 class win. However, Bollinger would return to the center of the podium at round six, but it wouldn't come easy as Mr. Consistent Craig Delong would keep Bollinger close in his sights. However, there was a bit of a shake up in the XC2 class as well.
Trail Jesters Racing's Josh Toth would control the opening laps of the Limestone, and while he would end up fourth in the XC2 class for the day, leading three laps is still a pretty great achievement. His teammate, Ben Kelley, would also have an excellent race earning his first XC2 podium finish of the season in third place. While these two guys may be new names to some, I believe they'll end up becoming more common names we see at the front of the XC2 class as the season wears on. Both riders have been improving as the season progresses and I wouldn't be surprised to see both of them land more podium finishes this season.
Another rider that step things up even further this season is Craig Delong. There's no doubt that Craig has put together a stellar 2016 season thus far after being one of the most consistent riders in all of GNCC Racing in 2015. The only thing eluding Craig now is that first-ever XC2 class win. He has the speed to do so and he has the luck, it's about just finding that right race where everything comes together all at once. That's easier said than done sometimes but Craig has the talent to do so, and everything very well could come together at some point in the 2016 season.
While Craig has the ability to do so, it still won't come easy because the XC2 class points leader, Trevor Bollinger, is absolutely on fire this season. It's pretty crazy to think that just three years ago Bollinger started the season in 4-Stroke A Lites at his home race, Steele Creek, just to race for fun with no plans to contest the whole series. Bollinger would end up claiming the class win and Top Amateur honors and after doing so again at Big Buck, he would continue the contest the series finishing as the 4-Stroke A Lites class champion and earning the Amateur Rider of the Year honor at the 2013 GNCC Banquet.
2014 saw Bollinger's rookie XC2 season where he'd finish second in the XC2 class points, then followed that up with a third place finish last season, just a mere six points behind second place. This season looks to be Bollinger's year and while it's never over until it's over, Bollinger is a big favorite for the GNCC XC2 National Championship. Of course, this puts a target on his back and everyone else in the XC2 class is hoping to claim a win of their own against Bollinger. Layne Michael has one, whose next?
Headlines
Russell Makes Last Minute Pass for Limestone 100 GNCC Overall Win
McGill Makes It Three-In-A-Row with Limestone 100 GNCC Overall Win
Coastal Racing's Craig DeLong Extends XC2 Pro Lites Podium Streak to Four-in-a-Row With 2nd Place Finish at Limestone 100 GNCC
Kailub Russell Secures Fourth Consecutive Victory at the Limestone 100 GNCC
XC Racing News: Limestone 100 GNCC
Industry Race Reports from the Limestone 100 GNCC
What's New on RacerTV.com?
Be sure to check out the archived GNCC races online at RacerTV.com! This season is shaping up to be one of the best seasons so far.
This past weekend's Limestone 100 GNCC proved that when both the ATV and bike race winners were determined within the last few turns of the race! Check out the ATV race HERE and the bike race HERE!
Coming up next will be The John Penton GNCC in Millfield, Ohio. This event will also be a UTV round! So be sure to come back next week for a #ThrowbackThursday of last year's event.
News from GNCC, Riders and Sponsors
If you're heading out to The John Penton GNCC on May 28-29 be sure to stop by vendor row and check out what all of our sponsors have to offer. Also, make sure you stop by and say hello to our friends at Evans Coolant, they can help you with all of your engine cooling needs!