Jared Bolton
Time
Thursday, May 13, 2021 | 12:05 PM
Welcome to Quick Fill.
It seems like we should be getting back to GNCC Racing once again this weekend, but there's still another off weekend before we return. For some, this might come as a welcome relief as you have a little extra time to get everything in order and ready to roll. For others, you might be pulling your hair out and counting down the minutes until it's time to go racing. Either way, we've still got another week but time flies and we'll be going racing in no time.
Of course, on our end things are still running wide open. Just because there's no GNCC event this past weekend or this upcoming weekend doesn't mean we've been waiting around for The John Penton. No, we've been knee-deep in other events including the Loretta Lynn's Area Qualifier at High Point Raceway last weekend, and now we're turning around and getting ready for another High Point event this weekend as the ATV Motocross series is set to go racing.
It's been a few years since the ATVMX guys have raced at High Point, so it will be pretty cool to see them all back on the track. So, if you're looking for something to do this weekend, come check out the race. Whether you're a GNCC ATV racer looking to ride something a little different, or even just come out to watch, it's worth the trip out to High Point. The Pro guys are on a whole other level, and even if you're a hardcore bike racer you have to respect what the Pro ATV guys are able to do; they're pretty impressive.
Obviously next up we have The John Penton. Next week we'll have the lowdown on what to expect out on the racetrack, as usual. However, as an early heads up expect big changes to the facility. Obviously we know parking is always a bit of a challenge at any event, and with The Penton being the oldest event still on the schedule, it can be even more challenging. Jeff Russell and the folks from Mathews Farms (yes, the farm we race the Mason-Dixon at) have been out to the facility several times in the last month or so and have moved a lot of dirt to work on making more room for parking and some other changes.
Things are shaping up to be pretty interesting when racing gets underway at the Penton as there's a lot of riders looking to make big statements as the series crests it's halfway mark of the season. On the ATV side, Brycen Neal is carrying momentum into this round with two wins in a row. However, Brycen has also suffered two races that left him outside of the top 20 overall and scoring zero points towards the ATV National Championship. At the same time, Walker Fowler will be looking to rebound and take the win.
There has actually only been 2 instances since 2014 where Walker has gone more than two races without winning. And both times it was only a total of three races in between wins, so Walker absolutely knows how to rebound. At the same time, not only is Brycen Neal on a roll but he also The John Penton last year, as well as the Burr Oak, which is held at the same venue… Oh, and he won The John Penton in 2019 as well. So, while Walker is hungry, Brycen really appears to be the man to beat coming into this round.
At the same time you can't leave out guys like Hunter Hart and Cole Richardson who have both run up at the front of the pack this season but just haven't been able to snag a win. On top of that, Jarrod McClure and Adam McGill have also found their way on the podium in 2021, and you can never, ever count out Chris Borich. While 2021 may not have gone the way he's hoped so far, he's still consistently hanging around the top five and you never know when he may sneak in there as well.
On the bike side, obviously the favorite right now is Steward Baylor. By now you probably already know that he went on a tear at the end of 2020 to win four of the last five races. He missed round one of 2021 waiting for an injury to heal, then ran inside the top three at round two until a clutch issue dropped him to 14th overall. Since then, he's not been beaten. Stu has been the overall winner for the last four rounds and comes into The John Penton as the favorite.
Steward also will be looking to further improve his point standings as he's climbed to within just five points of National Championship points leader, Ben Kelley. While Stu is looking to take over that lead, Ben Kelley knows that Stu is knocking on his back door and will be looking to hold that lead. Grant Baylor is the only other one besides Steward and Ben to snag a race win in 2021, and as he sits third overall Jordan Ashburn and Josh Strang are both within a reasonable striking distance, and Ricky Russell isn't too far behind either.
All three of those guys have landed on the podium so far this season, as has Josh Toth and Thad Duvall. All of those guys have the speed and experience to contend for race wins and these next few rounds could be really exciting as each of them will be looking to make a statement as the series heads into summer break. Sure, there's still three rounds standing between us and that summer break at this point, but those three rounds will tick by so quickly that we'll be finishing Snowshoe before we know what hit us!
Speaking of Snowshoe, don't forget that GNCC University is back this year! This is your opportunity to learn from some of the top riders on both the bike and ATV side. Tuition, room and board, including meals throughout the school, is $500 per student, with other non-lodging packages available. To reserve a spot, call Snowshoe Reservations at 1-877-441-4386. There's still a number of spots available for both ATV and bike riders. So, jump on it now because we're sure those spots will begin to fill up quickly! You can get even more details HERE.
That's actually all I have for this week, but our buddy Ken Hill is back this week with his own contribution to Quick Fill. Until next time, enjoy your weekend and we'll see you back here next week for the latest info on The Penton!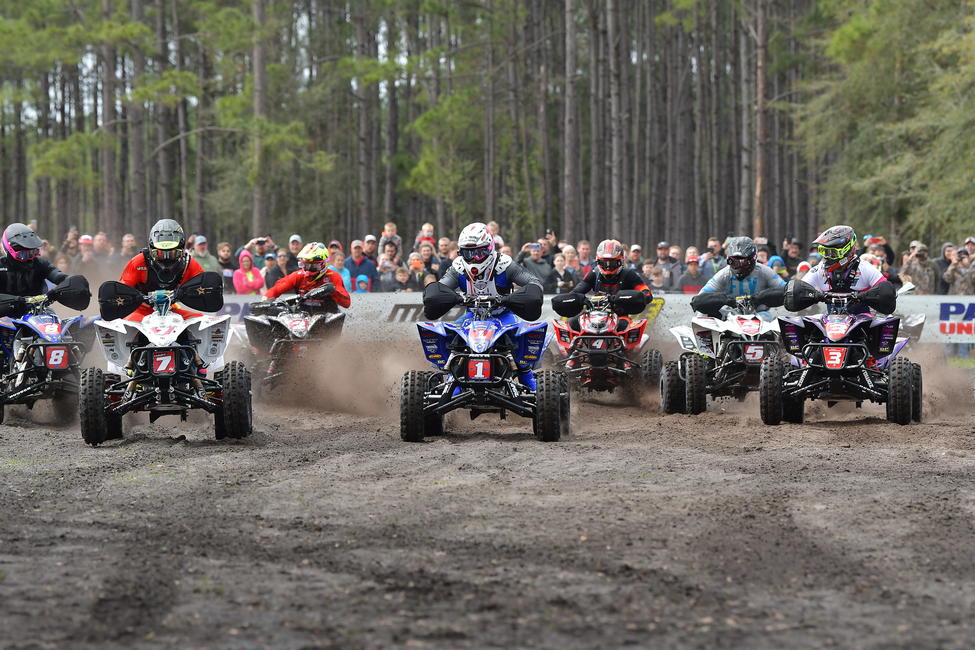 Catching Up With Ken (Ken Hill)
For many, this coming weekend is still a weekend off, but I know full well many of you will be racing somewhere! For me, this weekend will have me doing what I can at the ATVMX race at High Point Raceway. I am pretty excited but have to really take things easy as per my doctor's orders, not to mention the wife's orders as well. Any of you that follow me on social media saw that I had another surgery Monday and all went ok. They really couldn't do much because my platelets are so low they fear I will bleed and they wont be able to get it stopped, hence the reason my doc and the misses are on me like white on rice. The doc said he would prefer to see me on the couch for a solid six months doing nothing beyond healing until they can tray and get me through the liver transplant process and the number one concern is me bleeding out period. It is indeed scary to think about and for the most part I have been resting but I cannot sit still and I am going to do what I can for as long as I can with all of the medical advice ringing loud and clear.
From my perspective sitting here at home the Hoosier looked like fun. The weather cooperated and it appeared you guys caught a little bit of everything from primo dirt, to mud and even some dust. The weekend seemed to go on without a hitch and while I was not there, following the posts about your race was fun albeit bittersweet because I would have rather been there. Landon Wolfe looked like he put the shine on things and strolled to another win as his stiffest competitor Cody Collier suffered a bad day. It has been fun watching those two go at it so far in 2021 and I hope they can continue to keep things interesting for the remainder of the season. Hannah Hunter claimed the WXC win followed by Katelyn Osburn and would you look at that; Jessica Ellioff rolled back to a podium finish in third. She has had a few hard knocks in the first half however I think she can get back to the front consistently and be a real threat to this outstanding group of women racers.
The afternoon ATV's, Brycen Neal edged out a hard charging Walker Fowler for the win but that really isn't a surprise. Neal has been doing well, has the speed and experience and a bit of luck to keep Fowler honest. I still wouldn't bet against Walker but its great seeing someone give him a fight! Hunter Hart has really taken a few steps up on the ladder so far and is off to a great start this season. It wouldn't surprise me to see him pull off a win at some point especially if Brycen and Walker get to battling and a door opens for Hart to roll on through. Hart is a blast for the fans; he smiles always, is a great ambassador for the series and lives to celebrate with the champagne!
The excitement really went up when it was announced Ryan Sipes and Travis Pastrana would be racing on Sunday. I was on a slow simmer knowing I wouldn't be there to say hey and to watch them throw down. Those two are just big kids who live to do things on two wheels and it shows no matter what style of racing they compete in or in many cases, what crazy shenanigans might happen at any point in time. You really cannot escape the fun that follows them around; it's infectious!
The other big news that dropped early in the week or late in the week, sorry my days are all jacked up, but its big news regardless! The Mountaineer round, held at the Summit Bechtel Reserve is going to be a big one. The news that the state of West Virginia would be partnering with the series to bring the National Hunting and Fishing days as well as a host of other outdoor, nature and like minded to the weekend. If this generates the buzz it should, we could be looking at the biggest attended round ever! With everything we do in this sport combined with hunting, fishing and shooting plus a ton that is in the works, this is a round you will not want to miss. I was watching the broadcast as our Governor Jim Justice spilled the beans as I was awaiting lab work and the news turned a dream day into a great day as I envisioned the melding of different sports, all of which I partake in and love. The venue is surely large enough to handle things and the setting is near perfect as fall will be approaching and to cap it off, a ceremony to honor those who fell on September 11th and those who have sacrificed every day since to keep us safe will be a tear jerker for sure. My goal is to be strong enough to not only do my job but to be able to experience the new additions as well!
Well folks that's all from me this week. I'm heading back outside to do as little as possible. I know I will see a few of you this weekend at the ATVMX event so be sure to holler out and say hey! As always, be safe in all you do and may the good Lord continue to bless us all!