Rachel Gutish
Time
Tuesday, December 15, 2020 | 3:55 PM
Stemming from the grassroots of family racing, Wiseco has over 75 years experience manufacturing pistons, whether it be for fun, weekend riding, or professional racing. Wiseco is one of the few manufacturers forging pistons in the U.S., providing quality and performance you can trust. 
Click here
 to see the latest Tech Tips from Wiseco.
Craig DeLong had a spectacular year, bringing home both his first GNCC XC2 tile and the Pro2 championship in NEPG as well! Despite only being 24, DeLong is a veteran of the series, now entering his tenth season in GNCC racing.
GNCCRacing.com: Why don't you start this off by telling us a little bit about yourself?
Craig DeLong: Hey, I'm Craig DeLong. I'm from Morgantown, PA, and I just turned 24 at the beginning of December. I race for Rockstar Energy Husqvarna Factory Racing, and I'm just coming off two championship wins, a GNCC XC2 and a NEPG Pro2.
Sounds like you had a pretty incredible season, congrats! How does it feel to have won both those titles?
It feels awesome! I've been chasing the GNCC title for a long time. This year things just clicked, and I was able to bring it home. Year after year I've been a podium guy, so to be able to put everything together and pull off the win has been a huge relief and definitely a confidence booster.
So, of the two accomplishments, which are you the proudest of?
The GNCC title was a bigger accomplishment for me. After chasing the championship for so long I was especially pumped about it!
What do you think you did differently or what changed for you this season that allowed you to finally win the title?
I worked with a new trainer this year, plus the combination of new team with new equipment made all the difference this year. I'm also older now, so I came into the season with a new outlook and perspective on tings.
Speaking of the new team, what was the experience of getting called up to the factory team like?
The Husky team has been great, the transition was smooth, and everyone involved gave me the support and motivation I needed to get the job done. I was previously with the Coastal racing team, but they too were nothing but helpful and wanted the best for me as a rider. Honestly, I had expected a factory team to be super professional and uptight, and while they were professional, they're also super fun and we all have a great time.
Take us through some of the high and low points of your season.
I had some lows throughout the season, especially after summer break, it was really tough on me mentally. I came back and had the points lead, but then kept losing more and more of that lead as time went on. I did have some really awesome moments this season though! I finished third overall at the Bulldog in Georgia, and it was cool to be the only XC2 guy in the top three overall this year. Winning those championships was the probably the highlight of my year!
Tell us about how you got started riding and racing.
My dad raced and rode when he was growing up, so my brother Andrew picked it up pretty young. Then I got into riding when I was four. Andrew got injured when I was seven, so when that happened, we had some time off and I picked up racing. Before that, I had always ridden but had no interest in racing until then. From then on, the rest is history. We raced locally until 2011, and then we got into the GNCC circuit. Now I'm going into my tenth full season.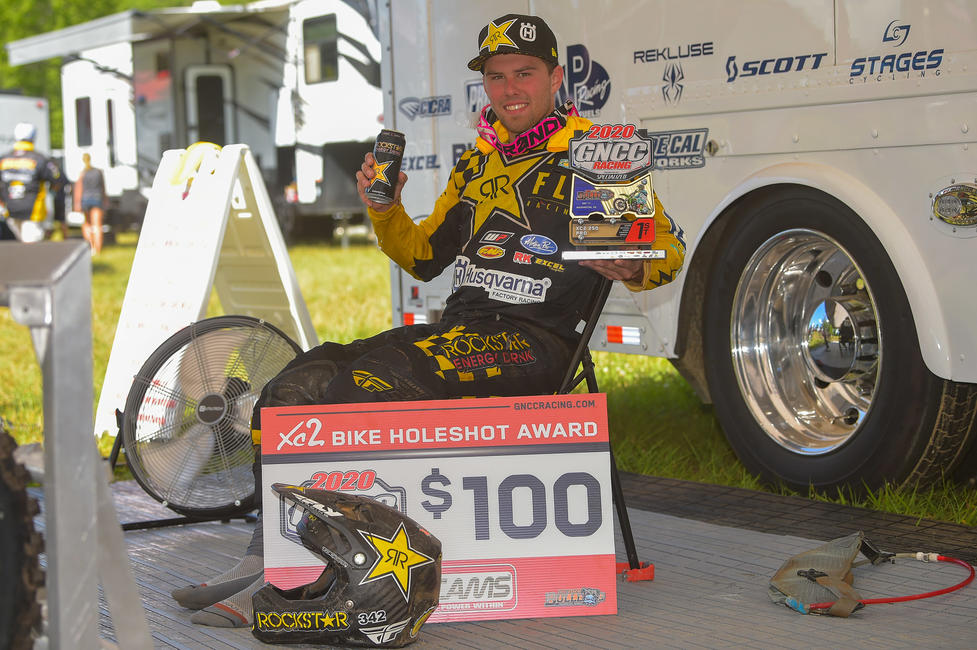 Why did you guys decide to start doing the GNCCs?
Andrew decided to start racing them in an attempt to get a ride the following year. He wanted to take a year and put everything into it to see if it was something he could do professionally. I ended up traveling and going to the races too, so I raced them as well. I did pretty well and had some solid finishes, so I was able to get some support from Fred Andrews and his Husqvarna team. From there it became a lifestyle.
Do you and Andrew still do much riding or training together?
Yes, we do, we push each other, and both get to benefit from it.
What are your plans and goals for next year?
I'll be back for 2021 on a Rockstar Energy Husqvarna. I plan to defend the XC2 championship and move up to Pro1 for the National Enduros. I'm looking to have another fun year.
What will you do for off-season training?
I'll be heading to Florida at the beginning of the year to get back into the swing of things. I'm working with Jacob Fetty and Hi-Fi training. He's been really helpful.
Tell us something interesting about yourself that does not involve motorcycles.
I enjoy hanging out with friends and family – it's nice to get a break from racing and just have a good time.
Thanks for taking the time to do this interview. Who would you like to thank?
I'd like to thank the Rockstar Energy Factory Husqvarna team, especially Timmy, Bauer, Tanner and Leon, Kari Resources, EKS, EVS Sports, Fly Racing and my friends and family.