Jared Bolton
Time
Thursday, January 4, 2018 | 5:00 PM
AMSOIL is proud to present the new AMSOIL Garage for the 2018 GNCC Racing season. Located in the Finish Line Village apart of the KR4 Arrive-N-Ride team pit area, the AMSOIL Garage will be the one-stop-shop for all of your oil needs, as well as advice and assistance on minor repairs or installation. Staffed by professional mechanics and an AMSOIL dealer, stop by and visit the AMSOIL Garage at each of the 13 rounds of the GNCC season. 
Welcome to Quick Fill.
More specifically, welcome to the first Quick Fill of 2018! With 2018 officially beginning, that means time is creeping closer to the beginning of the 2018 season. We'll be rolling into South Carolina before we know it and this is an exciting time as many guys have already began the trek south to get in that valuable pre-season training.
One big piece of news this week is that we have a venue for round three in Georgia. We'll actually be heading back to Aonia Pass MX once again for The General GNCC in Washington, Georgia. We hope that a couple of years off will bring a fresh approach to the course layout there, so expect some of the same and some different stuff. There's been significant road work there and a little chunk of the property has actually be cut off and a small area of woods have been eliminated but by and far this won't have a huge impact on the parking or the racecourse. You can get all the info on The General HERE.
There are a number of races taking place between now and the beginning of the 2018 GNCC Racing season that provide a little bit of a teaser of the upcoming season. On the bike side, two of the biggest events this time of year are the Burnt Gin Hare Scramble and the Sumter National Enduro. Both of these events are hosted by the SERMA club (Sumter Enduro Riders Motorcycle Association) and both have been around for a long time. This year marks the 19th hare scramble and the 49th enduro. The enduro serves as the opening round of the AMA National Enduro Series. Pre-entry for the enduro began last night and sold out at 720 riders in just a few minutes!
Both of these events are really cool and many times see a mix of both GNCC and National Enduro racers going head to head. While the terrain is typically a bit tighter than the typical GNCC, it still gives a little bit of a preview of what to expect when the GNCC season begins. They're coming up soon with the hare scramble happening the last weekend in January, followed by the enduro the first weekend of February.
We're also starting to see contingency programs begin to be released for the 2018 season. As always, we have a contingency tab on the GNCC website that can serve as a hub for each brand but we'll also be sharing some of that info on social media and Quick Fill as those programs roll out. One of the first we've seen is from our friends at Evans Cooling. They've got a great program this season and you get all the details HERE.
There's a lot more racing and riding going on through this pre-season and we'll be keeping an eye out for some exciting info from our GNCC regulars as the off-season starts to wind down. The 2018 GNCC Racing season will be kicking off before you know it. Don't hesitate!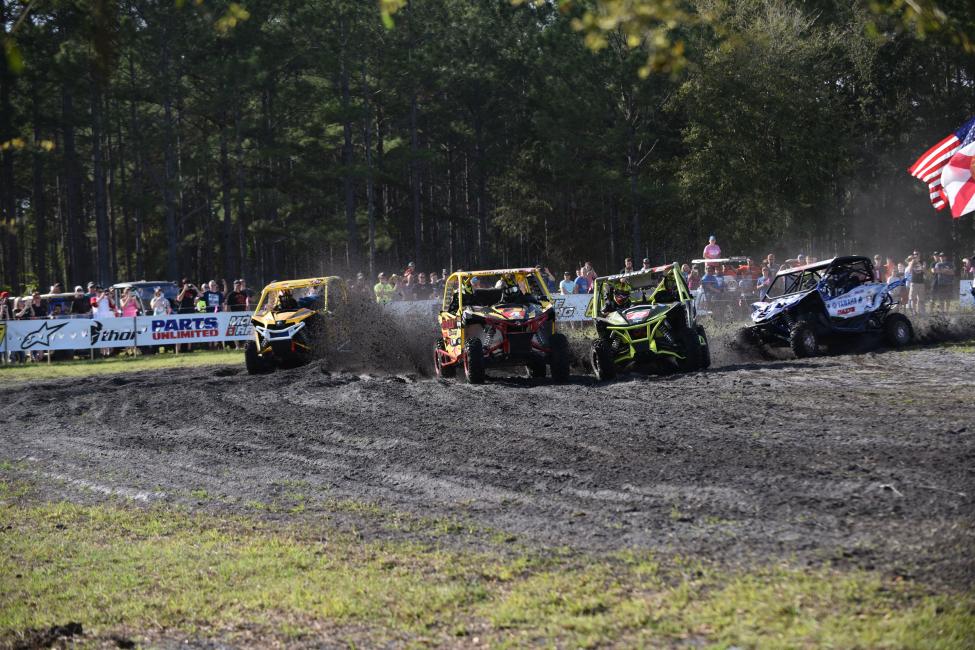 Weekly Updates (Chelsea Taylor)
I hope you all had a very Merry Christmas and Happy New Year! It's crazy how fast things snap back after the holiday season, and while I do enjoy spending time with family and friends and all the holiday festivities, my type-A personality prefers the regular day to day schedule! With that being said, preparation for the 2018 season is fully underway.
We met yesterday to get on the same page and make sure everything is moving along smoothly. Then last night, we released the tentative GNCC Pro and UTV rules and you can view those HERE. If you have any questions or comments you can direct those to [email protected]. The amateur rules will be out soon!
Don't forget that each Monday, Wednesday and Friday we are releasing a new 30-minute show from last season on RacerTV.com. Right now, the ATV and bike shows from Big Buck and Wild Boar are live, in addition to the ATV Cannonball show. We will continue releasing shows until every ATV and bike show from the 2017 season (26 total) are available for viewing, thirteen of which are brand-new never-before-seen shows. To view the current five shows, click HERE.
Unearned national numbers can now be requested if you meet the requirements. You're eligible to fill out THIS FORM if you participated in at least six GNCC events in 2017 and anticipate competing in at least six GNCC events in 2018.
Things are beginning to fall into place in terms of who is riding for whom. It was rumored for a while but it's now official that both Steward and Grant Baylor will be supported by KTM and riding with the Tely Energy crew. Also back with the Tely guys will be Zach Nolan and a number of their amateur riders. You can check out the full press release HERE. It also sounds like Hunter Neuwirth will be riding with Waynesburg Yamaha to race in the XC2 class while Dirt Prodigies has teamed up with RG Motorsports to support Tyler Braniff in the XC2 class and Devan Welch in XC3.
Shan Moore's On The Pegs magazine recently reported that Layne Michael and Cory Buttrick would be teaming up with the folks from KR4. They mentioned that this is huge for Cory B as he's spent the past several years wrenching on his own bikes, so having a mechanic to assist him will be a big help in Cory's program. We had already heard that Andrew Delong will be riding for Factory GasGas this season but it looks like he'll have a teammate in the form of Nick Davis and the Factory GasGas effort will actually be managed by none other than Fred Andrews. So that puts both of these guys back with familiar support.
Evans Powersports Waterless Coolant just released their contingency program for GNCC. There are eligible classes in each race, both bike and ATV, and YOU can participate! Just click HERE for the details!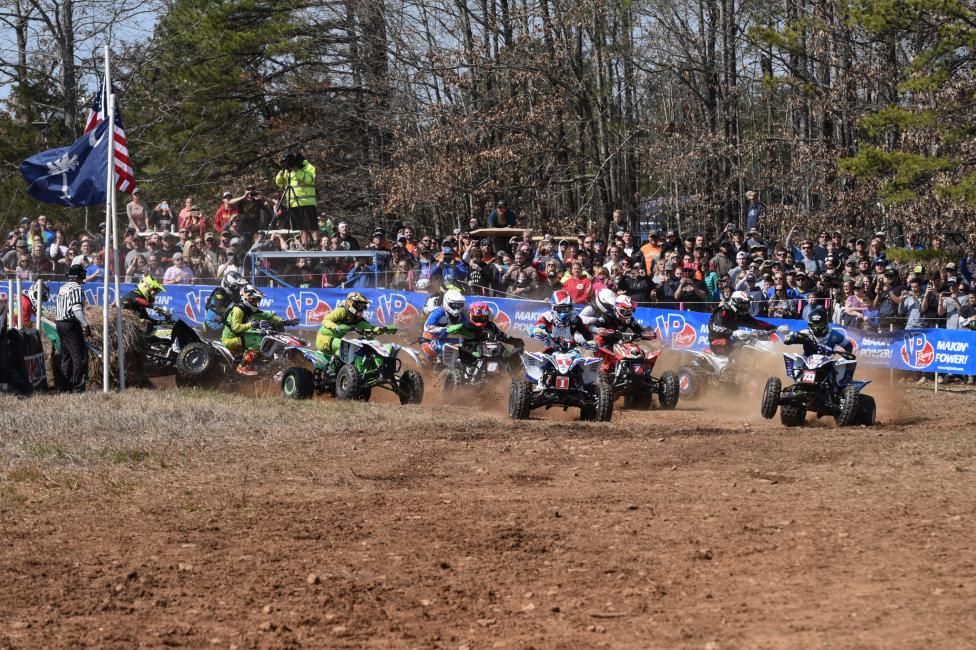 Rappin' With Rodney (Rodney Tomblin)
Folks are loaded up and headed south, if not already there. A few I spoke with this morning seem to be pretty busy. Just like every year in the past couple of decades, the sands of Florida are about to receive their annual tilling from the flocks of GNCC riders preparing themselves for the upcoming battles that lie ahead. One might say it's a nation on the move and headed hard into 2018 for the new racing season.
The one thing that is certain each year in GNCC, or any series as far as that matter, is the constant change. Regardless how long something stays around eventually there is some sort of change. This year is no different really as we see a familiar venue or two change. I, for one, am super stoked for the return to Mathews Farm and High Point for the Mason-Dixon GNCC. There is something about this area that makes it really feel like home. I would suppose it goes back to my early days of GNCC in the midst of change at that time as well. Things were growing into the world wide recognized premier off-road championship it is today.
We will miss some familiar faces like Chris Bach who is moving on to the next chapter in his life and Jason Thomas will be missing from the roster as well. Love or hate him, he will be missed but something tells me we may not have heard the last of him completely. There are others that we may not realize yet but the one thing is that it is part of the evolution of the sport. Folks like Scott Summers, Barry Hawk, Rodney Smith, Scott Plessinger, Bill Ballance and so many more have all been a part of the history of our sport and as well the change when they left. But change like this opens doors.
On the same note of change though we also will see some familiar faces returning to the rosters. One in particular that has my interest stoked is Maria Forsberg Hahn. She was basically unstoppable when last we saw her. She has since started a family and at the same time kept most of her skills on the bike honed. The battles I anticipate in the WXC class with the current top contenders is going to be amazing and I can bet that the ladies in this class are training like they have never trained before. The new WXC champ Tayla Jones may get a real taste of what is meant when folks say that winning the first one is easier than to defend it. Simply put, there is a bulls eye on her back.
The other changes will see are teams and sponsors. Many or most have been announced and really there are not a lot of surprises just yet. That may be different when we roll into round one but right now that's the case the way I see it because so much was already set by the season's end for so many.
As far as the ATV side of things is concerned, I don't see a lot of change there other than new folks moving up through the ranks. There will be maybe a rider or two that I am not at liberty to discuss that may not be back but that is still not fully known. What is known that's going on in the quad world of GNCC? Again, not a lot but there are a few squeaks by the boys as the get ready for 2018.
Walker Fowler was on his way to Florida when I spoke with him last week. He told me "I left at 7:30 am to start my journey to Florida. I should get there about midnight with limited stops. I went down in early December for almost 2 weeks and got some stuff ready but after this trip I should pretty well remain south till we go racing." That seems to be the story for a number of folks, except maybe Brycen Neal. Walker also told me, "I actually passed Brycen he was headed north to our friends at Waynesburg Yamaha so I shot him a message. Kind of funny!" But if you ask me that's good news, Brycen is getting things ready so he too can get ready for next season.
Brycen was behind the wheel as well and he told me, "Driving. I'll get with you soon." So I am kind of excited to see what is going on with him this year. This kid is a victim of the times right now. Basically the Fowler times, as Brycen has been so close to wins on several occasions. The biggest obstacle he finds like everyone else is Walker Fowler. It's a matter of time before he gets the elusive first win. It's not a matter of if I don't feel more like a when?
I know I said there aren't a lot of changes in the quad side but there are some changes on the way for Brycen it appears. When he did get back to me he said, "Things have been going great! The program I've put together is coming together nicely and I'm very excited to showcase that soon. I've had some great people step up and come into my corner. I'll be headed south in a couple weeks for good. Hunter Hart and his family have been kind enough to open their door to me and I think we'll be a good recipe together for training and pushing each other on and off the track. I got lots of work to do to get this Yamaha tested and perfected. I've always been humble in the past, but this year we're coming to kick ass" Okay, maybe the change in Brycen could be bigger than we are thinking. So maybe the question of "when" is soon.
As far as what Brycen is doing he told me, "I'm stepping away from the team to put together my own program. I've switched back to my home at Houser Racing components where I feel most comfortable, and a couple more changes here and there. I've surrounded myself with a handful of people who are hungry and want the same thing as me, to win!" And with that I say, good. This is going to get really good.
Johnny G told me he is already in Florida the Borich Compound near Daytona. He said, "#retired #oneanddone", which I was like right. Quickly though he said "I'm just kidding buddy! Merry Christmas, we just got down to Florida yesterday. Getting settled in down here and getting to work on 2018 prep. It should be a good winter with Wienen, Borich and myself. Those guys push very hard both training and riding so it's tough to keep up but worth it!" So really no change there. So at least with Johnny G there are no big changes coming. Heck! I'm not sure he has changed really since he was 25. He is one the few unchangeable forces in our sport.
And no preseason report is complete without a check on Adam McGill. Adam said he and his wife Haley were at Epcot when I reached out to him. He sent a pic and if you watched his recent beard shaving a few weeks ago, you may be surprised to see it is coming back nicely. It looks like he must have been a really good boy to get his wife to let him grow it back. He also told me he got a new knife yesterday. I asked him if he had done any whittling with it yet and he said, "I'm from West Virginia! Of course I did some whittling!"
That's it for me for now. Happy New Year and. God Bless Your Heart and All Your Vital Organs.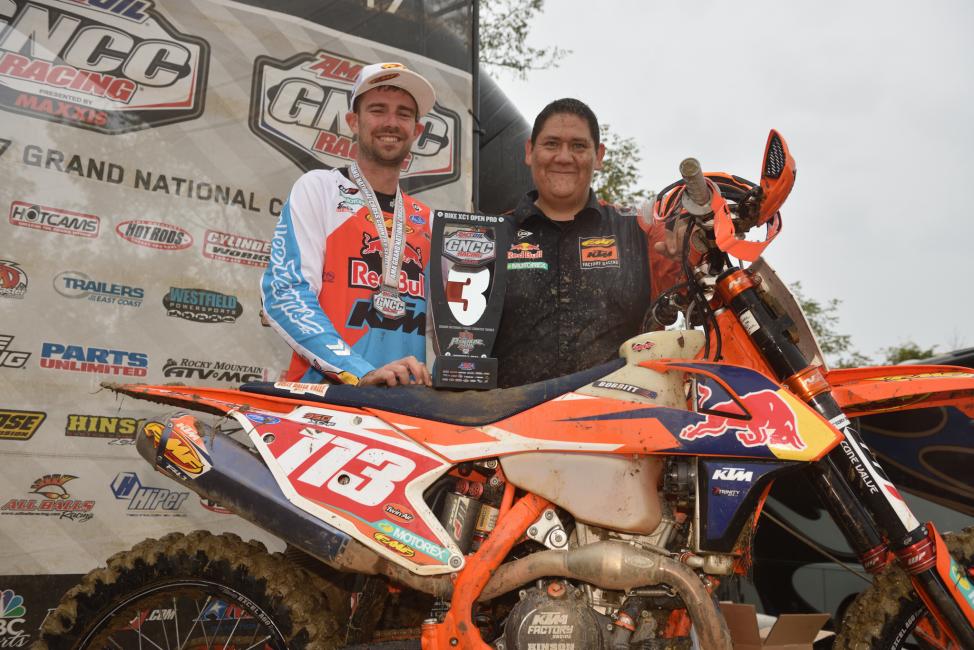 Looking Back on 2017 Part Ten (Jared Bolton)
We continue our look back to last season with the tenth part of this series rolling to the penultimate round of the 2017 season at Powerline Park. The Powerline Park event saw a bit of an odd mix of conditions. It went from being a little slick, to just right, and then it got dry and dusty before it ended up wet and slick throughout the day on Sunday. Kind of an odd mix of conditions for any round, but Powerline Park seems to produce some events that are a little bit different than what we expect.
On the ATV side, Jarrod McClure would jump out to the early lead but by lap two it was business as usual with Walker Fowler working his way into the lead. As expected, that's exactly where he would stay for the remainder of the race. Chris Borich did keep the gap somewhat small, remaining within one minute of Fowler throughout the race. Third place rider, Brycen Neal, would keep Borich a little bit closer but the gap would be just enough to give Borich the second place finish ahead of Neal.
In the XC2 class, it was a tight battle between New Yorkers Devon Feehan and Hunter Hart. The two would swap the lead a couple of times throughout the race, but in the final stages, Feehan was able to put his head down and pull away to claim the win. Hunter Hart would end up second with Brandon Icard rounding out the XC2 class podium in third.
Sunday would see a completely new set of conditions. Rain overnight would make for a slick course on Sunday and more on and off sprinkles throughout the 1pm race would make conditions even tougher. Grant Baylor would complete the first lap in the lead but lap two would see Kailub Russell take over the lead. KR was a man on a mission that day as he was looking at wrapping up his fifth consecutive title and a win here would solidify that. Kailub would hold that lead the rest of the race to claim the win, and the title. Of course, that wasn't the only big story of the day.
Josh Strang would return to the podium for the first time since the X-Factor GNCC earlier in the season. Third place would go to a first-time GNCC podium finisher in the form of Russell Bobbitt. The five-time National Enduro champ had put in some solid rides and even led some GNCC events over the years but had never landed a podium until then.
In the XC2 class, it was a battle between Coastal Racing teammates Layne Michael and Craig Delong. Layne would control the majority of the race until Craig took over the lead with two laps to go. That would be good enough for Delong to hold onto the win ahead of Layne and Josh Toth who had already wrapped up the XC2 class championship. As for the XC3 boys, it would be Jack Edmondson claiming the win over his own team manager and former GNCC champ, Barry Hawk who decided to come out and have a little fun on a 125. Devan Welch would put together a solid ride to snag his second XC3 class win of the 2017 season.
This would lead us up to the final round of the 2018 season at Ironman. With all the ATV and bike championships wrapped up, this would lead one to believe that the Ironman pro competition may end up being a little less intense than normal, but that definitely wasn't the case. We'll discuss that in part eleven coming up next week.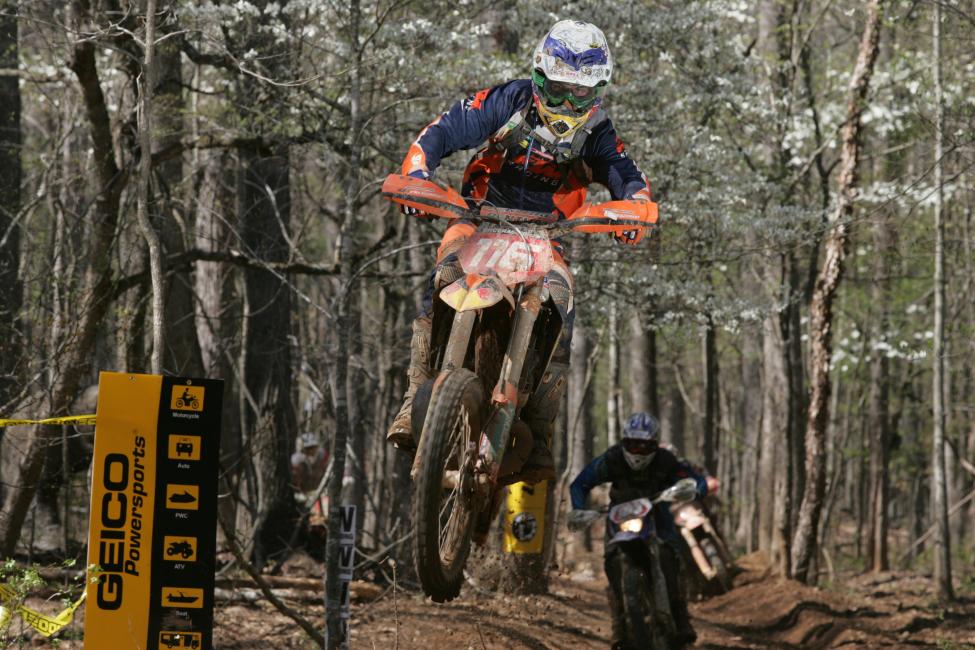 #ThrowbackThursday (Jared Bolton)
To celebrate the official start of the GNCC "pre-season" and the return to The General GNCC in Georgia, we'll take a look at our current opening rounds just ten years ago.