Jared Bolton
Time
Thursday, November 9, 2017 | 2:10 PM
AMSOIL is proud to present the new AMSOIL Garage for the 2018 GNCC Racing season. Located in the Finish Line Village apart of the KR4 Arrive-N-Ride team pit area, the AMSOIL Garage will be the one-stop-shop for all of your oil needs, as well as advice and assistance on minor repairs or installation. Staffed by professional mechanics and an AMSOIL dealer, stop by and visit the AMSOIL Garage at each of the 13 rounds of the GNCC season. 
Welcome to Quick Fill.
We're really only into our second week of the off-season and it seems like there's already a good number of folks who are ready to get back into the swing of racing. If you fall into that category, well, the only advice I can give is try to settle in and enjoy the off-season because it's just getting started. In the same flip of the coin, time flies and we'll be getting ready to kick the 2018 season off before we know it.
There's also a good bit of racing that will be taking place throughout the off-season. Our friends from the NECXC series are hosting a Buddy Race this weekend in Browsville, PA. This is actually the same Brownsville course that hosted GNCC events from the late 80s through the 90s. There's youth racing Saturday and adult racing Sunday for both ATVs and bikes. Looks like the adult ATV race will be a 2.5-hour race and 3.5 hours for the bikes. You can team up with a buddy, or run solo in the Ironman class. Check out http://www.theneweastcoastxc.com/ for all the info.
The Mid-East Hare Scramble Series also has one final round for the 2017 season taking place next weekend at another former GNCC venue in Hickory, North Carolina. This wildly popular local series is ran by former GNCC Junior Trail Boss, Buren Hamrick and a number of familiar GNCC faces can be found there. They run a similar format to GNCC with ATVs racing Saturday and bikes on Sunday. Check out http://www.mideastracing.com/ for more.
Our friends from SETRA will also be hosting a number of motorcycle-only races throughout the winter. With both Hare Scramble and Enduro events to offer, these events always draw some top talent, especially in the off-season. They have five hare scramble events from November through the end of January. On top of that, the SORCS Winter Series will be back with racing for both ATVs and bikes.
So while you may have the urge to get back to GNCC Racing, there's a lot of other off-season racing going on before we get things going once again. Stay tuned, as we hope to hear some great info from these races as they happen this winter.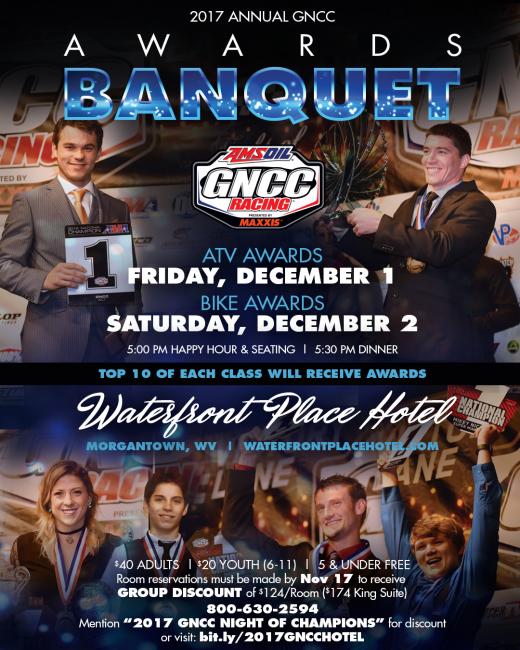 Weekly Updates (Chelsea Taylor)
Yesterday we had a super productive meeting about the banquet, and things are starting to fall into place for a great event. Unfortunately, the hotel is sold out, but there are plenty of hotels near the convention center if you are still looking for a place to stay. Check out the Chestnut Boutique Hotel or Hotel Morgan in downtown, which are both cheap Uber rides from the Morganton Marriott at Waterfront Place! DJ Elo will be back on both Friday and Saturday night providing musical entertainment after we celebrate our champs! You can reserve your seat for the 2017 Night of Champions HERE.
Speaking of champs, congratulations to Ricky Russell on his JNCC win this past weekend in Japan! Takeshi also raced, and finished second. Our Jr. Trail Boss Ryan Echols joined in on the fun too, and got second in AA2, which is equivalent to the XC2 class.
If you pre-registered for any of the races this year, you know how awesome the Rocky Mountain ATV/MC Race Gas gift card program is. Actually, if you pre-registered for all 13 rounds this year you have $260 in gift cards that are redeemable on anything RM ATV/MC carries! It's a great way to cut expenses on some of those big items you need to purchase like boots! We were curious how much the total gift card amount was, so we the math and RM ATV/MC put back $183,440 back into the GNCC Racing Nation this year, so we'd like to extend a big thank you to them!
Make sure to check out NBCSN this weekend! We have two big shows airing – the Unadilla and Mountaineer Run bike shows! The Unadilla episode will air at 9pm on Saturday night, that's primetime! Then on Sunday at 5:30pm is the Mountaineer Run episode. In addition to the GNCC shows is the first Loretta Lynn MX show featuring an intimate insight of the dedication and hard work that goes into competing at the pinnacle of amateur motocross. Overall, this is a big weekend for Racer TV so make sure to tune in and relive those memories from earlier this season!
Steward Baylor Crowned 2017 National Enduro Champ! (Jared Bolton)
This past weekend saw the final round of the 2017 AMA National Enduro season and it was a barnburner. Everything came down to the wire, but in the end it would be Steward Baylor emerging with the race win and the 2017 championship. Thad Duvall went on a winning spree earlier in the season, claiming four consecutive wins. However, with Baylor's final round win, and a few more second place finishes, Steward edged Thad out by a mere seven points. This marked Baylor's second National Enduro title after claiming his first back in 2012.
The race itself was pretty intense as these guys stayed close in time throughout the day, but a few small mistakes from Thad gave Baylor the advantage and he was able to claim the win by just 12 seconds! For those who may not be familiar with the enduro format, these days it is actually very simple in the National Enduro Series. You're not racing head to head with riders in your class, but rather you're racing against the clock. Therefore, classes do not start together. Instead, five rider rows take off every minute with one Pro class rider per row, starting on row 31.
In the old days, you had to "keep time" and make sure you were not late to the end of the section, but you also couldn't be too early. The course is broken into sections that vary in length with typically six sections for Pro and A class riders. Most of the time, you will not ride the same section again. These days, the "Restart Format" has made that much more simple and essentially it is nearly impossible to arrive early. So your goal is to start the section, ride as fast as you can, and finish the section as quickly as possible. Sort of like golf, the lowest score at the end wins.
With six sections on the day, Baylor claimed three test wins, two seconds and one third, while Thad took two test wins, three sections and one third. Russell Bobbitt actually snuck a win in test two and ended the day fourth overall, while Evan Smith rounded out the overall podium in third. A tight championship battle is always exciting but it can be extra exciting when it's a battle down to the wire like this. In that second test, Steward and Thad both completed in 16 minutes, 52 seconds which means that came down to the milliseconds!
These guys definitely gave it their all and regardless of who you wanted to see win, you can't take anything away from them as they both rode excellent. This was one of the closest battles the National Enduro Series has seen in quite some time and we're proud to see some familiar GNCC faces at the forefront of it. Great job, guys!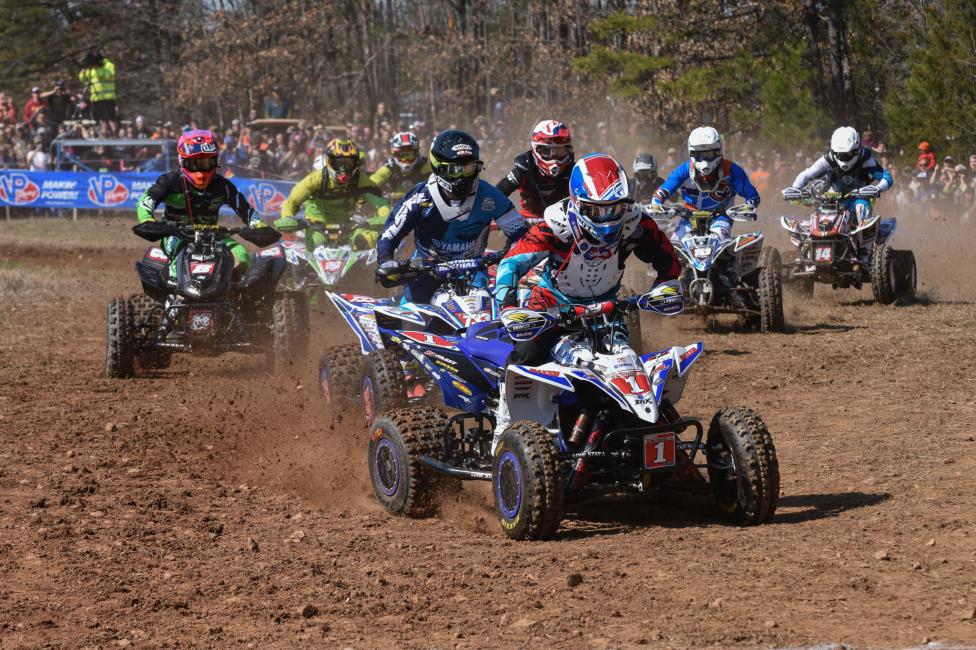 Rappin' Rodney Returns! (Rodney Tomblin)
It's another great day in the GNCC Racin' Nation! It really is here on my end. At least, it's much better than last week. I caught a mean ole bug that put me down for a few days. But things are good now. Last week I didn't make my weekly contribution or get to discuss the great things that took place. So here it goes.
Ok so everyone may remember Ironman as a cold one in terms of weather, but the spirit was warm all weekend. The numbers alone at our little off road festival were not record breaking but they were very close and had weather been forecast for better conditions, I cannot imagine what might have been. Oh yeah, and the racing was amazing too.
Walker Fowler's 12th win set a new record for the single season wins record. Another impressive ride and proving he is the ultimate benchmark to be champion, Walker is undoubtedly a special champion. He holds three titles now and as of the moment, the sky is the limit. If he keeps ripping off wins like this he could very well approach Chris Borich's current record of 73. Walker currently has 38 overall wins by my calculations. That puts him 35 wins away, which is a little less than halfway there. The big question is, can he do it with the talent rising through the ranks right now? I have no idea, but time will certainly tell the tale on this one.
Adam McGill found his way back to the podium and finished third behind Jarrod McClure and Fowler. Though there are no records here unless McGill happens to have the most thirds behind Fowler, but he did have a good ride to close the season and end on a positive note. After holding second in points for a good part of the season, Adam saw that slip away with a couple of bad finishes by himself and the resurgence of Brycen Neal. Neal ended the season second as McGill could not dig himself out the hole he dug and ended the season in fifth overall.
The recent spark in the Brycen Neal program has been very noticeable lately. If Brycen can keep it rolling next season we may see a rise to the top and challenge to Fowler. I spoke briefly with him at Ironman and he seemed really happy with some recent changes in his program and took full advantage of feeling confident. Look for a win out of him next season if things go his way.
Now back to "The Gator" Adam McGill and some things I learned over the past few days. Number one, his wife Hayley actually rules the roost. She pretty much seemed to be in control at least when it came time to shave his beard. Hayley went live on Facebook and streamed it to the whole world. She came in demanding it be done as their deal for the beard had come to an end. Adam being the best good husband reluctantly conceded and did just as she ordered, or I mean, "asked" his cooperation. It looks good though and something tells me the beard will be back.
How about that XC2 Pro Am ATV points battle? It came down to the last round and left a day's excitement for all that followed. Devon Feehan rode on the bubble all day long as to whether he would secure the title or hand it over to Hunter Hart. Hart did all he could but Devon managed to finish the day with impressive ride and pull out the title in the end.
Jarrod McClure proved to be a good opponent but hoped to be able squeak win out this season. McClure finished Ironman second and though his third straight Ironman GNCC win did not happen, he still had an incredible day and end to the season. One does have to wonder if he ever had to just train and ride where he might be able go with his career.
And of course we can't leave the chatter of top XC1 without speaking a little more of Chris Borich. Chris has now gone three straight seasons without a win. He really has made some big strides though and likely the biggest for me was he appears to be having fun again. I don't know for sure if he will ever win again but I have to think he has a few more in him anyways. Regardless he is a legend and a true inspiration in the sport.
All in all it was another season of great magnitude and leaves us to wonder what the future holds. I'm excited and can't wait to see where next season leads one and all. I hope for a great winter break for you and hope when spring rolls around you're fresh, new and prepared the challenges that lay ahead. I am sure there will many changes to face for us all and let's hope they are all for the good.
That's going to do it for me for now. Till next time God Bless Your Heart and All Your vital organs.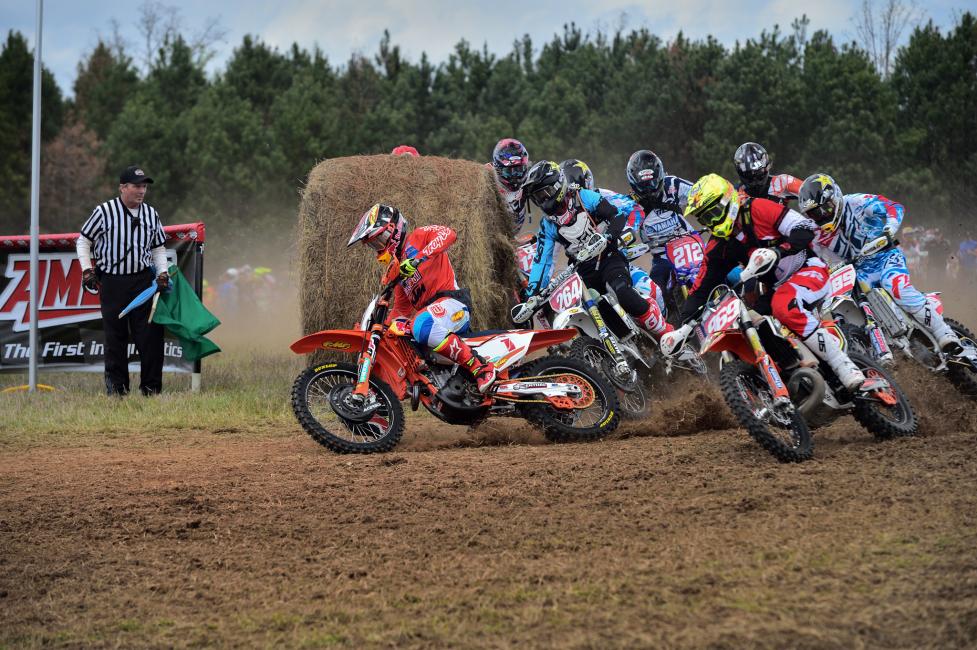 Looking Back on 2017 Part Two (Jared Bolton)
Last week we kicked off a feature that I wanted to spread out a bit throughout the off-season. I simply wanted to take a look back at each race from the 2017 season and discuss a bit about each round and why 2017 was such a great season. We left off with round two at the Wild Boar GNCC, so we'll pick things back up and start into round three with Georgia's Cannonball GNCC.
With the Georgia round coming an untraditional two weeks after Florida, this gave the guys a little more time to rest up from the rugged Florida terrain and start fresh with round three. For some, the third round usually acts as a second chance. If you suffer from two rounds of bad luck in the opening, round three can be a bit of a fresh start. This year, it seemed like Chris Borich benefitted from that mindset. His opening rounds weren't bad by no stretch of the imagination, but he hadn't landed a podium finish.
Walker Fowler would once again find his way to the front of the pack, coming from as far back as fourth place. Walker had done his homework that morning, and spotted an optional tough line that was 100% legal and marked. He saved that line until he needed it and used that spot to make a pass and eventually work his way into the lead. However, equally impressive on the day was Jarrod McClure who worked his was from 11th place, all the way up to second and would end the day second overall while Chris Borich claimed his first podium of the season in third.
On the bike side, it would be another battle between Kailub Russell and Thad Duvall. The duo would swap the lead several times and stay close on each other's hills all the way down to the final portion of the race. When the white flag flew, they were separated by a mere two seconds and that battle would continue throughout the final lap. A mistake from Duvall in the final miles of the race would see his chances slip away as Kailub Russell would claim the win ahead of Thad. Steward Baylor continued to show that he meant business in 2017 as he would come from seventh place on the opening lap, charge his way through the pack and finish third place overall for his third podium in three rounds.
In the XC2 ranks, Josh Toth would make it three for three on the season, claiming the class win ahead of Mike Witkowski who would finish second while Jesse Groemm rounded out the podium in third. As for the XC3 class, Jack Edmondson claimed the win ahead of Jason Thomas and former GNCC champ, Paul Whibley.
This excitement set the bar high for round four at Steele Creek, where anything can happen. Steele Creek has a history of being the most unpredictable event on the GNCC schedule. From on track happenings to the weather, you never know what Steele Creek may bring. There have been run away wins and races decided literally in the final corner. There's been mud, there's been dust and there's been near perfect conditions. It's also been one of the first warm days of the season, but Steele Creek has also seen snow.
On the ATV side, it would be business as usual for Walker Fowler who would take a bit of a Chris Borich route and spend the opening laps of the race following, then put the hammer down and lead the final laps to claim the overall win. Adam McGill put in a strong ride to lead those opening laps and end the day second overall, while Brycen Neal would return to the podium in third. It was perhaps one of the most calm and normal XC1 ATV races Steele Creek has ever seen but the battles still made for a good bit of excitement.
Sunday's battle was one to watch. Kailub Russell and Thad Duvall were separated by a single second for six of the seven laps completed that day. These guys put on a heck of a show, and neither rider was backing down. It wasn't until the final lap that Kailub was able to once again pull out a lead and claim the win ahead of Thad, while Steward Baylor would once again round out the podium in third. As for the boys in the XC2 class, Josh Toth continued his winning ways while Craig Delong took second and Mike Witkowski would land on the podium once again in third.
Next week, we'll move on ahead to rounds five and six and this is where things really start to get interesting!