Jared Bolton
Time
Thursday, October 12, 2017 | 1:10 PM
AMSOIL is proud to present the new AMSOIL Garage for the 2018 GNCC Racing season. Located in the Finish Line Village apart of the KR4 Arrive-N-Ride team pit area, the AMSOIL Garage will be the one-stop-shop for all of your oil needs, as well as advice and assistance on minor repairs or installation. Staffed by professional mechanics and an AMSOIL dealer, stop by and visit the AMSOIL Garage at each of the 13 rounds of the GNCC season. 
Welcome to Quick Fill.
Wow. Only one round remains in the 2017 GNCC Racing season, and it's the biggest of them all, the Ironman GNCC in Crawfordsville, Indiana. Ironman has grown to be not only the biggest GNCC event of the year, but one of the biggest off-road racing events around. It's pretty exciting because this is one of the most fun races of the season, but it's also a little bittersweet as it marks the end of the season. However, time flies and we'll be rolling into the 2018 before we know it. As for 2018, we're working out details on next year's schedule and will have the details on that coming in the next several weeks.
As for last weekend's Powerline Park GNCC, well, it was a pretty interesting weekend that seemed to go from one extreme to the other. It dried out and became pretty dusty on Saturday, then rained Saturday night and made for extremely slick conditions on Sunday. However, it seems like a lot of folks still enjoyed themselves and while it may not have been ideal conditions for the weekend, any weekend of racing is a good one and it sure beats sitting at home.
It was also a good weekend historically as Kailub Russell would claim his 46th career overall win, tying him with Scott Summers on the all-time bike wins list. In doing so, he also claimed his fifth championship, which also tied him with Summers and Rodney Smith for the second most bike titles ever. Then on top of that, it also marked his fifth consecutive title, which has only ever been done by one other bike rider and that was Ed Lojak who claimed five titles from 1980-1984. Pretty interesting facts for an interesting weekend!
That's going to do it for this week's intro, so we'll roll right on into this week's Quick Fill goodies. Enjoy.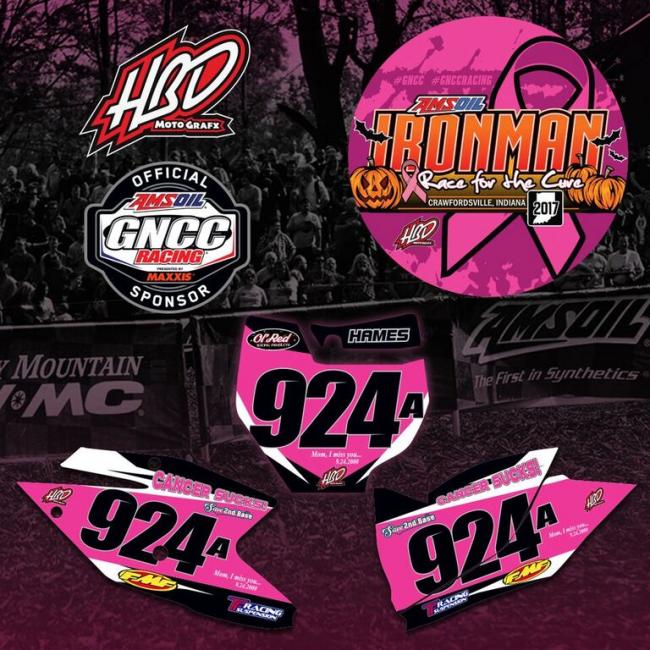 Weekly Updates (Chelsea Taylor)
Even though we only have one GNCC race remaining in the season, October is still buzzing with excitement. Just this past week we announced the Ironman GNCC would once again be considered a "pink race" in honor of breast cancer awareness. We have various fundraising strategies in play from pink background sales, stickers, auctions are more.
You can get your official pink backgrounds from HBD MotoGrafx. A $25.95 pink front number plate background will result in a $5 donation, while a full set of front and side backgrounds will retail for $59.95 and includes a $10 donation. In addition, each order will include one free mini plate. Make sure to join in on the fun and support a great cause! It's important to us to give back to the communities that we race in, and all the funds will be donated to Montgomery County Free Clinic who focuses on providing free mammograms to those who can't afford it. This helps not only bring attention to it, but also to aid in prevention where women will have the needs to stay up-to-date on their health.
The GNCC Trick-or-Treat makes also its return to Ironman on Saturday evening from 5-6pm. Amateur race families are encouraged to participate by handing out candy and you can get a balloon from registration to signify you're open for business! Team Faith will be conducting the second annual costume contest starting at 6pm, so make sure to prep those costumes for both trick-or-treat and the contest. We will also have a mechanical bull and live music on Saturday night!
We'd like to remind you all that pit riding is prohibited at GNCC, but if you are on your ATV or bike going to tech, registration, etc. at Ironman that you must have a helmet. The new Indiana State Law requires helmets for all drivers and passengers under 18, and security will be keeping a close eye on it. With so much fun involved around Ironman, we just wanted to take a second and remind you of the new law.
Good luck to Bryan Buckhannon as he competes in the three-hour Weston Beach Race this weekend. The official website says the event is the "maddest, baddest, and biggest event on the UK off-road calendar" so we are exciting to have Bryan representing the U.S. in such a prestigious event! You can get the full details in the announcement HERE.
Last but not least, the banquet will be the weekend of December 1 and 2 at the Marriott Hotel at Waterfront Place. Details are similar to last year with ATV and UTV on Friday night, and bikes on Saturday night. The cost of the banquet is $40 for adults, $20 for youth ages six to 11, and kids five and under receive free admission. The celebration will begin at 5 p.m. each day for Happy Hour and seating, and dinner will commence at 5:30 p.m. Advance registration is required. You can get more info, including how to score a discount on your hotel room, HERE.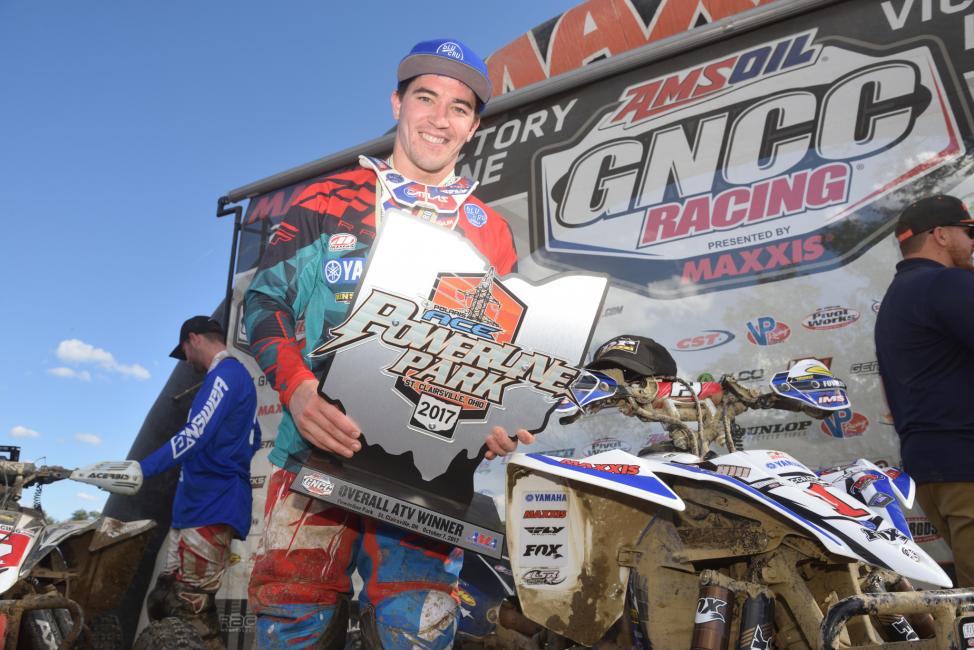 Rappin' With Rodney (Rodney Tomblin)
The 2017 Powerline Park GNCC may have been one of the biggest weekends of GNCC Racing we have seen in recent years. That says a lot when you take into account the amount of rider and fan turnouts that have set new records and brought GNCC to all new levels, and the fact that race coverage has gotten so much better and the platforms so much larger. When it all began the coverage bounced around from from a few networks to eventually land on NBC Sports. However, individual rider accomplishment this past weekend has surpassed all that if you are a true to the core GNCC Racing fan.
First I want to say thanks to the tens of thousands of viewers on both Saturday and Sunday that tuned into the live streaming through RacerTV.com, and Facebook Live. There were over 27,000 viewers on Saturday for the ATV racing and around 60,000 for Sunday's bike race. Phenomenal numbers from all over the world and the folks that watched were treated to history.
On Saturday Walker Fowler set a new record of 11 for the most wins in a single season. His record is for both quads and motorcycle and will require basically a perfect season by someone to break this record. We do still have one round to go and if Walker wins the Ironman then the new record will be 12 wins in a single season. All but a perfect season for Walker as Johnny Gallagher stands to be the only rider able to best him this season.
Though Walker appears to be on track to set this record at 12, one has to think that his luck has to run out soon. There is also the fact that everyone is working so hard to be the next challenger. I say that Ironman will be a hard one to win for anyone as many are looking to leave the season with an exclamation point and to give Walker something to think about all offseason. Chris Borich has shown a different side as of late and the speeds he is beginning to bring back on 'Old Yeller' are becoming very impressive. He has a great attitude and looks like he may be getting ready to start having even more fun. Any real fan has to be rooting deep down inside that Borich finds the old magic at Ironman in a couple of weeks and give us some hopes of a challenge in 2018.
Still, anyone who follows GNCC and who may want to see Walker at least challenged realizes he is in a zone and is going to be very hard to stop. Anyone who knows this also know that there are some hungry folks out there looking to prove things to themselves as well as others and to remain on top is going to require a lot of hard work for even Fowler. He knows the others are pushing new levels and limits and it's only a matter of time before someone finally finds it for themselves. The final round is going to be one you don't want to miss for sure.
The other historic occurrence this past weekend was the capturing of a fifth championship for Kailub Russell and tying the all time wins record held by Scott Summers. Kailub is now in a league of legends in GNCC as he sits tied with Rodney Smith and Scott Summers with five championships as well as the all time wins record. Ironically the win this weekend and record-tying ride came six short years after his first ever win in the very soils of Powerline Park in 2011. A new era has officially begun. Every win from this point on only sets a new record and it will be interesting to see how far the number can climb.
The only rider to beat right now on two wheels is Eddie Lojak who has a total nine titles. However, the coming challengers will make it tougher as time goes on and riders like Thad Duvall, Josh Strang, Ricky Russell and several other up and comers will make the coming seasons very difficult for Kailub.
When we roll into Ironman, Kailub Russell is positioned to set the new all time motorcycle wins record and Walker Fowler is going for the nearly perfect season. Both are huge accomplishments and regardless what happens it will be interesting to watch unfold. If anyone stops either rider then we end on an exciting note. If no one can stop either or both then we end on an exciting note. It's a win-win for all the GNCC Racin' Nation so make sure you have plans to be there. If not be sure and be part of the masses and watch the live stream. But if you have a small chance to make it then do everything you can within reason to be there!
That's it for me for now. Till next time God Bless Your Heart and All Your Vital Organs.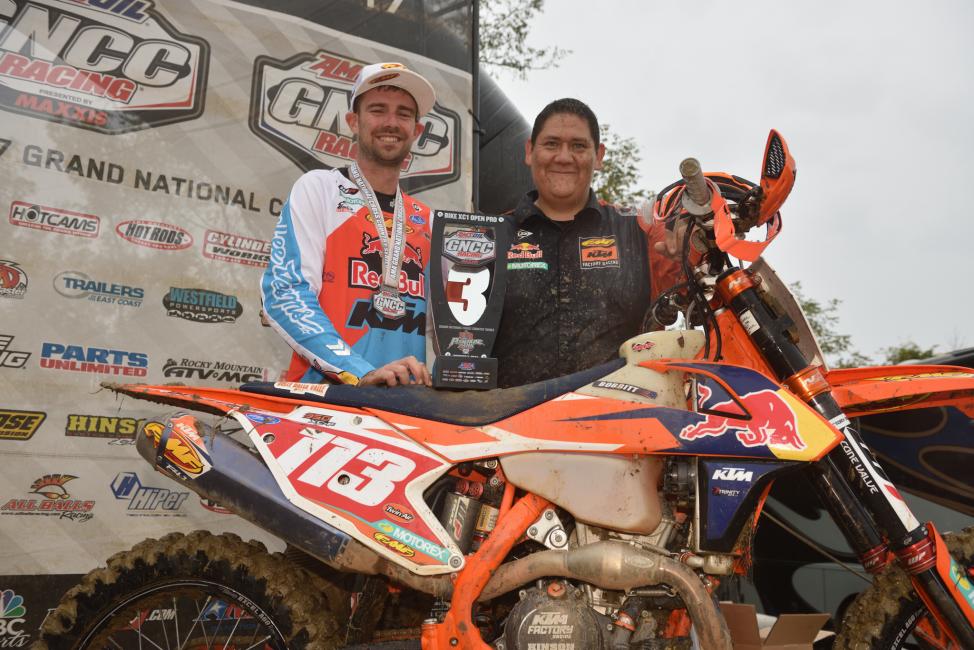 More From Powerline (Jared Bolton)
On top of the record breaking performances that have already been mentioned, there's a few other interesting items that helped to make Powerline Park a great weekend. Let's take a look at some of those and hope these things make Ironman as equally interesting.
First, Kevin Cunningham claims another win. The 4x4 Pro class title is already in the books but Kevin continues to put an exclamation mark on that title as he's now claimed nine wins in twelve rounds and only finished off the podium one time. There's no doubt that Kevin has established himself as the 4x4 rider to beat and the long-time 4x4 competitors such as Kevin Trantham, Michael Swift and Bryan Buckhannon all likely see a target on Kevin's back, but Kevin continues with his winning ways.
Next, the UTV title chase is on. Mathematically, Kyle Chaney still has a shot if both Miller brothers, Cody and Hunter, were to score zero points at Ironman. However, it's a bit unlikely so the title hunt looks to be a brother versus brother battle down to the wire. Neither of them have claimed an overall win this season but they've shown such consistency that its put them as the favorites in the final round. These guys will both be hungry for a title and it makes the competition even higher being that it is a brother against brother battle.
Another Powerline Park moment came in the youth bike race, as Zachary Davidson was able to wrap up the 2017 Youth National Championship. He may not have came away with the race win, but fifth place was good enough to earn him the title after a mechanical issue cost him an early shot at the title at the previous round. With eight wins on the season thus far, Zachary has definitely shown that he had the drive to earn that title and it's going to be interesting to see where he goes from here.
It was also exciting to see Mackenzie Tricker break through for her first win of the 2017 season. She's been close on occasion but Tayla Jones was so tough throughout the season that it's been tough for anyone to sneak in a win of their own. Mackenzie put her head down and claimed the WXC class win as well as the overall win in the 10AM race.
The excitement didn't end there either. Outside of Kailub Russell's record performance in the 1PM race, his FMF/KTM teammate Russell Bobbitt broke through to claim his first-ever GNCC podium. We've seen Russell put in a number of strong rides and even lead some GNCC races at times but he just hasn't been able to keep everything together for a GNCC podium until now. There's no doubt that Bobbitt is one of the best off-road racers to throw a leg over a dirt bike, and his four National Enduro titles are a testament to that, however a GNCC podium had eluded him until now.
With this kind of excitement at Powerline Park, it's a pretty good little teaser of what to expect when we head to Ironman. There's no doubt that Ironman is a great way to cap off the season but this year could be one of the most exciting Ironman events in a number of years. Stay tuned, it will be a good one to watch unfold!