Jared Bolton
TimeThursday, April 6, 2017 | 10:45 PM
AMSOIL is proud to present the new AMSOIL Garage for the 2018 GNCC Racing season. Located in the Finish Line Village apart of the KR4 Arrive-N-Ride team pit area, the AMSOIL Garage will be the one-stop-shop for all of your oil needs, as well as advice and assistance on minor repairs or installation. Staffed by professional mechanics and an AMSOIL dealer, stop by and visit the AMSOIL Garage at each of the 13 rounds of the GNCC season. 
Welcome to Quick Fill.
Another week has flown by and we're onto another GNCC event. This time we head to scenic western North Carolina for this weekend's FMF Steele Creek GNCC. This event has become a staple on the GNCC tour and often sees a huge turnout of racers and fans alike. The town of Morganton, North Carolina really gets into the event and it seems like everyone around town knows it's time to go racing because we've been asked about the track pretty much everywhere we've been this week!
Now, with that said, I'm sure many of you are wondering the same thing. Well, as usual I'll have the low-down on the track coming up a little later. As for conditions, well, it's really not too bad! There are a few wet spots in the main parking field but by and far things are much better than most people expect. We did get a good bit of rain early in the week but it's been pretty windy which has helped tremendously in drying the place out.
I mentioned how much people get into Steele Creek and we'll be seeing a special guest this weekend as well. North Carolina State Treasurer, Dale Folwell, will be in attendance on Sunday. It's pretty cool to see a public official like this make their way out to a GNCC event but Mr. Folwell is no stranger to GNCC Racing as he actually claimed the Masters-C class championship in 2013. Dale has previously served in the North Carolina House of Representatives and also as North Carolina's Assistant Secretary of Commerce, all while maintaining his passion for riding motorcycles. Interestingly enough, when Dale served as Assistant Secretary of Commerce, the head Secretary of Commerce was Sharon Decker who's son Matt Decker has been an avid off-road and motocross racer for his entire life (and was actually my roommate for a while!)
It's going to be a great weekend of racing at Steele Creek. Are you ready to go racing? The time is here!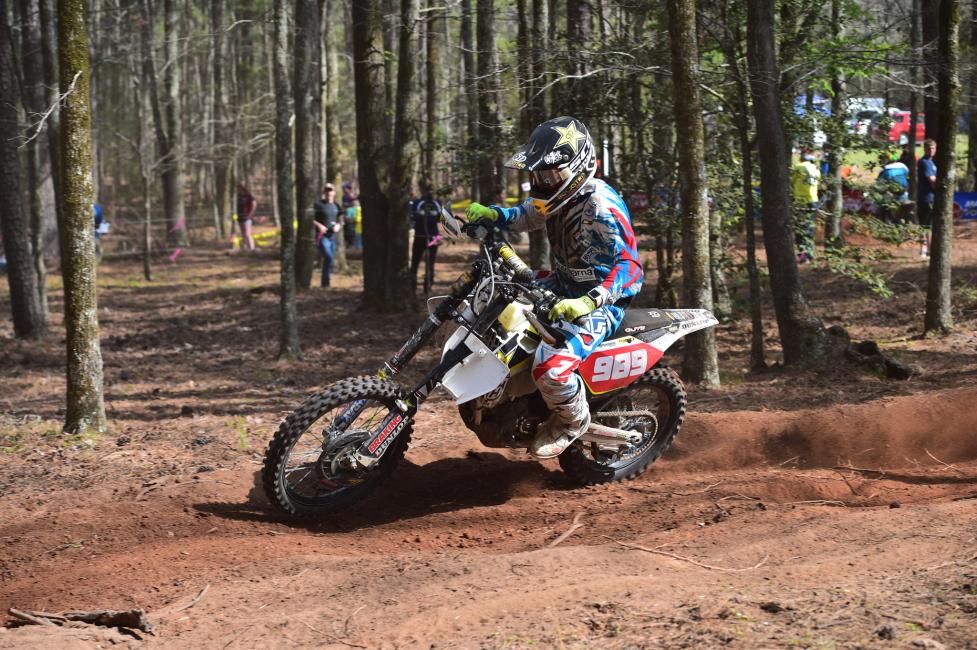 Weekly Updates (Chelsea Taylor)
As another week rolls by we find ourselves gearing up for Round 4 – the FMF Steele Creek GNCC! This is always one of my favorite events, because the whole facility is absolutely beautiful and just an hour away from where I grew up. I actually had some field trips to the campground when I was in elementary school where we would jump off the high dive into the freezing water. Never in a million years did I expect to be back at the campground working with the best racing series! Since the race is so close to my parent's house I spent a few days at home this week caching up with family and friends.
I'm especially excited for this weekend because my mom and dad (also known as Tanya and Michael) will be working the Racer X booth! Kailub Russell is featured on the cover of the Racer X issue for May, and is the first ever off-road racer to make the cover! You can subscribe to Racer X Illustrated for as low as $10 for the complete year! Print and digital subscriptions are available, and if you sign up at Steele Creek this weekend you will receive a FREE autographed Kailub Russell poster and immediate access to the May 2017 issue with Russell's full feature, "Trail Boss." The Racer X display will be open from noon to 4:30 p.m. on Saturday, and 9 a.m. to 1 p.m. on Sunday!
Don't forget that gates will be open today from 5-9 p.m. Please plan accordingly as the gates will close promptly at 9 p.m.! Since this race is at a campground facility everyone who is camping must pay the associated fees. Non-hookup spots are $25 per night, and hookup spots are $40. You'll pay for camping once you arrive on site, and these are in addition to the regular GNCC gate fees.
Please be aware that there will be a cycle race in Morganton on Sunday from 8 a.m. until 6 p.m. If you are staying in a hotel or just traveling to race the day of, be advised that some roads may be closed. There will be detours available, but this could cause some delays when it comes to getting to the track on time!
FPS Racing just announced a huge deal for our GNCC Racing Nation! To celebrate their third full season as a sponsor, FPS Racing is offering 30% off all radiators. All you have to do to receive the deal is sign up for the Discount Race Support. Being apart of this program will get you 30% off the entire FPS inventory. Stop by the display this weekend or visit www.FPSRacing.com to sign up.
Trailer of the East Coast will have a special set up at this weekend's race due to it being their home round! With trailer parts, RV supplies, hitches and more, Trailers of the East Coast has something for everyone! Stop by their display in Sponsor Village this weekend and register to win a FREE Yamaha generator. You don't have to purchase anything to win, but make sure to ask about their GNCC toy hauler special why you're there!
We'd like to wish 4x4 Pro rider and former champion, Bryan Buckhannon, good luck as he participates in the Hunt-the-Wolf race in Romania this week! This weekend will be the first GNCC that Bryan has missed in 11 years, but it's all for a good cause as he takes part in this unique event. Good luck Bryan – make us proud!
Team Faith will be holding a Memorial Service in honor of Chris and Cody Gragg at this weekend's Steele Creek GNCC. Although Chris and Cody are already laid to rest, pit pastor Chuck Lemaster invites the GNCC Racing Nation to hear words of comfort from God's Word on Saturday evening at 7:00 p.m. at the Team Faith pit on Vendor Row. All friends and family are invited as we pay tribute to the Gragg legacy. Memorial stickers will be available.
In addition, we will be doing a memorial balloon release on the starting line of the 1 p.m. pro bike race. In honor of Cody, we will release 298 balloons. Balloons, string and helium will be at the starting line and everyone is invited to fill up a balloon and participate. Oh, and don't worry. These are all biodegradable so we won't harm the hiking and bike trails that are nearby.
We are also saddened to hear the passing of Al Amatuzio, the founder of AMSOIL. Al passed away last Friday night at the age of 92. Al was passionate about all-things racing, but especially motorcycle and ATV racing. AMSOIL has been activity involved in GNCC Racing for several years where they played a major role in the launch of GNCC LIVE and Racer TV. To date, AMSOIL serves as the title sponsor of GNCC where they are involved in every aspect of our series. AMSOIL also provided support for the AMA Amateur National at Loretta Lynn's. We are proud to have Al Amatuzio and the AMSOIL brand associated with our series.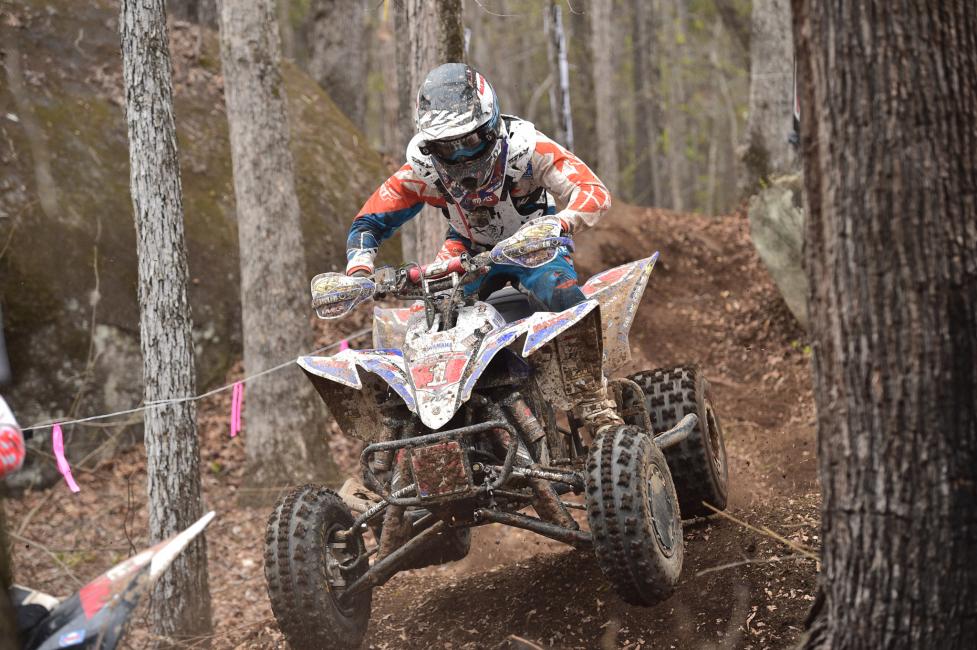 The Spirit of Steele Creek (Rodney Tomblin)
The upcoming weekend of racing at the FMF Steele Creek GNCC will mark the 18th running of what is likely one of the most storied events in modern history of GNCC racing. It has been said that it is one of the most picturesque locations on the tour. With it being located in the foothills of the Blue Ridge Mountains, that statement is hard to argue. The one thing to expect out of this weekend is that you will probably be scratching your head and saying to yourself, "Yep! That just happened!"
As we approach round 4 this year the stage is set for some drama to unfold, and it may be set more now than ever before if you take into account the epic ATV and bike battles at the last round in Georgia. In the back of your mind you have to be thinking that Chris Borich has won here and battled about as much as anyone, except Adam McGill, while Walker Fowler has also won here also in the past. Historically though this place has been tough on everyone and one of the best memories that Chris likely has is from 2014, which is where he clinched his 69th win. That win set the new record over Barry Hawk's 68 all time GNCC wins. Chris went on to win four more races that season and capture his 6th GNCC XC1 Pro ATV title.
As far as history and Chris Borich at this event in 2012 he and Taylor Kiser were battling to the bitter end in front of a capacity crowd when the two came together sending both riders and ATVs flying. Kiser was able to upright first and took the win as Chris dropped back to third on the day. Traditionally though this race is a survival race, and a lot of eyes will be on the veterans to master this one although you never know what to expect here. Can Brycen Neal get his first win here, or will Chris make history here again with his first win in over two seasons? There are so many scenarios to look at my head begins to spin.
On the two-wheel side of things there isn't much of a difference, as Steele Creek has given us just as many breathtaking moments of finishes with the Barry Hawk/Glenn Kearney dual to the checkers and beyond. The mud race canceled at the 8-mile mark that only Paul Whibley finished even though he didn't get credit for the win. The obvious bridge that has captured so many unexpectedly like Barry Hawk around 2004 that left him standing in the cold Steele Creek water.
The one person though that this mountain may owe the most to this weekend is Thad Duvall. Thad has seen so much promise at this event and been in position it appeared to take the win, but would have misfortune strike. He has been hauled out of these mountains more than once after leading the race, but the difference this year is that Thad may be ready to beat these mountains in North Carolina. Thad has shown more promise, maturity and speed than ever in his career and one has to wonder out of respect what heights they may lift him.
I realize that hard work, preparation, desire and guts have gotten riders this far, and they will have to rely more on all these qualities combined this week than they realize. No one should take this race lightly or dismiss its potential. It can create great things and it can take things away in a blink of an eye. The spirit of Steele Creek is alive and if you take a moment to stop and soak all the beauty and wonder it holds, you will appreciate not only the moment but will recognize the spirit of which I speak. I feel it will give you a whole new connection to one of America's most unpredictable races we call the FMF Steele Creek GNCC.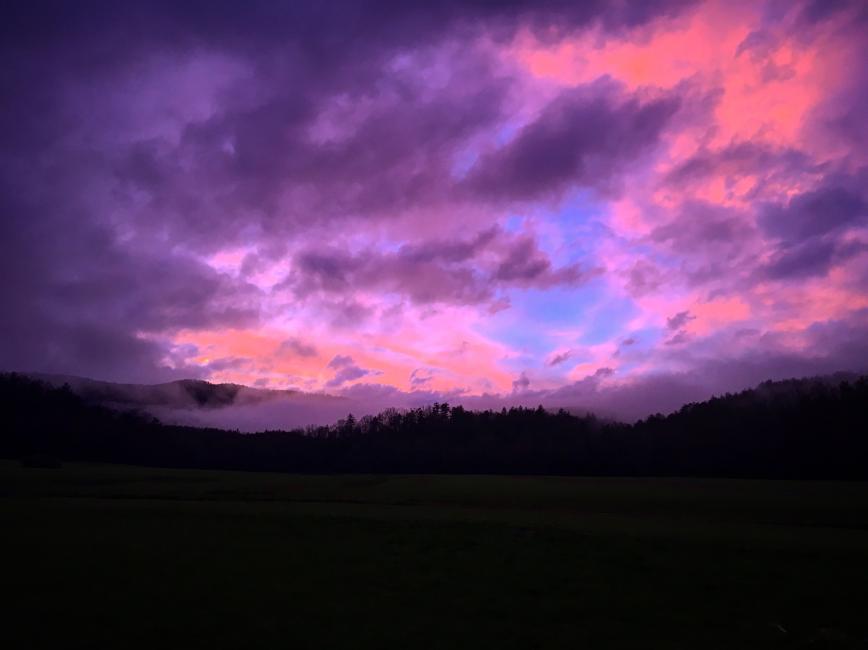 Steele Creek Update (Jared Bolton)
Now we approach the part you've been waiting for! This year's Steele Creek course is a pretty typical Steele Creek course but it's a little different as well. The starting line has been moved back to the main field area, so make sure you park close to your neighbors to maximize space! This will be the biggest change for spectators and will offer up some great views as well.
From the finish line, you'll make your way over to the wooden bridge and have some sections of up, down and back up a few hills that will take you out to the one-mile mark. Once you make your way back off the hill from the one, you'll head around the campground and over to the famous Steele Creek bridge. Duck under the bridge, through a little mud and out to the two mile mark which is located at the end of the "island" that we use every year. From there, you'll work your way through another long uphill section and a fun flowing downhill to the three-mile mark.
When you hit the three, the 1PM races will turn left and head out to a long uphill section. It's not overly steep, but the climb is very long. In fact, it takes you about 3/10ths of a mile before it ever flattens out and then about as soon as it flattens out, you come back downhill again for another 2/10ths of a mile. You've got yet another section that will take you up, down and back up another hill to the four-mile mark. Past the four, you'll drop back off the hill and to the section of trackside pitting across from the bridge. There you'll hit another long and steep hill climb that will bring you back down across from the back of the starting line. You'll begin working your way back uphill once again, passing the five-mile mark.
When you get up top, you'll go across the top of the ridge and have a couple of up and downhills that will take you to the six-mile mark where you've got yet another up and downhill section to the seven-mile mark. At the seven, the 1PM races will split off and come back into the starting line to head into the pro pits. Once you get back into the woods, it's a long climb up to the eight-mile mark where you'll head out the ridge into some flowing trails that will bring you back downhill to the nine-mile mark. Past the nine, the 1PM races will split off again and have a cool section that will bring you to the top of another hill, then to a long, steep downhill passing one of the RacerTV camera spots.
From there, you'll head out to the ten-mile mark where the 1PM bike races will turn left across the creek and hit a new bike-only section around the old start field. It brings you back around to where you split off from and there's a few sections of trackside pitting and some fun flowing woods to the eleven-mile mark and back into the finish.
All-in-all, it's going to be around 11.1 miles for the 1PM ATVs and 12.2 miles from the 1PM bikes. The 10AM races will be a hair shorter than that with both being somewhere in the neighborhood of ten miles. It's going to be a great weekend of racing, don't miss out!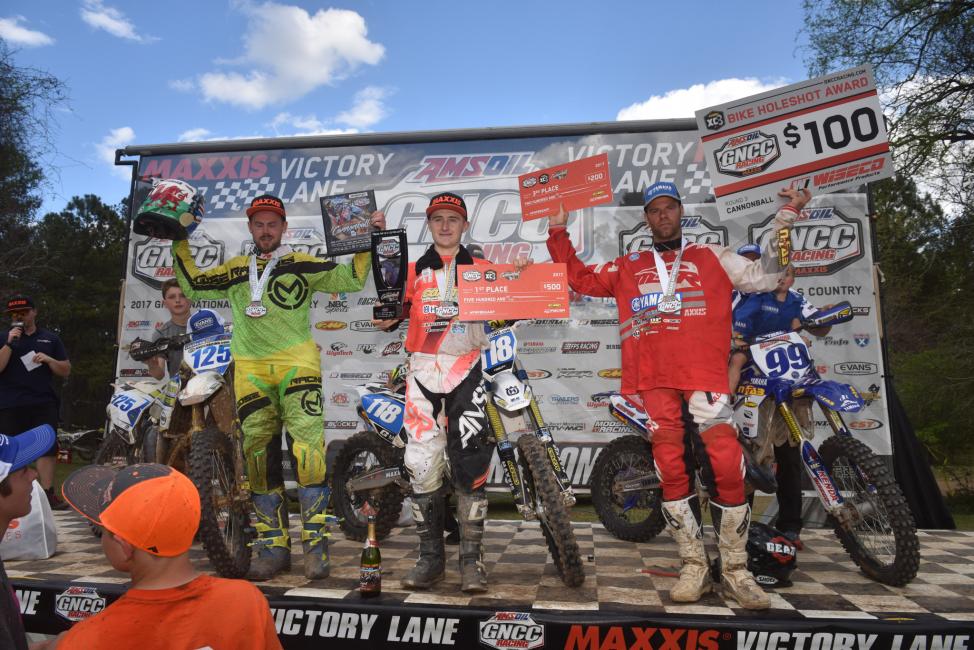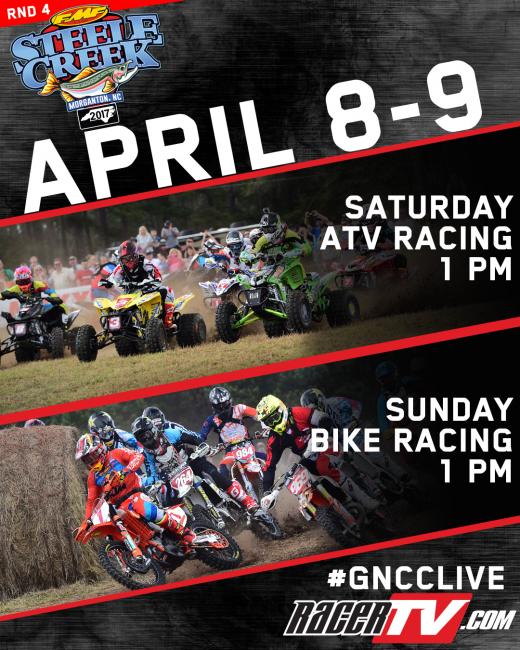 What's New on RacerTV.com?
Don't miss the online coverage from Round 4, FMF Steele Creek, of the 2017 AMSOIL Grand National Cross Country Series presented by Maxxis, an AMA National Championship this Saturday, April 8, and Sunday, April 9 at 1 p.m. EST on RacerTV.com.
Saturday, April 8
ATV Racing

Online: 1 p.m. EST, www.RacerTV.com (LIVE)
Sunday, April 9
Bike Racing
Online: 1 p.m. EST, www.RacerTV.com (LIVE)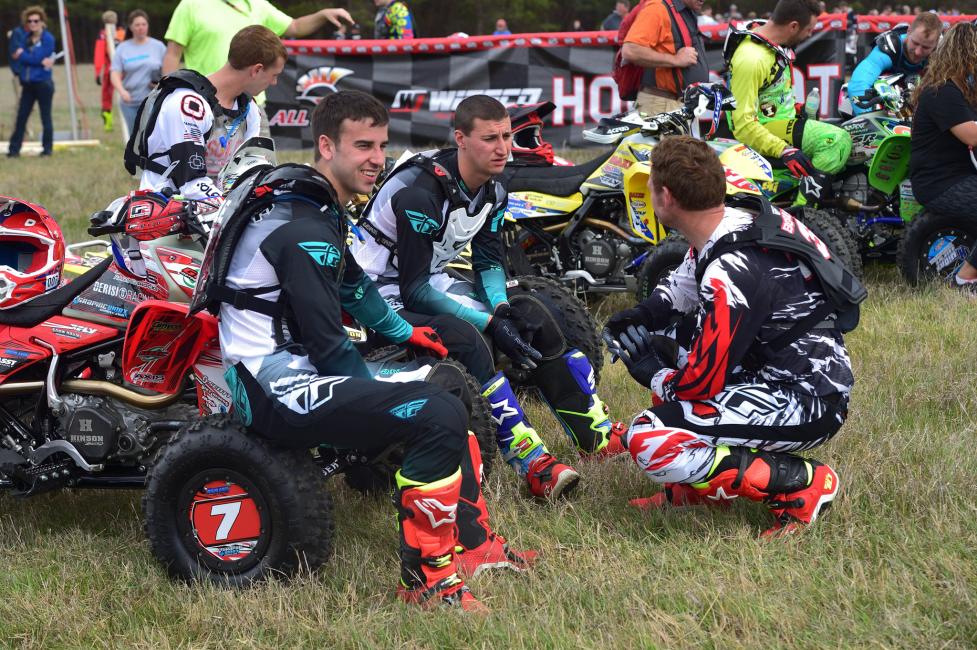 News from GNCC, Riders and Sponsors
Trailers of the East Coast Generator Giveaway
Stop by Sponsor Village at Steele Creek GNCC to visit with us at our home-state race! We will have a special display along with our giveaway and all of our products that are available at each and every GNCC.
GNCC 30% on all FPS Radiators Discount Race Support Program
To help celebrate its third full season of GNCC Racing sponsorship, FPS Racing is offering 30% on all FPS Radiators through the Discount Race Support Program to the entire GNCC Racing Nation!