Jared Bolton
TimeThursday, March 30, 2017 | 3:00 PM
AMSOIL is proud to present the new AMSOIL Garage for the 2018 GNCC Racing season. Located in the Finish Line Village apart of the KR4 Arrive-N-Ride team pit area, the AMSOIL Garage will be the one-stop-shop for all of your oil needs, as well as advice and assistance on minor repairs or installation. Staffed by professional mechanics and an AMSOIL dealer, stop by and visit the AMSOIL Garage at each of the 13 rounds of the GNCC season. 
Welcome to Quick Fill.
It's hard to believe that three rounds of the 2017 GNCC Racing season are already in the books. Last weekend's Cannonball GNCC was also nothing short of another weekend of amazing racing. With battles down to the wire on both the ATV and bike sides, round three definitely lived up to our expectations that the 2017 season has set for us thus far. To top it off, it seems like the majority of folks really enjoyed the track. Adding together an excellent recipe of great racecourse and tight racing action makes for a pretty epic weekend of racing.
Of course, it was also a demanding weekend of racing as both Pro races went longer than normal. Walker Fowler crossed the line to claim the ATV win with a final time of 2:16:35.171, which is one of the longer ATV races we've had in a number of years. Kailub Russell finished the bike race with a total time of 3:04:34.328, which is also on the long-end of the spectrum. That made these the longest races thus far this year, and it very well could be the longest of the entire season. That can be brutal for the guys who are pushing the limit for the entire race, but we all know that GNCC racers are incredible athletes.
We now turn our attention to round four with the Steele Creek GNCC next weekend. If there's one thing about Steele Creek, it's that it very well could be the most unpredictable GNCC event of all. It's seen mud, it's seen dust, and it's seen perfect conditions. It's been hot, it's been cold, and it's been just right. There have been run away victories and multiple occasions where the pass for the win was made in the final turn of the race. Through all of this, the only thing that you can be absolutely certain about at Steele Creek, is that you should come in expecting the unexpected.
Will 2017 leave another impressive mark in the history book of Steele Creek? Only time will tell, but we'll know in just over a week. Don't miss out, it could be a good one!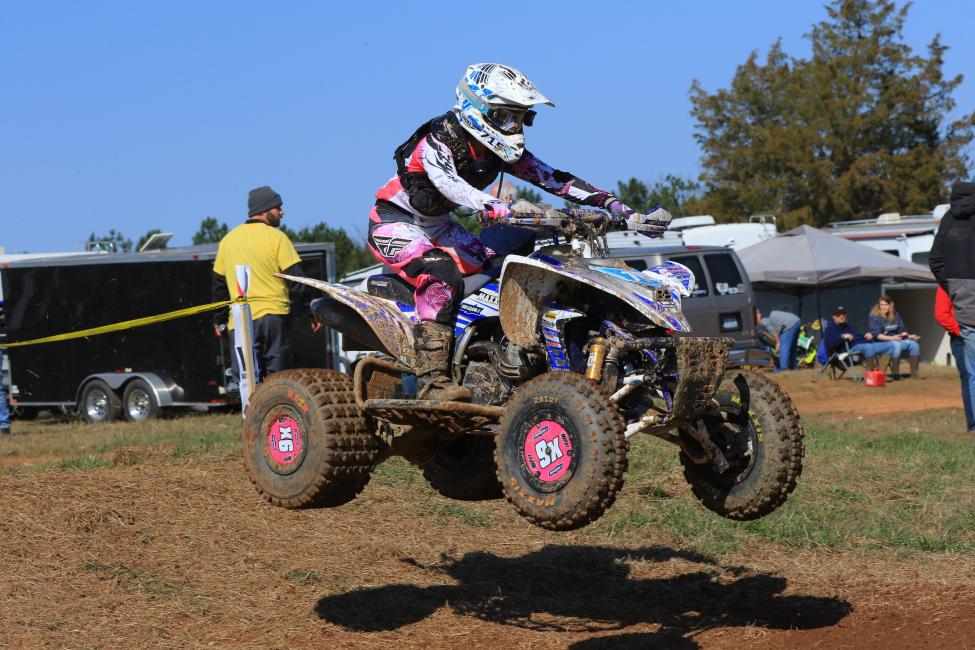 Weekly Updates (Chelsea Taylor)
With the first three rounds complete, the GNCC season is in full swing and we have already experienced the rollercoaster experience that comes along with racing. We have witnessed some of the best racing battles in a long time, connected with friends and made new memories that we will never forget. The GNCC family lost two very special members last week, and while Jared will talk more about Chris and Cody Gragg, it's mind-blowing just how much respect and love has been shown in the racing community and all over the country. It makes me so proud to be a part of this family.
Next week I'll have more details on what we have planned for Chris and Cody at the Steele Creek GNCC, but as we turn our attention to the next race we have a few announcements we would like to release in advance. Because of the unique layout of the facility, we will open the gates on Thursday, April 6, from 5-9 p.m. Please plan to arrive at that time. If you arrive after 9 p.m. you will not be granted access to the facility until Friday morning.
Don't forget to pre-register for Steele Creek. Your Rocky Mountain ATV/MC Race Gas gift cards from the first two races should be arriving shortly, and remember that you can use multiple cards together! It's perfect for those big-ticket items that you just don't want to pay full price for.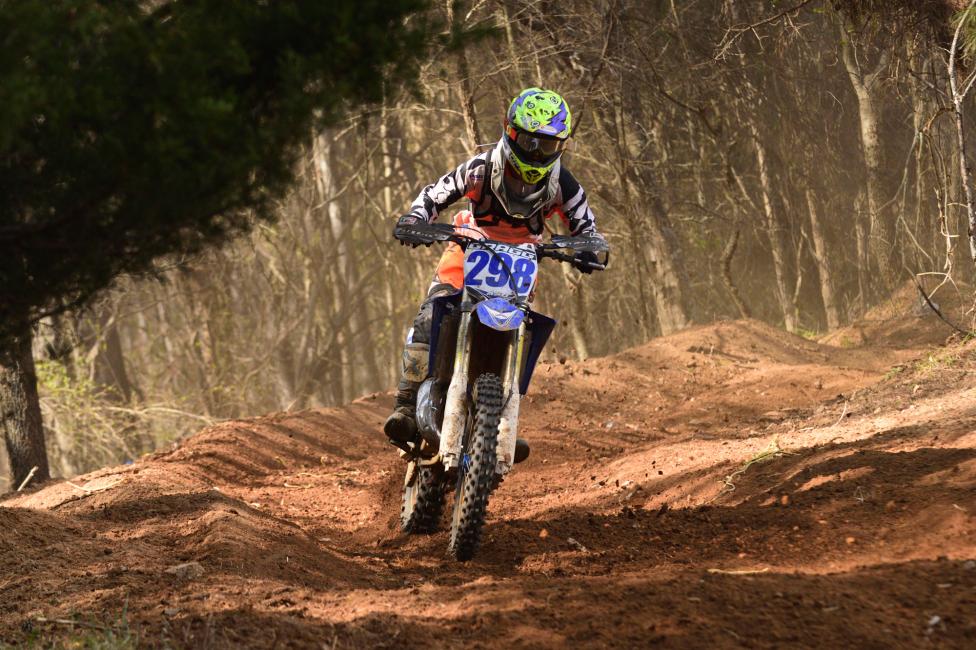 Chris and Cody, We'll See You Down the Trail (Jared Bolton)
For anyone who has been around the world of GNCC Racing for a number of years, you definitely know the name Cody Gragg and if you knew Cody personally, you undoubtedly knew his dad, Chris, also as the two were nearly inseparable. Cody was an extremely accomplished racer. Having started out as a motocrosser, Cody made the transition to off-road and worked his way through the Youth ranks, into the A-classes and eventually up to the XC2 class. Cody had shifted his focus back to motocross for a while, most notably finishing a very impressive 16th overall at the Budds Creek Pro Motocross National in 2015, and he did so aboard a 250 two-stroke! However, this season he would return to the world of GNCC Racing to compete in the new FMF XC3 125 Pro-Am class.
Cody and Chris were headed to round three to once again do what they both loved so much. Unfortunately, they were involved in an accident, and passed away at the scene. This news spread like wildfire throughout the late afternoon and early evening last Saturday. It's extremely tough to lose anyone, and it can weigh heavy on our hearts. However, it's always best to remember people the way they would want to be remembered and that's always with positive memories.
The days that followed have been littered with social media posts and overwhelming support for these two amazing people. Personally, I had known both Chris and Cody for a number of years. I had raced against Cody in one of his early races aboard a big bike (I smoked a clutch and finished next to last, but even if it wasn't for that, he still would've kicked my butt!) and had even been on some group rides with Cody when I lived back home in North Carolina. He and Chris were two of the most positive and friendly people I had ever met. In all the years I knew them, I never once heard them say anything negative about anyone, or anything. Cody had snagged the XC3 holeshot in Florida, but missed the podium. I was hanging onto his "giant podium check" to give to him in Georgia but unfortunately never got the opportunity to do so. We passed the check along to Rita Jeffers from Rider Registration, who works with Cody's mom, in order to make sure it made it home.
Not only were they great people, but they were both heroes. Cody was someone that his friends, competitors and younger racers all looked up to. The same could be said for Chris as he treated many of Cody's friends as if they were his own children. To top all of this off, they were both involved with the Collettsville Fire and Rescue where Chris was a Lieutenant and Cody served as a Firefighter. You may have never even known this unless you were close with them because they weren't the type of people to flaunt it. They simply did their job and worked hard to give back to their community.
They were well known and well liked in their local community, as well as throughout the entire motorcycle industry. It's incredible to hear that more than 4,000 people came out to their viewing, which lasted beyond 1AM. Then more than 1,000 people were in attendance for the burial, while more than 2,000 people watched the local TV channel's Facebook Live broadcast of the funeral procession that lasted nearly two-hours.
Chris and Cody, what can I say that hasn't already been said? You were great friends to every single person you met and there will definitely be a huge void in many people's hearts. The entire GNCC Racing Family thanks you for your years of racing, years of friendship and we salute you for your service to your community. We'll see you guys down the trail…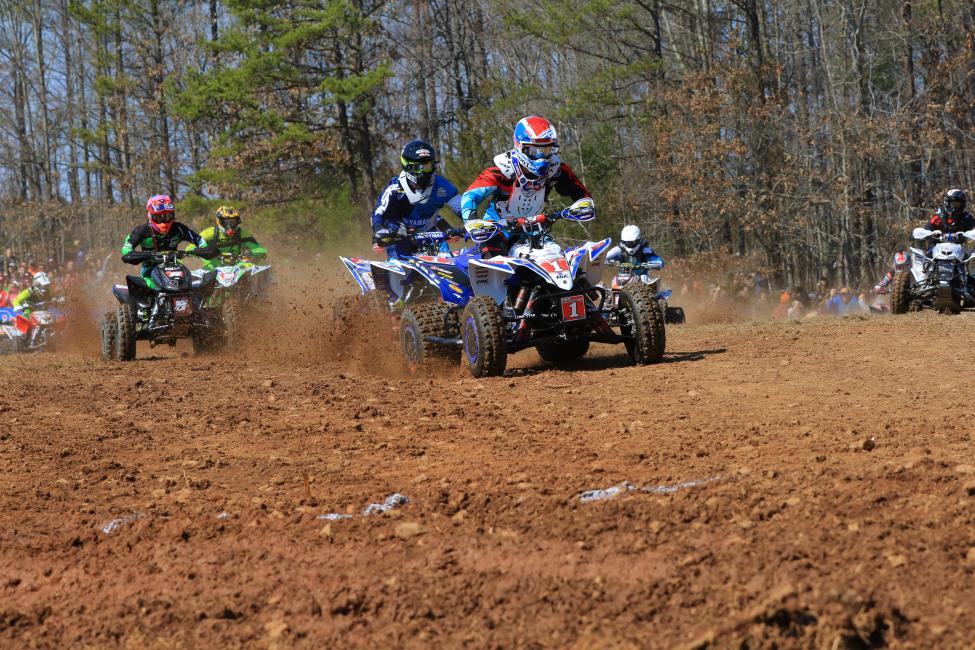 Cannonball is in the Books! (Rodney Tomblin)
As a racing community, if you watched either day of racing you were treated to one of the greatest races you have likely seen in a while. Collectively it may have been the best all around weekend in quite some time.
The first thoughts come to the Youth ATV race as Lane McCormick finally broke through and snagged his first Youth Overall win. Equally as exciting was the fact tat in the 10am race his mother, Alicia McCormick, took her first win of the season ahead of multi-time past champions Traci Pickens and Angel Knox. The action is heating up in that division and should be even more eventful as the season wears on. These ladies are serious competitors and each is working hard to gain an edge on the other.
The XC1 Pro and XC2 Pro-Am battles brought the best racing all season. I joked with Walker the night before about making it more exciting. He told me he thought the last two rounds were exciting, but would not relinquish to my request. Unfortunately for him though, the race fans that know what I am talking about got exactly what we wanted. It was a straight up brawl between the top five that left you with you jaw dropping at the checkers. It also left us wanting more and it left Chris Borich with a real taste of wanting to win, as well as Brycen Neal who saw his chances of his first win slip away in the closing moments. It was an epic day of racing for a lack of better lack of terms.
Sunday's racing was not much different. The day seemed a little quiet to begin with but as soon as bikes hit the track things really sparked and the competition was off the charts. By the time we reached the 1pm race the track was set and ready for the three-hour shootout. The battles up front all day in all three Pro classes kept you on the edge of your seat and the finish was nothing short of jaw dropping once more. The effort displayed all the rides and especially the top three was as epic again as nearly any I have witnessed in quite some time. Kailub, Thad and Stew all three left more on the track than any of them may have thought they had to give.
What does the future hold as far as these battles is yet to be decided. The fact that things are so close at this moment leads one to believe that it is possible to see more of these types of battles in the future. Remember some of the most memorable races ever run in GNCC have occurred at Steele Creek. If you know the history, then you know that there is a spirit in those mountains that can make you famous or break your will. The weather can play a big role in the story and with the drama that comes this year, we can only think the plot will thicken. I can't wait to see what round four brings.
That's it for me for now. I am off to Texas for the Wiseco ATV Motocross National Championship at Underground MX Park near Kemp, Texas. I get to stay in a town named Gun Barrel City, which always sounds cool to me. Till next time, God Bless Your Heart and All Your Vital Organs.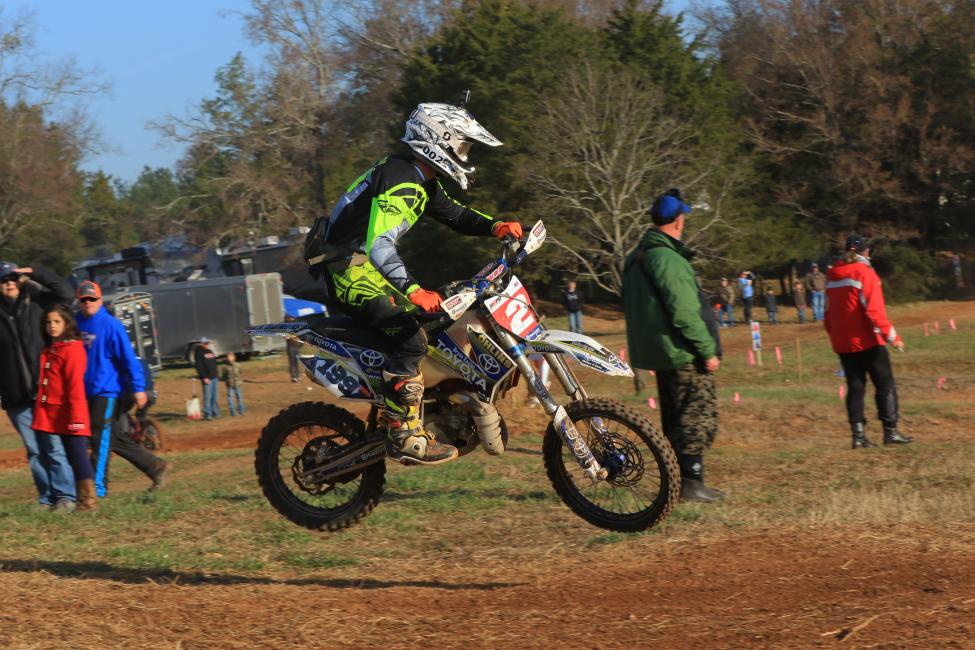 Something in the Water (Chelsea Taylor)
Iron Station, North Carolina – Ever heard of it? There's a good chance you haven't. With a population of only 6,210 people (according to Wikipedia), it's a fairly small area that's often overlooked since it's less than an hour away from Charlotte.
Earlier this week I was going through previous results looking for riders who were local to Steele Creek, and kept noticing that Iron Station kept coming up. I ended up looking into it more and realized we have had eight different people from Iron Station race a GNCC this year. Often times, we will have people just a one town over, but it was interesting that eight people call Iron Station home. In fact, out of those eight racers, four of them race in the Super Mini Sr. class on Sunday mornings!
Zack Davidson has taken control of the youth ranks so far this season where he has a three race winning streak and the points lead. Zack often made an overall podium appearance last year when he started on the second row. At the Cannonball GNCC, Zack dedicated his win to the Gragg's, and when he went to the visitation on Tuesday he gave his overall media to Lisa Gragg. We often say that the youth racers are the future of GNCC Racing, and Zack's thoughtfulness makes me look forward to where GNCC is heading.
Dylan Zimpel, Drew Gross and Max Rust all compete against Zack in the Super Mini Sr. class. Drew's brother, Triston, suits up for the 10 a.m. race where he races in the 200 C (15+) class. Much like the other Iron Station youth riders, Triston is having a great season where he holds a top-five ranking in the points.
Speaking of success, he's only raced the Big Buck GNCC, but Andrew Coffey took home the win! With Steele Creek being next weekend, there's a good chance Andrew will make his way back out. Perhaps Trey Edwards will, too! Trey has also just competed in the Big Buck GNCC, but finished an impressive 12th in the Sportsman A class.
Last but not least, she isn't at every GNCC but it's because she follows the six-round UTV circuit. Jesi Stracham also calls Iron Station home. Steele Creek is a micro round, but Jesi may be in attendance cheering on her friends and supporting her sponsors.
I'm not sure what you are thinking, but I definitely think there's something in the water at Iron Station, North Carolina! Of course, it's home to Top Gun MX, but that still doesn't entirely explain how that eight top GNCC competitors pack up their campers and trucks after each race and hit the road back to the small town.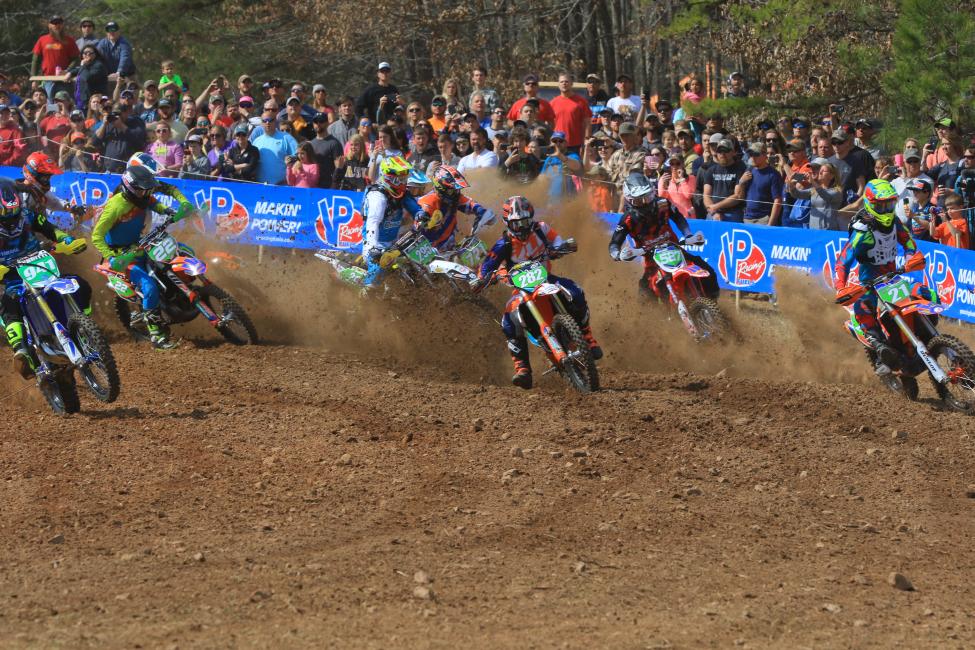 Two-Wheeled Mayhem (Jared Bolton)
So far, the 2017 season has produced some of the best bike racing action we've seen in quite some time. Many expected Kailub Russell to simply run away with wins this year. While he's still the man to beat, still leading the points and still claiming wins, those wins definitely haven't came easy! Both Thad Duvall and Steward Baylor have been big thorns in Kailub's side so far this season, and neither one of them are giving up.
Round one saw Steward Baylor draw first blood by claiming his first-ever GNCC overall win. It was a pretty unexpected win as many folks, even Steward himself, had just about written off Stew's chances to claim a GNCC overall. Kailub returned to the center-step of the podium the past two rounds but has not gone unchallenged, as both times Thad Duvall has been nipping at Kailub's heels throughout the races. In fact, the duo swapped the lead a good number of times in Georgia. If this is any indication of what the 2017 season is going to be like, then this very well could be one of the best seasons we've seen in a long time.
Equally impressive is Josh Toth who is now three for three on XC2 class wins thus far. Toth has come on extremely strong since landing the N-Fab AmPro Yamaha ride after last year's summer break. Craig Delong had two strong opening rounds but struggled mildly in Georgia. However, we know that Craig is one of the most consistent riders in all of GNCC Racing, so expect to see him rebound at Steele Creek. Mike Witkowski has worked his way into a third place points position after his second place finish in Georgia. Mike has also come on strong recently, so keep your eyes on him as the season progresses.
Also exciting this year is the new FMF XC3 Pro Am class. Coastal Racing's Jack Edmondson has been the man to beat as he has claimed three wins in three rounds thus far. Of course, he's had to work for those as former XC2 champ Jason Thomas and former GNCC National Champion Paul Whibley have both been extremely strong in this class as well. You can count on Whibs to get an excellent start and lead the way early, but Jack has been on fire and is showing that he truly is a 125 master!
With this kind of racing so far, there's no doubt that the rest of the 2017 season could shape up to be extremely interesting. There's been great racing in XC1, XC2 and XC3 but the big question at the moment is, which will have the tightest championship battle? Only time will tell but it's going to be awesome to watch it unfold!
Headlines
Kailub Russell Races His Way To The Maxxis Cannonball GNCC Overall Win
Walker Fowler Comes from Behind to Capture the Maxxis Cannonball GNCC Overall Win
Video - Thad Duvall at Orlando MX
GNCC Racing Family Mourns the Passing of Cody and Chris Gragg
Jack Edmondson Captures Third-Straight Victory at Round 3 of the GNCC Series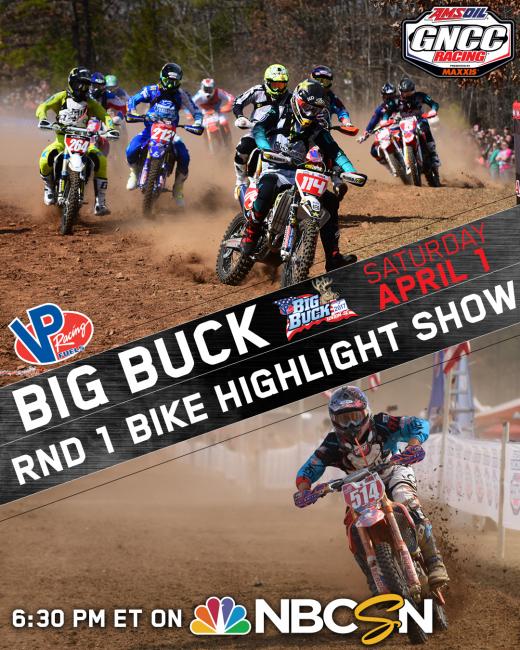 What's New on RacerTV.com?
GNCC returns to NBCSN this weekend with the first feature episode of 2017. This show will air Saturday, April 1 at 6:30 p.m. ET from the VP Racing Fuels Big Buck GNCC. This is a bike feature show, and it will re-air on Wednesday, April 12 at 4:30 p.m. ET.
Find all the latest videos and archived races on RacerTV.com! Just click under off-road for the newest videos. Also, don't forget GNCC is LIVE at every race on Saturday and Sunday at 1 p.m., and if it is a UTV event RacerTV will be live at 4 p.m. Saturday too.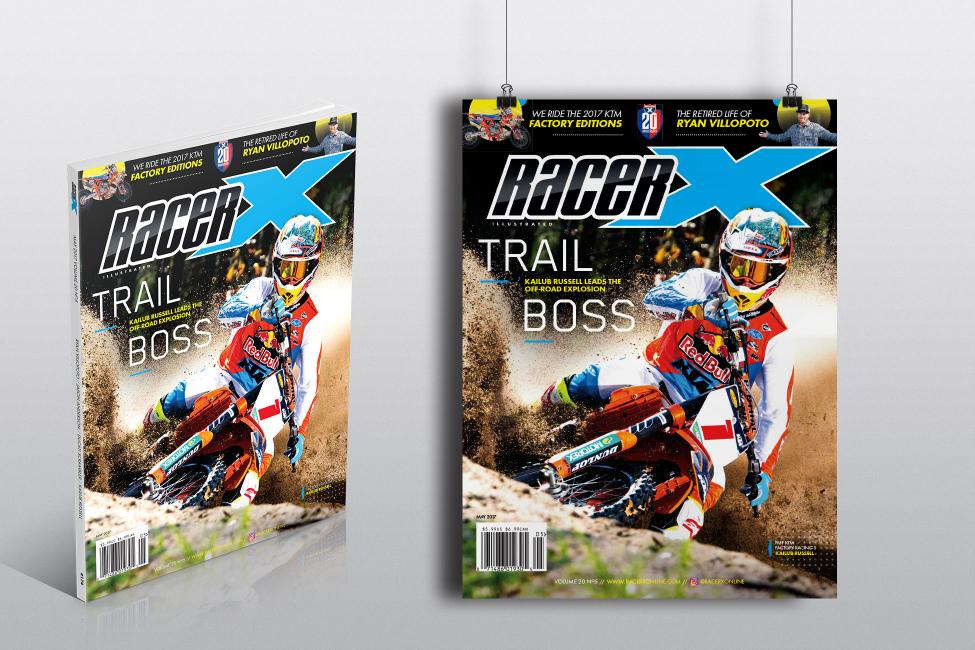 News from GNCC, Sponsors and Riders
Get an Autographed Kailub Russell Poster at Steele Creek GNCC
Racer X recently released the May 2017 issue and a first-ever for the magazine its 20-year history: an off-road rider featured on the cover, which was none other than four-time reigning GNCC champ Kailub Russell. Not only did Russell land on the cover, but he also has a full feature penned by Racer X's longtime scribe and GNCC enthusiast, Jason Weigandt.
To celebrate this milestone, Racer X is planning on setting up a booth at the Steele Creek GNCC, where fans can subscribe to Racer X Illustrated for as low as $10 to get a FREE autographed Kailub Russell poster! This offer is only available to the diehard GNCC racers and mud fleas at the races. Not going to the races but still want an unsigned cover poster? You can subscribe online at http://www.racerxonline.com/kailub-russell-poster to get one with a one-year subscription to Racer X Illustrated for as low as $9.98. You'll also get immediate access to the May 2017 issue with Russell's full feature, "Trail Boss."