Jared Bolton
TimeThursday, March 2, 2017 | 3:15 PM
Welcome to Quick Fill.
Well, it's finally here! This weekend we officially begin the 2017 GNCC Racing season. It doesn't matter if the off-season has flown by for you or if it felt like it lasted too long, this is it, it's go time! It's going to be a bit different with the series beginning in South Carolina before heading to Florida, but this change has provided for a pretty unique Big Buck racecourse, which I'll give you all the details on coming up shortly.
While everyone is running their own race, the focus of the weekend will of course be on the front-runners of the XC1 classes for both ATV and bikes. This season has a lot of potential as both Walker Fowler and Kailub Russell have multiple championships under their belts coming into the 2017 season. This puts big targets on their backs as a number of challengers on both sides will be looking to step up to the plate this season and challenge for their own shot at the title.
Of course, these same kinds of battles will be found throughout each and every class. From the top tiers of the Pro classes, all the way to the up and coming Youth classes, a new season of GNCC Racing means a new set of challenges for racers across the board. With a fresh start to a fresh season, it truly is anyone's championship to win in any class and it's going to be a great season to watch unfold.
Are you ready? It's almost time to go GNCC Racing!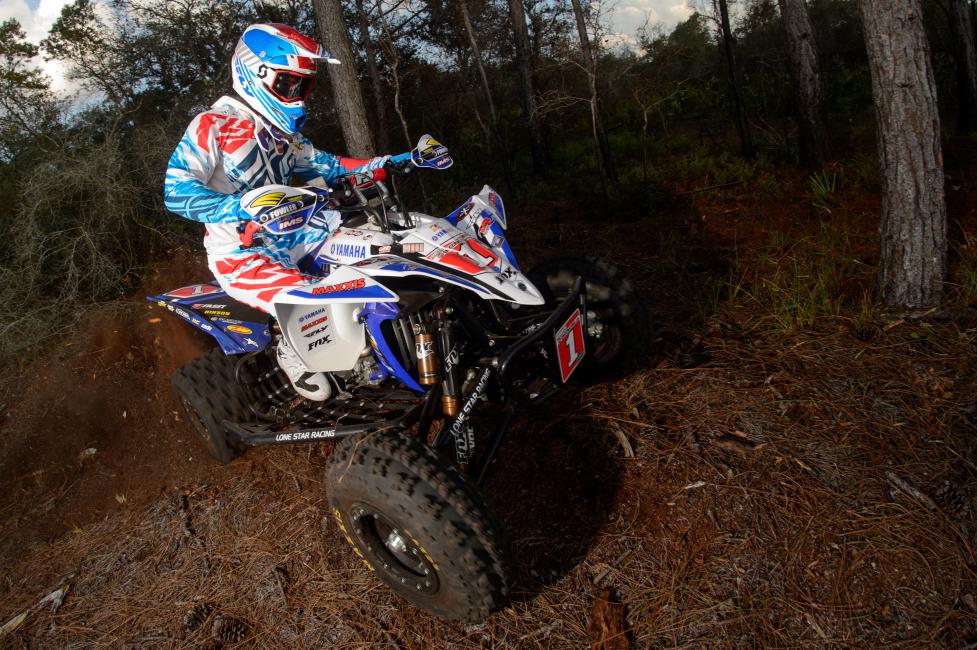 Weekly Updates (Chelsea Taylor)
This edition of Quick Fill comes to you straight from a green van buzzing down the interstate. Our marketing assistant, Derek, and RacerTV cameraman, Gloop, are with me as we head to South Carolina. The guys let me drive the first little bit, but it didn't last long until they told me to pull over (Oops!). You may be thinking I planned my bad driving on purpose, but I promise I didn't… apparently; I'm just a bad driver. Who knew?!
While the forecast is looking AMAZING for this weekend, there has been little rain in the area. Due to this, we will have a no campfire policy this weekend. Please understand that we try our best to allow campfires, but when the conditions are too dry it's necessary for us to make a ban.
With the race season kicking back up, so are our school visits. I'm currently looking for racers who would like to participate. If you're interested, send me an email and I will try my best to fit you in at your requested round. This is a great way to give back to the local communities that we race in, and to meet some awesome children. You'll never know the impact you have on the kids.
Twin Air and Moto-Master will be returning to the GNCC series. The great thing about these companies is they have something for everyone! We are excited to have them back on board as partners. If you want to find out more information, click HERE.
That's all for me this week, I'm looking forward to seeing everyone at the race this weekend. Safe travels!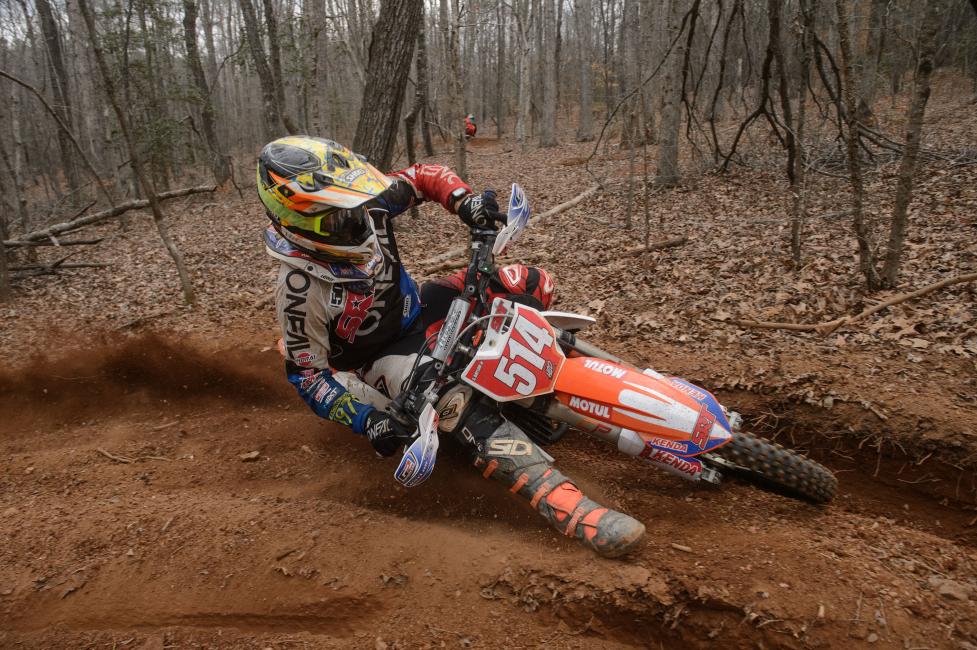 Anticipation to Anxiety (Rodney Tomblin)
We are literally hours away from the first green flag waving of 2017. That moment when Ricky Towery lifts that right arm with the green flag in hand is likely one of the most anticipated moments of a racers career. It begins it all and this year's first start brings with it not only the anticipation, but the anxiety of the new season and change from the norm. Will it seem right? Will it feel like the season opener or will we feel out of sorts like the season has begun already? That's really hard to answer at this point. One thing though is for certain; the anxiety you have been feeling as time draws near will possibly turn to panic if it has not already done so.
I made my way into the Big Buck facility earlier this afternoon and to say it felt a little off may be an understatement. Even though it out of the norm, something seems special about this weekend. One may be the weather, but I don't think that's it. It is dry and sunny and a little cool. Cooler than it was when I left Ohio last night. So it feels like GNCC weather but let's hope the rainy part of GNCC is nonexistent this season.
As far as forecast goes, a little rain may not hurt this place. We are a full day away from opening the gates and they have already begun watering roads and trying to lay some sort of moisture base in some of the open field sections. Dryness though is not anew thing for South Carolina as we have faced these conditions before. We have also seen temps into the 80s on occasion, but I feel we won't this time simply because we are here a whole month early.
As far as what to expect goes, I have to be very broad and general. Not really knowing what kind of true work folks have put in puts us at a disadvantage so hype has been a little less this year. I really feel that we may be on the edge of the greatest season of battles to date. The talent pool alone reflects this to be a possibility. It's hard to say what to expect but the obvious will be that both champions are focused and all contenders are ready to unleash.
Walker Fowler is going for his third straight title and it could be the most challenged to date. If all the players do their work this winter it may turn out some very intense racing. The likelihood of an individual coming out and just setting the world on fire is kind of far fetched, but as we know and have seen in the past. It is possible!
Kailub Russell has been working hard this winter and as has been previously mentioned in recent weeks, is looking at becoming one of GNCCs greatest. A legend if you will not in, but leading the ranks of names likes Rodney Smith and the great Scott Summers. A fifth tile and a record wins title looms in the works for Russell and if his confidence has anything to with it we may see all this wrapped up by summer break.
The question was posed to me late last night on my drive down by avid race fan Brian Spencer. He asked if I felt we could see a perfect season out of Kailub and it was hard to reply. A big part wants to say yes. Yes he has a very good chance of a perfect season but then I look at the big picture.
Thad Duvall could end up being the biggest thorn in the side of Russell. Duvall has not only gain major confidence but as well now major backing with Rockstar Husqvarna. This may be the missing link to put Thad in a winning way as we have seen a major step forward for Thad. Late last season Thad displayed more desire, talent and drive than we have seen in some time. It's foundation is confidence and right now Thad's confidence may be so great it ha a personality of its own. The start of the season will tell most those answers and come Saturday morning the GNCC Ravin' Nation will witness all the hard work, determination and desire as the 2017 season kicks off.
The anxiety and panic attacks that are beginning to happen will get more intense over the next few days. But when the the 10 second call is made and all goes quiet except for the pounding of your heart and quickened pace of your breathing, none of the stress will matter and everything you worked for like the first turn lies dead ahead. Go get ya some!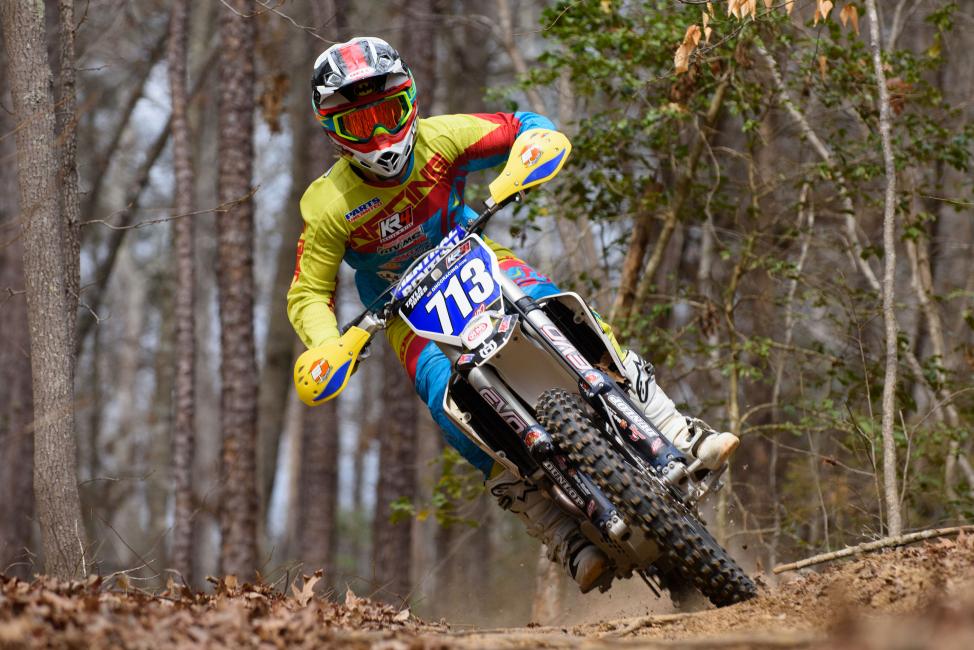 Big Buck Track Preview (Jared Bolton)
The time has come to get back to GNCC Racing and while Big Buck is a bit of a non-traditional start to the season, it's going to shape up to be a great racecourse at Big Buck. We've got a good mix of the typical fun Big Buck trails, some older trails and we've even managed to add some new stuff as well. We've also been working hard on making some separate sections from the bikes as well.
When you head out from the start, you will actually be starting at the end of the lap through a mix of open trail and into some slightly tigher stuff. You then start working over towards the finish which you will bypass the first time around. From there, you've got fast trackside pitting sections out to the one-mile mark. You'll drop into the woods at the one to a section of woods that had some timber cut in it last year. There are a few stumps, so make sure you take it easy through there. They're painted orange and you can see them easily.
From there, you'll work your way out to the two-mile mark to some hard woods. There's an open section where the 1PM races will split into some tighter stuff up to a RacerTV camera shot. From there, all races will head out through some fun, flowy trail with a few cool little dips in it. The 10AM and 1PM bike races will have a section of fresh trail a bit past the two. It's not very long, but it's a lot of fun and will be a cool addition.
There's some medium speed trails and a good hillclimb for the 1PM races heading out to the three-mile mark. From there, there's a little bit of tighter trail towards the four-mile mark, where the 1PM bike races will split off for a good section of woods with some tighter trail and a little bit of off-camber stuff. The quad races will also have a mix of faster trail and medium speed trail through here, working back past the RacerTV camera shot once again.
Just before the five-mile mark, the 10AM and 1PM bike races will once again split off from the quad trail into a tighter section of pine trees. It ties back in right before the five-mile mark and both the quad and bike races will have some medium speed, flowing trails all the way to the six-mile mark. After the six, the 1PM races will split off and do the Big Buck Hillclimb, then drop off the other side and hit the creek jump. These are going to be super exciting and both have an alternate route around, but they will cost you a lot of time!
From there, over to the seven is a good section of fresh trail that is a little on the tight side. This will lead you to some medium speed and some faster trail to the eight-mile mark, then to the big grass track section near the front gate. You'll then drop back into the woods and to the nine-mile mark. At the nine, the quad races will hit a tight section of fresh trail, while the bike races will be doing the same on a separate section of fresh trail. These are both a lot of fun and I think everyone will enjoy them. That leads you over to the ten-mile mark, which ties back into the start.
All in all, its going to be around ten miles for the 10AM ATV races, just shy of 11 miles for the 10AM bike races, close to 12 miles for the 1PM ATV and close to 13 miles for the 1PM bike races. This is shaping up to be the best Big Buck course we've ever had, so if you're on the fence about coming, don't miss out!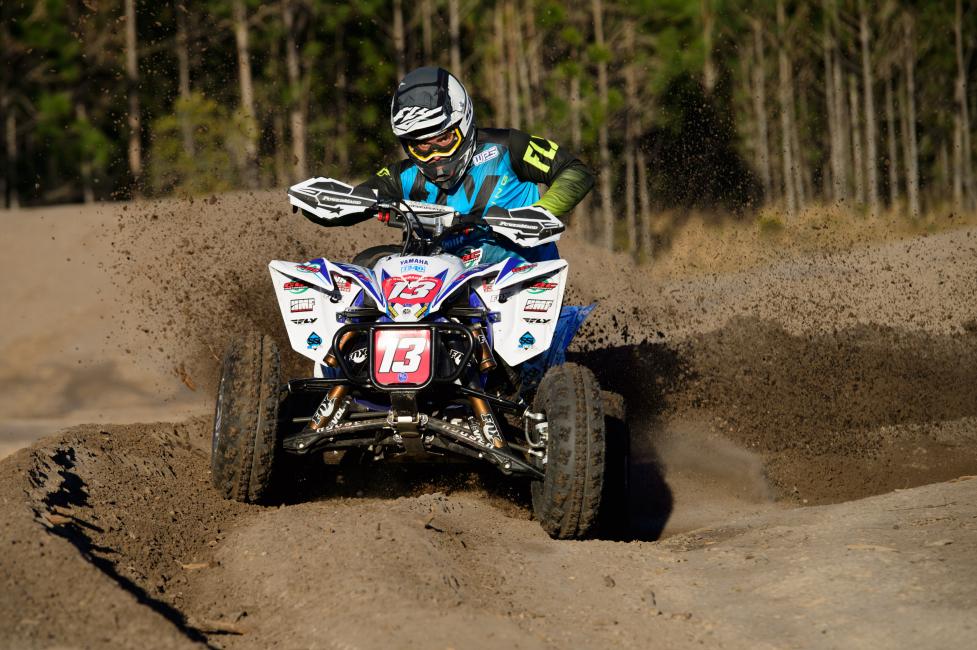 Four-Wheeled and Two-Wheeled Mayhem (Jared Bolton)
As mentioned earlier, this weekend could be the beginning of what could possibly be one of the most interesting seasons of GNCC Racing, ever. Both champions, Walker Fowler on ATV and Kailub Russell on the bike side, have strung together multiple championships. With two in a row for Fowler, and four in a row for Russell, this firmly places them at the top of the list to keep an eye on. Not just for fans, but for fellow XC1 competitors as well.
Walker Fowler wrapped up last year's ATV title early, which was good for him as an injury at a local event the weekend before Ironman last season would sideline him for the final race of 2016. Many would have picked Adam McGill as the favorite to win that event with Fowler out, but it would be the Sneaky Snake himself, Jarrod McClure, coming through to claim the Ironman win. It would make two Ironman wins in a row for McClure and with the final win of the season, he will be another rider to keep an eye on coming into 2017.
You can't count out last year's XC1 ATV runner up, Adam McGill. There's no doubt that McGill is motivated to claim a championship of his own and will be looking to challenge Fowler throughout the 2017 season. Six-time champ, Chris Borich, will be back once again and while it's been since 2014 that we've seen him in the center step of the podium, it would not be unheard of for Borich to return to his old ways. Some have begun to count out Borich, but this will be a huge motivation for him to begin the hunt for championship number seven.
Then there's Brycen Neal. After an excellent start to the 2016 season, some bad luck later on would put a damper on his final points finish in 2016, but if he can ride like he did the first part of last season, then he will absolutely be contending for wins of his own. For Brycen, it's not really a matter of "if" he can win, it's "when" and many were thinking he would snag one before the end of 2016. While that didn't exactly pan out, don't count him out for a win in 2017!
Moving to the bike side, the target is on Kailub Russell's back as he begins his "drive for five" in 2017. Last season was nearly flawless for Kailub. He claimed a grand total of ten wins en route to his fourth consecutive title. I've mentioned this prior, but if Kailub is able to claim a fifth title, that would make him only the second rider to claim five GNCC bike titles in a row. Of course, there's several riders who are looking to topple KR as champ.
2010 GNCC champ Josh Strang had an excellent season last year as well. He was the only one to claim wins against Kailub, and he did it a total of three times. Strang knows what it takes to claim a title, and will be coming into the 2017 season looking to do exactly that. His new teammate, Thad Duvall, will also put in a heck of a challenge. Thad knows how to win races as well! While he's been plagued by bad luck at times, Thad has also landed a good number of excellent finishes as well.
Jordan Ashburn had a pretty good 2016 season and landed a ride with the Factory Beta team for 2017. Finishing a career best fourth overall last season, Ashburn will be looking to help push Beta's program even further forward with the hopes of landing some XC1 podiums and possibly contending for his first-ever overall win. Then there's the XC1 newcomer, Trevor Bollinger. Last season's XC2 champ will come into the 2017 strong and looking to make a strong rookie debut. There have been times where an XC1 rookie has claimed wins in their first season and Bollinger has the right amount of support to try to make it happen.
All of this and more will make for a great weekend of racing at Big Buck. I'm excited and I hope you are as well. Let's go!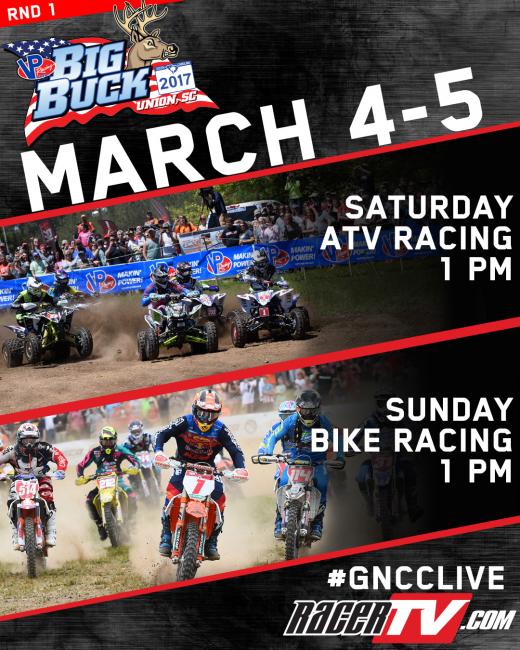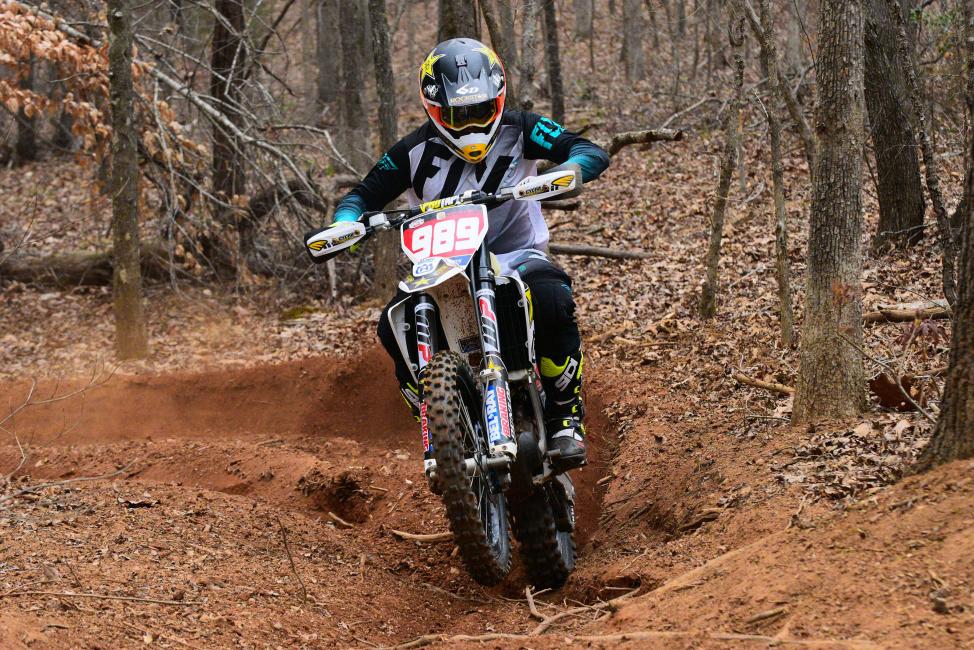 News from GNCC, Riders and Sponsors
Twin Air and Moto-Master are pleased to return to GNCC as series sponsors for the 2017 season! Both companies will once again be represented on vendor row at each event, offering technical support and a wide variety of products to competing racers.
Ranging from Air Filters, Oil Filters, Airbox Covers to Radiator Sleeves, Twin Air has all the filtration products you need to achieve maximum performance and protection. Visit the Twin Air tent to get your BIO Factory Pre-Oiled Air Filter for only $20! | twinair.com
Moto-Master Brake Systems offers high performance brake components for Motorcycles and ATVs to meet the toughest racing demands. Stop by and see us on Vendor Row to learn about our high quality products and stock up on brake rotors and pads! | moto-masterusa.com