Jared Bolton
TimeTuesday, February 21, 2017 | 10:50 AM
Dustin Hendershot is a familiar face in the world of GNCC Racing. The 2016 Vet A class champion came into the series in 2009 and has been a mainstay ever since. We caught up with Dustin to chat about his racing career, real life, plans for the future and more!
GNCCRacing.com: How's it going today?
Dustin Hendershot: Really good. I was able to put some laps in on the quad for the first time in a month yesterday and I'm not sore, so I consider that a win. Enjoying another Monday back in the office today.
What do you do for your regular job?
I'm a Drilling & Completions Engineer for HG Energy in Parkersburg, West Virginia. I usually travel a lot and I'm also on call 24/7 when we are drilling wells throughout the state of West Virginia. The hours can be tough sometimes but it is pretty neat to see the whole process from a bare location to an Oil Well being in production. I'm responsible for everything that occurs on a drilling site from the day the rig moves in to begin drilling until the well is completed and ready for production equipment and the reporting of all information from this process. I'm very fortunate to have an employer that accepts racing and allow me to take time off for racing.
What's it like juggling that, plus "real life" and racing?
It definitely can be difficult at times. Some days you just learn to go without sleep, and it becomes impossible to find time to ride or perform bike maintenance when we are racing every weekend from March until Halloween and you end up being on call or working 2-3 nights a week. I was only able to practice one time last season in January. We really focus on trying to get into making good habits throughout race season. I had an extremely smart and talented Amish man say something to me a few years back when I was really struggling with balancing it all. His advice was "It's OK to let life happen, because life is more important." That statement has really stuck with me from that point on, especially in the last couple years. I'm really fortunate for my wife, Nicole, understanding how important racing is to me, and that it is not just about riding and going fast. We have pretty good routine going now with having a toddler running around as well. I usually try to just spend time with Layne and Nicole on weeknights due to all the traveling we're usually doing. I enjoy always staying busy as well. Racing teaches you to maximize all the time you have at your disposal whether it be playing basketball at lunchtime for conditioning or pulling an all nighter in the garage after a fun family evening riding some bicycles!
And, on top of all that, you always a pristine looking quad. How do you manage to get all that work in as well?
I'm very OCD when it comes to my race quads. Routine maintenance is key there. Usually Mondays after work I wash the quad and riding gear and give it a once over before dinner. Then family time until Layne goes to bed, and its back to the garage checking every nut and bolt and going over the quad. Order parts on Tuesday if I need anything to make a Thursday night plan to load up the trailer for a GNCC after we have ran a WEXCR on Sunday. Usually 1-2 nights a week I'm up late prepping and cleaning the quad until about 2-3am. Before the Limestone GNCC last year I built a brand new quad for from Monday until Friday morning. I have a whole list and a time frame on things I replace to prevent DNFs from week to week. Every rider is different here, for example I can make it 6-8 races on clutches where some riders are replacing them every week. I try to build the quads as reliable as possible to keep maintenance costs at a minimum. I rely heavily on a couple sponsors to keep the quad pristine and will even be talking to them late at night when I need something or have a question about setup or installation. Ryan Smith from BNR Motorsports usually has a running list to ship out for me and is always a call or text away when I need something. Matt Pierce at Pierce Performance always helps with engines when I'm in need. Maxxis keeps me in fresh rubber. Austin Parks at Spider Graphix has the biggest impact on the appearance of my race quads! He always nails every design idea I have in my mind and always takes a basic looking bike to having that "WOW" factor.
How did you get started racing?
I'm pretty sure I was just born to go fast! Just kidding… I grew up on a farm in southern Ohio and my brother, sister, and I always had quads to ride and that was always what I wanted to do once all my chores were done. That kind of just evolved more and more! One Sunday at home I can remember a big ride leaving from my farm and riding on the backseat of my dad's old Yamaha Moto-4 down to the Pioneer Motorcycle Club. There was some fast guy in that group named Chad DuVall. I had no clue who he was, or why my uncle would have brought him along to go riding! From that point on it was just a matter of time, and what really set it off was when my Grandpa Hendershot was driving me to show me the house he was born in. We pulled up this old gravel road and there was someone collecting money to enter the farm. Once we made it to the top of the hill that farm was now a motocross and hare scramble track known as Reno Raceway. I watched my first motocross race that day and returned there for my first race on a stock 400EX in the fall of 2001. I still have that plaque, and walk by it every day I go into the garage. It was a mud race and I picked up the win that day.
And what brought you into the world of GNCC Racing?
After racing motocross on quads then bikes then quads from 2001 until 2009, throughout college and working full time, I was burnt out on racing motocross and sitting all day at a track for a couple of ten minute races. My friends Tim and Vikki Wood that now own WEXCR talked me into trying my first GNCC at Powerline Park in 2009. I finished 27th Junior B after getting a flat, hitting a stump, and crashing! But I finished the race and was hooked from then on! We came back for 2010 swinging and made a run at a championship all the way to Ironman in Junior B that year. We lost that championship because I got in a hurry, yelled at my pit crew and didn't get enough gas to finish the race. We look back on it now and laugh it up as another racing story!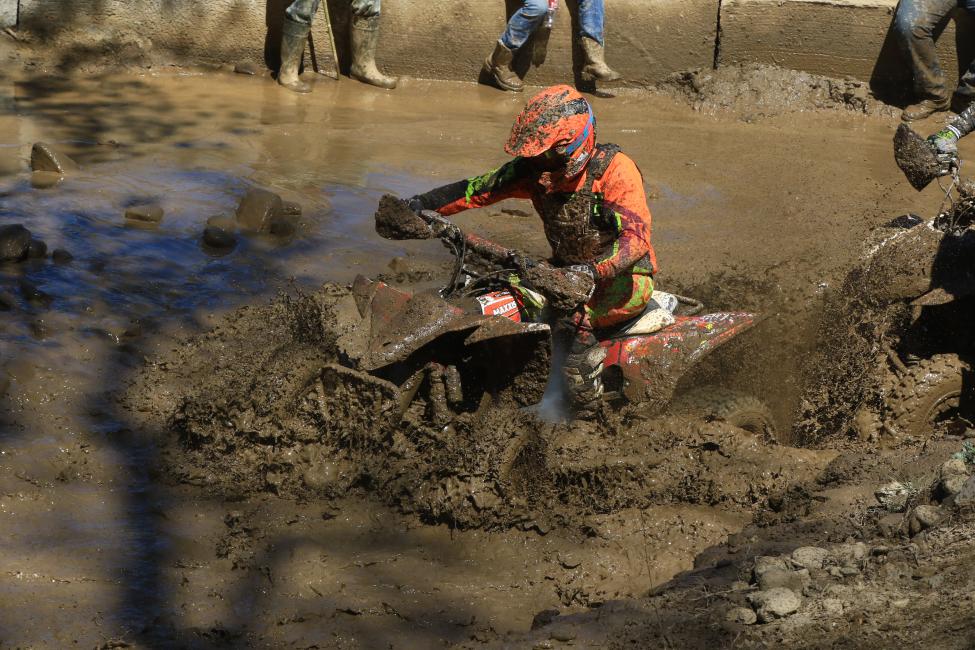 What has been the biggest accomplishment of your racing career so far?
Winning the Amateur Overall and Vet A class at last year's Limestone GNCC. This one was a battle to the finish between Craig Bowman and myself. Then with about two miles two go he flipped over in front of me, I pulled him back up off the rut and we took off and were bumper to bumper into the finish. It was a mudder and those are always my favorites!
You also help out the WEXCR guys. What do you do at their events?
My wife, Nicole, and I assist with the WEXCR races on race day. We also help with planning, feedback, social media, and Co-Sanction events. She registers riders from 7:30am until the quad races start at 3:30pm so I have a pit crew when I'm racing as well. I bounce back and forth between the starting line, scoring, podium, results posting and awards presentation. I memorize and check every rider in on the line to make sure they are in correct class and row to make scoring problems minimal, record holeshot winners, head back to scoring/registration trailer to help wherever needed, then throw my gear on and race the quad race, then back to doing results and awards, and finally teardown scoring and registration to end the day. The WEXCR crew all work very long and hard to put on races and my favorite part of the day is always seeing our Mini Riders! We always have a combined Pee Wee bike and Mini Quad podium ceremony and that is where you will find the future stars of our sport at. You never know when a surprise silly string party may happen at one of our mini podiums.
So tell us a little about how your 2016 GNCC season went.
The 2016 season overall on paper went great, but it was a bit of a struggle at a couple rounds and just tried to maintain consistency throughout all that. I was really humbled at the first couple races as I felt off the pace compared to Jeff [Pickens] and AJ [Koontz]. I kept working hard and focusing on staying in better shape and seemed to do much better from Steele Creek on. Then at Camp Coker disaster struck and I had a mechanical DNF with a snapped rear sprocket. We bounced back following that only to lead three laps at Snowshoe and blow an engine. That was a frustrating way to head to summer break with two mechanicals in nine races. We went to Unadilla on a fresh engine and was able to pick up the win on a track I seem not to favor but always excel at. Masontown was another turning point that ended with a win after a hard fought battle for the lead with AJ. That was a tough race like Snowshoe because not only are you racing your competitors but you are racing against the rocks there as well. Powerline was really uneventful for me but Ironman never disappoints and it was the best race of the year. Jeff Pickens, Jeff Miller (from the Junior A class) and I battled for two hours back and forth for position. That was the best race of the year because in my opinion, those type of battles make you push better as a rider and be more comfortable. I cannot count how many times we all passed back and forth; it was like we were drafting each other NASCAR style. I had a lapper pull out in front of me on the last lap was lucky to not be injured at that point, and a second place for the day secured the championship. All in all racing Vet A has been a blast for me returning two years ago and getting to race with guys that have so much experience.
How did it feel to come away with the championship?
I don't think it sunk in for quite a while. Very surreal. To be a National Champion has been at the top of my bucket list for a long time and I'm just ecstatic that I've had the support from my wife, friends, and sponsors to get there. A couple years ago in 2014 I would have never imagined this would or could happen after retiring from having some back issues. I knew the math heading into Ironman, what I needed and what had to happen to win the championship. The pit board went up that AJ was out with a DNF and it didn't change anything for me, I just kept pushing that day for my best. So for over an hour I was out there racing already knowing it was locked up. I was bummed for AJ because he and I have been racing each other since my Junior A days. I have to thank him for being a great competitor and sportsman and congratulating me after it was over that day. I would have rather seen it down to the last lap battle. I think it really finally sunk in when I was on stage at the banquet and you get that jacket. So many things in life you earn and you can set a timeframe on in life and this is one of those things that we have been working towards forever. I know everyone probably says that, however now that it finally sunk it is pretty cool. Laz Sommers believed in me a long time ago and it feels good to be able to look up and say "this one is for you".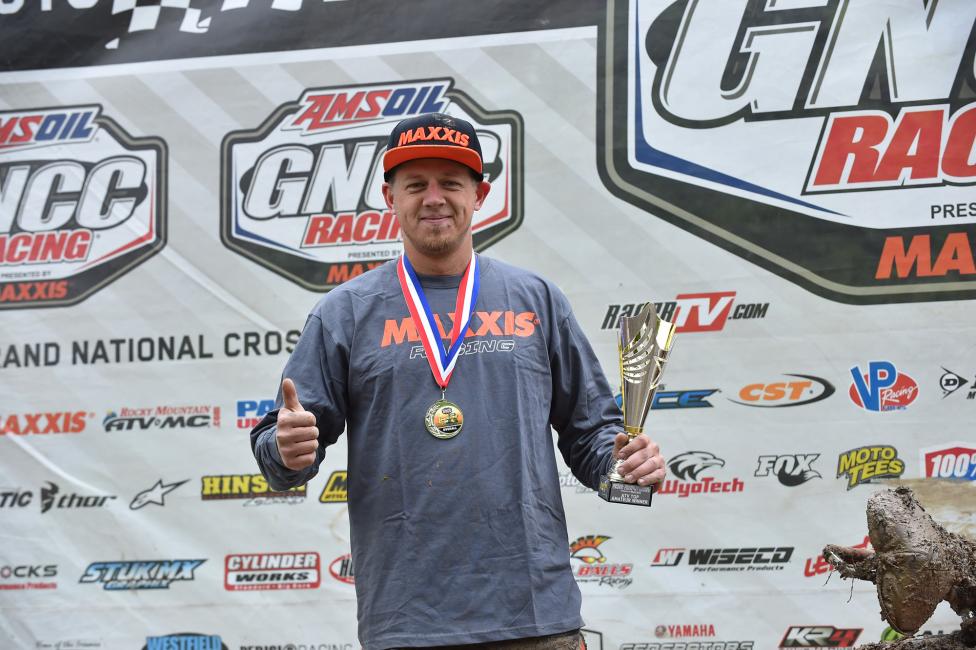 So what are your plans for 2017?
I will be back in Vet A to defend my title. I will race the starburst [graphics] bike at rounds one and two, and will unveil the new bike for the Cannonball GNCC. I'm also really excited for this season, as my younger brother, Erin Hendershot, will be racing GNCC with us beginning at the Cannonball GNCC. We have always wanted to do a Hendershot Brothers Racing team and now we finally have the chance with his career making it possible. We have his bike 99% complete and he will be running in Vet B in the afternoon race as well. Be on the lookout for the new bikes there!
And what do you hope to accomplish in 2017?
At this point I just want to go out and race, have fun with my family, and become a better rider. I accomplished my lifelong goal last season and if it happens again, then that is great. If I end up 2nd or 3rd and meet those goals then so be it.
What about beyond this season? What do you hope to accomplish in the future?
Just have fun and go racing! I could always learn more about bike setups and maintenance and riding techniques for when Layne is old enough to be racing. I have a lot of respect for the moms and dads out there lining up still and having a son or daughter racing as well. That makes me smile looking forward to that. We have so many great examples in racing to see that, and that is the future champions in the making out there. Maybe one day I will be racing the Senior classes and Layne will be out there rippin' on a 50.
Alright, before we wrap this up, who would you like to thank?
My wife Nicole, my son Layne. Nicole's Mom and Dad, Terry and Darla Knight, for helping us so much watching Layne. Tim and Vikki Wood for getting me into GNCC Racing, traveling with us to more races than I can remember, and always being out there screaming for me to go faster and to ride like they know I can! Brandon and Eryca Sommers, also a big thank you to everyone who helped pit me last season it was greatly appreciated to the Glaudas, Colliers, Chirdons, and Hanna's. Ryan Smith at BNR Motorsports for helping me since the beginning. The of course, my sponsors, WEXCR, BNR Motorsports, Pierce Performance, GT Thunder, Maxxis, Spider Graphix, RJR, Fly Racing, Quadtech, Houser, Fasstco, Axis, Tireballs East, FMF, Get It Performance, IMS, Snure Interlocking.