Jared Bolton
Time
Thursday, April 21, 2016 | 2:05 PM
Welcome to Quick Fill.
Hopefully by this point in the week everyone has been able to clean themselves up from all the dust and you're ready to push forward to the next event. Big Buck was a bit on the dry side and while a little rain wouldn't have hurt anything, at least we weren't racing in the mud! Unless you like that, and if that's the case, well, sorry it didn't rain! The dust was possibly one of the biggest stories of the weekend and it added yet another challenge to the race itself. However, I saw less riders with goggles off than I have in a long time, so if nothing else, it was easy on goggles!
It also seemed like most people really enjoyed the racecourse. I heard very few complaints other than a few guys in the 1PM Bike race saying it got a little rough by the end of the weekend. One thing that's pretty cool about the course was that in honor of the 20th Big Buck, we used some of the original trail and some of that hadn't been used in several years. It added a pretty cool spin to the track and despite what it may have seemed like to some, it really changed the layout course from the past few years.
With Big Buck behind us, we push forward to our next event and the second new venue of 2016 with the Camp Coker Bullet GNCC. I've got a little more info on that coming up soon, so make sure you keep reading to hear a little bit more. Before we get into the rest of this week's Quick Fill, I got a note from Shane Watts on his upcoming Dirtwise School.
"We only have 4 spots remaining in our upcoming DirtWise school on Apr 30/May 1 at the awesome Ironman GNCC venue in Crawfordsville, IN where we will be fine tuning the skills of Indiana region riders as they prepare to gain their best result at the upcoming Limestone GNCC race on May 15! Head over to www.shanewatts.com to register!"
This is a great opportunity for Indiana area racers who won't be able to make it down to the Camp Coker Bullet GNCC. If you've never attended one of Wattsy's schools before, I highly recommend giving it a shot. Wattsy also included an excellent riding tip video to share with everyone. Keep reading to check it out!
Weekly Updates (Chelsea Taylor)
This edition of weekly updates comes from East Tennessee. I was lucky enough to be able to work from home today and spend a little time with my family before heading to Muddy Creek Raceway tomorrow for the ATVMX National. When I was growing up I spent many weekends racing my dirt bike at Muddy Creek and I'm beyond excited to see a different type of racing take over and take on the big uphill triple.
As some of you know, I was able to compete in my first ever GNCC this past weekend. I just wanted to thank each and every one of you who stood on the track and cheered me on. I pretty much crossed the finish line in last, but I finished and that was my main goal! I am beyond blessed with amazing co-workers who were able to make this happen for me, so once again thank you!
Speaking of Big Buck, we just wanted to give a quick shout out to Jesi Stracham. Even after rolling her Polaris ACE last weekend, she recovered to make her first ever single seat UTV race podium with a third overall. This podium marks the first time ever that a female has finished in an overall position during a Single Seat UTV race.
We recently sent out a competition bulletin regarding the 4x4 Pro class. We'd like to take a second to clarify that 4x4 Pros are allowed to walk the course at any time on Friday; however, the track is NOT finalized until 3 p.m.
Since this weekend is an off-weekend for GNCC make sure to check out the PAMX race that will be taking place at High Point Raceway. On Saturday, there will be Vet Championship racing, with the regular PAMX series racing on Sunday. With classes for all ages and skill levels, you don't want to miss this event!
The Cannonball NBCSN show will also air this Saturday, April 23 at 5:30pm. Since majority of you will probably be out riding make sure to set your DVR's to record! This show will focus on the ATVs, and this was the race where Brycen Neal worked his way to the podium after a first turn crash. If you missed it once, don't miss it again!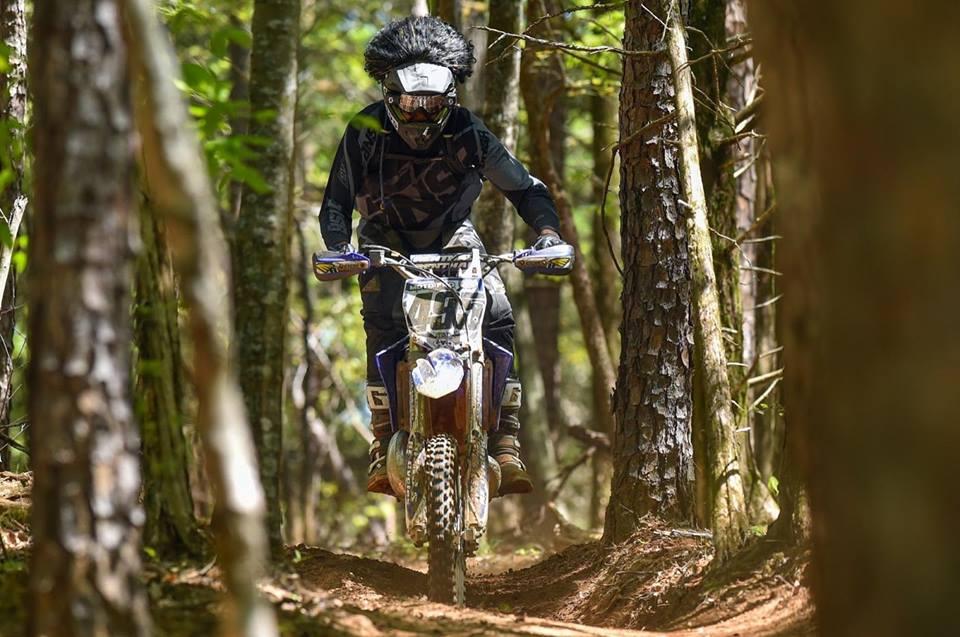 Nation With Character (Rodney Tomblin)
It is without a doubt that every society has its characters. The characters come in many ways. One character that everyone seems to know in the GNCC Racin' Nation is Mike Penland, who is an individual that stands out on many levels. He was a pioneer of the modern day 4x4 Pro class. He has accomplished many feats on a utility ATV over the years and has become very well known and recognized. As much as anything though, Mike Penland is recognized for his mustache. A mustache and possible GNCC artifact that he has worn since he was about 16 years old. Mike once told me he has not once shaved since he was able to grow that famous 'stache and he most likely never will. Top that off with a nice, wide brim hat along with a golden personality and you have yourself the man we know as "The Grand Daddy of 4x4 Racing", Mike Penland.
There are others like Neal Seelinger or to those that know him, "NRD"; Neal "The Real Deal" Seelinger. NRD is a true GNCC competitor. He loves racing, traveling and "hanging with his buddies" as he puts it. Neal started racing as a young man and has had a passion for it every since. Neal isn't one of those guys that you expect to go out and win every race but he is a guy that, no matter what, always has a smile on his face and is looking forward to the next round. NRD doesn't have flashy new equipment or flashy stylish gear. He travels in an old truck, pulling an old trailer that he uses as his garage during the day, and at night he rolls out his bed. It doesn't matter how cold or hot it is, NRD is there every time. He travels from Erie, Pennsylvania, meets up with his race buddies and makes an entire weekend out of it. He races Masters C 50+ class and if he gets a top ten in a race, or even for the year, it is a complete success. And though he doesn't win often, sometimes NRD has his day and pulls off a win in this class, which makes every drop of blood shed, sweat perspired, years invested and miles driven worth it. A character he is if you know him, but one that drives the heartbeat of the GNCC Racin' Nation. NRD is a man that any man would be proud to call his friend.
There are so many characters in the GNCC Racin' Nation and each has their own story. I'm sure I am a character to some, while Jared Bolton is another character and if you know Cletus the Tech Guy, you know he is a character. Then there is "MegaWatt" Matt Wattson. If you don't know who he is yet, you haven't paid much attention lately. Matt is my co-announcer that covers a lot of the Youth and 10AM racing along with pit reporting and podium work. Now if you know whom I am talking about, there is no explanation necessary. It is quite amusing sometimes to think about our world in an animated series.
Another new character on the scene you may have noticed rides around with a big afro on his helmet. It's really hard to miss, and he is too. He is not a small fellow by height standards but not a giant either. That is unless you are acquainted with him. He has a bigger personality that makes him seem giant. He has a smile that when you see him, you have to smile also and possibly wonder, "what's he been up to?" The answer, of course, is riding his motorcycle, which he really seems to love to do.
The fellow with the 'fro is Rob "Moto-Fro" Brown. He is 43 years old from Adams, Massachusetts. His occupation is a commercial sheet metal mechanic working with duct and HVAC. He started racing in 2006 after not riding or owning a bike for 12 years. He spent that time "focused on raising my son." Rob is currently contending the full GNCC schedule for 2016 in the Senior A class.
If you're wondering about the "Moto-Fro" thing, he said "it started coincidentally at the Unadilla GNCC in 2009. It was my first GNCC. I was thinking of a way with all the morning racers, to stand out so friends and family could pick me out. It kind of just came to me to buy a costume Afro wig and glue it to my helmet. Moto-Fro was born!" And since that time he has been one of those guys you occasionally see out there and wonder what they are thinking. It actually makes perfect sense to try and stand out, and who would think that something done as a joke would begin to stand out to others. It is an easy icebreaker for conversations so people would obviously ask and want to know and as time went on the character grew with popularity.
Rob said "2016 is my third year locally and in GNCC racing the Senior A class. My goal since making A has been to crack the top 5." Which seems like an attainable goal even in that class. This is a rather competitive class and Moto-Fro seems to be hanging tough. "My year started with Cannonball and that was a rough race for me. I lost my fuel tank vent tube the first lap and ended up getting gas inhalation finishing sixteenth" he said. Moto-Fro saw a little better result in North Carolina as he told me "Steele Creek went much better and I got the bike dialed in for the rougher tracks. I ended up finishing 10th so I feel that Big Buck was another step in the right direction. My bike setup was great and despite the heavy dust and deteriorating track, I was able to finish seventh which is closer yet to the top five goal."
Rob is not only creative in standing out in a crowd but he also has done some modifications and he told me "I built a custom bike for myself this year that I'm really proud of and has been a blast to ride. It's a 2011 YZ 250 I built from the ground up. I stroked the motor for more torque to a 280, replaced the stock gears with '16 YZ 250X gears making it a more GNCC specific bike. It's now a YZ 280X and I am looking forward to stealing a holeshot from "Shotgun" Shawn Remington real soon!!" And by the way, there is another character with Shawn Remington. But Rob also told me that he would like to thank his mechanic and close personal friend Mike Michalenko who keeps his bike DNF free. He also says thanks to Tony Stack at REP Suspension and Engines "for the killer engine and suspension." And he said also had help from some other great sponsors like Answer Gear, Scott Goggles, Braking rotors and Gaerne Boots.
If you thought I was kidding about characters in the GNCC Racin' Nation, then surely I've changed your mind after reading about a few. We race and work in a great community in and it seems like family to those of us traveling to each round. It's hard not to develop a personality while at the race track and it happens. And I say thank God for that. It means we have real people having a real good time among family and friends, which to me is one of the things that GNCC Racin' is all about.
Camp Coker Bullet Teaser! (Jared Bolton)
Next weekend we head to uncharted territory for GNCC and off-road racing as a whole! The new Camp Coker Bullet GNCC promises to be a great addition to the series and while there's never been an off-road race on the property before, it's definitely no stranger to racing. The Camp Coker Motocross facility was located on the property and was a very popular stop for motocross racers in the southeast. The track closed a number of years ago but everything is still there, which has anyone who rode the motocross track really excited.
These days the facility is known as the Moree's Sportsman's Preserve and has pretty much anything and avid outdoorsman would want; hunting, fishing, shooting, etc. The property is still owned by the same folks who owned the Camp Coker Motocross track; Henry Moree and his son, Hank Moree. "Hammerin" Hank Moree was a pretty successful racer at the Loretta Lynn's Amateur National, eventually turning Pro in the early 90s.
I'm sure the big question everyone is asking is "what's the track going to be like" and the other question I've been asked a lot is "are we using the motocross track?". Well, a lot is to be determined but as of right now, it does look like the Camp Coker Motocross track will breath life for the first time in about seven years. However, by no means does this mean that the track is "open" again. The Camp Coker Bullet GNCC will be the only opportunity to ride this legendary track once again!
As for the woods, next week I'll have a full update on what to expect but it looks like there's going to be a little something for everyone. It seems like some people have been concerned about it being "like a second Florida race" since the terrain is sandy. Well, I can tell you right now that it's NOT going to be the same kind of sand we see in Florida. This part of South Carolina doesn't have the same kind of deep, sugar sand we see in Florida. It's slightly more hard packed and the easiest comparison that many bike riders will understand is, it's very similar to the Sumter National Enduro. In fact, when I pulled into the facility this past Monday afternoon, I was listening to a radio station out of Sumter.
Now, years ago there was a GNCC event in Sumter and if you listen to Johnny Gallagher, he'll tell you that it got really rough and he didn't have fun. Well Johnny, we want to make up for your Sumter memory and make sure the Camp Coker Bullet race is much better. Everyone knows that sand will get rough and make the track challenging, but we want to make the course itself as much fun as possible. Even though this year's Wild Boar track got rough, everyone really seemed to enjoy it and we want to repeat that kind of success.
Outside of the racecourse, this event really promises to be an incredibly beautiful addition. The property itself is amazing with large, open fields and a lot of ponds on property. This will definitely be one that you don't want to miss out on, and also one that you'll want to make a whole weekend out of. We'll have more updates coming in next week's edition of Quick Fill and we'll also post some cool teaser photos on social media next week. Stay tuned!
Change in in the Air (Chelsea Taylor)
Even though the 1PM races are the premier race of their respective day, we've seen a growing number of fans and media turn their attention to the 10AM race to watch the WXC division. These ladies are the fastest girls you'll see all weekend, but here lately they have also become some of the fastest racers you will see in general. Of course, we can't compare lap times because the tracks are a little different, but I'm positive that some of these ladies could keep up with the boys if they raced in the 1PM race.
With the absence of Angel Knox this year, we were aware that the WXC ATV class results would be different from what we saw in 2015. However, we had no idea just who we would see standing on that podium in Florida. Of course an obvious bet would be Alicia McCormick, who has had her fair share of podium finishes this season and currently leads the points race. However, I don't think anyone expected three-time Women's ATVMX champion Megan Shepard to have such a smooth transition to off-road racing. With a second and third thus far, Megan is just lacking that first place and it won't be too long until we see her in the middle of the box. After winning the Wild Boar GNCC, Kara Frederick has consistently finished in the top five throughout the rest of the races and isn't too far back from Alicia. Of course, we still have a lot of racing to go and anything is possible.
On the bike side of things, we've seen three different winners in the first four races. Unlike last year where Kacy Martinez dominated the entire season, Becca Sheets has proved that she wants it just as bad and she currently leads the points championship with a seven-point gap over Kacy and Brooke Cosner who are tied for second. Much like Megan Shepherd, WMX competitor Mackenzie Tricker decided to try out GNCC racing this year. Just one week after claiming the California Classic WMX title, Mackenzie took home her first ever GNCC overall and WXC win.
We are only four rounds in, but this season is already shaping up to be one for the record books in both the ATV and bike divisions. As the season continues we can only hope that more motocross racers decide to try out the world of GNCC Racing. Speaking of which, former WMX champion and GNCC star Jessica Patterson decided to race the Big Buck GNCC after announcing her retirement last year. Jessica ended up making the podium and proved that these WXC ladies are true racers, because once you're a racer, you're always a racer and full of that drive to win.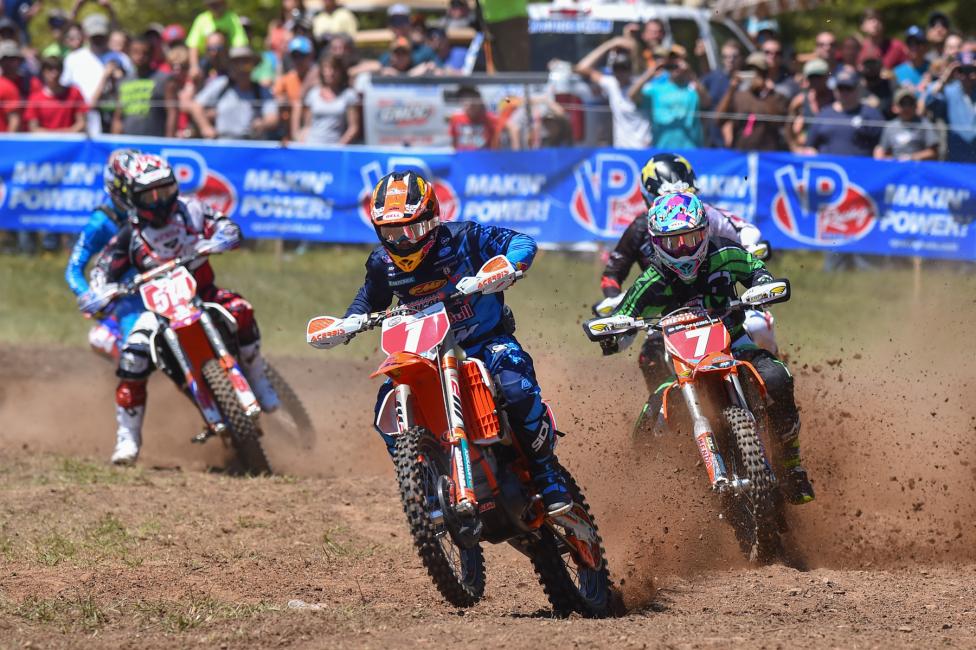 The Plot Thickens (Jared Bolton)
The battle for the 2016 GNCC National Championship continues to be a fierce battle between Josh Strang and Kailub Russell. With Russell going 3, 2, 1, 1 and Strang going 1, 1, 2, 3 in the first four rounds, the pair are now tied with 106 points each. This thickens the plot as the series heads to round five in just over a week. Both of these riders are incredibly motivated, and driven to win. The question is, who will come out on top to break the tie? Or a bigger question is, can anyone top them?
Chris Bach has come on strong after a tough race in Georgia and has now worked his way into the third place spot in the top 20 overall points. Don't forget that Bach was the first rider to break Kailub Russell's 2015 win streak, and if Bach continues to improve on the way he's ridden in the previous two rounds, he very well could shape up to be one of the biggest challengers to Russell and Strang. Of course, that wouldn't come without a lot of work on Bach's end. It can be done, but it won't be easy.
The Russell/Strang battle rolls on, much like the Russell/Mullins battles of 2013 and early 2014. With the right support behind Strang, he's ultimately become the biggest challenger to the defending champion, Russell. However, Russell has come on incredibly strong the past two races and has shown why he holds the number one plate on his bike. While it's still too hard to pick a clear championship favorite, both of these riders want the same thing and only one will be able to take it. Who will come out on top, only time will tell.
There's also been some discussion as of late as to if there's a "beef" between Russell and Strang. After some on-track hand gestures left some folks wondering, a thread showed up on KTMTalk.com with people speculating as to the supposed beef between the two championship contenders. One of the cool things about GNCC Racing is that the top racers are incredibly accessible and Kailub himself posted in the KTMTalk thread to clear the air. The very first line of KR's post cleared the air… "Haha.. you guys on here. I wouldn't say there is bad blood between Strang and I, but we both work hard and want the same end goal."
So there you have it, straight from the source. While there have been some small on-track run-ins between the two, there's nothing to it. Things happen in the heat of the moment, and especially so when you're racing at the top level of the sport. These two are both working towards the same goal, and like I said before, only one of them can come out on top. With this type of fierce competitive nature, it's no wonder that things can happen and it may give off the vibe that two riders might not like each other, but that's not always the case. Whatever happens, we all know that we're in for a treat as the season wears on and it's going to be a pretty interesting race to watch unfold.
Four-Wheeled Mayhem (Jared Bolton)
Equally as exciting as the battle on the bike side is the racing we've been seeing on the ATV front. The Big Buck GNCC was one of the best ATV races we've seen all year with young gun Brycen Neal controlling a portion of the race before Adam McGill was able to sneak by for a last lap pass to come away with the win, finishing just around one second ahead of Brycen, while Jarrod McClure landed his first podium of the season only eight seconds behind them in third.
Walker Fowler fell victim to a hard first-turn crash and was able to salvage a fifth place finish behind his Yamaha teammate, Cole Richardson. In the process, Fowler was handed his first loss of the 2016 season. While it's not uncommon to see a rider go on a long win streak, the odds are always stacked against a racer. They're more than likely to be handed an upset finish at some point and that's exactly what happened to Walker this weekend. While McGill is no stranger to the center step of the podium, and is a previous Big Buck winner, Brycen Neal would once again turn a lot of heads with his incredible performance.
While it looked as if Brycen could come away with his first ever overall win, he ended up coming up just short of the win. However, Brycen still showed that he's a force to be reckoned with this season and still holds onto the second place position in the top 20 points as the series heads to round five next weekend. At this point, it's only a matter of time until Brycen steps up to come away with his first-ever win.
What's equally as exciting as the XC1 battle, is the 4x4 Pro class. These guys have some fresh blood contending for the championship this season and it's made for a pretty tight championship battle so far this season. After five rounds of racing, Kevin Trantham holds the 4x4 Pro class points lead by a mere one point over Kevin Cunningham, who is a new full-time challenger to the 4x4 Pro class. We've seen Cunningham's name before but this is the first time we've seen him make a go of the 4x4 Pro championship. Cunningham was able to come away with his first 4x4 Pro win at Big Buck this past weekend.
While Trantham leads the points with Cunningham hot on his heels, another threat to the championship is Trantham's Team UXC teammate, Michael Swift who sits third in class points, just four points out of the lead. With the top three riders separated by just three points, the race is on for the 4x4 Pro championship and as always, it's going to be pretty interesting to watch it all unfold.
Headlines
McGill Claims First Overall Win of the Season at VP Racing Fuels Big Buck GNCC
Russell Dominates VP Racing Fuels Big Buck GNCC and Claims Overall Win
What's New on RacerTV.com?
Don't miss the GNCC ATV feature show on NBCSN this Saturday, April 23 at 5:30 p.m. ET from the Maxxis Cannonball, Round 2 of the 2016 AMSOIL Grand National Cross Country Series presented by Maxxis.
If you miss a show, full replays will be archived on RacerTV.com throughout the season.
Saturday, April 23
ATV Feature Show
Television: 5:30 pm ET; NBCSN
News from GNCC, Riders and Sponsors
From The Other Side (Off-Road Film) Now Available!
Rob Mitchell Films, LLC announces today the highly anticipated release of the full-length off-road racing film, From The Other Side. Featuring a number of high profile off-road racers and race series, the release of the film has been long-awaited as fans have seen teasers and updates throughout all stages of production. Read more...
From Shane Watts:
"We only have 4 spots remaining in our upcoming DirtWise school on Apr 30/May 1 at the awesome Ironman GNCC venue in Crawfordsville, IN where we will be fine tuning the skills of Indiana region riders as they prepare to gain their best result at the upcoming Limestone GNCC race on May 15! Head over to www.shanewatts.com to register! Until then, here's a free riding tip video to check out!"