Jason Weigandt
Quick Fill #25: This Week in GNCC
Thursday, June 25, 2009 | 3:30 PM
Welcome to Quick Fill. Things are happening quickly.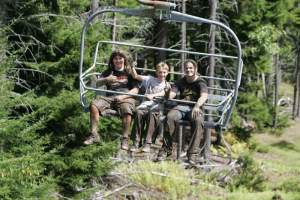 Just spoke to our Snowshoe GNCC Event Director Tim Cotter, who is up on the mountain right now, and he says all is well. GNCC University is underway, and it's sold out, with 30 bike riders and 30 ATV riders learning from perhaps the greatest assembly of off-road talent ever in one school. That's Bill Ballance, Traci Cecco and Johnny Gallagher on the ATV side, and Barry Hawk, Thad DuVall, Jason Raines and Randy Hawkins on the bike side. Crazy. The weather is perfect, too, as Tim said the sky is so clear today that you can see Virginia from the top of Snowshoe Mountain (and Virginia is not that close).

We'll have golf tomorrow morning, with proceeds going to www.riderdown.org. The course is so darned cool looking there that the first year we held the race, I drove a cart all around just to watch other people play. Teams will be competing for the shot at putting their names on the "Slicer" traveling trophy.

Weather should be good all weekend, too, up to 80 degrees on Saturday and in the 70s on Sunday. The track is tough enough without rain, but honestly, it won't make much difference if we did get some. Water tends to pop out of that mountain like natural springs, so the course is always muddy even if it doesn't rain. And the area has taken on plenty of rain this month, so those springs will pop out. The result will be a challenging track. This is one you want to brag to your grandkids about conquering (unless you are a grandkid right now-the Youth track won't be any crazier than a typical GNCC track).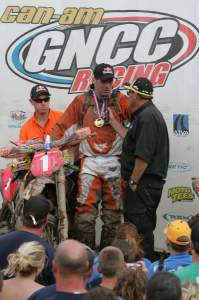 Heck, David Knight liked it so much he wants to come back and do it again! It's now official, Knighter is coming to Snowshoe with his GNCC #1 plate mounted on a Kawasaki KX450F. It was obvious from the first World Enduro Round months ago that DK wasn't getting on with the BMW G450X, as Knight struggled on day one of that event and then tweaked his knee and pulled out of the next day's event. The results didn't get better, and then rumors started to swirl that the big man from the Isle of Man wanted out.

I heard about a month ago that Knight could show up at Snowshoe on a Kawasaki. But there was that matter of getting out of his BMW deal, which was a multi-year deal. Divorces like that are usually messy, but apparently both sides came together quite quickly, and last Friday the press release came out announcing Knight and BMW are no longer one. (By the way, '05 and '06 GNCC Champion Juha Salminen is still with BMW, he's soldiering on and moving up in the results slowly week by week).

So by last Friday, Knight was officially a free agent, and the Kawasaki rumor came together. We have heard he'll be on a "stealth" looking Kawi with black plastic and graphics, and he will not be receiving any direct support from Kawasaki. His old friend Bart Hayes from RidePG.com will help put the bike and pits together for Knight. So, we have a 20-mile loop for our afternoon race, a massive purse, and now, the defending GNCC Champion back as a full privateer on a bike he hadn't ridden until a week ago. Wild stuff!

Seriously, how will Knight match up against the current series' front runners? We have no idea, and neither do they. That's what makes it so fun.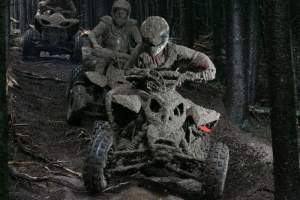 Since this track will be tough, it's hard to bet against Paul Whibley to take it all on bikes, as The Axeman/Badger has proven over and over that he's just the toughest when the conditions are at their worst. Then again, Josh Strang has bounced back hard from each set back this year, and he certainly had some fuel added to his fire after a hard day at our previous race in Ohio.

Jimmy Jarrett is also surging at the moment, and he set the record straight with last week's Tuesday Toolbox that he indeed does train hard now, and fitness won't be an issue-plus, he's really good in really technical terrain.

Also, Thad DuVall was on the gas at Snowshoe in '07 and '08, and he has had a terrible 2009 rookie season on a 450. You just know he's looking at this race as his chance to rejuvenate his year. Same for his teammate Barry Hawk, who has just one podium this season.

And don't worry, the Yamaha boys (and girl) who are teaching GNCC University are not getting an unfair advantage on practice time, as none of sections used for GNCC University will be used on the actual race course.

Finally, a shout out to the KTM boys, Nathan Kanney and Kurt Caselli, who really need to get a good race under their belts. A year ago, Kanney was right there duking it out with Strang, Mullins and Whibley every week, and this year they have gotten away from him a bit. Kanney's talent is still there, can he find what the other boys did this year?

Mike Brown will be racing his KTM this weekend as well. Brown really, really wants to be a full time GNCC guy. Here's another chance to show what he has.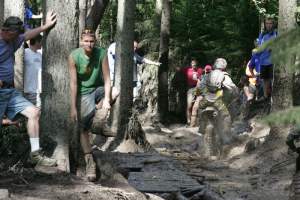 And just so I don't leave him out, I will say this name: Glenn Kearney. There, now in case he wins you can't say we weren't talking about him. Same thing for ATV rider Bryan Cook, who no one talks about. He can win this!

On the ATV side, I think you could see something crazy happen this weekend. Chris Borich has a points lead to protect, and he already lost it once this year when his chain broke at Loretta Lynn Ranch. Chris has come so close to this GNCC Championship so many times, only to have the dumbest, stupidest, most rotten bad luck snag him at the wrong time. He knows all too well what can happen, I wouldn't be surprised to see him settle for a podium if things get bad. Taylor Kiser, second in points, is also going into protect mode. Kiser likes the tracks after the summer break next, so he just wants to get through Snowshoe in contention.

In the meantime, Adam McGill is over 30 points behind Borich now, and it's do or die time for him. Adam has mentioned "big picture" in every TV interview he has done this year, but that picture is getting away from him. I expect a little more old-school McGill Thrill this weekend.

And you have Bill Ballance in the field. Wouldn't it be fitting for the champ to win a big race like this?

You have to think this race is one a lot of riders circle on the calendar as one to win, or, at least, one to finish. As we mentioned last week, the old Wisp GNCC at the ski resort in Maryland ended up drawing a huge crowd of riders because it was tough. Local folks who don't compete in the full GNCC tour would do it just to say they did. We think Snowshoe could be the same.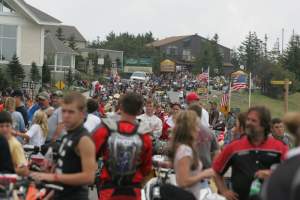 Our start system will work like last year. GNCC Scoring Master Dan Reinhart showed me the plan this morning, we will again try to match up the top ten riders in points in each A and B class so your championship rival doesn't get a chance to start way ahead of you. So, mixed into the afternoon rows, for example, will be a row of the top five riders in the Four-Stroke Lites B points, with a row with riders ranked 6-10 right behind them.

Those rows will be mixed into the start order. Last year, we had some series regulars ask "Why not automatically start us in the front?" Well, we expect some riders who don't race the full series to compete with us here. If those riders automatically end up at the back of the field, they're not going to be happy and probably won't want to race. So this way, it's random, everyone has a shot at potentially starting up front or in the back.

And our trail boss Jeff Russell says lapped traffic won't be as bad as usual since the track is 20 miles long. Expect half as much traffic.

Here are a few links I found this week. First, MotorcycleUSA.com has a test of a full-factory FMF Makita Suzuki RM-Z450, just like the ones Josh Strang and Charlie Mullins compete on.

http://www.motorcycle-usa.com/241/3786/Motorcycle-Article/FMF-Factory-Suzuki-RM-Z450-Review.aspx

Also, up-and-coming ATV (and media) star Jesi Stracham put together another fantastic report from the John Penton GNCC on ATV Rider magazine's website.

http://www.atvrideronline.com/features/0906_atvp_gncc_round_8_john_penton/index.html

And will we have another New Zealand superstar in our ranks soon? Check out this story.

We've also got our own little extra presence on the web via the GNCC Twitter, which Rachel "Pumped to be Going to Snowshoe This Weekend" Fluharty updates. See it here at https://twitter.com/GNCCRacing Our TV man Jason Hooper pitches in, too.

Right now Hoops is putting together our next batch of Racer TV shows for Versus Network. This weekend the Weekend Warrior Titan GNCC will air on Saturday, June 27th at 2:30 p.m. It's a wet, wild and muddy race. Enjoy it.

That's it for our Snowshoe preview, we'll let everyone get on the road and enjoy their big weekend at the resort. Over the last few weeks, we've made a big deal out of the headlines for this race-big money, big track, big names. But the real essence of this race is the resort. I have friends who race this series for love, not money, and they'll gladly tell you there's nothing like renting a condo with a bunch of friends, making your own meals, watching some TV, enjoying a few brews, watching the racing, and riding right to and from your condo, and then hanging out at the place when it's all done. A tent, a hotel 15 miles from the track, or an RV just isn't the same. This is a ski vacation where you get to ride instead of ski. For folks like us, it's a dream.

There's only one weekend of the year like this one, so have fun!