Jason Weigandt
Quick Fill #24: This Week in GNCC
Thursday, June 18, 2009 | 5:45 PM
Welcome to Quick Fill. Snowshoe is here, ladies and gentlemen.


Well, it's not here until next weekend, technically, but our company is working hard right now to get all the details ready for this massive event. This week, we have finalized quite a bit, including the racetrack, the purse structure, and even details on our golf game on Friday. So get ready to get ready.

First, Mountain Biking: We've had many calls here at the office regarding mountain biking at the track. Well, unfortunately, this year Snowshoe will not allow mountain bike riding during the race weekend. This is a safety issue, so if you usually bike the course to check it out, get your hiking boots ready, instead.

Second, Golf: Good news, kids, the Eighth-Annual GNCC Golf Tournament will take place on Friday. We expect details to be final by this evening, but we can tell you we will play on Friday in a four-man scramble best-ball format as always. The good folks from RiderDown.Org will handle signup for the event, as all proceeds will go to the charitable foundation, which provides funds for injured riders. Rider Down is even planning a special "Hole in One" competition this year with a big prize going to anyone who can get it. We're still looking for a few more sponsors for the golf holes this year-the sponsorship is tax deductible since Rider Down is a charitable foundation-and if you're interested, email Mike Farber at [email protected]

Third, The Track: Early this week, GNCC Trail Boss Jeff Russell headed to Snowshoe along with Lieutenant Trail Boss Buren Hamrick and "Sweep Guy" Tommy Harris to put this year's course design together. Jeff and Buren have been planning this out since last year's Snowshoe event, which proved to be quite a challenge. At Snowshoe, the course is either way too easy or way too hard. We tried to make changes last year, but there was still too much fast stuff.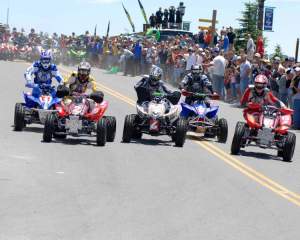 JR is determined to find a solution this year, and here it is: The goal, with $10,000 on the line for the winners of the afternoon races is to make the track tough in the afternoon. Like the old Blackwater 100, this will be a memorable one for the afternoon race (we didn't have morning races back then). But, how do you find a course that's passable for the morning race riders but super-tough for the afternoon guys?

Here's what we will do. The morning riders will have a 10-mile loop on the East Side of the facility, just like they have the past two years. Jeff is redoing that track, though, adding in four to five miles of new stuff to help eliminate last year's high-speed gravel roads. And the track will now route riders downhill through the tough stuff, and uphill on the faster ski slopes, with the idea being that hard stuff is less hard when you're going down, and fast stuff is less fast when you're going up. So that's the morning racetrack.

In the afternoon, the riders will tackle that same ten-mile loop on lap one, but then, after crossing the finish line, they will head off to an all-new 10-mile loop on the West side of the property. This is the first time we've ever been able to use the West side, and Jeff says it will send the riders way, way down hill, through some awesome trails, and eventually make its way back to the pro pits. So, that's the start, 10 miles to the finish, and then another ten miles to the pro pits, then back to the original 10 miles. That's a 20-mile lap for the afternoon, but because the pro pits show up halfway through the lap, fans and teams will still see the riders every half hour like they do at a regular GNCC. And lapped traffic and bottlenecks won't be an issue on the long track.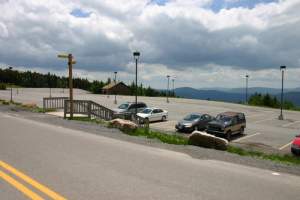 "The climb back from the bottom of the East side over to the pro pits is going to be just an epic sight," says Jeff. "You have to come up 1000 feet of elevation to get back to the pits, and it's on rough power line roads up hill, just like Blackwater. Lots of lines so no one will get stuck behind slower riders, but it will wind and wind kind of like the Pikes Peak hill climb so you'll be turning a lot, to slow everyone down. And the view from the top will be unbelievable."

Jeff estimates a 2 ½ lap race for the afternoon ATV riders, and a 4 ½ lap race for the bike afternoon race. Ten miles on lap one, then 20 miles for the second two laps. That will match the distance of say, the four of five laps we typically see in the afternoon ATV race.

Jeff's goal has been a long loop like this since the first day we checked Snowshoe out. Getting a good mix of stuff is tough on one side of the track only, especially if you want tough terrain for the afternoon riders. But don't worry, the deep, black mud holes and tree roots on the East side will still be incorporated, just like they have been for the last two years.

Should be an amazing event. Get your hotel room and join us.

DO NOT plan on tent camping, though. It's not allowed, and Jeff and his boys can explain why. When our crew came back from a day in the woods yesterday, they found a real-deal black bear in the bed of a pickup, drinking soda from bottles in the back of the truck! Our boys are a lot tough and a little crazy, so they even threw some cookie pieces down to make sure the bear got his sugar fix for the day (a bear all jacked on Coca-Cola wasn't enough, I guess). Anyway, they say bears are more scared of people than people are scared of them. They'll stay away when all the racing is going on, but you don't want to be in the woods during the middle of the night.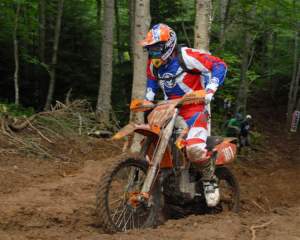 So with this epic course layout and $10,000 to the race winners, what do some of the potential race winners think? My assistant, Rachel "I'm not a newbie anymore" Fluharty talked to some of the top riders to find out.

"I feel really excited about it. I hope I take it home," said Am-Pro Yamaha's Barry Hawk, an eight-time GNCC Champion who will compete for the bike purse. "I think it's been a long time coming. It's great for MotorcycleUSA.com to step up and do it. Hopefully it will bring in more money for the future for the sport and for the riders. Everyone in general benefits from it."

"It's exciting," said Houser Racing's Bryan Cook, who took the ATV victory at Steele Creek earlier in the year. "The sport keeps growing and it's a thing of the future maybe. I'm excited about it myself.  It would be really nice to win it, you know being a privateer. It would pay a lot of expenses for me."

"I think it's pretty cool they're going to give out so much," said Mullins, third in bike points and also a race winner this year. "I think it will make everyone step up and put the pace faster. I'm just going out and stick to what I have been doing. I'm more concerned with the championship than the purse."

Certainly the big money could change the championship, because someone might really be going for it, and that could lead to problems.

"I'm just trying to stay clear of all the mayhem," says Kiser, second in ATV points and the winner of the season-opener in Florida. "That' s my goal. I'm not too worried about it. I'm taking it as another race. I'm going to try to put the $10,000 out of mind. It would be nice, but it's better if I try not to think about it too much."

"I'm not too interested in the money," says Josh Strang, who has held the points lead on two different occasions this year. "It's a bonus if I win it. The big picture is the GNCC Championship."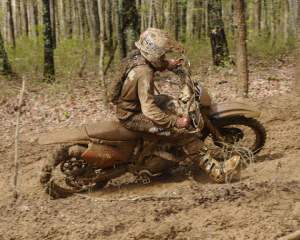 A real favorite could be Thad DuVall, who has run the best races of his career at Snowshoe for the last two years, and really, really needs a breakout ride after a tough rookie XC1 season. DuVall, remember, nearly beat David Knight for the overall last year while riding his 250F.

With the big money, there's even a rumor that Knighter himself could show up for the race. At the beginning of the season, Knight said he wanted to show up for Florida, Loretta Lynn's and Snowshoe, but he's been busy dialing in his new BMW. Now we've heard the BMW deal isn't going as well as he hoped, and he wants to come back to Snowshoe to get a win and some loot. With that guy, anything is possible.

"I kind of hope he does show up," says DuVall. "I didn't get to beat him last year so now's my chance! This is definitely one to win. It's in my home state of West Virginia and I have a lot of friends and family coming out and I feel pretty comfortable. Hopefully I'll be able to put on a good show."

Last week we mentioned some of our top ATV guys were going to a big-money AMA National Hare Scramble event in New York. It was a mudder, and Chris Borich came out on top with Brandon Sommers second. Borich is on one heck of a roll right now. Could he go into the GNCC summer break with four-straight wins?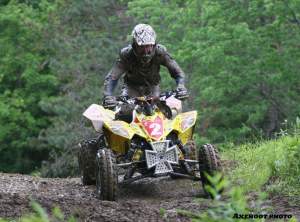 Two top GNCC bike pilots raced way out in Washington State in a WORCS race last weekend. Josh Strang rode well en route to fourth overall, it was solid but you know Josh wants a podium at one of those races. And by the way, a GNCC fan was listening to the last edition of "GNCC Track Side Live," the Friday and Saturday night Webcast from the track, hosted by Rodney Tomblin and Dave Smith. Rodney and Dave were looking for a nickname for Strang, and we had a listener suggest "The Strangler." That could work.

XC2 bike points leader Kailub Russell hitched a ride on the Shock Doctor KTM factory semi and raced the WORCS race, too, on a 450, to boot. KR ran fourth for a while but then crashed a bunch of times and ended up like 18th. Speed wise, he felt good on the 450, but obviously, he needed to keep the big bike off the ground a little better.

So it's all coming together. The most spectacular facility on the tour will host the first-ever GNCC University during the week, then a golf game on Friday, and then the richest GNCC ever on Saturday and Sunday. And this isn't just a race for pros. Back when we used to race at the Wisp ski resort (2002-2006), the course was very rocky and tough, but we saw the entry numbers grow tremendously each year. As it turned out, riders who don't even compete in the full GNCC Series would compete just to see if they were up to the test of finishing a race on such a rugged course. Snowshoe should provide a similar test. So tell your buddies to get the bikes out of the garage this weekend, tune them up, and get ready to ride and race next weekend. It should be one to remember.

See you next week!