Jason Weigandt
Quick Fill #23: This Week in GNCC
Thursday, June 11, 2009 | 4:15 PM
Welcome to Quick Fill. The weather actually worked out!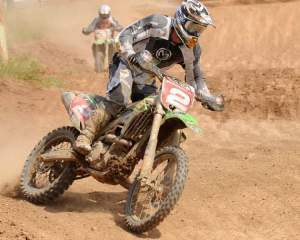 It's funny to write about a Wiseco John Penton GNCC in perfect weather on the same day our power has gone out in the Morgantown due to heavy rain. It's especially crazy because we just about never have good weather for our race in Southern Ohio, but this time we had rain during the week (no dust) and no rain during the race days. Perfect combination!

And we're going through that again this week, as the motocross world comes to our town for the Monster Energy Pro Motocross National at High Point presented by Centra Bank. The forecast shows rain all week and good weather for tomorrow's media day and Saturday's pro race day. We'll take a 30 percent chance of precipitation both days-for High Point, that's great.

Yes by the way, if you're coming to High Point this weekend, the pro race now takes place on Saturday, not Sunday. Sunday will feature a full schedule of amateur racing. If you can't make it to the race, watch it on TV: this will be the first-ever live TV broadcast of a motocross race on network television. NBC will cover High Point starting at 4:30 p.m. EST on Saturday. That's live network TV coverage of round four of the Lucas Oil AMA Pro Motocross Championship. Watch it.

With those public service announcements out of the way, let's return to GNCC coverage from Ohio.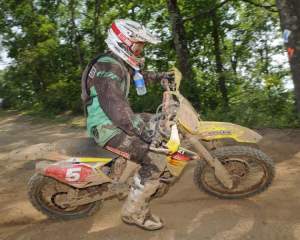 There was some controversy after Sunday's bike race concluded, with GEICO/Monster Energy JG Racing Kawasaki teammates Paul Whibley and Jimmy Jarrett finishing 1-2 ahead of FMF/Makita Suzuki's Josh Strang. Rumors ran rampant about a possible short cut that developed on the course, and there's even a rumor about a video out there somewhere that shows it. Well, the video never surfaced and no official protests were filed, so the results still stand as they were at the track. In the future, if a video does surface, be it from our TV crew or from an amateur shooter, we will look at them, but in this case the video never showed up.

Either way, we implore team members, pit crews and riders to be careful. There have been situations in the past where short cuts where captured on video and we have changed results. We take this issue very seriously, so keep your nose clean everyone. Pit crews, friends, mechanics, whoever, if you're ever seen pointing out a short cut line on the track, such actions will not be tolerated. Don't take chances.

Anyway, Whibley is the winner of the race, and now he's back in the points lead again. What a great battle we have for this championship this year, with Strang and Whibs swapping it back and forth at the last four races. That's nuts!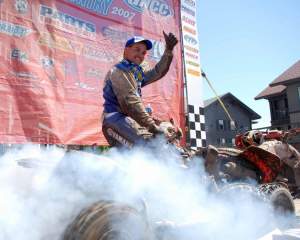 Next on the list comes Snowshoe, and we now have the official payout for this big MotorcycleUSA.com-backed event. We're pushing the $50,000 purse for this race, and what that includes is our regular bike and ATV XC1 and XC2 purse (which includes $5500 in the XC1 class and $1500 in the XC2 class winner) as well as an additional bonus for each day's race:

MotorcyleUSA.com Snowshoe GNCC Overall Bonus Awards


Winner: $10,000
Second: $5,000
Third: $3,000

And don't forget to add our specialty awards, like holeshot awards, morning race amateur awards and the rest. Lots of money on the line, and, remember, the bonus money is for the overall, so any rider in any class can get the loot if they win. Last year, Thad DuVall nearly ran down David Knight for the Snowshoe Overall in the bike race. He would have been eligible for the money if we had it last year.

And unfortunately, Thad crashed and suffered a concussion before the Penton and was not able to race, but he will be back for Snowshoe. So more bad luck for Bad Thad. And there's also this rumor that Knighter himself might show up with all that money on the line in two weeks. We'll see....

On ATVs, Chris Borich took yet another win at the Penton, but Taylor Kiser is proving to be one tough customer. He battled Borich for the entire last lap, and what's impressive about Taylor this year is his consistency. If you read his race reports every week, you'll notice his strategy: stays in the hunt early, never rides over his head or tries too hard to get the lead early, and then pins it late. He really pinned it this time, battling Borich for the win all the way down to the finish-add clay to the list of terrain that he has mastered this year, which already included sand and mud. With Adam McGill running into suspension trouble as he battled Borich for the win, it may be the consistent Kiser who provides Borich's stiffest championship competition.

Although McGill has been fast week after week, and you have to think he'll win a race one of these days.

As for Bill Ballance, he had a terrible start and had a few small mechanical glitches coming through the field, which makes his chances of reeling in a tenth-straight championship look even slimmer. You obviously can't count out a guy who has won nine-straight titles, but this could finally be the year Bill finally gets upended. Will he return to try again in 2010? I have no idea.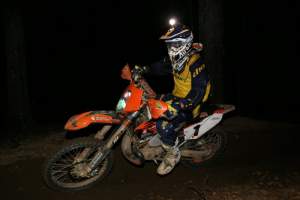 The ATV guys will keep on pushing. Chris Bithell, Borich, Jeff Pickens, Brandon Sommers and Johnny Gallagher are headed to New York this weekend to compete in a round of the AMA National Hare Scramble Series. And there are plenty of riders in the field that will race a Sunday race after a GNCC on Saturday, that's how hard these guys are pushing nowadays.

Want to talk about pushing hard? The Perry Mountain 24-Hour Challenge race took place over the weekend, and the Shock Doctor/KTM/Cycle Specialty/Trail Tech team of Mike Brown, Russell Bobbitt, Cole Kirkpatrick, Joey Baker, Jason Chancey and Allen Gravitt took the win. Congrats, guys.

Our GNCC reporter newbie Rachel Fluharty chatted with a few of our bike racers after the Penton GNCC to put stories together for various bike publications. Here are some notes:

Bike XC1
Nate Kanney 10th:Â  "It was going pretty well from the start," said the New Yorker. "I moved up pretty quick and I caught up to third. I crashed and fell back to fourth, crashed and fell back to fifth. I was riding with Mullins and he was pushing pretty hard but I started looking for a way around him and that's when I made a mistake and hit a tree. When I got up from that crash I tried to get back up and I kept crashing. I think my equilibrium was off a little bit so I went back to the truck and cried. No, not really. I don't have a cry reflex. But it was pretty devastating, when you put in that much work and didn't get to finish the race. I cried like a little kid on the inside, at least."
Barry Hawk    5th: "Off of the start, I didn't get a very good start. I was next to last. I was with Mullins and Strang. None of us started on the first kick. I got back and got going. I felt good the first few laps. I slowly tried to pick some guys off. I got up into third at one point and was feeling good, but I tried something different with my diet and I had leg cramps. It wasn't to the point I couldn't ride, but I had to watch in certain corners. I got up into third. I stalled it and Mullins may have gotten by and Strang got by. We were all together there for a little while. Going into the last lap I had caught up to Mullins and I stalled it. I didn't get up to run him down."
Glenn Kearney DNF:Â  It looked like Kearney's day early on. "I started off good. I had a good start. I was second off the start behind Whibs. He led three miles when he missed a turn and I led for the next four or five miles before going into a mudhole. I hit a submerged log or something so that sucked! I was kind of stuck in the mud, and by the time I got out, at the end of that lap, I was in about 7th place. Then something went out on the bike, on the 3rd lap the engine blew up so I ended up with a DNF."
Bike XC2: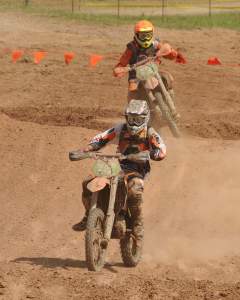 Jake Korn    5th: "I got a pretty good start, into the woods I ended up in 5th or 6th. Then the (tight) John Penton section came up. The first lap or two was really rough. Then the race went on, it started coming a lot better. It was a pretty uneventful race. The last lap I caught Watkins and we had a pretty good battle the last lap. I ended up passing him and then he got me back. He ended up beating me by a few seconds. Everyone said it was perfect conditions but I found it pretty slippery conditions. But it was a fun time. I liked it."
Scotty Watkins 4th: "The race was good," said Watkins. "I started off pretty good. I think I was top four going into the woods. I had a lot of fans there because the race is only three hours away from the house. I just knew that Kailub and Corey would be going fast there. I wanted to get in a groove. There were a lot of tough sections and those guys kind of pulled away. I felt strong with my endurance I just couldn't get back in the groove after getting stuck on a hill. There at that last lap Jake Korn and I went back and forth."
Jason Thomas 3rd:Â  "It went pretty good I got a bad start and it kind of got together. After the pit stop it got away from me a little bit. I rode by myself at the end. I tried to save myself a little bit so I didn't get too dehydrated. I was pretty happy with the way it went."

Cory Buttrick 2nd: "I'm pretty happy with how the day went. Everything went pretty smooth. I started racing with Kailub right off the bat. As the day went on it was really hot. It was a tough day and then Kailub caught up with me and we just battled the rest of the race, side by side. I had some problems with a lapper and then I just charged as hard as I could to the finish. I'm happy with how it was because I gave it all I could. I had a good day."

Let's mention our special award winners from Ohio:
MotorcycleUSA.com XC1 ATV Holeshot Award: Taylor Kiser
Rekluse XC2 ATV Holeshot Award: Erik Hoyland
GT Thunder Morning Race Overall Award: Traci Cecco
MotorcycleUSA.com XC1 Bike Holeshot Award: Paul Whibley
Cometic XC2 Bike Holeshot Award: Cory Buttrick and Kailub Russell
Coppersmith Suspension Bike Amateur Holeshot Award: Mike Hampton, Super Senior B

Also, check out our Tuesday Toolbox with undefeated 4x4 Limited rider Michael Swift.

So now you get an extra weekend to prepare for Snowshoe. Once our crew gets through High Point this weekend, we'll start putting together more information on the event, including track and pitting ideas. We're still searching for the perfect track combination at Snowshoe, it's a tough place to build because the track is either really hard or really easy, and we prefer, of course, to be somewhere in the middle. But you can't argue about the facility, this is the only race of the year where you can walk right out of your hotel and step on to the track. Enjoy.

If you are coming to High Point this weekend, head to www.highpointmx.com for all the info. If you're racing elsewhere, good luck, have fun, and we'll see you in a few weeks in West Virgina. Thanks for reading.