Jason Weigandt
Quick Fill #22: This Week in GNCC
Thursday, June 4, 2009 | 9:15 AM
Welcome to Quick Fill. Jeez, how long has it been?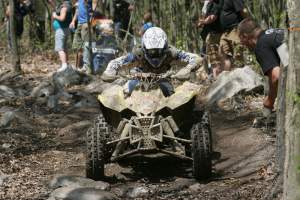 Feels like forever since we held a GNCC. For real, we only had two weekends off instead of one, but doubling the distance between rounds sure makes it seem different. When we last left, we had completed a rocky race in Somerset, Pennsylvania, Suzuki men Josh Strang and Chris Borich had taken control of their series again, and honestly, a lot of people were probably looking for rest after a series of muddy and tough races (especially on the bike side).

Well, rest has been granted and we're back at it, and good news is, there is virtually (here it comes) no rain in the forecast.

Seriously, I'm aware we have jinxed the whole works before here on Quick Fill, but the forecast says 10% chance of rain each day this weekend. We can't possibly have a mudder, right?

As many of you know, the Wiseco John Penton GNCC is almost always plagued by bad weather. We've had mud and we've had dust, and yes, we've often had both in the same weekend. Last year things were pretty good for the ATVs, just a touch muddy, and then it rained super bad on Sunday and the bike race was as bad as bad could be.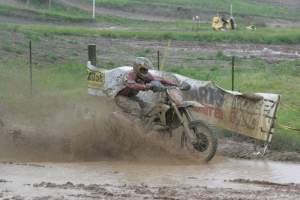 It will be less muddy this year, and with a little rain rolling through from west to east, dust shouldn't be too bad, either. Hmmm, we've said this every year.

Poor Jeff. He's been hosting GNCCs at his Sunday Creek Motocross track since his days as a racer (even before he was a part of our crew) and no matter what, the weather never treats his place right. We've had perfect weather right up until the very minute the afternoon bike race started (congrats on the victory, Jimmy Jarrett), we've had so much mud that riders didn't know where they were going or how they got passed (ask Strang and Whibley) and every once in awhile we've had perfect conditions (Jason Raines last GNCC win, a dominant 2004 triumph over Juha Salminen and Rodney Smith, comes to mind). Anyway, weather always tells the story in Ohio. Good luck.

At Somerset, I put together a story for an ATV magazine covering the latest in 4x4 technology. I looked into the Can-Am Outlanders that Bryan Buckhannon, Cliff Beasley and Michael Swift are using to lead the points in the 4x4 classes, as well as what the Rath Racing/Polaris squad is up to with their new Sportsman 850s. It's pretty cool to see these teams using GNCC racing to develop parts for production machines. Can-Am has been developing Outlanders in the GNCC Series since 2005, and in that time they have strengthened front frame components near the tie rods, strengthened the rear suspension components, and even redesigned the battery hold down. The R engine package, which became available on models in 2009, was developed with Scott Kilby in the Open 4x4 class for three years. And the latest advancement is the DPS power-steering system, which was tested by Buckhannon and Jerime Dudding, and will be in production on 2010 units.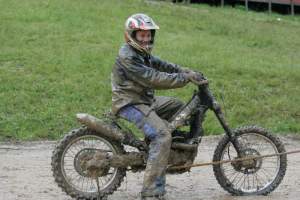 There used to be a major disconnect between utility ATVs, which were designed for work, and racing ATVs, but now we've come so far that racing is used to make Utility machines better.

Darryl Rath is testing and tuning his Sportsman every week at his shop in Minnesota, and Polaris likes the feedback. "They call it accelerated development testing," says Rath. "What the racers tear up in one year, a trail rider would tear up in three years. If they can make it last for us, warranty and reliability issues for the consumer won't ever be a problem."

Rath has worked on narrowing the big Sportsman by developing his own zero-offset wheel with Douglas, and he also built his own aluminum gas tank extension, which gives him enough capacity to run two-straight hours like the Can-Ams and also incorporates a dry-break cap, just in case. Rath says his machine is still a little heavy compared to the Can-Ams, and so far the yellow machines have won every race this year. But he's trying.

Can-Am has a new rider this weekend, and it's a pretty cool deal: bike legend Terry Cunningham will race an ATV for the first time ever! Here's a press release: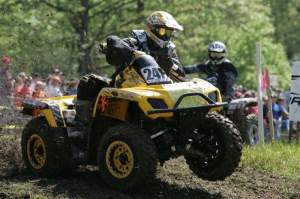 Off-road Legend Terry Cunningham to race for BRP
Racer Will Compete At The John Penton GNCC On A Can-Am DS 450 X xc
Valcourt, Québec, June 3, 2009 - Multi-time off-road champion Terry Cunningham plans of giving ATV racing a shot after an extremely successful career on dirt bikes. Cunningham hails from the state of Ohio and is choosing the famed John Penton GNCC near Millfield, Ohio as the race to test his off-road skills with an extra two wheels. He will line up this Saturday with a Can-Am DS 450TM X xc against some of the best amateur off-road racing competition in the world.

"To have a legend like Terry Cunningham decide to come over to the ATV side is an event in itself, but to have him do it on a DS 450 X xc is terrific news," says Jimmie O'Dell, Racing Manager for Can-Am ATVs at BRP. "The combination of Cunningham's off-road skill and the DS 450 X xc should prove to be a formidable one out on the course Saturday."

The multi-time International Six Days Enduro (ISDE) gold medalist and four-time national enduro champion will make his ATV debut in the Senior A class. He will put his 41-years of racing experience to the test as he has only a handful of hours experience racing ATVs. According to Cunningham, he is looking forward to the challenge.

"God has blessed me with an opportunity to chase another adventure and take on a brand new challenge as I plan to race the John Penton GNCC event this weekend," says Cunningham. "ATV racing is one part of the off-road industry I haven't competed in and I'm thrilled that Can-Am has provided me this opportunity to compete in this event aboard the new Can-Am DS 450 X xc. This weekend's race in Ohio could be real entertaining for everyone to watch an old dog learn some new tricks!"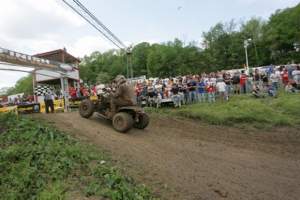 For more information on Can-Am racing, our 2009 contingency program and amateur DS 450 support program, please visit www.can-amxteam.com.

Bart Hayes and the folks at RidePG.com will bring their Ironman Award back this weekend at the John Penton, the rider who logs the longest race but still takes the checkered flag in the afternoon bike race gets a free set of RidePG.com Powersport GrafX pre-printed numbers and backgrounds. The winner at Somerset, PA was Mark Kingsbury, who was out there for three hours and 32 minutes to complete five laps.
Here's your Racer TV update for the weekend: On Saturday at 2:30 p.m. the Pirelli Big Buck Bike GNCC makes its debut. More good racing between Strang and Whibley down the stretch in this one, and you've also got the infamous Big Buck Creek Jump thrown in. A few years ago, guys like Juha Salminen and David Knight were checking out and winning races with ease. Watch the Big Buck and you will see that the old-school style of racing is back, because early in the race, you'll see about eight riders battling in a pack. Good stuff.
Here's a letter, help a racer out!
I don't know who will remember me, but I raced the series from '98 to '02 in the Vet and Jr. classes. I know a lot of the racers will remember me either from the races or from being part of "Bad" Chad Duvall's pit crew . Anyhow I have a nephew that has always wanted to race , I had him at Starvation Point the year we lost Bob "The Ironman" Sloan and he ask me for years about that . Well now in Walter Reed Army Medical Center fighting for his life. They say he has a infection that there is are antibiotics for. He has surgery every three or four days to clean out any infection and dead tissue, he has IV's on him at all times to help flush the infection out and the have cut him from his ankle to his lower back trying to get it all. They are telling us it could be November or December before he will get out of there . I thought it might be nice for him to get cards and letters from racers , I know all too well how close the GNCC family is. If anyone would like to send a card or a quick note to help cheer him up it would be great. He gets tired pretty easy but I am sure he would like to hear from people. The address is:"¨"¨Â                 SPC Holshu, Brennan

C/O Walter Reed Army Medical Center
6900 Georgia Ave. N.W.
Washington, DC 20307
Thank You in advance "¨Â        Henry Holshu


Okay that's it for this week, it's time to go racing again. Have a good time in Ohio and we'll see you at the races!