Jason Weigandt
Quck Fill #22: This Week in GNCC!
Friday, May 29, 2009 | 2:15 PM
Welcome to Quick Fill. Not much to report this week.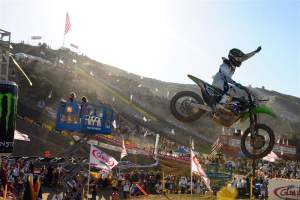 This is an odd three-week break in the 2009 Can-Am Grand National Cross Country tour, as we won't race at the Wiseco John Penton GNCC until next weekend. But our crew is still busy. Last weekend, parts of our staff put races together on both coasts. Out in California, our sister company, MX Sports Pro Racing, ran the show for the opening round of the Lucas Oil AMA Pro Motocross Championship at Glen Helen Raceway in San Bernardino. Back closer to home, we also hosted the ATV Stampede at Steel City, round six of the ITP Tires/Moose Racing AMA ATV Motocross Championship.

We stop to explain this from time to time just so you get a better idea of how our company works. For decades, Racer Productions has run motocross and GNCC racing events, such as the High Point and Steel City MX Nationals for bikes, and the High Point, Steel City and Loretta Lynn Dirt Days ATV MX races. But last year, things changed quickly. The sanctioning body of these races, AMA Pro Racing, decided to get out of the professional racing business.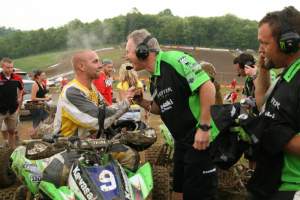 AMA Pro Racing was a separate deal than the regular AMA we all belong to. It was a company set up by the AMA specifically to manage professional racing series-like AMAÂ  Supercross, the AMA Motocross Nationals, AMA Superbike, AMA Flat Track, and such. GNCC and other forms of off-road racing were still considered amateur events, which meant they fell under the regular AMA, not AMA Pro Racing.

Anyway, there's new leadership at the AMA, and they have decided to refocus their efforts. The new AMA vision focuses solely on supporting the regular AMA, and basically eliminates the AMA Pro Racing section altogether. The AMA will now push harder to protect your right to ride, push harder to give you more benefits for being a member, and still take care of amateur racers and series.

As for AMA Pro Racing, the series that it controlled were put up for bid. The AMA looked for new companies who could take those series over, and it found one in the Daytona Motorsports Group (DMG) which bid to take control of all the AMA Pro Racing Series. DMG won the bid, but they didn't intend to run all of the different series. DMG is focused mostly on the AMA Superbike Series (road racing) and it has sub contracted out some of the other series to other companies.

That's where MX Sports Pro Racing comes in. We now work with DMG to run two different series that used to be controlled by AMA Pro Racing. Those series are the Lucas Oil AMA Pro Motocross championship (what you probably refer to as the outdoor nationals for bikes) and the AMA Pro ATV MX Series.

Hopefully that all made at least a little bit of sense to you.

Last weekend both series ended up having races at the same time, one at Glen Helen and one at Steel City. Our crew split up and handled both. It was a big ordeal and there were many stressful evenings pulling it all together, and surely there will be more long days ahead for this crew. In the past, our company really only had to worry about running a few specific races in each series. Now we run them all.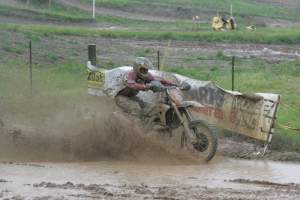 What some may also not notice is that one weekend we're out playing in the dirt with you folks at a GNCC, and the next weekend we're working with James Stewart, Chad Reed and Ryan Villopoto, or Dustin Wimmer, Joe Byrd and Doug Gust. They're all just racers to us, and no matter if we're talking about the AMA Pro Motocross 450 class or the 16-19 C class in GNCC ATVs, they're all equally important.

We're not done double dipping, either. Next weekend we'll be holding the John Penton GNCC in Ohio while the Lucas Oil Pro Motocross Championship visits Texas. We've grown quite a bit and added more staff to help make this happen, so hopefully you won't even notice the difference.

So that sums up what we have going on.
Now I'd like to share two letters:
Dear Friends,Do to a recent injury, I'm unable to race the rest of the season. Here is a link to explain my story. Thanks for all your support over the years! I couldn't have done it without you.Stefanie Verkade

Stefanie is one of the biggest race fans we know, and she has been super-dedicated to racing in the ATV Women's Class over the years. Hopefully we haven't seen the last of her!

Here's another letter: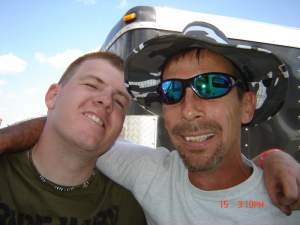 Jason, 

Wanted to share our weekend trip to the Mountain Ridge race with you. See, me and my son traveled from Houston Texas to take part in the Quadzone picnic and Riderdown fundraiser.  I am a long time member of the Zone, and certifiable nut of GNCC racing. I have made many friends through Quadzone and created life long friendships with some. This has allowed us to plan trips to races and stay with folks at the track. The Zeleski family hosted us this year. We have stayed with them before and are always treated to the best time with them and their two spotted kids. We also went to Jersey and had breakfast with Stefanie and Jan Verkade at the Asbury Deli (talk about a great breakfast). What a great trip it was!!

Another friend of ours, Garon Davis has become a brother to Littleman (my son) and I. He and his wife even joined us last year for our family vacation to the Frio River, here in Texas. Well, while the afternoon race was going on, we were treated to the best surprise of all. Garon gave my son Littleman his second place plaque as a keepsake from this race. That was a very special offering considering it was his best finish of the season so far. He dug deep to get this finish and never hesitated to give it to Hunter. My son took the trophy to school today for show and tell. Tell me that's not a cool feeling for him! So I want to say, that even though we don't get to race and don't get to attend them all, GNCC racing is a part of our lives too!!!!

Thanks so much to Racer Productions and also Quadzone for this great sport and way of life.

Take care,
Xtremedad
Jerry M.
Spring, TX

That's great. Hey folks, we're always on the lookout for tales from the road like this, so if you have a story, send them to us.

That will do it for now. We'll see you at the races next weekend in Ohio!

Okay, maybe that's not it. This just in from Jason Hooper: For the first time in a long time we've posted two video reports to the site. In case any of you missed them here are the links, both feature racing from the Pirelli Big Buck GNCC.
Also, be sure to tune into RacerTV on Versus this Saturday at 2:30 to catch all the ATV racing action from the Big Buck. I know it seems like a lifetime ago, but this race was a barn burner with Chris Borich and Adam McGill battling to the checkers.