Jason Weigandt
Tuesday Toolbox: Randy Hawkins
Tuesday, May 26, 2009 | 5:00 PM
Randy Hawkins is an icon in the off-road industry, and that's why the AMA just announced he's going into their motorcycling Hall of Fame. Randy's seven AMA National Enduro Championships alone would qualify him as a hall-of-famer but he has done so much more, from managing and owning the Am-Pro FMF Yamaha team, to hosting the GNCC University school at Snowshoe, to producing a new DVD called Champions at Play. Why does Randy do it all? Because he loves the sport. Here's a conversation with the true southern gentleman of off-road racing.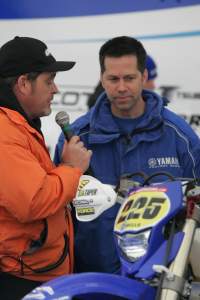 First off, how's the team doing this year?
It's kind of funny how things started out. We looked like a team on paper that had a logistical chance to win the title. We just kind of had some bad luck off the start with some different issues with Thad and Barry. I think they've been working hard to get things in line and the direction they want to get in. We have had some bike issues we've never had at all before. Thad has had some bad luck but he's riding well. Barry was third overall in the last round, he's being true Barry. He grinds out and things are starting to happen. I expect them to be even better as the year goes on.

It is hard to see Thad get up there so close to the front and then have this bad luck, but he still has this great attitude about it at the end.
For sure, we've aggravated him saying he has a black cloud over his head. But Thad is riding well and he has good spirits. That's part of racing. I keep telling him that a true champion learns how to lose better than how to win. Because you are going to lose a lot more races than you are going to win. But he's young and he will dig himself out of it.
So what's the rest of this year's team like?
We basically wanted to concentrate on the GNCCs. We kind of wanted to break everything up because the industry is really tough right now from a financial side of it and we really needed to give more bang for the buck for our sponsors. We took a different approach by putting Thad and Barry as our primary GNCC riders and Jason (Raines) could balance in and out. Then Jason is going to do the National Enduros and the National Harescrambles and support guys like Joe Scherer and Ryan Belue. Then Jason and Joe were going to be our primary Endurocross guys with Kyle Redman.We were basically filling a two guy team at every event. That way we could get more coverage sponsor-wise. As long as I've been involved in it, this is the toughest I've seen the industry, and who knows how it's going to be next year.

What are some of the challenges you are facing right now?
From a financial side- sponsors.  A lot of people are cutting back in different areas. Luckily for us our team is strong enough to get the lion's share of advertising dollars. From even a parts side you used to be able to call in something and get 4 or 5 of them.  Now, basically we need to indicate the products we need and it's more of a limited budget. When we order things it's listed as to what guy it goes to. We can get all the product we can use but the sponsors have really tightened in the aspect that we have what we need but not in excess.
What are some measures you are taking to compensate for those kinds of changes?
We had to make some calculated decisions on how to decide where to spend money. It was really lucky for us because the majority of the sponsors I've been with for years. I was very fortunate in that with all my major sponsors I did two year contacts. So we are set 'till 2010.  I talked to other riders, and there are very few riders who know what they are going to ride next year. I worked hard at the beginning of the year to sign two year contracts to make sure I have the funding to spend through the 2010 season.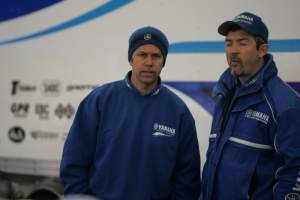 Did you see this situation coming for awhile?
I kind of saw this coming for awhile economically. I was just hoping I was wrong. I kind of thought that this can continue to go at this level. As soon as the housing, automotive industry started slowing down, all that spare cash to spend on motorcycles wasn't there anymore. I was setting our team up to weather the storm-so we're still financially strong enough from my sponsors to have a team and to pay the riders adequate salaries.
In a different turn, you'll be giving back with GNCC University? Are you pretty excited about it?
I think it's going to be really good. I have a chance to do schools before here in the states and in Japan. I have a lot of fun doing that, I enjoy intermingling with people and talking. I really enjoy that side of it. When Tim [Cotter] approached me about it, it looked like I would get a lot of fun out of it. If a few things go right, the GNCC could grow this into a pretty big event. I don't know how much bigger they can grow it, but with 36 championships, that's pretty major. My group is excited to be in kind of the pilot program.
Due to the economy, do you see more of this in the future? Combing riding schools or bike demos at races so a team gets more what you called "bang for the buck?"
I think you really are going to see more of that. One example is that we're working really hard with Jason Raines putting a demo program together for the GNCCs and Yamaha.  There's a great chance we'll get it together for 2010. It's a great opportunity where a spectator can come to a GNCC even and come over to the Yamaha tent and have a demo program and ride some bikes and have Jason do training seminars. It gets to where coming to GNCC events is like going to a mall. You can go and do a demo ride, do a training seminar and go do a lot of stuff. You are able to get money back out of what you spent to go through the gate. That could be something in the future that could go real well and we're working hard to get there. We need to give more back to our sponsors than just being racers.
Speaking of championships, congratulations on your induction into the AMA Hall of Fame.
Thank you very much! I think they called me Friday as I was heading to the Somerset GNCC. It was an honor for myself to be getting to go in there with so many other heroes in the hall of fame. I'm so honored to be in there but there are so many people behind the scenes to help me get recognized like this. I just rode motorcycles to have fun. I really hope if any kids see this and see my career, they see that the bottom line is that I started doing this to ride motorcycles and have fun. I hope they will have that same attitude. I didn't think I'd have a career like this.
Is that something you want to emphasize at the GNCC University?
Yes it is. My parents could take everything away from me, like the television for something. If they took my bike away that would get my attention. From all the things that could have made me stray like drugs and alcohol, I said I wasn't interested in because I wanted to be a racer. It was such a benefit for me. You can be whatever you want to do but you should have a passion like that. That's what I tell the students. You don't have to be the world champion, just try hard. One thing I enjoy about it has moms come up to me and say they get some quality time with their kids going to the races. When they go to a race or any race and are in the car for hours they can talk. Where if they were home they would be with their friends or doing something else.  There are a lot of positive things to do with bikes.

Do you still ride?
That is a shame. I don't ride near what I did. When Thad and Barry are in town in January I go riding. I'm very busy with our business because I've pretty much taken over the administration part. I have so much fun with those guys. I don't get to ride as much as I like. Those guys are faster than me now. If I climb a hill, Thad DuVall will stay there until it's dark to try it too and do it as well. He has to do it until he can do what I can, even if have to get the flashlights out. Thad is a fun one. He's just a lot of fun and so are the rest of the guys.

So there is a lot of camaraderie between the Yamaha guys?
What I really pushed for our team is the friendships and the camaraderie. The friendships you develop along the way can last a lifetime. If there are any kind of issues or problems, we don't let it get out of control. The friendship is way more important.
You also have the Champions at Play DVD out right now, tell us a little bit about that.
That was a fun project. It was a different DVD.  It shows people behind the scenes. It was one of those things where I know we could do some different things. But I did what I wanted to do. We wanted to show the riders and what they are like in their home environment and see how the guys live beyond the race track.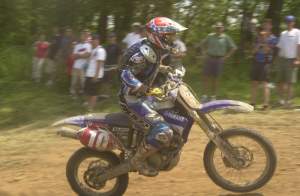 Who is featured in the DVD?
Kurt Caselli, Ty Davis, Ricky Dietrich, Barry Hawk, Randy Hawkins, Jimmy Jarrett, Mike Lafferty, Jason Raines, Malcolm Smith. Combined they have 50 ISDE metals. All the guys have a national championship. There is not another DVD available with this many champions. It was a true honor to put this together.

Where can people find the videos?
It's out and all the Cycle Gear store have them. Impact is the distributor and you can find them on a lot of our Web sites. We've already sold about 1500 of them, even though we know it's a slow time for DVDs.

So even though you guys were all from different teams, you sort of teamed up for this. Have you ridden with them before?
The only guy I haven't ridden with was Ricky Dieterich. I've been to all of their houses to ride. And for example, I've ridden a lot with Michael Lafferty. Me and Lafferty battled for the National Enduro championship for years and we can still call each other up as friends. I tried to be the guy, that what you see is what you get. I would race you as hard as I could on the track but I didn't have to play head games. I think of all these guys, Malcolm Smith wasn't interested in doing it unless I was involved. These guys here, I had to call every one of them. They had to trust me that I wasn't going to do something misrepresent their name. It made me feel proud that hard work I did in the past, what I said I would do I did, so they all wanted to be a part of this.

Well the award, and all of your success is very much deserved.
I was really blessed with this career. Timing has a lot to do with it. I was blessed that when I came through with my desires and personality that the stars all aligned for me. It was the right timing in my life and the industry.