Jason Weigandt
Quick Fill #21: This Week in GNCC!
Thursday, May 21, 2009 | 3:45 PM
Welcome to Quick Fill. Is it summer yet?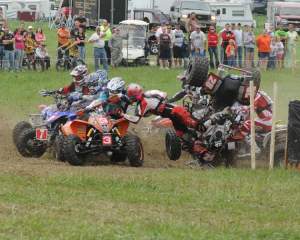 As is the trend this season, the weather was great for Saturday's ATV race at the Mountain Ridge GNCC, but it was crazy bad on Sunday for the bikes. For whatever reason, our series seems to follow a pattern, and this year, the pattern is good for the ATVs and bad for the bikes.

And we're going to the Wiseco John Penton GNCC in three weeks. I think it has rained there before.

Yes the ATV crew got 72-degree temps and sunny, clear skies. It was dusty in a few spots, as Bill Ballance will attest (the champ got a bad start and said he was going through fifth-gear fields in first gear on lap one). But overall, it was a good day for racing. But the very second Brandon Sommers crossed the finish line in third place for the afternoon race, the heavens opened and a cold, hard rain started falling. Our poor XC2 guys-Josh Kirkland, Brian Wolfe and Parker Jones, as well as top Amateur Walker Fowler-had to sit and wait in the rain and then complete their whole podium while the temps kept dropping.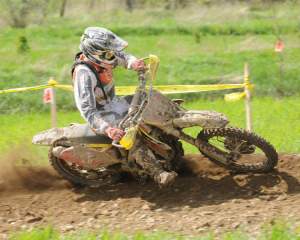 And that poor podium announcer! Someone give him a raise for handling that!

Anyway, the rain didn't last too long, but it was just enough to soak the place and bring the cold winds with it. And it never let up. When I got to the track Sunday morning, it was 41 degrees. I don't think it got too much warmer than that, and the wind never let up because, well, we were on a Mountain Ridge.

Bike XC2 racer Josh Weisenfels was sporting shorts and flip-flops on Sunday despite the cold, because he didn't except this type of weather. No one else really did, either. But if you rode in the bike afternoon race, it was actually good-the course had tacked up, the dust was gone, and the temps were cool enough to put in three hours without bonking.

Great racing all around on this weekend. In the Youth ATV race, Ryan Early just edged "Mr. Oh So Close" Levi Coen for the overall, with Jay Shadron in third. In the morning ATV race, the old "Mr. Oh So Close" Mike Benson rallied to finally claim a GT Thunder Morning Race Overall Award. Mike has been second and third in the morning more times than he can count, but this time he got it done. Check out Rachel Fluharty's Tuesday Toolbox for more on Mike.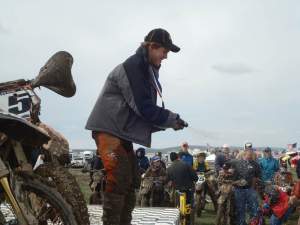 Interestingly, the morning race podium was swept by men for the first time in awhile, as Angel Atwell stormed back into victory lane for her fifth victory in the Women's class, but only took fourth overall. For awhile it looked like the overall winner from the last race, Glenn Pritchard, would dominate since he started on row 1 and had a big lead early, but Benson and Rick Cecco were setting a blistering pace in the U2 class. Once Benson got around Cecco, he was able to catch Pritchard on adjusted time and snag the win. Mike Swift continued his undefeated streak in the 4x4 Lites class and took second overall. Swift won the overall at Mountain Ridge two years ago, so he likes the place.
In Open 4x4, defending class champion Bryan Buckhannon went down hard on the first lap and broke his leg. Ouch. He sent this letter:

I would like to thank all of the GNCC track staff for getting me out of the woods quickly and smoothly. I broke the tibia in my left leg and I am in a full leg cast.
I am focused on recovering soon and plan on returning after the break.
Thanks again for the concern from you all!

Bryan Buckhannon

No doubt Bryan is bummed that he will have to miss the MotorcycleUSA.com Snowshoe GNCC, his home race. Scott Kilby picked up the slack in the Open 4x4 class and won it at Somerset.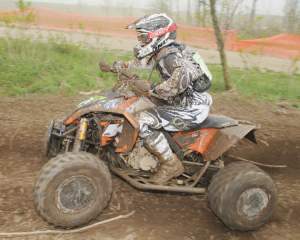 Also credit out to Sport Class rider Will Cashion, who was also mixing it up in the overall and finishing fifth. At one point we had five classes battling for the overall lead in the ATV morning race.

The afternoon ATV race was a dandy, too, with Chris Borich and Adam McGill taking it down to the wire like they did at the Big Buck-and Borich emerging with the win again. Three wins and a bigger points lead for Chris. Will this be the year he finally busts through and wins this darned championship?

Adam McGill had a shot, leading most of the race, then losing the lead to Borich on the last lap, then almost getting around while Borich's engine started to go south. But he couldn't make the pass stick, which hurts a bit in the point standings. Also, Taylor Kiser was running a solid third until his handlebars came loose, and he lost the battle with his buddy Brandon Sommers. Ballance never quite recovered from his bad start and finished fifth.

Chris Bithell was up front early, running second in front of Borich as they made a run at McGill, before a big crash in the rocks put him way back. Another "almost" for Chris. Is it any wonder he runs #13?

But he doesn't have the worst luck in the series. For now, for sure, the unluckiest rider in GNCC Racing is Thad DuVall, who had a small mechanical issue drop him from podium contention for the fourth-straight race. And remember, before that he was battling back from a wrist injury!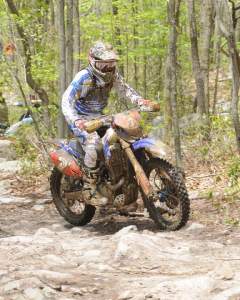 This time Thad's ignition went out while he was battling Josh Strang and Charlie Mullins for second. Strang and Mullins went on to go 1-2. Thad would have been plenty happy to have just taken third. Before the race, Thad said "I just want to get through three hours without anything bad happening." Not yet, I guess.
As for Strang and Mullins, they put on a great show for the few that braved the 40-degree temps to watch. Mullins has had trouble getting "mentally tired" in the races this year, as he puts in a hard hour or two before losing focus. It didn't happen this time, though, as he stuck right with Strang to the end, waiting until the last lap to make a move. He made one and took the lead, then Strang got him back, and Mullins tried one last-ditch effort through the rocks. He bobbled and Strang got away. Good try by "Hot Rod," but Strang has now won four out of five races! Dang that kid is good!

Paul Whibley rolled up all of Thad DuVall's bad luck into one race. He crashed and hurt his shoulder, then smashed his water pump cover and put a hole in his radiator. JG Racing Team Manager JT Bennett "burned his finger prints off" changing the cover in the pits, while the rest of the crew poured pepper (yes) into the radiator to plug the leak. Crazy, but it worked, and Whibley, with a badly damaged impeller, limped it to the finish in 7th.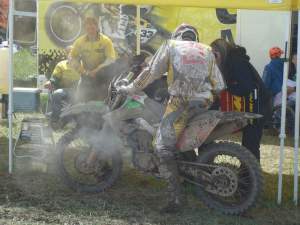 Jesse Robinson broke a sprocket on the first lap, came out a lap down, and battled with Barry Hawk and Nate Kanney the rest of the way. That's some serious speed on his Husaberg 570. Jesse said Husaberg is sold out of 450s for the year so he could only get a 570. He likes it though. He also admitted that, after he didn't get a ride early this year and had to soldier on with his '08 Kawasakis, that he had basically given up and stopped training. Robinson was just going to ride out the season and be done, basically, but with the new 'Berg deal, he is fired up again and training like he used to.

Barry Hawk is back on the podium. Barry has been struggling to get the suspension dialed on his new 450, and he came up with a fun way to test shock temperatures. Barry's test track only delivers 10-minute lap times, and he would have to ride almost 20 laps to actually replicate a three-hour GNCC. That many laps, and Barry said he would be bored and lose focus. So he invited his buddies "Shotgun" Sean Remington and AJ Stewart over, and they put in a three-hour moto by switching off on the bike. And Barry had a heat radar gun, which he would use to test shock temperatures every lap. This is how you test your shock's ability to handle heat!

Only problem is, no track gets as rough and no riders push as hard as in an actual GNCC. But all that testing did help, and now Barry has a Fox Podium Shock dialed on his 450-the shock just went on sale to the public, too. Go see Chris Durham at the Fox Shox truck at the next race for a look.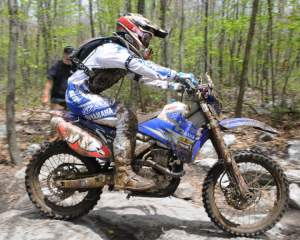 Barry's crew had a bottle of genuine moonshine over in the pits after the race, but no one in the crew was willing to drink it. So I took one for the team. The Hawksters missed out, because it was good!

Kailub Russell won in XC2 again. Off the start, myself and Security Chief "Big" John Knox and I stood near the line to watch the Cometic Holeshot. It looked like KR had it, but then Jason Thomas found a great drive on the inside and pulled right up even with him as they hit the line. To my eye, Kailub had it, and Big John thought the same thing. But on the podium after the race, Kailub himself disagreed with us! He thought Thomas had it, so they decided to split the money, $50 each.

Thomas took the early lead by getting past Russell after the holeshot line, but then had a tough first lap and found himself way back. Russell made some mistakes, too, and Cory Buttrick got into the lead, but Russell was able to get it back and hold it to win his fifth race this year. As a reward for his strong rides, KR is hopping in the Shock Doctor KTM semi in a few weeks and roadtripping out west to compete in a WORCS race...on a 450! We'll see how it goes.

Jordan Ashburn was top amateur again on his Monster Energy Kawasaki. And he graduates from High School this week.

In the bike morning race, congrats to Randall Riggs who took the overall representing the Super Senior A class. And Charlie Mullins (senior!) finished 14th in the Sportsman class as part of Husqvarna's guest ride program.

Let's look at the special award winners from Mountain Ridge

MotorcycleUSA.com ATV XC1 Holeshot: Jeff Pickens
Rekluse XC2 Holeshot Award: Josh Kirkland
GT Thunder Morning Race Overall Award: Mike Benson
ATV Top Amateur: Walker Fowler
MotorcycleUSA.com Bike XC1 Holeshot: Charlie Mullins
Cometic XC2 Holeshot Award: Jason Thomas and Kailub Russell (tied!)
Coppersmith Suspension Amateur Holeshot Award: Greg Davis
Bike Top Amateur: Jordan Ashburn
Special shoutout to Mr. Davis, who claimed the amateur holeshot award. Greg has been around this sport for so long that he sold our series' founder, "Big" Dave Coombs, his first Husqvarna back in the day. Rita says hello, Greg!

Pre entry was back for the first time this year at Mountain Ridge. It's back again for the Wiseco John Penton GNCC. Sign up now. Click here.

A letter I was supposed to run here a few weeks ago:

While looking through the photo report from Loretta's, I noticed that you guys caught a great picture of my husband talking to Traci Cecco and Johnny Gallagher after the morning race.
We live in the western part of Tennessee, and unfortunately Loretta Lynn's' is the only GNCC event we get to do, but we always look forward to coming back to the fun, family oriented atmosphere that is presented by the series. We look forward to coming back for many years to come. We have an 11-year-old son, Goose, who is a future quad racer also. Traci is one of his favorites! Goose has a broken wrist and actually waited for Loretta's' to get all his favorite pro racers to sign his cast!
Thank you GNCC for giving families like ours the opportunity to enjoy the lifestyle we have grown to LOVE. We appreciate all that you do and we will see you again next year!!

Sincerely,
Cherie Jolly

Thanks, Cherie.

GNCC University is now official. We put the post up on the website today and also released the info to the media. This is a once-in-a-lifetime opportunity to learn from Yamaha's off-road champions in the weekdays leading up to the Snowshoe GNCC-Bill Ballance, Traci Cecco and Johnny Gallagher on the ATV side, and Barry Hawk, Randy Hawkins, Thad DuVall and Jason Raines on the bike side. The school costs just $378 and includes lodging for two nights, meals, and instruction. But we're only taking 30 bike and 30 ATV riders, so get on it now.

And while we mention him, congrats to Randy Hawkins. The AMA just announced that he's getting inducted to the AMA Hall of Fame. Nice job, Javelin.

That's it for Quick Fill. See you at the races!