Jason Weigandt
Quick Fill #20: This Week in GNCC!
Thursday, May 14, 2009 | 5:00 PM
Welcome to Quick Fill. We do have a place to race this weekend.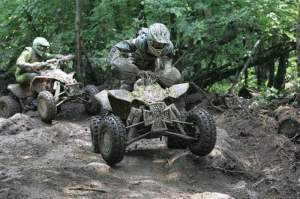 On your way to Mountain Ridge this weekend, you may notice some construction in the area. Several new windmill farms are being built in the area, and due to the construction, the Mountain Ridge ATV Trails Resort will not be open for public riding this year. However, they will still open this weekend to host our GNCC.

The park plans on re-opening to the public for riding in 2010, once the new windmills are up. Here's a story about the place that aired on the local news in Johnstown, PA last night:

http://www.wjactv.com/news/19451204/detail.html

So we're still going to Somerset so you will still get your favorite GNCC obstacles: such as Rockin' Randy, the gnarliest rock section in the series. I know I know, machines have already taken a beating in the mud at the last two races. Well, this is off-road racing and it's not supposed to be easy.

We talked to GNCC Trail Boss Jeff Russell today to get the latest from the track: "We missed all the big thunderstorms so far so the place is in good shape. Some water remains down in the bottoms, but, as you know we have a pretty good amount of rock in this soil, so that should keep it from getting too muddy. As Lieutenant Buren says, you can't hurt rocks!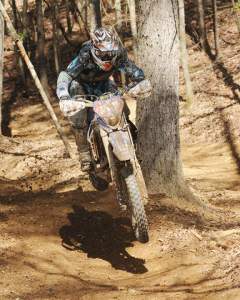 We're trying to ease up a little this year as far as the rocks. We have a nine-mile loop for morning ATVs and 11 for the afternoon ATVs, and then we'll change it up some for bikes. There's a mile or so of pretty tough rocks, and we'll run a small part of Rockin' Randy just for spectators. But we're not going through too much of it, so it won't be so hard on equipment. We found a few miles in the pine trees where it's not quite so rocky, we're trying to find that happy medium to not make it too hard but not make it too fast."

As far as rain this weekend, the forecast again looks fairly clear, with a chance of thunderstorms on Saturday and Sunday (which is to be expected this time of year). But it doesn't look like a monsoon is headed our way-just like it didn't look like we would get one at the Titan. Cross your fingers.

Don't forget GNCC Track Smack will hit the air (web) waves Friday and Saturday at 6 p.m. Hosts Rodney Tomblin and Dave Smith have some good guests lined up each night, with ATV guys on Friday's show and bike guys on Saturday. Look for a breaking news link up here on the site when the show begins each night.

We also have UTVs returning to the series for their second round of the season. Last year the course was set up in a valley so fans could see most of the action, and we should be able to pull that off this year. Stick around and watch at 4:30, the UTVs put on a good show. Here's Jeff Russell again on the UTV track:

"We have a different set up this year since we're starting on the starting line and finishing at the finish, but we'll still run most of the track in the valley like last year. Should be a four -mile track."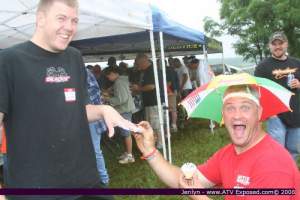 Our friends at www.quadzone.com will also host a dinner at the track on Friday. It's free, and not only is it good food, they will also have a big raffle going to collect money for www.RiderDown.org, the organization that raises funds to help injured riders.

What's available from the QuadZone people? Check this out:

Cookout Details
When: Friday - May 15, 2009
Where: Somerset, PA GNCC
Time: 6:00 P.M. till >

Location: My (Gary Belbeck) pit area, usually on the end corner of pro row.
Menu:
Pit Beef
Pit Ham
Baked Beans
Carb Load Buffet: Pasta
WE NEED LOTS OF DESSERTSӬӬ
BYOB Ӭ"Bring your own beverage"

*********************************************

The Following Items Have Been Donated

****** Pro Rider Autographed Jerseys ******
And

Albright Motorsport Communications
Mid-Season" Update PackageӬ
Update Package #1:ӬOne Page Design,ӬCreation of your individual update and 15 professional copies Ӭ
ATV Exposed Magazine
Front Cover Photo Shoot
1 Page Feature Article
Fast Company
1 Set Of Flexx Handle Bars- Your Choice of Bend
Bar Pads
Fly Racing
TBD
GBC TIRES
2 Set sport tires
1 Set utility tires of winners choice
Plus t-shirts / hats
1 GBC e-z-up
GT Thunder
Shock Conversion Package
Your choice of front or rear + link shock upgrade or HLSӬbasic front shocks. *Rules Apply
T-Shirts/Hats/Posters
Hiper Technology
2 Sets Of CFR1 ATV Wheels
Your Choice Of Quad Fit & Color
T-Shirts/Swag
HMF
1 Full ATV Exhaust System (Excluding UTV)
T-Shirts/Swag/Posters
Indiana Cross Country Racing
T-Shirts
Iron Pony
Gift Cards
Klotz Lubricants
1 Can of Race Fuel
Maxxis Tires
TBD
Mobile Skinz
$500 Gift Certificate Towards a wrap or decaling for a trailer, motor home, etc.
Moto Pro Training
Training Consultation- Good For Training or Nutrition Program
Racer Productions/GNCC Racing
Tuesday Toolbox Feature -Toolbox Interview
Race Entry Fee Pass's
Good For 1 2009 Race Entry Fee Waived
Rath Racing
1 Complete Set Of ATV Alum Products
1 Sport Quad Pro Gusset Frame Rebuild Package
Adult T-Shirts
Youth T-Shirts
Phil Cole Training
Gift Certificate for in-season Race Program
Precision Racing Products
1 Precision Pro Stabilizer- Your Choice of Quad Fitment
PowerMadd
TBD
Pro Fab ATV
Custom Engine Head Work Package
Spider Grips
Grips T-Shirts/Swag
Tire Balls
TBD
Quad Magazine
TBD
Quadzone.com
Hats
Tshirts
Hoodies
Tickers
FREE FOOD

**** Meet the door prize girls ****

So, if you're going to be at the track on Friday, buy a raffle ticket and hope for some good luck!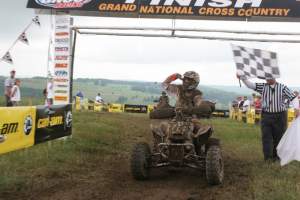 Here's a thank you note from ace GNCC shooter Amy McConnell:

I would like to personally thank Mark Warnert and the whole Can-Am crew for their hospitality at the Titan GNCC. They hooked me up with a cool Can Am rain jacket/pants and a 4x4 to ride around on. I was dry/mud free and stayed on two feet all day long. It meant alot considering the "Klutz" just had knee surgery in Jan and was recovering from my fall. Thank you Rita Coombs for giving me permission to ride the Can-Am to take photographs. Just another reminder that GNCC racing is truly a friendly & family oriented sport!

Thanks again and was very much appreciated!!

Amy McConnell
XCountry Photos
http://xcountryphotos.smugmug.com.


Pennsylvania has a rich heritage in GNCC Racing, and while the series has branched out quite a bit to draw talent from all over the U.S. and the world, there are still plenty of racers who will call this event their "home race." On the ATV side, Chris Borich will carry the torch for old-school Pennsylvania four-wheeled flyers like Tom Tokay, Chuck DeLullo and, yes, Barry Hawk, while on the bike side, I guess Barry Hawk himself is carrying the torch for himself!

You can't get much more bad luck than the bad luck that the Am-Pro FMF Yamaha boys have had this year. We're talking zero podiums for a team that used to be a total powerhouse in the game. But I have a suspicion that such good times will soon be here again for that team. Thad DuVall is going to have to have a good race at some point, stupid little bike problems can't happen every week, right? And you can never, ever, ever count Barry Hawk out, especially not in his home race. And heck, even Jason Raines will do battle this weekend, and he's fired up after running in the top three on his old YZ250 two weeks ago.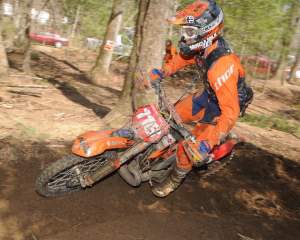 Our friends at PowersportGrafX have set up an awesome new giveaway program for our bike racers. They're starting a new "Ironman" Award program for our bike afternoon riders who compete for three hours. Each weekend, the last rider to take the checkered flag will get a new set of numbers and backgrounds for their bike. In GNCC Racing, the race officially ends 45 minutes after the winner has crossed taken the checkered flag, so the last rider to get the flag at the end of the race will get new numbers. Who would have won it last time? Well how about this for fun: The "Ironman" at the last race was none other than former NBA center, all 7'4" of him, Rik "The Dunking Dutchman" Smits! Rik is racing the Vet 40+ B class this year and is second in points. The Titan GNCC was cut to two hours, but Rik kept on trudging to finish his four laps in 2:55. And that was good enough to win his class!

Rik has enough money to get all the graphics he wants, but this week, the longest ride of the day will get the fresh new numbers, courtesy of Bart Hayes and the gang at RidePG.com. And if you don't win, you can still get new stuff at a discount:

PowersportGrafx announces Summer Clean-up
Is your bike looking a little ragged after the last few events? Contact your friends at RidePG.com for a smoking deal on re-prints of your graphics. From now until the end of June, call or e-mail to receive a 25% discount on re-prints of entire kits or even pieces of the graphics kit you ordered earlier in the season. Have your invoice or order number handy to help expedite the process. In need of a completely fresh look? Call or e-mail for details. Go to RidePG.com to see all of the cool designs!

Last week on the site we mentioned the possibility of the first-ever GNCC University School the week before the Snowshoe GNCC. This is an unprecedented opportunity to attend a riding school at a world-class facility hosted by Yamaha's GNCC superstars, including Bill Ballance, Traci Cecco and Johnny Gallagher on ATVs and Barry Hawk, Thad DuVall, Jason Raines and Randy Hawkins on bikes. Well, the response from your emails last week was overwhelming, so it looks like the school is a go.

We'll pass out some flyers this weekend and post official details next week here on the site.

And for those already looking ahead to our next GNCC, the Wiseco John Penton in Ohio, we have a special hotel discount at the host hotel:

Host Hotel:
Burr Oak State Park 800-282-7275 use code "GNCC"
Special room rate: just $79!
Just 13 miles from Sunday Creek Raceway (site of the race). Lodge, cabins and camping.
www.burroakresort.com

Racer TV is on break right now since Versus is covering the Indy 500 wall-to-wall on weekends. Shows return on May 23rd.

That's it for this week. Should be a nice short drive for all of the northerners who have been waiting and waiting for the races to get closer to home! See you at the races!