Jason Weigandt
Quick Fill #19: This Week in GNCC!
Thursday, May 7, 2009 | 6:45 PM
Welcome to Quick Fill. Sorry about the weather.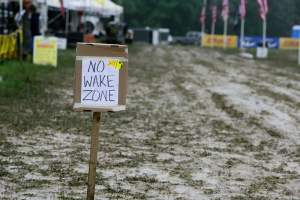 I swear, I absolutely totally 100 percent swear that last week, when I wrote Quick Fill, the weather report said 70 percent chance of rain on Friday, 40 percent on Saturday and 30 percent on Sunday.

But as Jason Raines summed up in his race report: The weather was calling for a chance of rain all weekend (40%) but I think the weatherman messed up. He should have predicted a 100% chance of rain with no likelihood of stopping all weekend, because that was what it did.

Yes, we've made mistakes here before. Before a GNCC in Texas in 2006 we said the weather would be great, and it was darned cold. Bad weather has a habit of following us-Loretta's was bad, but not this bad, but still, it was bad. We'll do our best to avoid rain in Somerset next weekend, everyone needs a break.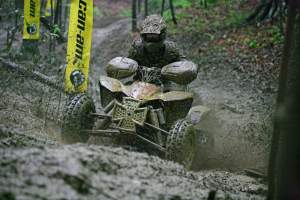 Unfortunately the rain spoiled the inaugural event in Lafayette. Jeff Russell said it wasn't all bad, though. When the bad rain started rolling into the Titan, he called Loretta Lynn Ranch just to see what they were dealing with, as the same storm rolled through their place. They said the entire motocross track and Area 3 camping spot were underwater-if we had tried to race at Loretta's over the weekend, we might have had to cancel altogether. And if we had this type of rain at the old Sparta, Kentucky, track, you might as well forget it. There was no way we could have raced-remember 2004, anyone?

It was so bad on Sunday that the crew considered combining the morning and afternoon races together into one two-hour race at noon-the track was going to be a mess after the morning race. Instead, they decided to shorten all the races-one hour for Youth bikes, one hour for morning, and two for the afternoon. We had to cut down last year's John Penton GNCC, similarly, and I doubt anyone complained in either case.

The 4x4 riders cleaned up, pardon the pun, in the morning race. Bryan Buckhannon took another overall win back to his mountain test facility in West Virginia-he's still undefeated for the year in Open 4x4 on his Warnert Can-Am. Same for Michael Swift in the 4x4 Limited Class-he took second overall and hasn't been beaten once this year. Another morning race rider on a Can-Am had reason to celebrate: Lexie Coulter just turned 30! You go girl.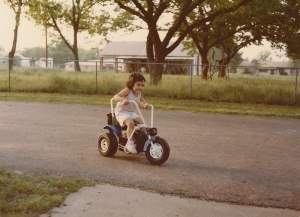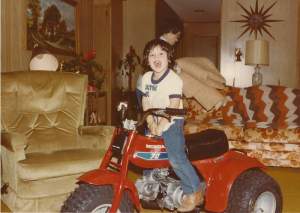 Also, props out to another West Virginia guy, Brent Sturdivant. The "College Guy" led a bunch at the race on his Warnert Can-Am and finished fourth overall. Sturdivant has shown great flashes of speed over the last few years, if he ever figures it out, he'll be a contender.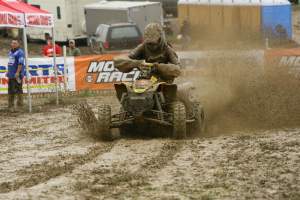 Traci Cecco won the Women's class for the second race in a row. We might just end up with another crazy battle for the Women's title this year. And the racing communicator, Jennifer Albright, took second on her GEICO machine.

Albright had more work to do this week. Taylor Kiser won the race for his second victory of the season-he won it on his own merits and showed everyone that he can ride mud and clay just as well as sand.

Unfortunately, Kiser, Adam McGill and Don Ockerman were seen off the main race line on the first lap of the race. There was a huge pack of riders battling for the lead at that point-Sturdivant led, but the string of riders right behind him stretched all the way back the XC2 class. McGill made a left and found a better line up a very nasty hill, and Ockerman and Kiser followed him up it. Well, it turns out they were more than 25 feet outside of the main race line, and we had video of the section to check with. It was hard to figure out who was who just looking through the viewfinder on our Racer TV cameras. But when we got back to the office and watched the clip on a big screen TV, it was obvious who was involved. So, we invoked the same "positions you gained plus one" penalty we've used before, which pushed Kiser, McGill and Ockerman back a few spots.

Credit to Taylor, who took it like a man-his PR girl, Coulter, sent out his response to the penalty yesterday, and it was a professional way to deal with it. And make no mistake-Kiser would have won the race even if he hadn't taken that line. He used it only on the first lap, and he was in seventh at the end of that lap. He made legit passes to get into the lead later on.

So now Chris Borich wins the race and gets the points lead back, just one race after breaking a chain at Loretta's....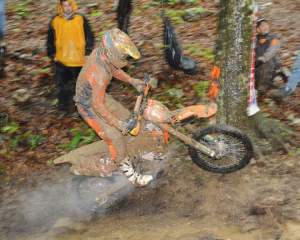 Just like Paul Whibley who won in the bikes and got his points lead back, too. The worse the conditions got, the better Whibley rode, and he pulled away from his teammate Jimmy Jarrett down the stretch. That's another 1-2 finish for Team GEICO/JG Racing /Monster Kawasaki, and team manager JT Bennett even busted out his old YZ125 to take second overall in the morning race.

I like Whibs' quote from his post-race report: I am back in the points lead now and plan to stay there.

The mud just took its toll on everyone except the super-tough man from New Zealand. Josh Strang said he had the wrong mind-set for the race:

"My head wasn't in the right place," said Strang. "I was pretty bummed about it. It was a stupid mistake. I went into the race with the wrong mind-set or something. I just didn't want to ride in the mud. From the get go I felt alright, if I mentally wanted to go ahead and ride I would have gotten in the top three or maybe gotten another win. I had a few little crashes but nothing bad. It just wasn't a good day. Not to worry. I'm good to go now."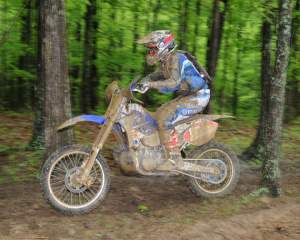 Also Thad DuVall's bad luck is unbelievably bad-he broke a chain guide while running in third. Thad has also busted a wrist, an ignition and his fuel line this year. In fact, he hasn't had a drama race yet, and he's not even riding over his head, "Bad" Thad style.

Jesse Robinson is now riding Dustin Gibson's old Husaberg, he got tenth in the class and said he likes the bike.

WORCS contender Mike Brown showed up to ride for Shock Doctor/KTM. The track is too darned close to his house for him to stay away. He rode one lap in the mud and called it quits-and said he wishes he had decided not to race. When you're racing just for fun, that mud isn't fun!

Brown's teammate Nathan Kanney has traded his 300XC for a 450XC, but he sucked some water up early and never had a chance to show what he could do. Meanwhile, Kurt Caselli used the worst conditions of the season to show some speed. He mixed it up with the lead pack early and seemed to have a little mojo going. We'll see if it keeps up at the rocky track next weekend.

And Jason Raines partied like it was 2004 on a YZ250 two-stroke, and ran as high as third at one point! He's fired up and he'll be back for Somerset.

ATV racer Bryan Cook finished eighth in the XC1 class. We just want to mention him because he doesn't get enough love.

We felt the same way about the bike Youth dominator Chris Meadows, who has now won four overalls this year. Check out Tuesday Toolbox with Chris.

Dan from GNCC Scoring has informed us that online pre-entry is ready to go for the rest of the season, starting tomorrow. You can sign up for the Somerset race a week in advance and skip the signup lines. You'll see a breaking news link to online signup starting tomorrow afternoon.

Let's congratulate our special award winners from the Titan: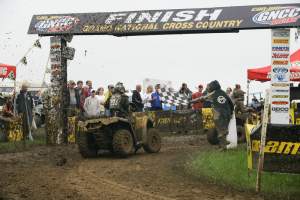 MotorcycleUSA.com XC1 ATV Holeshot Award: Jarrod McClure
Rekluse XC2 ATV Holeshot Award: Dave Phillips
GT Thunder Morning Race Overall Award: Bryan Buckhannon
ATV Top Afternoon Amateur: Jamie Bithell
Coppersmith Suspension Amateur Bike Holeshot Award: Hix Hagan
MotorcycleUSA.Com XC1 Bike Holeshot Award: Jimmy Jarrett
Cometic XC2 Bike Holeshot Award: Kailub Russell
Bike Afternoon Top Amateur: Levi Clemens

ATV racers, check it out: Our friends at www.quadzone.com will host their annual cookout at Somerset next Friday night. Should be great food and fun, starting at 6 p.m. at the track on Friday. PoPo (Gary Belbeck) will have it all set up in his pit, he says it will be easy to find. Even better, this year Quadzone will put together a raffle with all kinds of cool parts, gear and accessories, including tires, wheels, steering stabilizers and more. It's $5 a raffle ticket, and all the proceeds go to a great cause, Rider Down ( www.riderdown.org ).

We'll have full details on the raffle items next week. But the bottom line is, get there early at 6 p.m., buy a ticket and maybe get some good stuff.
Cool story: William Yokley dropped out of the race with mechanical issues, but while he was hanging out in the pits, he rollled a brand-new quad out of the trailer so he could go out and help pull stuck trucks out of the muddy pits. Cool guy, that Yokley.

Okay gang, that's it for this week. Enjoy your weekend off. I know I will!