Jason Weigandt
Quick Fill #18: This Week in GNCC
Thursday, April 30, 2009 | 4:15 PM
Welcome to Quick Fill. We have a new track waiting for you.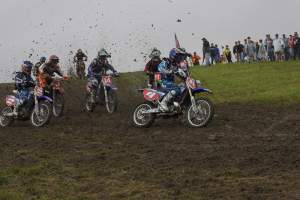 Now that the GNCC Series has grown so much, it makes it both much easier and much harder to find places to race. On one hand, we have more people coming to us and asking to hold races than ever. When you have races on TV and good media coverage and an international audience, people start coming out of the woodwork looking to get involved.

But on the other hand, our series has gotten so big that it's hard to fit everything into one place. A lot of old tracks are gone just because we ran out of room-not enough parking at Winter Place, ran out of woods at High Point, not enough room in Bunner's Ridge or the Hard Rock, Boyers....basically, our facilities have had to evolve into "camping areas where a race breaks out."

So most of the ideas for new tracks are missing key elements. Good trails, not enough parking. Good room, but not level. Nice track, but too far away from highways, hotels and restaurants. Great local community, but not enough help available at the track. It's always something, and while the landowners that come to us always have good intentions, they rarely know enough about GNCC racing to know if it will really work.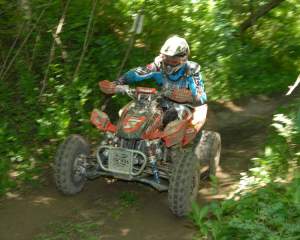 Anyway, we think we've found a gem in this weekend's Weekend Warrior Titan GNCC. First, there's plenty of room, with good flat parking and plenty of fresh woods to make new trails. The place is just over an hour from Nashville, and we have plenty of local racers who will appreciate another short commute to the races (and when we say this, we know people from Ohio and Pennsylvania and Indiana are saying "Hey, it's not close to us!" but hey, you'll get your turn).

But the main difference in making this place work where others haven't is the support and understanding of the people who own and run the land. The landowner is really into the race and will do anything that it takes to make it work. Bulldoze this? Clear that? Build this? They will do it. Also on board is ex-GNCC ATV Pro Brad Page. Brad lives close by and still follows GNCC racing closely, and the multi-time GNCC overall race winner simply would not give up until this track was on the schedule. He called our office over a year ago to tell us about the land, and kept calling and kept pitching. He even showed up at Loretta Lynn Ranch during our bike and ATV motocross races in August, hoping to get our crew to make a visit while they were in the area.

Eventually our boys checked it out. GNCC Trail Boss Jeff Russell gave the track a thumbs up, and now we're ready to race.

We've had a lot of calls recently about running UTV races at the Titan. We will not be doing that this year. The track looks to have the space for it, but we want to get through the first time with our typical schedule, and then look to expand next year. Same for Florida, which also turned out to be an awesome new addition to the series.

Russell says this track will be very similar to Loretta Lynn Ranch, although there aren't as many hills here. We hope the weather is closer to what Loretta's had on Saturday-about perfect-instead of Sunday, which was muddy.

But looking at the weather, there is no way to know. Looks like it could rain on Friday, which would make the track perfect, but if that spills into Saturday or Sunday, it could be a bit much. But we're hearing scattered thunderstorms, not anything huge on the race days. Click here for a weather report.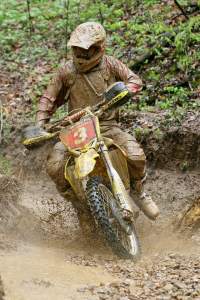 We're up to round six in the series, so this will be a pivotal weekend. At the very top, Josh Strang has won three-straight. If he gets four, he will seriously be in the head of his competition and might just run away with everything. Just look at the way Josh has won the three races-some up front, some from behind, one by outdueling Paul Whibley on the last lap and one in the mud. So, there's not much he can't do. Don't think the competition doesn't know this.

In fact, there are people in the Strang camp waiting for Josh to take his star turn. Yes, the folks watching the races are impressed with the kid, but he's not a household name outside of the GNCC circuit yet. That will change if he keeps this up. Just a few years ago no one knew who "That Joo-Ha guy" was, and now he's known as perhaps the greatest of all-time off-road. Shane Watts was sure able to grab some fans, too. Strang's a nice guy, he's going to be really famous, soon.
A correction from last week's Quick Fill: Dustin Gibson is no longer on Husabergs. He's chasing contingency money on Kawasakis for now on.

One cool bike class to look at is the Four-Stroke Lites B division, which seems to be the class most top GNCC Bike Youth racers graduate into (all with eyes on racing 250Fs in the XC2 class, I'm sure). That class is wide-open, as AJ Stewart leads the points despite not getting a win yet, and Greg Funk has come on to win three in a row. Check out that class' standings here:

In bike youth right now, Chris Meadows continues to roll by winning Loretta's-his third victory of the season.

And if you're there early enough, you might want to check out the Youth ATV podium this weekend in Tennessee. That series has been crazy this year, with overall winners coming from a variety of classes. New York's Doug Howarth won Loretta's, Blake Chirdon and Derric Robinson have been fast in his 90 Mod class. Jay Shadron has an overall win from the Limited class, and the Supermini division, which doesn't seem to be drawing Cobras anymore, has featured an awesome battle with Ryan Early and Levi Coen.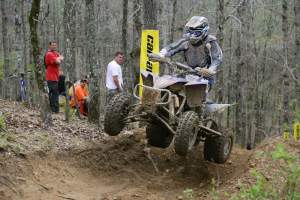 On the big machines, Bill Ballance continues his comeback. The riders in front of him in points, like Adam McGill, Chris Borich, Taylor Kiser and Bryan Cook better stop him now, because if Bill gets rolling he could just end up as champ again. I can't figure out what he racing gods are thinking when Borich breaks a chain while leading Loretta's, and Ballance rallies for a win. Things sometimes just go Bill's way.

As a note, it looks like a bunch of the Yamaha guys and girls have Houser A-Arms on their machines now, and seem to be dialed in.
Have you read Rachel Fluharty's excellent Tuesday Toolbox with Super Senior ATV rider Glenn Pritchard? If not, do it now and do it through this link.

Okay gang, it's time to pack it up and head to Tennessee. Don't forget to check out GNCC Track Smack, our live audio show from the track-should be rolling at 6 p.m. EST on Friday and Saturday evening. You'll see a link up here on the site once the show begins.

And GNCC TV heads to Morganton, North Carolina this weekend with ATV coverage this Saturday. All I can say is, the racing is epic. Seriously, if I wanted to pick one episode of the show, and one race, to say "this is what GNCC racing is all about" this weekends show would be the one. Click here for details.

And one more note: rumor has it that GNCC online pre-entry will return for our next race. Stay tuned.

Okay folks, get on the road to Tennessee! And thanks for reading.