Jason Weigandt
Quick Fill #17: This Week in GNCC
Thursday, April 23, 2009 | 5:00 PM
Welcome to Quick Fill. How about that Bill Ballance guy?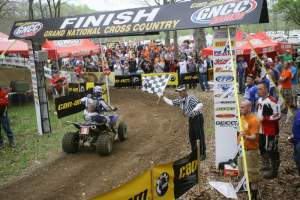 Time and time again Bill's time at the top has been marked as over and done-I can go all the way back to the winter in 2004, where all the websites were saying how Bill's style doesn't lend itself to four-strokes, and how all these hungry young guns were finally going to get him. Or we can look at the year when Bill broke his leg over the summer and had to miss a race. Or we can look at Chris Borich putting Bill on the ropes for a few years, or Adam McGill totally and completely dominating early last season. But somehow, some way, Bill Ballance always found a way to make the championship his again.

But I don't think he's ever faced an obstacle like he did this year. Now the story can be told. A few months ago, Bill found out he had cancer. It took awhile for him to realize what was going on, because he injured his ribs before Snowshoe last year, and any aches and pains were really just thought to be part of that injury. But it went on and on, and Bill finally got checked out and realized this was much, much worse than a case of bruised or broken ribs.

Read the excellent Tuesday Toolbox Rachel Fluharty put together with Bill this week for more.

Anyway, not only did Bill have to have ribs removed due to the cancer, but the timing was terrible for racing, as he only had a few weeks to recover before we went to Florida. Not only did he miss out on a ton of very critical testing time for the new YFZ450R, but he really wasn't ready, physically, for the first round. Of course, like the warrior he is, he jumped on his machine and tried to race anyway, but after four painful laps he had to pull it in. He tried again a week later in Georgia, but he came up a lap short again.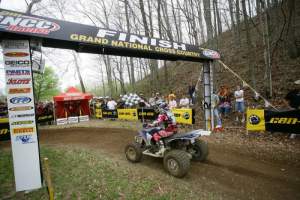 His podiums at the next two races were products of sheer grit and smarts-the Yamaha guys were still struggling to get the set up right with their new machine, and Bill was still hurting bad. But then this weekend at Loretta's, there he was, back up front and ultimately outlasted his teammate Brandon Sommers to win the race. A 1-2 finish for Yamaha, obviously, they have those '09's figured out now.

Meanwhile, Ballance's all-time rival, Chris Borich, broke a chain and didn't finish. Ballance made up a full 30 points on Borich over the weekend, and he's only 31 points-one race-away from the points leader, Adam McGill. A year ago at this time, McGill had a 17-point lead over Ballance, and Bill ended up winning the championship by 41 points. Don't count the man out, again.

Another of Ballance's teammates, Traci Cecco, got her first win of the year, too. Angel Atwell took a solid third behind Lexie Coulter after winning four-straight to start the year. Cecco has come from behind to win this championship before, we could have the makings of another knock-down drag out fight for the Women's Championship.

But Cecco and all of the morning race riders had to take a back seat to a pair of "old guys" who busted out 1-2 overall finishes. Glenn Pritchard is now eligible for the Super Senior 50+ class and he won his class every time this year. The defending champ, 60+ year-old John Gallagher, is going to have a tough time with this Pritchard kid! Remember, Glenn was on the podium a few times a few years ago when he was racing the C class-he's 50 years old but has only been racing ATVs for four years.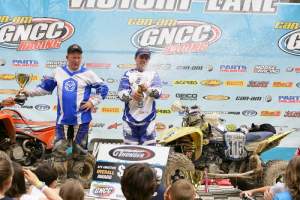 Second overall went to Mike Benson. Mike won the U2 class, and no one has come closer to winning overalls without actually getting one than Mike. Someday, he's going to get it done.

Finally, congrats to the "big three" of the 4x4 classes, with Michael Swift, Bryan Buckhannon and Cliff Beasley winning their divisions.

And shout outs to some afternoon ATV riders. Bryan Wolfe and Josh Kirkland put on another awesome battle in XC2 Pro-Am, this will be a great championship fight if these boys keep it up.

And, we're going to mention Bryan Cook's name here because the guy just never gets the limelight. So, for now on, we're mentioning where Cook finished after every race. He finished fourth at Loretta's and is right there in the points on his Houser Racing Honda.

As for chain troubles, Borich was not the only one. Borich came into the race as our ATV XC1 points leader, and, amazingly, the rider who was leading the XC1 bike points coming in, Paul Whibley, also lost his chain!

What's up with that? I talked to our GNCC Sweep Rider, Tommy Harris, about it. "Loretta's has always been tough on chains, and this year, it seemed like most of the problems we had were chains," said Tommy, who raced GNCCs in the A class on bikes for a long, long time before joining our staff. "When I raced there, I had chain problems. When you get down in those ruts, there's a lot of that small gravel there, and your chain picks it up and drags it through the sprockets. This year on sweep, I got in a rut and thought I had lunched the tranny, but it was just a bunch of gravel grinding around in the countershaft sprocket."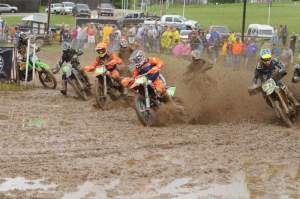 Luckily the ATV riders only had to deal with the gravel. The bike riders had mud, mud and more mud to fight through after rain came down on Saturday night. So you know what this means, the momentum is on the ATV side, and you can bet most of the races this year will be dry on Saturday and muddy on Sunday-it's just the way this series works.

Either way, there's no stopping Josh Strang right now, as the now-21-year-old Australian rode just as strong in the mud at Loretta's as he did in the dry at Big Buck. And thanks to Whibley's bad luck, Strang has come all the way back to grab the points lead despite running out of gas in Florida. Could he be the next superstar?

Something cool, I talked to Strang today, and he's out pounding motos with Whibley, Kearney, Jarrett, Mullins and youth racer Chris Cragg. These guys are battling for a championship, but they can still have fun riding together during the week...that's classic GNCC right there.
Once again plenty of other bike riders were in the hunt, as the XC2 riders were up in the overall. Scott Watkins led everyone on lap one, and Kailub Russell held the overall lead at the end of lap two. I asked Watkins why everyone is going so much faster.

"I don't know for sure, but I know we're all working way harder than we used to," said Watkins, who ended up taking his first XC2 win of the year. "I know when I was in 250 A, coming from the second row, you were trying to pick pros off and get momentum going. But back then, I would do some riding during the week and maybe ride a stationary bike a little bit. That was it for training. Now, it's a full-time living for a few of us in this class, and I know everyone is working hard."

Not to say the XC1 guys aren't working either. "I know Whibley, I don't think that guy likes to have fun. All he does is train."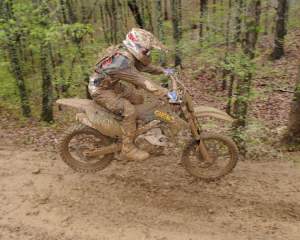 But Watkins may have a point. For years, the front-row pro bike riders were the only ones riding and testing and training full-time, but now the XC2 class has become a coveted title, too, and those kids are going for it.

Heartbreaker for a few of the young guns this weekend. Thad DuVall led laps for the first time this year, but his fuel line slipped off, ending his bid for a win. And in XC2, Cory Buttrick waited until late in the race to make his charge, and it paid off when he got around Jason Thomas and Russell (who had to make an extended pit stop to flush mud out of his eyes) to take over second. But a half-mile from the finish, Cory B's bike let go. That was the first DNF ever for Cory in GNCC competition-first time ever in nine years of riding, dating all the way back to his 65cc days!

A few more quotes from some bike guys, courtesy of Rachel "Not an intern for long" Fluharty:

Jimmy Jarrett, 2nd Overall:
"The start went good. Thought I had the holeshot but I connected with Mullins. Thankfully I didn't go down. I was leading at one point on the first lap and stayed together with the whole lead group for most of the race. Then I sort of led a charge to get up there in front at the end. It was a pretty good day. I was pretty happy."

Barry Hawk, 4th in XC1:
"I started lined up on the far outside, and was maybe around 7th or so getting into the woods. Fairly quick I got up into second. I was pretty content in second. In the end of the first lap Strang and I kept going when everyone pulled into the pits. I caught a rock, which threw me into a tree. On the third lap I got stuck on a hill and lost about a minute. I got back on and I ended up with Jimmy in the third or fourth lap. It was actually kind of fun. I tried to gain some on him. I made a few more mistakes and going into the last lap I was behind Jimmy and midway through that lap I was pretty much with him and on the one bad up-hill I lost another minute. I lost my front brakes and didn't have anyone to key off of so I rode cautious and just tried to limp into the finish line. I was disappointed, but in a race that muddy with so much going on, knowing that I've still got the speed and be there with those guys, I still had fun.  I just need to eliminate a few mistakes."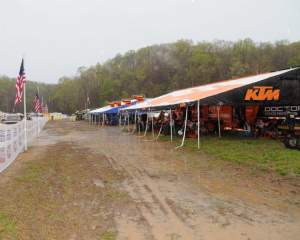 Andrew Matusek, 9th in XC2:
"It was a disaster pretty much. I came off the line and I was right behind Kailub on the second straightaway. Then, there was basically a tidal wave of water that went into my goggles so I had to toss them. Right in the woods I got hit in the eye with a golf-ball sized rock. The first lap was sketchy without goggles on. The rest of the race was pretty much a survival race. I had a few bike issues but nothing major. I went down one time and my front end was tweaked up and I had to go to the pits to fix it. I had some troubles, especially with the mud. I didn't ride to my fullest ability, really. I had a couple laps were the lap times were decent and a couple laps when I was in the pits for minutes. I need to minimize those problems. I'm looking forward to the (next race) Titan so I can be back up front."

Also a pat on the back to Husqvarna's Glenn Kearney and Husaberg's Dustin Gibson, who finally had good luck for once and grabbed fifth and sixth, respectively, in their classes-their best finishes of the young season.

MotorcycleUSA.com XC1 ATV Holeshot Award: Chris Borich
Rekluse XC2 ATV Holeshot Award: Brian Wolfe
GT Thunder Morning Race Overall Award: Glenn Pritchard
ATV Top Afternoon Amateur: Walker Fowler
Coppersmith Suspension Amateur Bike Holeshot Award: David Dickinson
MotorcycleUSA.Com XC1 Bike Holeshot Award: Kurt Caselli
Cometic XC2 Bike Holeshot Award: Kailub Russell
Bike Afternoon Top Amateur: Ted Mullins

Here's a letter from GNCC photog Amy McConnell, who has a rather embarrassing excuse for not making it to Loretta's and shooting for Quad Zone:

I would like to make a special "Shout out" to those GNCC riders, families and friends who contacted me over the weekend. I was unable to attend the Loretta Lynn's racing event.
I took a bad fall down our basement steps on Wednesday afternoon. I didn't realize the severity of the fall until I started seeing double and got sick on Thursday. I ended up with a concussion and messed up the C4-C6 vertebrae in my neck. Of course, it's right where my camera sets. It just feels like a bad case of whiplash. I'm actually going to listen and not take any photos for two weeks.
Denny Shadron couldn't have labeled me any better, "Klutz." A little of that, along with always being in a hurry, doesn't mix very well. My mom always tells me, "Life is too short, Take the time to smell the roses."
Thanks everybody for your concern and I will return to Round 6 "The Titan" at LaFayette, TN.
Thank you!

Amy McConnell
XCountry Photos
http://xcountryphotos.smugmug.com.

Okay, this was a long one so we're saying bye for now. Enjoy your weekend and we'll see you in Tennessee, again, for the next race!