Jason Weigandt
Quick Fill #16: This Week in GNCC
Thursday, April 16, 2009 | 2:45 PM
Welcome to Quick Fill. Loretta's time!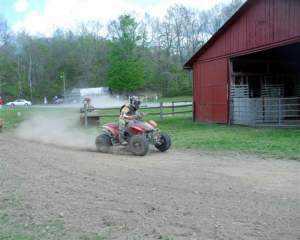 It's always a good time when it's Loretta's time. Tracks, riders, classes and rules come and go in this series, but Loretta's never changes. That makes it easy on us. In two weeks, we'll be racing at a new track in Tennessee for the Titan GNCC, and new tracks make for a lot of work and a lot of unknowns. For Loretta's, it's pretty easy. In fact, we don't really have much to report this week here.
But Quick Fill is no longer the only place to get your GNCC pre-race fix. At the last few races, we've been hosting a new Friday-night interview show called "Track Smack." Racedaypix.com's David Smith came up with the idea, and he and our live announcer Rodney Tomblin have handled the interviews. They've come up with some really good stuff, including interviews with Nathan Kanney, Adam McGill, Walker Fowler, Barry Hawk, Andrew Matusek, Kurt Caselli and others. Go to http://racedaypix.com/Track_Smack.html to check them out. Anyway, the boys plan on taking it to another level this weekend, and we're going to try to stream the show live. Our man Dan from scoring has worked with the folks that put together our live timing and scoring from the races, and they plan to have a link up on Friday night. So come back here and check the site on Friday for the first-ever live edition of GNCC Track Smack. It just keeps getting better!
Also, big thanks to www.KTM-Parts.com for sponsoring the Live Timing and Scoring from the track. If you need KTM parts, these are the guys to see!
Anyway, Loretta's is the longest-running race on our schedule and still the one that many claim is "the one" to win. There was a time when most of our events took place in the West Virginia and Pennsylvania area, and Loretta's was the main southern event. But nowadays the entire tour has a southern touch, with three races in the Carolinas, a new one in Tennessee, and a whole pack of racers on the track every weekend from the South.Loretta's was always big for the bike riders, as the event hosted some epic events through the 1980s and 1990s, with Kentucky's GNCC King, Scott Summers, taking many a win there. Then around the turn of the millennium, Loretta's started becoming big on the ATV side, too, because it seemed like all of the front-runners were from not too far away in Kentucky-one year, Kentucky boys Bill Ballance, William Yokley and Brad Page threatened to make it a Kentucky sweep on the podium. Summers is a northern Kentucky boy, but the ATV gang came from the Southern part of the state, not too far from Loretta's.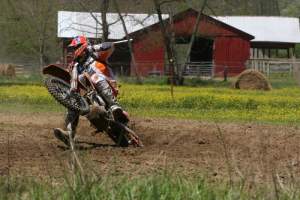 Loretta's carries big weight in our sport because it hosts the annual Air Nautiques/AMA Amateur National Motocross Championships presented by Amsoil, the biggest motocross race in the world. We've seen plenty of GNCC racers switch over and race there, too, but it's just a totally different deal. As our own GNCC Trail Boss, Jeff Russell, says, "That's not place to go play motocrosser for the week."
Loretta's has an entirely different feel during the two weeks in the summer when it hosts motocross-both the bike race, and also the ATV Dirt Days motocross the week after. Even the track is different. The Loretta's motocross track is used during the GNCC, but a lot of the jumps aren't included, and even those that are have been rounded down a bit. It gets super rough during the motocross race, because the soil is ripped up deep and watered heavily. For the GNCC, the track comes in a lot harder, because it needs to hold up for two or three hours without the luxury of maintenance. And the soil around the track, in the woods, is often very sandy and whooped out. I tell the motocross people during the summer about that and they're always surprised-there's not a hint of sand on the moto track.Throw in the sand and whoops in with the heat and humidity and you have a tough track, physically.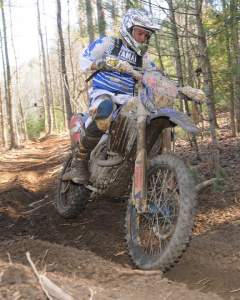 Back in the day, riders used to "race" their way into shape, and they were usually struggling a bit at Loretta's. Nowadays, everyone up front is trained to the teeth, so it's hard to pick a winner if the battle comes down to endurance. Even Paul Whibley, known as the strong man of the bike group, got upended late in the race by Josh Strang two weeks ago, so it's clear that everyone is on their game right now. I expect to see a challenge to the Whibley/Mullins/Strang trio this weekend. Thad DuVall and Nathan Kanney started the year with injuries, but you just can't keep that kind of talent down forever. Glenn Kearney has had the worst luck of anyone, it has to turn around one of these days. And Barry Hawk, well, we'll see if he can get this turned around. It's been a tough year for him so far, but he has gone fast at Loretta's plenty of times before.
And then we have the XC2 class, with Kailub Russell now feeling the confidence of his unbelievable run at the Big Buck.
On ATVs, Adam McGill is sure due for a win. The guy is doing what he could not do last year-be consistent-and we know when the day is right for him, he has as much speed as anyone. So, look out of McGill this weekend.
McGill's FRE KTM teammate Angel Atwell has won every round of the Women's ATV class this year-if she takes a fifth this weekend, it will be darned hard for anyone to take the title from her, as anyone else would have to win five of the last eight to take the crown. Check out Tuesday Toolbox for a great Atwell interview-she dishes on her new KTM, her relationship (or lack thereof) with Traci Cecco, and her friendship with Josh Kirkland. For real, I thought they were dating, but it turns out they're not. Anyway, it's all looking good for the KTM people, dating or not-they could win three titles this year. However, for Josh, nothing says you're in the "friend zone" like having a girl literally say it in an interview!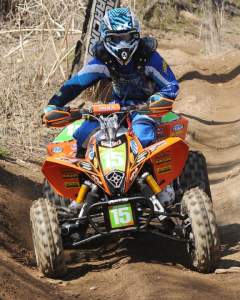 GNCC TV continues this weekend. On Saturday, the ATV race from Georgia makes its debut. If you missed Florida, you're missing out! So tune into Versus on Saturday at 2:30 p.m.
There's an awesome new DVD on the market called Champions at Play. The DVD is the culmination of a masive project by Randy Hawkins, the multi-time AMA National Enduro Champion turned Am-Pro FMF Yamaha Team Manager. Hawkins put this project together at first, and it took off from there. The DVD features in-depth looks behind the scenes of the top riders in off-road, including Barry Hawk, Jason Raines, Mike Lafferty, Kurt Caselli, Ty Davis, Jimmy Jarrett and even Malcolm Smith himself! It's a really cool DVD, as you'll learn a ton about the riders and the riding that made them famous. Check it out at http://www.amproyamaha.com/dvdinfo.html
Raines also has a redesigned website up and running. Get training info from him at http://www.rainesracing.com/
Okay, that's all we have this week. Have fun at Loretta's!