Jason Weigandt
Quick Fill #15: This Week in GNCC
Thursday, April 9, 2009 | 4:00 PM
Welcome to Quick Fill. And we keep rolling.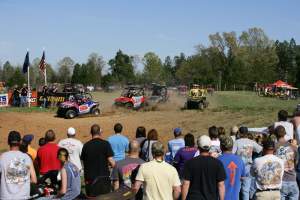 Okay, I've gone through this here before: the jinx. I could easily right now talk about how awesome the weather is at the races, how awesome the racing is, and how great everything is going in what everyone thought would be a down year.
C'mon, no risk there. Just watch us end up underwater at Loretta's next weekend.
But the Pirelli Big Buck GNCC was, by all accounts, another great one. Tim Cotter, our event manager for the weekend, told me "it was the best GNCC ever," but that's hard to judge because a bunch of people said that about our last race! So, I guess I'm jinxing things here by saying things are going well, but, hey, they're going well.
Great racing for bikes and ATVs. Our battle for the ATV overall came down to Chris Borich and Adam McGill battling through the final turns. The bike battle featured Josh Strang, Paul Whibley and Charlie Mullins in a battle of heart, will and guys down the stretch, with Strang emerging with the win. And behind that, XC2 leader Kailub Russell was going so darned fast that he nearly won the overall himself!
It was that kind of race weekend-the only one who really had a problem may have been Josh Strang's mom, who was so darned stressed out watching he son duke it out with Whibley on the last lap that she buried her head into her daughter's back and said "I don't think I can watch this!"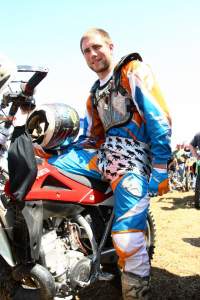 Can't argue with the determination of Strang and Borich, the Suzuki boys who both became the first two-time winners of the season. For Borich, you have to think he's feeling it right now since his all-time rival Bill Ballance is still not quite to 100 percent. Ballance is showing just how good he is by grabbing his second podium in a row, but Borich is battling McGill, Taylor Kiser and Bryan Cook in the points right now, and with two wins, he has to be feeling like the odds are on his side though.
As for Strang, he did the impossible: outdueled Paul Whibley on the last lap for a win. Whibs is called the badger because he just never let's you go on the last lap, but this time Strang had the strength to outlast him and win. I know Strang was torturing himself in off-season training at Rodney Smith's house-and all that hard work is paying off. Strang, Whibley and the rest of the top pros were running 30-minute lap times all day at the Big Buck, but on the last lap he and Whibley pushed so hard that they both dipped into the 29s. This is on the last lap of a three-hour race! Incredible. Strang also went down in the first turn and had to come from way back. Incredible again!
The bike pack is so darned close this year that the top six came into the pits together on lap four. Husky's Glenn Kearney got waved through, and he moved from sixth to the lead while everyone else was gassing. GK had also come back from earlier troubles and looked like he just might win the darned thing.
But then he ran out of gas. Oops. Kind of reminds me of Chris Bithell on ATVs in Georgia, where he led on the last lap and elected not to pit, and then ran out of gas.
"Mullins (the leader) made a mistake and I took the lead for a short period of time before running out of petrol 3-miles from the end of the lap," recounted Kearney. "The culprit was later diagnosed as a leaky fuel line. After getting petrol and returning to the race, I was only able to get back to 9th by race end."
"Bad decision on my part," confessed Seals. "We had a bigger tank than anyone I know of and I was certain that a fourth lap was not an issue. Wrong. I learned a lesson and if we ever run out of fuel again it won't be from my decision to push the envelope."
A lot of other riders are getting close to that top-three pack of Mullins, Whibs and Strang, but no one has broken through yet. Thad DuVall had some ignition problems, Jimmy Jarrett was battling arm pump, and Nate Kanney put in his best performance since taking third in Florida-but remember, even there, Strang was running third until he ran out of gas. Kanney is mending from injuries and I know would love to get a win soon.
As for Russell, his XC2 ride can only be described as epic. Time to tell the story: Kailub Russell is the son of Jeff Russell, the GNCC Trail Boss and 1991 National Enduro Champion. That makes for kind of a cool story, but kind of a tough one, too. Throughout Kailub's career, Jeff is very aware that rival racers are going to try to accuse Kailub of getting an unfair advantage because of his dad. Everyone here at Racer Productions has gone out of their way to prevent that from being the case-in fact, Jeff even moved Buren Hamrick over to become the main track guy at our races just to cut down on accusations. The fact is that Kailub was raised in Ohio with his mom, Tina, while Jeff lives here in Morgantown. Kailub and Jeff don't travel to the races together, and Kailub shows up on Saturday afternoon just like the rest of the pro racers. He absolutely positively does not get an unfair advantage on the track-and no one has ever accused him of cheating at any point in his career.
I figure now is the time to do explain this, because Kailub is getting a lot of attention lately, and it's all because he earned it. In fact, last year, when Racer X decided to run a story on the XC2 Lites class, the Racer X Art Designer, Dave Langran, didn't know which riders were which, so he included a full-page photo of Kailub because the photo looked cool. We told him to swap that Kailub photo out with a photo of someone else, because we didn't want people to think Kailub was getting extra love in the magazine.
So, because of this, Kailub has actually gotten LESS attention than he could have, because doing anything special would be perceived as an unfair advantage. Racer Productions doesn't work that way. Our series founder, Dave Coombs, had two boys racing in his races and they grew up, and Dave always knew that maintaining his integrity was the most important part of the business. Everyone here feels the same way.
So, we're setting the record straight now just in case anyone starts wondering about all of this later. With the way Kailub has been riding this year, he's going to be getting a lot more attention soon-just like Charlie Mullins did when he came through the amateur ranks, or like Thad DuVall when he started running up front in XC2.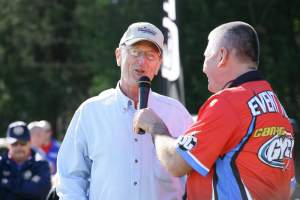 DuVall and Russell are now the only two XC2 riders to ever finish in the top three overall. They're both products of the GNCC Amateur and Youth programs. If there's any unfair advantage for them, it's that they have been racing in this format for a long time, and they have a lot more experience than even some of the older riders they are racing against.
Who will be the next DuValls and Russells? Of course Cory Buttrick is a rookie in XC2 and has a GNCC Youth Title to his name. Walker Fowler won a bike youth title, but he's a full-time ATV rider now. And last year's Youth Bike Champion, well, he's already flying. Steward Baylor, at just 14-years old, won the 200 A class over the weekend and finished 16th overall. Unreal!
Back in the GNCC Youth Ranks right now, Chris Meadows is showing the consistency he lacked last year-but with all of the speed. Chris won his second overall of the season at Big Buck, after battling long-time rival Layne Michael, and a pack of others, including Kyle McDonal and Cody Gragg. Good racing in the GNCC Youth bike ranks.
Of course Big Buck landowner Henry Turner rolled out the red carpet for us over the weekend. Miss South Carolina, Miss Union County and Miss Teen Union County were on hand for the event, and the whole darned town of Union gets into GNCC Racing big time. You have to love that.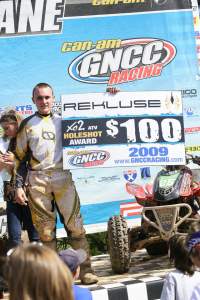 We also debuted UTVs for the season at this event. Nearly 60 machines showed up, and William Yokley won again in his National Guard Polaris-the man is starting a dynasty.
Okay, time to give credit to our special award winners for the day:
MotorcycleUSA.com ATV XC1 Holeshot Award: Bill Ballance
Rekluse ATV XC2 Holeshot Award: Parker Jones
GT Thunder Morning Race Overall: Angel Atwell
MotorcycleUSA.com Bike XC1 Holeshot Award: Charlie Mullins
Cometic Bike XC2 Holeshot Award: Josh Weisenfels
Coppersmith Suspension Morning Race Holeshot Award: Girogio Torregrosa
And finally, we close with a letter:
I have to share this story with you because two big positives did come out of our horrible weekend and it's a testament to how the GNCC racing community is filled with good people.  Feel free to post it if you see fit to do so.
After driving up from North Augusta, SC, on Friday afternoon, my son and I registered for his ATV race and we road the track on our mountain bikes.  Some of the big names like Chris Borich passed us on the track and my son and I thought that was sure cool...and by the way, we couldn't even keep up with those guys on bicycles! After not making the whole lap we got too tired and hungry and headed to the hotel.  We stopped at Fatz Cafe for some dinner and to wait on my wife and daughter who were driving up to join us.  While there we met Taylor Kiser's parents and his sister.  They are super people and proud parents (rightfully so) and we enjoyed a nice conversation with them.  They even invited us to hang out with them in the pits.  My son was really excited about that.  Well the next morning as we got up before daylight to get to the track for the 8 am youth ATV race, we found that the truck and everything was gone!  I can't describe how your heart and everything just hits the floor when you walk out of the hotel and it's all gone.  Everything we worked so hard for and saved for years so we can enjoy a sport together as a family was just gone in a matter of seconds.  After all the tears and talking to the police, Taylor Kiser's parents were checking out at the same time and offered their condolences.  They also extended the invitation again to hang out at their trailer in the pro pits.  After settling all the police business we decided to not let the entire trip be a waste, so we went to the track to enjoy watching the best ATV racing in the country.  We took the Kisers up on their offer and let me tell you, my son hasn't quit talking about it.  Taylor's dad took my son Zachary to all the trailers and he got autographed posters of all the top riders.  That was awesome but the icing on the cake was when my son got to stand at the starting line with Taylor and his quad among all the other pro racers.  That is one heck of a great racing family and one super GNCC pro racer.
After the youth ATV race my son and I had a chance to congratulate Jay Shadron on one heck of an overall win in the youth ATV series on his limited class APEX.  He was flying on that machine and ate up the super minis!  Well, the Shadrons, after hearing about our misfortune, spoke to their sponsor the next day and told them about our ordeal.  I received a call Monday from the folks at APEX motors and they offered their condolences and gave me a deal on the all-new APEX 90 Cross Country that I just couldn't refuse.  That very kind gesture came just minutes after I hung the phone up with my insurance company with them telling me the ATV and the RZR were not covered by our policy.  I thought our season was over for sure.  My son has only been on a quad for about two years now and we've since been very interested in the GNCC series.  We didn't get to make Florida but we decided we were going to make a run at the rest of the events.  This event has been a hard lesson to learn which has set us back quite a bit, but we look forward to competing in as many of the remaining GNCC races as we can.  I'd like to express my sincere thanks to all those folks that have provided their thoughts and prayers, especially the Kisers and Shadrons.  Nobody knew my family going into this '09 racing series but I feel like we've made a lot of friends in a short period of time the past few days.  I've received several calls, several emails, thousands of hits on the forums and if we don't find the toys after all that, then it just wasn't meant to be.  We'll take the new fiends and move on.
Todd Jones
Awesome. Thanks for reading, and Happy Easter, folks!