Jason Weigandt
Quick Fill #14: This Week in GNCC
Thursday, April 2, 2009 | 4:30 PM
Welcome to Quick Fill. Another weekend, another race.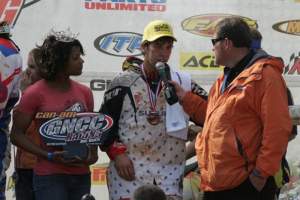 The Pirelli Big Buck GNCC has been around for awhile, and track owner Henry Turner never stops working to make it better. Henry has turned his race into a full-on event in his community, as the town of Union is seriously into this event. We'll have Command Sergeant Major Eddie Harris serving as our guest starter throughout the weekend. Saturday's trophy presenter is Miss Teen South Carolina along with Miss Union and Miss Teen Union. Miss South Carolina, Anna Perry, will be on hand to present trophies on Sunday.
Pretty cool deal having Sergeant Harris as the guest starter. Check out his bio
HERE
We've also got a ton of local newspapers covering the event. Henry always does a good job ramping it up for us, so we're excited.
This event also marks the debut of our UTV Racing Series. Big thanks to everyone who sent in their questions and comments last week so we could figure out where to draw the final line on the rulebook. The rules are posted here.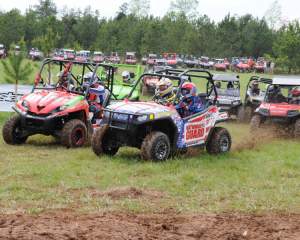 Some notes on the UTV race:
We've decided to let Kawasaki Teryxs and Yamaha Rhinos race in the same class. We've heard these machines are a closer match than teaming up the Kawasaki and the Polaris RZR, which was the class structure last year.
Window, or wrist and foot restraints, or doors, are required-you have to have something to keep arms and legs inside the vehicle in case of a roll over.
Drivers and passengers do not need to be AMA members. The race entry fee, per team, is $60.
We'll start the race rally-style, kind of like we do at Snowshoe. We'll have starting rows of three, four or five machines (depends on how many machines show up) and adjust everyone's times based on what row they start on. We're trying to avoid the carnage of sending 30-some 1000-lb UTVs heading into the first turn.
As we've mentioned several times, this UTV game is very experimental, but we all want it to work. We're looking at this like the GNCC Youth ATV Series when we started that a few years ago. At first, we just want everyone to race and have fun. The Youth ATV series went from really fun to really serious in just a few years, and we can see the same thing happening with UTVs. This is racing, after all, and people want to win!
Look at the Youth ATV Series right now. It's all mixed up. Doug Howarth won the overall last time out in Morganton, he's in the 90 mod class. The Supermini division has seen virtually zero Cobras show up, but that new Pitster machine, of which we've been talking about on Quick Fill for two years now, is coming on strong. Ryan Early and Levi Coen have been putting on some great races in that class. Levi's Dad is actually on the track building crew for Monster Energy Supercross, so I get to talk GNCC shop with him every weekend. Dad thinks Levi needs to get a little more aggressive through traffic and bottlenecks. The other rider in Supermini, Ryan Early, has plenty of experience winning these Youth races and seems to make it happen when he needs to.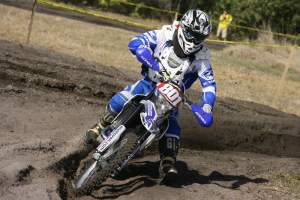 Also look out for Jay Shadron, who has won two of three in the Limited Class, and has taken a second and third overall. We've got the potential for riders in three different classes to take the ATV Youth Overall right now. Hope Dan and Melissa at GNCC Scoring are ready to adjust some times to determine an overall!
I spent last weekend up in Toronto for Supercross, and I ran into Canadian bike racer Guy Giroux (pronounce that Gee Ji-Roo). As it turns out, Guy is the only factory BMW rider in North America, because BMW has elected not to put together a U.S. team, but they have tabbed Guy to race their bike in Canada. Guy came down and raced the Florida and Georgia GNCCs with us. He finished as the top-finishing BMW in Florida and Georgia, beating the other Beemer man, Japan's Takeshi Koikeda each time out. Now Guy is back up in Canada focusing on races there.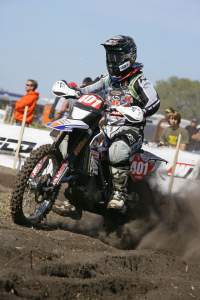 Here in the U.S., the BMW company is promoting their Husqvarna line (BMW owns Husky now). That race team will continue their guest rider program this weekend with
Army Staff Sgt. Toby Atkins. Here are some hilarious quotes from Husky's press release:
The 26-year-old Ohio native is an Army Combat Engineer with tours in Iraq and Korea. He's received recognition for training other soldiers how to shoot their weapons and how to drive the Bradley Fighting Vehicle; skills that may prove beneficial to him aboard the 450 Husqvarna.

"If it absolutely, positively has to be destroyed overnight," he insists, "a Combat Engineer can do it!"

At the GNCC, however, Atkins' only plan is to ride like he's been trained to, and the only thing he's hoping to destroy is the competition. Win or lose he's certain to have an interesting ride.
How about those BMWs in Europe, piloted by GNCC Champs Juha Salminen and David Knight? Well, they are, uh, not doing so well. Both kings of the woods are struggling to put their big Beemers into the top five through the first four rounds of WEC competition (WECs run two races per weekend).
This weekend at the Big Buck GNCC, Can-Am will set up their demo ride rig, so be sure to take advantage and get a free spin on a Can-Am Outlander or DS450 this weekend. Can-Am is also bringing in 40 journalists from all over the world to cover the race. They're having the media members try out 2009 product at a track near Charlotte, then they're busing everyone down to watch the races on Saturday. That's good stuff for the sport.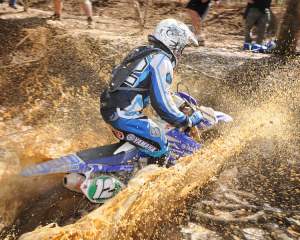 This just in! No Maxxis Truck at the track this weekend! Plan accordingly! Yes, you will not be able to buy Maxxis tires at the track this weekend. But they will be back at Loretta's.
GNCC TV kicks off this weekend. Do not forget to tune to Versus (set those recorders) Saturday at 2:30 p.m. to catch our debut in HD-it looks phenomenal. So before you leave the house, set your recorder and get on it!
You know what could happen this weekend? We could end up with four different ATV overall winners and four different overall bike winners through the first four rounds of racing. That would be the first time that has happened ever. We'll see if someone new can step up to join our current roster of winners, going by the names Charlie, Paul and Josh, and Taylor, Chris and Bryan. Could we add a Bill or Branden or a Barry or Jimmy or Thad to that list? This should be an awesome weekend.
And how about some credit to Taylor Kiser, who did more than just win the Florida GNCC in his home state. The guy has battled back in the next two rounds to maintain the points lead. Taylor is, as the kids say, for realz this year.
And that's it. Track crew left the office on Tuesday morning, and the rest of the team is headed out right now. So go join them in South Carolina. It's been a great year so far and we hope to keep it going. Good luck people!