Jason Weigandt
Quick Fill #13: This Week in GNCC
Thursday, March 26, 2009 | 9:00 PM
Welcome to Quick Fill. Thanks for a good race this weekend.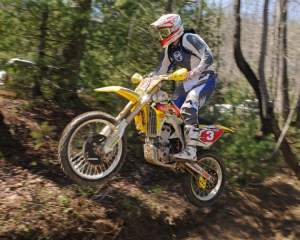 In general, overall, everyone from the Racer Productions came back pumped over how things went in North Carolina. Not only did the event draw whopping 1591 riders, which is a record for that event, but Rita Coombs herself told me, "I think that was the most people I've ever seen at a GNCC. Even more than Indiana!" So, we're off to a flying start this year.

It doesn't hurt that the North Carolina weather was perfect, and people always seem to dig that track. But overall, we're not sure really why there were so many darned spectators there all weekend. We were glad to have them, though!

As it turns out, two North Carolina-based riders won the races. Bryan Cook, the ATV winner, is as North Carolina as it gets, he was born and raised there. Josh Strang, the bike winner, also lives in North Carolina. Cook just never seems to get the love, so we hooked him up with Tuesday Toolbox this week. If it weren't for some rocks jamming up his front wheels in Georgia, he'd be right there in points!

As for Strang, that was a statement-style win. He was a full minute down on Charlie Mullins at one point but managed to reel his teammate in and get the win. Right now the GNCC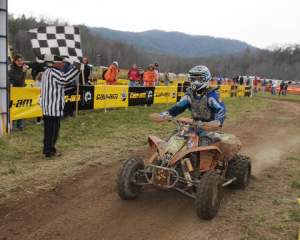 We hope to draw even more people into our series when Racer TV returns to Versus Network just one week from Saturday. TV Producer Jason Hooper has shipped the first show (Parts Unlimited River Ranch GNCC ATVs) out and it looks awesome in HD. You'll believe it when you see it. Now he's wrapping up the bike show, and then it's on to Georgia and North Carolina. Click here for the TV schedule.

And for you ATV fans, we'll throw a shout out to ATVision Powered by Quad Magazine, a new weekly internet show covering the ITP Tires/Moose Racing AMA ATV Motocross Championship. That's the big "GNC" series, featuring Dustin Wimmer, Joe Byrd, Doug Gust, John Natalie and the rest, and www.quadmagazine.com shows new episodes every Wednesday night. I do the announcing for the, and the racing and footage is cool. The two main pro motos are wrapped up into a neat seven-minute package, so if you're an ATV fan, it's worth checking out.

Quad Magazine's site also has some cool GNCC stuff up. While I was there checking on ATVision, I spotted this interview with Bill Ballance regarding his new 2009 YFZ450R.

Lots of talk about those new Yamahas right now. Last year I remember Ballance himself saying it was cool to see all the newer teams and machines out there, but he knew he would have an advantage because he was riding proven equipment, and no matter what you do, the first year with a new machine always presents a few problems. Well, the '09 Yamaha 450 riders like Ballance, Branden Sommers, Donnie Ockerman and Johnny Gallagher missed the podium at the first two rounds, and Traci Cecco has had her hands full with Angel Atwell and Jennifer Albright. So, are the Yamaha people going through the growing pains? Kawasaki did in '07, and KTM and Can-Am did in '08 (and don't forget Chris Borich, who had a bad year, by his high standards, last year on his new Suzuki).


Not sure. TV man Hooper talked to Ockerman about it and he said that it's not the machine, it's just everyone else has just stepped it way up this year-they're going even faster than they were when Ockerman ended the season with two-straight podiums.

I talked to Brandon Sommers today, and he says he's been testing for three months, and he's getting close. "The bike itself, the base, it's awesome, awesome, awesome. But last year's bike, we had four years on it, between me and my dad (Laz from GT Thunder) and Bill. And we were still finding things! The thing is, you have to not only get the right set up, but you have to ride with that set-up enough so you know exactly how your bike is going to react at all times."

Sommers is working on it. He's headed to Georgia for a National Hare Scramble on Saturday, then racing a local race in Ohio on Sunday. He thinks they might both be mud fests, and he's okay with that. "Oh, I've done plenty of mud racing on this bike, durability isn't a concern."

Right behind the XC1 pro guys, we look to have an XC2 battle shaping up between Josh Kirkland, who has now won two out of three races on his KTM, and Brian Wolf, who has a first and a second at the last two rounds on his Yamaha. Walker Fowler was the top placing amateur, again, by finishing 17th overall on his Yamaha and winning the College A class, and Angel Atwell was tops in the morning for the third straight race on her KTM. The girl is on it!

Switching over to the bike side, Strang, Mullins and Paul Whibley have kind of established themselves as the big guns of the early season. Whibley said he had his suspension set up a little too soft, but he's happy to end up third on a bad day.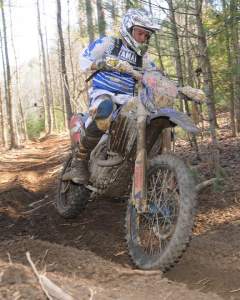 Thad DuVall did return to racing after nearly breaking his wrist in Florida, and he hung with them for a few laps before the wrist started to get weak. "The race was pretty good," said DuVall. "I was dead last off the start because I couldn't get my bike started. I got running and got up with the front runners. By the 5th lap your wrist started giving out. I just held on and finished fourth which is good for me. The wrist is definitely a lot better. I had only ridden on the bike a few days before this."

Glenn Kearney was also right there in the hunt, but then his Husky ran into trouble in one of the water crossings, ending his day early.

Jimmy Jarrett pulled a muscle in his back Monday before the race and was struggling with that all weekend long. Barry Hawk is still dealing with suspension woes on his 450. And I think Shane Watts was really, really fired up about getting on the podium, and I guess I was right. Here's what he had to say:

"After the disappointment of missing what I thought was a sure podium at the previous race due to a bike failure, I was really amped for today's race," said Watts. "I had a decent start but got wiped out going into the trees so I began quite a way behind. With two laps to go I had moved into 5th but was spent by then and thus used the last two laps to lose all the spots gained. Maybe I was too fired up?"

Check out Shane's website http://shanewatts.com/ he has some really cool videos up of he and some of the other stars of the series like Strang, Kearney and Robinson tackling some nasty terrain.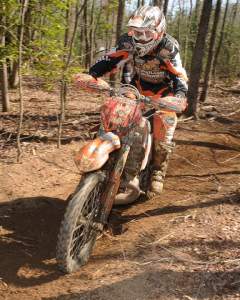 Nate Kanney has been suffering from some injuries, but he was able to start riding again during the week leading up to the race and expected to do well. A crash early in the race left him down in the mud, though, ruining his gloves and his second lap of racing. "I lost two minutes right there," said Kanney. "Those guys are riding good, no excuses. I had arm pump early and they were getting away from me then, so I'm not going to just blame it all on the crash. They're going good right now."

Kanney may have ended up helping XC2 winner Cory Buttrick. After Nate crashed in the mud and had to stop for new gloves, Buttrick caught him from row two, and the two battled it out for the second half of the race. This kept Buttrick charging while Kailub Russell kept the heat on from second.

"I caught Nathan Kanney, and once we hooked up and neither of us could get away from each other," said Buttrick. "From the pits to the creek crossing, Nate was faster there, I had to push as hard as I could to stay with him. I think him helping me push helped me stay out front."

Meanwhile, Russell was pushing hard to make ground back up. "I fell over in the first corner, and I was just trying to get back up front. I didn't want anyone to just walk away with it," said Russell. "So I charged real hard and made my way up front and I got into the lead there in the second or third lap. I was trying to make a break for it when I had to pit. Corey got back around me. I just couldn't make it back. I did everything I could to get up there, though, so I'm happy."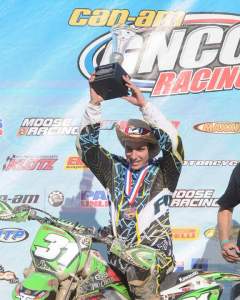 Third went to Andrew Matusek, who has now nailed two-straight Cometic Holeshot Awards. Where the heck are these starting skills coming from?!

So let's get to our award winners from North Carolina:

MotorcycleUSA.com ATV XC1 Holeshot Award: Donnie Ockerman
Rekluse XC2 Holeshot Award: Josh Kirkland
GT Thunder Morning Race Overall Award: Angel Atwell
Coppersmith Suspension Bike Morning Race Holeshot Award: Amanda Mastin
MotorcycleUSA.com Bike Charlie Mullins
Cometic XC2 Holeshot Award: Andrew Matusek

Okay, we're going UTV racing next weekend at the Big Buck. Everyone wants to know what the rule structure will be for 2009, and honestly, we're wondering, too.

We do know this much: four or five point harnesses are required for everyone. Same for window nets and some sort of foot restraints, doors being preferable, but full netting could work. The goal is to keep arms and legs inside the machine if you roll it.

For classes, we'll run the same basic four classes as last year: Lites Limited and Mod, Open Limited and Mod. But we've had votes for letting Kawasaki Terryxs race in the Rhino classes. Also, we've heard that if you change exhausts on fuel-injected machines, it takes a fuel controller to get the mixture right (just like jetting a carb). So we will allow fuel controllers in the Limited classes (but not CDI box or clutch changes). And, we've had suggestions to restrict the Polaris RZR S model to the Modified class, because it's basically like a modified version of a Polaris RZR.

These are the ideas we are considering. Please email me with your thoughts.

[email protected]



Okay! That's it for this week. We're putting our heads down and charging into South Carolina next week. See you there!