Jason Weigandt
Quick Fill #12: This Week in GNCC
Thursday, March 19, 2009 | 5:30 PM
Welcome to Quick Fill, it's time to go racing again.


We're all excited for this race, because the FMF Steele Creek GNCC always marks the beginning of the true GNCC tour. This track has it all, hills, roots, ruts, rocks, mud,  all of it. I remember GNCC Utility racing veteran Mike Penland summing it up well when he said "Now that's a cross country track!"

Plus, the weather looks perfect. Forecasts fall into the mid-60's each day, and while the area has taken on rain this week, it should be clear on the weekend. That means good traction and no dust. What a welcome relief after dry races in Florida and Georgia.

For a lot of GNCC racers, it's all about surviving the first two races and then setting up a charge through the rest. North Carolina is where that charge begins, and that's why we've seen some amazing battles for the win there through the years. The Borich/Ballance wars for the ATV overall at Steele Creek have been epic. Rodney Smith and Jason Raines had a fantastic duel for the bike win in '04, and the '07 thriller that went to Barry Hawk was one for the ages, too. One rider who would like to have that race back is Glenn Kearney, who looked to have the win in hand until he basically started blacking out on the last lap, but still managed to battle Hawk through the final turns before taking second. Check out our (late) Toolbox interview with Glenn for more on that race. Hopefully GK puts in a good run in his adopted state this weekend. He'll be joined in the pits by members of the U.S. armed forces. Cool move, Husky.

On the bike side, this is the home race for plenty of the riders. Josh Strang stays in North Carolina now, too, so does Charlie Mullins and Shane Watts. And Jesse Robinson has always lived there. On the ATV side, we have plenty of NC talent, lead by Bryan Cook, who turned in a great race in Florida but has some bad luck derail him in Georgia. The podium is certainly within reach for Cook this weekend. And for the bike fans, don't be surprised if Watts ends up on the box, too. He looks like he wants it right now.

Not surprisingly, some riders spent their off-weekend racing in the Carolina area. That, of course, includes Paul Whibley. Here's his race report.


Race Report: Mid East Harescramble Series
Rider: Paul Whibley
Team: JG Off-Road, GEICO, Monster Kawasaki
Bike: Kawasaki KX 450F
Result: 1st

With constant rain falling Saturday and all Sunday morning and the temperatures in the low 40s it would have been nicer to stay home, but that's no fun!! Off the line I got filled in bad but moved up to third quickly, then second behind Jesse Robinson (Series Champion). I moved past Jesse on a fast grassy sweeper mid second lap, but could already hear Charlie Mullins right behind me. The track was cutting up fast and there was a lot of water lying in the low spots although most of the really tough terrain had been removed in anticipation of the bad weather. I was stoked to have my Fastway foot pegs on as these things offer a massive platform to secure your foot in place and in these trying conditions that's pretty important. We were soon into lapped traffic and back to eating roost. Most of the guys were good though and moved over as soon as they could for the faster riders coming through. A quick stop for gas and fresh pair of Smith roll-offs and back into the action. After the fuel stop Charlie dropped out with some problems. We had pushed each other clear of the other riders, so with him out I had a good lead. The track actually didn't get too much worse than the first few laps and with the rain holding off the low spots cleared out  a lot of the water. With seven laps done, the chequered flag came out and I took the win.

Ah, the Mullins and Whibs battle was cut short when Charlie had some sort of problems. Look for a rematch this weekend!

Here's a note about Jordan Ashburn, who not only nabbed Top Amateur honors at the Maxxis General GNCC, but then wrapped up the Mid-South Winter Hare Scramble Championship a few days ago.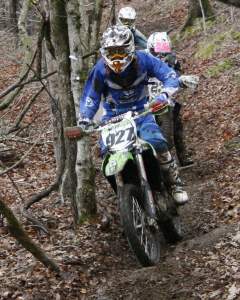 Hey Jason,

Just wanted to drop you a note on some regional happenings.  As you know a lot of racers race other series as well during the GNCC season, Jordan included.  He also races our regional Mid-South Winter Hare Scrambles Series of which he has been battling this year for the Championship. Well, this last weekend at Rd 10 he was able to wrap up the Championship!  He is the youngest rider, at 18 years old,  (and a senior in high school) to do so.  He has worked very hard and needless to say we are very proud of him!

Donna Ashburn

Awesome, Jordan. Kawasaki really has a rejuvenated effort going here in GNCC, with the GEICO Monster Kawasaki boys in the XC1 and XC2 classes, Ashburn and Fiddler taking the top amateur honors in Georgia and Florida, and a massive contingency program for everyone else. I wouldn't be surprised to see Kawi privateer Andrew Matusek at the front of the XC2 bike pack, too.

But hey, what happened to the Kawi ATV program? Three years ago it looked like Kawasaki was building a quad purpose-built for GNCC racing with the KXF450, and they put William Yokley on the machine. Yoke and the KXF never seemed to gel, and I don't see many of those machines out there. Kawasaki even offers a nice contingency program, and on the motocross side, they machines look good with Josh Creamer and Chad Wienen on board. The lone GNCC bright spot was full-privateer Scottie Rich taking an XC2 podium in Florida. At the time, Rich wasn't even sure if he was racing the whole series!

And by the way ATV fans, Duane "The Rock" Johnson showed up in Florida and Georgia and rode well, scoring 12-7 finishes. Good too see him back.

Here's a shout out to Cheyanne Chadron, who is leading the points in the Schoolboy ATV class. Should we start calling it Schoolgirl?

At the Florida GNCC, we set what has to be a new record with 10 different bike brands on the starting line of the XC1 pro class. Yamaha, KTM, Honda, Suzuki, Kawasaki, BMW, Husqvarna, Gas Gas, Husaberg and Aprilia all had entries on the line. Apriilia's new rider, Ryan Echols, had literally picked up his new bike just before he left for Florida, so he had virtually no time on the machine. After learning a bit about it in Florida and Georgia, he did some suspension work with Factory Connection, tried out some new parts, and won a local hare scramble in West Virginia over Gas Gas rider Justin Williamson. Right now, Echols has the only two kick-start off-road 450 Aprilias in the U.S., but more are coming soon. He's been riding a lot and learning a lot, everything from how the fuel-injection system works, to building a bigger gas tank, and a ton of other things. This is a twin-cylinder machine, and if you see Ryan coming by on the #48, listen closely, because it's a sound unlike anything you've ever heard before. What's cool is, this bike is proven in Supermoto racing in Europe, but the Italian marque wants to use Ryan and the GNCCs as a test bed for off-road. Some of you may remember Ryan from a few years ago in a Racer X article, where he got to play factory rider for a day with Am-Pro Yamaha. Now he's got his own ride!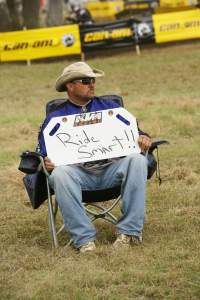 We've got some cool new multi-media features to check out here on GNCCRacing.com. Jason Hooper put together a Florida GNCC ATV highlight video last week and followed it up with a bike video this Wednesday. And since Hooper has moved over to TV production, ace Racer X photographer Matt Ware has moved into Hoop's old spot as staff photographer. Matt has posted some GNCC Wallpapers from Florida and Georgia, so dig into those here.

And we're just two weeks away from the debut of Racer TV on Versus in High Def. It looks SO much better than the standard-def stuff from last year, you will really be pumped on the shows. Saturday, April 4th at 2:30 p.m. Don't forget!

So if you see Matt at the races shooting, don't be afraid to say hi. Also, roll out the red carpet for Rachel Fluharty, who has been helping quite a bit with content on this site over the last few months. This weekend she gets the GNCC beat for the first time, as I have to go cover the St. Louis round of Monster Energy AMA Supercross. Rachel is a great writer and really likes the sport, be nice to her this weekend and maybe we can get her to come to some more races.

So good luck to the newbies. To everyone else, have fun in North Carolina!