Jason Weigandt
Quick Fill #11: This Week in GNCC
Thursday, March 12, 2009 | 3:15 PM
Welcome to Quick Fill. Catch your breath.

It was a wild, exhausting two weeks for everyone involved. Surely after racing two races in less than seven days, your back is sore, your hands are torn up, your gear is dirty and your machine trashed. If you're hardcore, you'll go racing again this weekend in some other series. But I have a feeling most mortals will take some time off to recover.

Georgia's Maxxis General GNCC turned out just about right. Bad weather a week before the race kept the dust down, even though the weekend featured nothing but sunshine. And we actually had more riders race the event this year than last year, another sign of strength in a time of uncertainty. And, big thanks again to all of those fans who tuned into the live results page. We had over 3000 people checking in on Saturday, and over 5,000 on Sunday. That's pretty cool.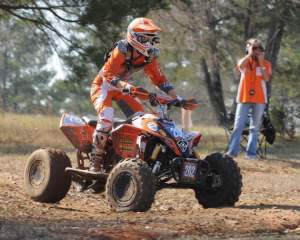 Who were the happiest riders after the first two races? The riders that scored two wins. And they are: Cole Shifflet, Charlie Welch, Angel Atwell, Bryan Buckhannon, Michael Swift, Cliff Beasley, Glen Pritchard, Walker Fowler, Jeff Miller, Zach Strong, Matt Williams, Mike Muskopf, Shawn Javens, Grant Baylor, Jonathan Johnson, Randall Riggs, Daniel Kozma and Bryce Gartman.

Racing was good, too. Angel Atwell stormed to another GT Thunder Morning Race Overall Award. Chris Borich won a thriller in the afternoon ATV race. From everything I heard, it was both fun to watch and fun to race in, even third-placed Adam McGill was pumped even though he didn't come out on top-the battle was that fun.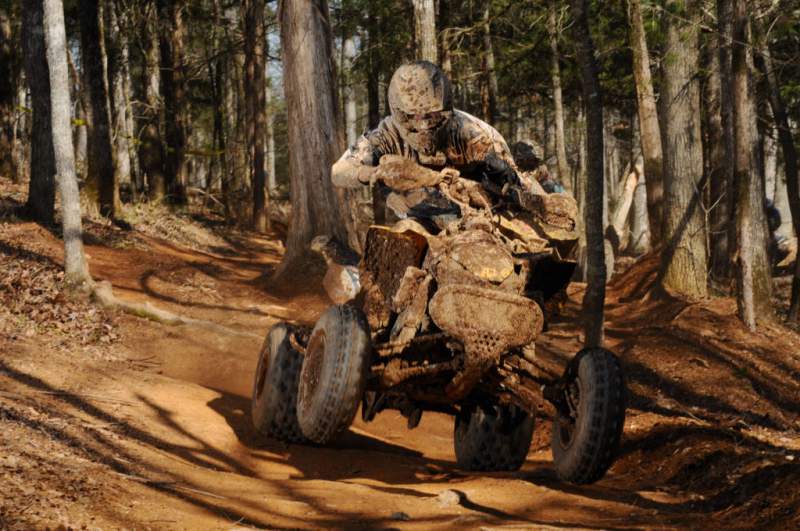 A few riders probably weren't as happy: Bryan Cook had some rocks jam into his front brakes, which knocked him out of a points-paying position. Chris Bithell looked like he may just win the race, or at least finish on the podium, when he ran out of gas on the last lap-gas strategy became a big issue for everyone since this was a five-lap race. And Bill Ballance rode stronger in Georgia than he did in Florida, but he still didn't score any points in Georgia.

And congrats to our Youth Champions, Ryan Earley (ATV) and Chris Meadows (Bikes). Early's class rival from last year, Derric Robinson, won the Florida ATV Youth Overall. We'll see how the 90cc Mod ATV Class compares to the SuperMini Class this season-and seriously where are all the riders in the SuperMini class? We'll keep running it this season but if the numbers remain low like they were in 2008, we might not be able to bring it back in 2010.

On bikes, Meadows and Florida Bike Overall Winner Trevor Barrett have already established themselves as potential GNCC Youth Champions, and there's plenty of other talent out there. That should be a good championship fight to watch.

Sunday afternoon's bike race was unreal-a seven-rider freight train busted out early, and the pack set each other up, passed each other and changed lines on each other for about an hour. Then they started dropping. Glenn Kearney twisted his leg, and now he thinks he hurt it worse than when he originally broke it three weeks ago. Shane Watts' bike quit on him. And Nathan Kanney, who is struggling with a back injury and some other ailments, just hung on to get a solid fifth. Kanney has a bad back, shoulder and toe. He's one tough guy.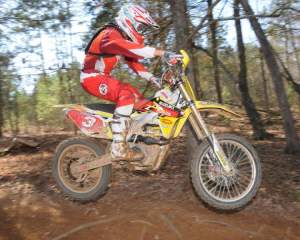 That left four riders in the train, Charlie Mullins, Josh Strang, Paul Whibley and Jimmy Jarrett. Then Mullins twisted his ankle. That left three, and Whibley used his trademark stamina to pull away for good. Jarrett and Strang battled all the way to the final turns before the finish. Strang jumped over the Maxxis Tire Wall to get inside of Jarrett, they collided and went down. Strang felt bad about taking Jarrett down, so he just let him get up and go past him to take second. Quite the sportsman, that Josh Strang.

This is going to be an awesome series. Whibs is going to be strong, for sure. Jarrett looks more motivated than ever. But those Suzuki boys are ready to fight back. Mullins told me he will be 100 percent for North Carolina, and I think Strang just needed to get a finish under his belt after running out of gas in Florida. He'll be on for the rest of the year.

What about Am-Pro Yamaha? Thad DuVall thinks he can race in North Carolina. And Barry Hawk struggled mightily with his shock setup at both Florida and Georgia. He has about a million ideas going through his head as to what went wrong and how he can fix it, and yes this is a broken record, because year after year Barry tests in the off-season, comes in thinking he is ready, then discovers a problem which he then cures by riding back at his house in Pennsylvania. Can he do it again this year?

By the way, Team Am-Pro Yamaha didn't have its semi in Georgia, as the truck blew a tranny at the Aligator Enduro on Thursday. Barry set up his own E-Z-Up, which he says is about 10 years old, and that served as the factory Yamaha pit for the weekend.

The Australians are pumped on Josh Strang's podium. Here's a story.

And check out this fun story on the racing in Florida.

And check out this excellent Georgia photo album by Danny Walker.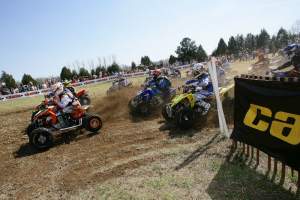 Let's announce our special award winners from Georgia

MotorcycleUSA.com XC1 Bike Holeshot Award: Paul Whibley
Cometic XC2 Bike Holeshot Award: Andrew Matusek
Coppersmith Suspension Morning Race Holeshot Award: Kenny Sinclair
MotorcycleUSA.com XC1 ATV Holeshot Award: Adam McGill
Rekluse XC2 ATV Holeshot Award: David Crane
GT Thunder Morning Race Overall Award: Angel Atwell

And I made an error and didn't list Crane as the Holeshot Award winner in XC2 from Georgia. Trust me, he is the actual winner.

We will be in North Carolina in two weeks for the FMF Steel Creek GNCC, and then the Pirelli Big Buck GNCC in South Carolina comes next. As always, Big Buck landowner Henry Turner has big things planned:

Saturday's guest starters are Union City County Council members, Mayor Harold Thompson and Union County Sheriff David Taylor.  Saturday's trophy presenter is Miss Teen South Carolina along with Miss Union and Miss Teen Union. Eddie Harris, Command Sergeant General of the South Carolina Army National Guard will serve as Sunday's Guest Starter.  Major Harris will make an exciting entrance at the race, arriving by helicopter. Miss South Carolina, Anna Perry, will be on hand to present trophies on Sunday.   

"I'm very much looking forward to this event," said Command Sergeant
Major Eddie Harris of the South Carolina Army National Guard.  "It's a big event for this area and it's a huge sport. People really get into it and enjoy it. There's a lot of competition there.  The military department of South Carolina is very proud to be part of this."

The South Carolina Army National Guard will sponsor a Rock Wall, a Paint Ball Arena and have a display of RRC Gators, and Hummers. Â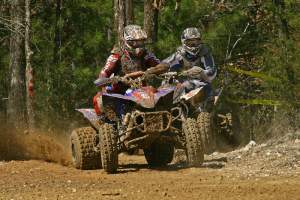 Also, Can-Am is bringing its free demo ride program to the Big Buck. No charge, just sign up and hop on an Outlander of DS450. As they say, the ride says it all.

In the back room of our GNCC office, Jason Hooper is working hard putting the Florida GNCC TV Shows together for Racer TV on the Versus Network. I can tell you, the upgrade to High Def is a major upgrade, and you will be impressed when the shows hit the air. It starts in just a few weeks, April 4th, to be exact. Don't forget to set your DVRs again! Click here for the TV schedule.

One funny story to share before we go. Team Monster Energy/Andrews Yamaha welcomed Josh Weisenfels back to bike XC2 competition in Georgia. Weisenfels is just coming off of shoulder surgery to repair a torn rotator cuff. He had ridden a grand total of two times since June, but he came to race in Georgia anyway and finished 8th in XC2. Not bad. After the race, Josh was incredibly tired, so he stumbled back behind the pits and went into Team Manager Fred Andrews' motorhome to take a shower. At least, he thought he had gone into Fred's motorhome. It turns out he went into Barry Hawk's motorhome on accident, and then Barry walked in to Josh undressing and said "What are you doing?!"

That's it for Quick Fill this week. We can't thank our racers and fans enough for coming and hanging out with us in Florida and Georgia. Enjoy a weekend off, and we'll see you at the races in North Carolina.