Jason Weigandt
Whibley Whips Maxxis General GNCC
Sunday, March 8, 2009 | 5:45 PM
Whibley Wears Them Down at Maxxis General GNCC
Strang on podium, Russell wins XC2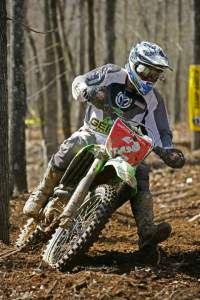 WASHINGTON, GA (March 8, 2009) - The Can-Am Grand National Cross Country Series welcomed strategic, bar-to-bar racing back to the forefront at the Maxxis General GNCC in Georgia, but by the time the battle was over, GEICO/JG Racing Monster Kawasaki's Paul Whibley emerged as the last man standing. His teammate Jimmy Jarrett took second to give the team a historic 1-2 finish in just its second race ever. FMF Makita Suzuki's Josh Strang took third after colliding with Jarrett at the finish.
In total, 1471 riders competed in the race, a jump of 83 riders from last year's Maxxis General GNCC.
On a fast, rough track run under perfect weather conditions, Whibley battled with about seven other riders early on. Jarrett, Strang, FMF Suzuki's Charlie Mullins, Husqvarna's Glenn Kearney, Shock Doctor KTM's Nathan Kanney and KTM privateer Shane Watts ran in formation out front. Eventually, the battled boiled down to the two Kawasaki riders against the two Suzuki riders, with Jarrett and Whibley taking the top spots.

"It was awesome battling like we did for the first few laps," said Whibley, who nailed the $250 MotorcycleUSA.com Holeshot Award. "I was just trying to pick out lines. After the first gas, I think everyone picked up the pace. I didn't think I could go faster, but then I was able to do it. To finish one-two like that in our second race together, this is great."

"I went hard at mid race and got into the lead, but when Whibley caught me later on, I was done," said Jarrett. "He's just a machine out there, it's incredible."

As Jarrett fatigued on the last lap, Strang put in one more charge to try to get second. Before the finish line, the riders faced a big pile of truck tires nicknamed the Maxxis Tire Wall. As Strang bounced over the tires, his line came together with Jarrett's, and they collided and crashed hard. Strang felt bad for making the move, so he actually waved Jarrett back past him to give up second at the finish.

"Maybe it was a mistake, but Jimmy is a good friend and I didn't mean to run into him like that," said Strang. "I got food poisoning on Thursday so I didn't know how much I would have left. I gave it everything I had."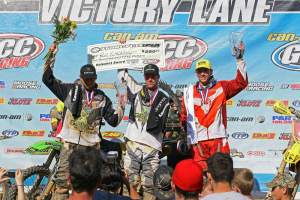 Mullins twisted his ankle and settled for fourth ahead of Kanney. Watts' day ended when his bike died, and also ran with the lead pack early until his bike died, and Kearney twisted his already-broken leg in a rut, ending his day. Am-Pro Yamaha's Barry Hawk struggled with suspension settings and elected to pit for a new shock mid way through the race.

In the XC2 Class, Shock Doctor KTM's Kailub Russell notched his second-straight win. Kawasaki privateer Andrew Matusek grabbed the $100 Cometic Holeshot Award and battled Russell early. Matusek got stuck in a mud hole, and Russell's teammate Cory Buttrick took over second. GEICO JG Racing Kawasaki's Scotty Watkins collected third.

"I didn't expect to do this," said Russell of dominating the first two rounds. "I've always had confidence in myself, but I just need to put together good races."

Buttrick pushed hard to catch Russell, but could get not higher than second. "We were using a lot of energy out there, and I'm not going to lie, I got tired," said Buttrick. "It's still a lot better than the first race in Florida, though."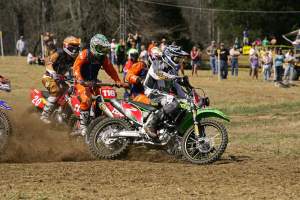 Watkins rode consistently for third. "I haven't felt the best the last two weeks, so I'll take the points," said Watkins.

Monster Team Green Kawasaki's Jordan Ashburn collected top amateur honors with 14th overall and a win in the Open A class.

The $100 Ohlins Amateur Holeshot Award went to Senior C rider Kenny Sinclair.

The 2009 Can-Am Grand National Cross Country Series moves to Morganton, North Carolina for the FMF Steele Creek GNCC in, on March 21 and 22.

Results:
Maxxis General GNCC
Washington, GA
March 7, 2009

XC1 Class
1. Paul Whibley (Kaw)
2. Jimmy Jarrett (Kaw)
3. Josh Strang (Suz)
4. Charles Mullins (Suz)
5. Nathan Kanney (KTM)
6. Kurt Caselli (KTM)
7. Homero Diaz (KTM)
8. Russell Bobbitt (KTM)
9. Nick Fahringer (HSB)
10. Kenneth Gilbert (Kaw)

XC2
1. Kailub Russell (KTM)
2. Cory Buttrick (KTM)
3. Scott Watkins (Kaw)
4. Andrew Matusek (Kaw)
5. Jason Thomas (Yam)
6. David Snyder (Yam)
7. Robert Santheson (Kaw)
8. Josh Weisenfels (Yam)
9. Brian Lawson (Yam)
10. Eric Bailey (KTM)Â