Jason Weigandt
Quick Fill #8: This Week in GNCC
Thursday, February 19, 2009 | 5:15 PM
Welcome to Quick Fill. If you're on an interstate highway somewhere between Morgantown, West Virginia, and Washington, Georgia, keep an eye out for the Trail Boss, Sweep Guy and Porterhouse. They're on the road with GNCC trucks and trailers, dozers, water trucks, ATVs and bikes, en route to build the General GNCC course in Georgia, and then to Florida to put the River Ranch GNCC together. It's time to get ready folks, and for the road warriors on our staff, the season has already begun.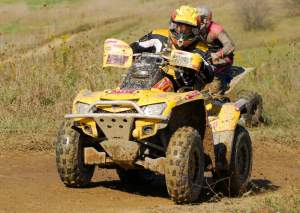 Trail Boss is GNCC Trail Boss Jeff Russell. Sweep Guy is Tommy "The Toughest Man on Earth" Harris, who runs sweep at the races. And Porterhouse is Rodney Tomblin, who is our announcer on Saturday and Sunday but will be providing a lot of help for the crew on the days in between that. Those three left our office yesterday, and they'll soon meet up with the rest of our GNCC track crewmen like Buren Hamrick and his people, as well as stalwarts like Dead Bolt, Mark "Renegade" Renneger, Smokin' Joe, Double J John Jarrett and others to put these places together. There is absolutely no glory in what these guys will do for the next two weeks, but once we're finally racing, it will all be worth it.

Update update! The caravan has now arrived in Georgia and the boys are enduring 60 MPH winds down there. There are even rumors of tornadoes sweeping through the area. It's not an easy job, what these guys do, but I have no doubt they will get it done.

What a welcome time to get away. Normally the trip to Florida is fun for all because we get to enjoy some sunshine and get pumped up for racing. But this year, we all need the escape a little more. We've endured bad economic news for months now, and now we're dealing with this lead law issue for youth machines. Sometimes it's good that the GNCC tracks are so far away from civilization, because this year we can be away from the bad news. So enjoy your Florida vacation, now more than ever.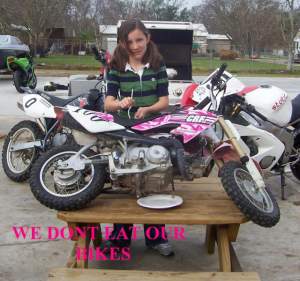 As for the lead law, we've made a decision: we're going racing in all classes no matter what. So if you have a kid and a machine that's ready for racing, we're ready to have them. Unfortunately, though, we can only control the racing end. For now, Youth machines can't be sold on dealer floors, and you can't order parts, either. This could be a serious problem as the year goes on, because racers will need new pistons and clutches and levers and shifters, and no one is sure if you'll be able to buy them. What can we do to help?

A long time ago, the major motorcycle and ATV manufacturers formed a group called the Motorcycle Industry Council (MIC). It's a government watch group that helps fight for the rights of the industry. That group is on top of this situation. I had a long talk this week with Paul Vitrano, the General Council for that organization, about this deal.

Vitrano took me through the chain of events that led to this lead deal. In August, Congress passed the law. The CPSC was then ordered to act on it, and they put the law into effect on February 10. The law they put into effect was very broad, and ended up banning any children's product for ages 12 and under that has 600 parts per million of lead in it.  That includes motorcycles and ATVs. The MIC asked for a temporary exemption, but the CPSC does not have the authority to grant them. So then the MIC asked for an exemption, but the CPSC didn't released a proposed protocol for getting one until January, which means it was too late to get anything fixed up before the February 10th date. So now, the machines are banned.

The MIC is now trying to get an exemption as quickly as possible, but the CPSC is getting flooded with requests from manufacturers of every product imaginable, from furniture to clothing, so there's no real way to know when the exemption will be granted.

"The industry has known about this since August when it was passed, and MIC members have been receiving updates for months," says Vitrano. "The timing came in when the proposed rules to get an exemption were not released until January. As soon as that happened, we asked for a temporary relief, but the CPSC said they did not have the authority to grant that. So now we have to apply for an exemption, and it could potentially be months before that happens. I have a high degree of confidence that the exclusion will be granted by the merits, because the lead content does not pose a risk to the health to children. But the timing is really critical, because we've now lost business."

How much business? The issue grew so big that USA Today covered it in the February 17th edition of their paper. The article, using estimates from the MIC, estimates 100,000 youth motorcycles and ATVs were sold in the USA in 2008. A Kawasaki spokeswoman said the company had millions and millions of dollars worth of parts that dealers could no longer sell.

What can you do to help? First, go to www.MIC.org and fill out their letter to the Consumer Product Safety Commission (CPSC). Then, follow the link from their website to the site for Americans for Responsible Recreation (ARRA). The ARRA site has a link set up to send a letter directly to your state senators and representatives. Letters to both the CPSC and your state people should hopefully get the ball rolling. Again, we'll continue to race these classes regardless of what happens, but life sure will be easier if you can freely buy parts and machines. So let's hope this thing gets turned around quickly.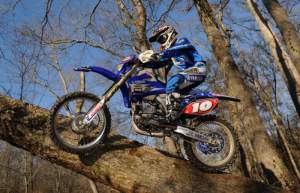 Our friends from SETRA held the Cracker Hare Scramble over the weekend. Kurt Caselli welcomed himself to Eastern woods racing by taking the win over Cole Kirkpatrick and Jake Fiddler. And GNCC youngsters Steward Baylor and Ryan Belue took fourth and fifth. These kids are good. Next weekend SETRA will help put together the Cherokee National Enduro in Georgia, which will be the final off-season test for most GNCC bikes racers before we dive into the Florida sand a week later.

Check out http://www.setra.org/ for info on their series.

Another update from Jeff Russell down in Georgia!

"We've got the pro row pits all set up. For ATVs we'll have all the Yamaha guys, then Suzuki, KTM, Bryan Cook, Matt Smiley, Jarrod McClure, Ryan Lane, the Warnert Can-Am team, Jeff Pickens, Josh Kirkland, and then Yokley, who asked to be on the end. For bike day, we'll have KTM, GEICO, FMF Suzuki, Am-Pro Yamaha, Monster Andrews Yamaha, Husqvarna, Jesse Robinson and Husaberg with Dustin Gibson."

Got this email from a proud dad who is ready to get his son going this year. Folks, don't be shy about sending me emails to pump up your 2009 race program, or to let us know how your season is going once we're underway.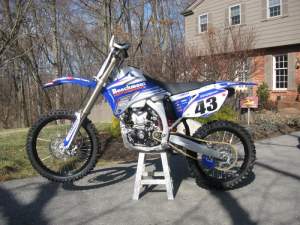 We all know the economy is struggling and I wanted to give a shout out to some companies who really stepped up big to help my son Christopher Douglas in his first season in Four-Stroke A Lites.

Tom Bellamy, a former Pro MX racer now known for some National Vintage MX titles and the owner of Beechmont Motorsports here in Cincinnati has stepped up with a dealer supported Yamaha ride for Chris.

The following companies stepped up with some fantastic products to help us throughout the 2009 season. Johnny's Signs, Fastway, Pro-Moto-Billet, IMS, Six Six One, Dubach Racing, Eleven10mods, and Moose Racing.

I didn't want this to go unnoticed in these tough economic times.

Thanks,
See you in Florida!

-- Jim Douglas

You know, I just got an email from someone asking me who I think will win this year's GNCC bike title. Honestly, there's never been a harder question to answer. I've just finished writing season preview stories for Cycle News and The Racing Paper, and it's just unbelievable how stacked and unpredictable the field is. Whibley, Strang, Kanney, Mullins, Jarrett, DuVall, Kearney and Hawk. You want to pick a champion out of that bunch? This is going to be an awesome season. And on the ATV side, well, we've seen wide-open battles for the last few years, and I don't think this one will be any different.

That's it for this week. Next week we'll greet you with the final pre-season Quick Fill of the season. That means it's time to see you at the races!