Jason Weigandt
Quick Fill #7: This Week in GNCC
Thursday, February 12, 2009 | 3:00 PM
Welcome to Quick Fill. Welcome to California.

Every few years I spend a week out on the left coast, which is in so many ways the complete opposite of GNCC racing, but in many other ways is very close to the heart of our matters.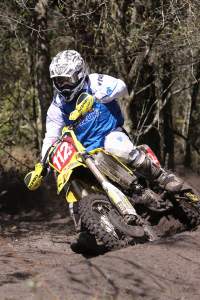 Most of the major motorcycle and ATV manufacturers have a presence out here, and all of the Japanese brands run their entire operations out of this area. And almost all of the big aftermarket companies, too. Obviously, the fortunes of those companies are pretty tied into what we do. When times are good, you're seeing new product, good sponsorship deals, contingency, etc. But right now, times are tough.

It's cool to be here, though, because you see hearts are still beating. Yes, things may have dropped off, but this industry isn't dead by any means. Yesterday I attended a Dunlop tire intro and the turnout was good, and Dunlop really rolled out the red carpet. Last night, Oakley was holding a big movie premier at their headquarters. At the supercross races week in week out, the teams are here, the riders are getting paid and, believe it or not, the fans are here. Attendance has not dropped off a bit, for real. So, we're all hearing doom and gloom, but things are still moving and we'll still be racing GNCC style in less than three weeks. As long as we're racing, we are having fun, right?

So, I was out here thinking "times are tough but we will survive." Until Tuesday came. That's when some real bad news came out.

Remember last summer when the U.S. Government found lead paint in children's toys imported from China? Well, the government took action by banning any products designed to be used by kids that have lead in them. Makes sense, right?

Here's where it gets tricky. There are certain motorcycles and ATVs designed for kids. They have lead parts in various spots, like engine cases and brake cables. And because of that, they got swept into this ban.

For the whole law, I found this link to stuff from the Consumer Product Safety Commission.

http://www.cpsc.gov/ABOUT/Cpsia/cpsia.HTML

Anyway, the law is designed to prevent kids from eating lead. You know, a toy car with lead paint that a two year old might put in his mouth. Motorcycles and ATVs are not eaten. But, they got swept into this law. I think the manufacturers and such thought the CPSC would figure this out, and by simply pointing out the problem, it would be fixed.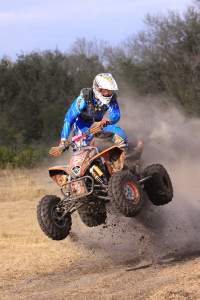 But it didn't. So, as of Tuesday, the law passed, and now it is not legal for your local dealer to sell any machines designed for kids under age 13. For real. As of right now, you can't buy these machines.

Worse, a few manufacturers tried to get around it by changing age limits on their machines. They told dealers that, for example, 85cc and 65cc MX bikes are to be sold only to those 13 and over. Well, that's a problem for racing, because we have 85cc and 65cc classes for riders well under age 13. Not just in GNCC, either. These classes are raced all over the country in both motocross and off-road.

As it is, we need to follow federal regulations, so when a manufacturer says their machine can only be ridden by a 13 year old, we're not supposed to let a 12 year old race it anymore. It's the same problem we have with 450cc ATVs, where we are not allowed to let anyone under 16 race them. This is a very real problem, and if it continues, we may just have to (are you sitting down?) STOP RACING ALL CLASSES FOR RIDERS UNDER 13 YEARS OLD.

Yeah, you heard that.

This would be terrible. The efforts by the manufacturers to stop this law have not worked, so now we're taking the issue on and asking you, our racers, to help. We have a form letter you can fill out and send to the CPSC. Also, an electronic form letter has been prepared by State Representative Tom Self of Missouri. Please go his website at www.tomself.com.

CLICK HERE for the instructions on what to do. This is serious.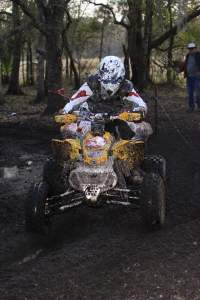 On to better news. There was an FTR race last weekend (note all the photos) just a few miles from the site of our River Ranch GNCC. Some big GNCC names where there getting ready.

Here are the bike results:

1. Charlie Mullins
2. Paul Whibley
3. Jimmy Jarrett.
4. Joey Baker
5. Scott Watkins
6. Eric McCann
7. Jacob Gilliam
8. Ryan Crist

And ATVs

1. Chris Borich
2. Adam McGill
3. Josh Kirkland
4. Wes Kraft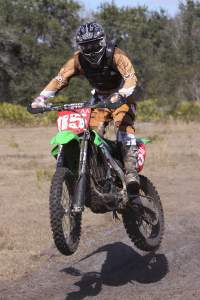 5. Taylor Kiser
6. Chuck Piper
7. Ronald Franklin
8. Chris Bithell
9. Chuck R Piper

As expected, our man on the scene David Smith from Racedaypix.com was there with photos and a report

Myakka City, FL. -- The Sweet as Sugar Harescrambles saw a slew of the GNCC riders out getting in tune for the season opener in a few weeks.  The quad riders had some new faces on new machines getting used to the soft sand that we will see in Round one in Florida.  Angel Atwell was atop her orange ride and dialing in her 525cc machine.  Angel ran a great race once she got her mojo working and felt comfortable screaming across some of the open fields.  Jennifer Albright on the other hand took off from the start and ran like a rider on fire.  She blistered across the fields and through the woods passing riders at every opportunity.  Jen also managed to take the Pro and A class Holeshot that earned her some pretty nice snaps too.  The orange riders came in a group and had Adam McGill from the XC1 class and Josh Kirkland from XC2 getting dialed for '09.  Adam ran a great race but stopped a few times to tune his machine, which left him in a chase mode most of the race.  Josh ran strong also and played catch up to Kiser and Borich, who seemed to stay consistently out in the front spots.  Chris Bithell ran into some ATV issues on the first lap, but once they got that taken care of, he was running at a pace that would have kept him in the mix with the lead riders.  This season is shaping up to be an awesome year as many of the younger riders want a shot at the top spot while Bill Ballance is still out there riding his Yamaha.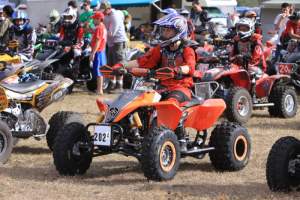 The motorcycles saw a slew of green show up. The new contingency for Kawasaki is appealing to many riders.  However a lone yellow rider, Charlie Mullins, got out early and stayed out in front for the day.  Jimmy Jarrett on his Kawasaki tried to run him down so hard that he earned a front flat with two laps left and gave over the number two spot to a hard charging Paul Whibley also on a Kawasaki.  The battle for fourth featured local FTR rider Joey Baker and Kawasaki-mounted Scotty Watkins as they swapped positions many times over the course of the race.  When the race finished, Joey edged out Watkins for the fourth spot overall. 

Drive safe and train hard......see you in FL

http://www.racedaypix.com

Want to see how badly people want to go to Florida? Here's a letter:


My 10-year-old son Jacob raced at two GNCCs last year in the quad 90 limited (8-11) class. Now he brought a map home from school that he drew showing his plans to go from Pa. to Florida to enter the first race this year. This sure does show how pumped up these kids get about racing !

Thanks,
-- Hans Keck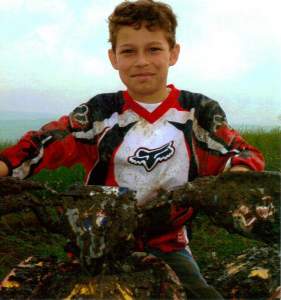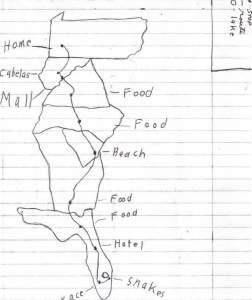 Did you check out Tuesday Toolbox with Barry Hawk? In the story he mentioned that his teammate Joe "Dirt" Scherer went down with a major crash and injury a few days ago. We have an update from Joe's dad:

Just wanted to give everyone an update on Joe -- he is out of ICU. He is in pain, but they started therapy yesterday. It's going to be a long healing process but he is in good spirits and wants to thank everyone that has been calling and emailing. He can't wait to get out and start therapy so he can get back.

Thanks,
The Scherer's
Did you note the Competition Bulletin we posted on the site here last week? We made some rulebook clarifications for riders in the ATV 16-21 classes. In the past, riders turning 22 during the season didn't know which class to race in, so now we're made it clear. CLICK HERE to read about it.
We got a few cool photos emailed to use from our friend Brad Cheyney at Blair's Polaris. ATV men John Gallagher Sr. and Kevin Yoho just picked up their '09 Outlaws, and they also hopped on some snowmobiles, too. Check it out.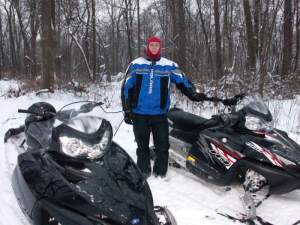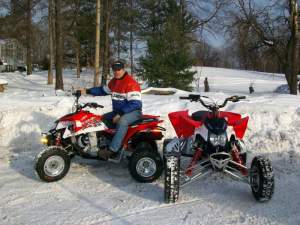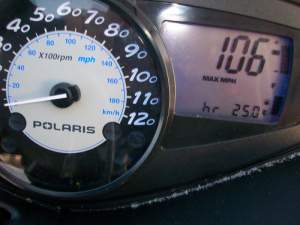 Okay, we just got the word from Versus on our 2009 GNCC TV Schedule. We're making two big upgrades this year. First, the shows will air in HD (oh yeah!) and second, we'll begin airing in the Spring instead of the Fall like 2008. The first show airs on Saturday, April 4th, with the River Ranch GNCC. With such great championship battles to cover this season, it should make for a great year of action on TV.
On the good news front for Youth ATVs (providing dealers will still be allowed to sell them), the Pitster Pro FXR ATV has now been approved and homologated by the AMA/ATVA for production class racing. So we have a viable 150cc four-stroke race ready ATV on the market now. I've heard there are some good videos up on YouTube of this machine in action, type in Pitster Pro FXR into YouTube and have a look. Or just go to http://pitsterpro.com/

That's it for Quick Fill, folks. We have more Florida photos below for to enjoy. See you at the races in just a few weeks!