Jason Weigandt
Quick Fill #4: This Week in GNCC
Thursday, January 22, 2009 | 3:00 PM
Welcome to Quick Fill. Our crew is getting ready.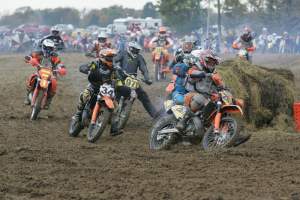 This week here at Racer Productions HQ in Morgantown, WV, we held the annual GNCC summit, where our various crew members from all over come to visit the office. Our announcer Rodney Tomblin was here, Lieutenant Trail Boss Buren Hamrick was here, and our entire GNCC staff from the office was in on it. We tackled a variety of issues, first and foremost, how to improve our Sunday bike courses. When we asked for your feedback after the '08 season, a lot of you asked for better, tighter, slower and more technical tracks on Sunday. It's hard to do with the amount of space we have to work with, especially when we have so many riders on the track at one time, and such a huge need for a place with parking.

But, we're not going to make excuses. We're going to do better. Jeff Russell has been spending more and more time laying out pits and parking (because the pits and parking have grown tremendously over the years). But he has found some help with that, so he can go back to helping Buren in the woods. Also, Buren is bringing one of his workers from the Mid-East Series to all the GNCCs next year so he can have additional help. That extra manpower means the boys can cut more new trail, and fix up more old trail, too.

So, we're taking steps to improve the tracks next year. The ATV riders seemed pretty content with the tracks, so we won't change as much there.

Also, we want to make sure we have a great podium presentation for all of the races at every round. We want to make sure plaques and awards are handled better, too. We're taking steps to do that.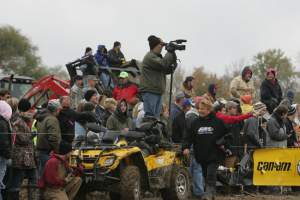 Last year, we introduced a lot of changes to the series, with transponders, a revamped sign-up system and live timing and scoring from the track on gnccracing.com. This year, we're working to improve the little things that really add up to a better weekend for you, our customers.

And by the way, we're about to bring pre-entry back (again). We've got a new system that works alongside our new sign up and transponders. Look for details here soon.

What else is happening? Well, of course, Paul Whibley is racing somewhere:


Race Report: Bush Riders XC series
Rider: Paul Whibley
Team: AFC Kawasaki, GEICO
Bike: Kawasaki KXF 450
Result: 1st

The latest round of the Bush Riders XC series was held near Woodville above the limeworks.

Light rain was falling during the look lap, but by the shotgun blast that signaled the start of the race, things had started to clear up. The KXF fired up super quick after the 5 metre sprint to the bike, and I nabbed the holeshot. I lead the way but was a little cautious as things were a tad slippery. Near the end of lap one, we entered a really cool section that ran alongside a small river. Weaving through the trees, the track formed nicely in the river side loam with a couple of water crossings and some muddy ruts climbing out the other side to keep the riders on their toes. These sections were a blast and some of the best terrain I've raced at a Bush Riders event. Â 
The track began to dry out and I continued to build my lead as the race progressed. Adrian Smith had worked his way into 2nd after a bad start but wasn't close enough to push for the lead. Steven Bird took 3rd on his CRF 450.
With 2 hours up the flag came out, giving me the win at the penultimate round of this series.

1st, Paul Whibley
2nd, Adrian Smith
3rd, Steven Bird

Thanks to the continued support from my great sponsors here in NZ and America.
Kawasaki, AFC, GEICO, Moose, Shoei, Sidi, Smith, CTi, RG3/MotoSR, Pirelli, Vortex Ignitions, Spectro, DID, JT, Acerbis, Vesrah, G2, IMS, Promoto Billet, Fastway, Stringfellows


Whibs is staying in New Zealand until February, because he and Katherine are getting married on January 31. Congrats!

Also, Glenn Kearney has been back in Australia for the winter (it's summer there, which makes it prime for off-season training). He'll be back in the states to do riding and testing in California in a few weeks. The other Australian, Josh Strang, is already back in the U.S. training at Rodney Smith's house in California.

Last week we announced details of the Snowshoe GNCC weekend at, er, Snowshoe. You get 10 percent off of rooms and lift tickets for the weekend, and there are also a few free snowmobile tours up for grabs. If you're going to ski this winter, why not do it with a discount? CLICK HERE FOR THE DETAILS

The Racer TV shows are almost complete for 2008, we're in the stretch run now, with Unadilla this week (the ATVs re-aired today, and the bike 'Dilla show airs this Saturday, January 24, at 2:30 p.m. Soon we'll have St. Clairsville and the grande finale in Indiana. And...this just in. Our Racer TV schedule for 2009 has just been signed by Versus, we'll be back on with a full slate of GNCC Racing on Versus again for 2009. Races will start in April, and we'll be on in HD this year! So get ready to see GNCC Racing on TV like you've never seen it before.

That's about it for this week. Enjoy your racing wherever you are, or enjoy another weekend at home. By next week, we'll be just one month away from racing!