Jason Weigandt
Quick Fill #3: This Week in GNCC
Thursday, January 15, 2009 | 5:15 PM
Welcome to Quick Fill. Things are starting to happen.

The holidays are well past us now and racers are starting to race again. In fact, it seems like someone just flipped a switch, because suddenly the news is coming in hot and heavy, where just a week ago there wasn't much to report.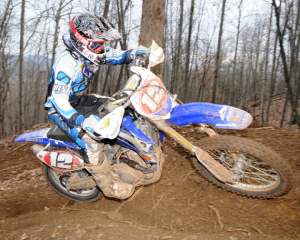 Let's start with some of our own news. Our Rulebooks and Class lists are now posted and final. Probably aren't any surprises in there, as we've been discussing these issues for months. Really, there aren't many changes from last year, so this shouldn't be too hard to get down.

And how about you UTV folks? This has been a tough nut to crack, as landowners and insurance companies don't really understand these vehicles, which is making it harder on us to get races together. We'll race 'em for sure, but it may just end up being at the same four races we did last year: South Carolina, Pennsylvania, St. Clairsville and the Ironman. What we really need help with is suggestions on the class structure. Last year we had hardly any Rhinos in the 0-700 classes and a whole bunch of Polaris RZRs in the 701-850 classes. With the numbers we had last year, it seems hardly worth it to keep four separate classes. Maybe we will divide the classes by age? Let me know what you think,

[email protected]



Now, onto the off-season races that we're suddenly hearing all about. For a round up, here's a note from "Digital" Dave Smith from Raceday Pix (Dave is the one snapping pictures of people at every GNCC round).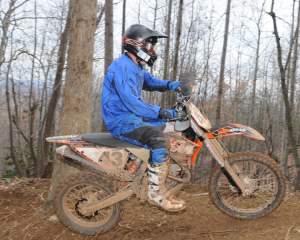 As far as the winter updates go..........
The only familiar faces that I have seen on the bikes down in Florida prepping for the 2009 GNCC season has been the XC1 Suzuki mounted rider Charlie Mullins as well as young John Ayers running his 250cc Suzuki two stroke.  Charlie has relocated to North Carolina during the past year so that he can get more yearly training and make trips to FL a bit easier.  Charlie is getting some good sand time and getting ready for the opener a bit further south than last year.  The one thing that has caught me by surprise is the amount of top riders that still are without a ride.  This is going to be a tough season for many of the riders going privateer after having support for the past few years.

With the quads, I have seen a few more riders making it to the Florida Trail Rider events and getting sand worthy less than two months out of the GNCC series' opener.  Chris Borich, Taylor Kiser, Traci Cecco, Jennifer Albright, Kaleb Nicholson, Johnny Gallagher, John Gallagher, Jeff Pickens and Jesi Stracham are a few of the names that stand out.  Chris is running hard on his Rockstar Suzuki and swapping quite a bit of paint with XC1 rider Taylor Kiser on his Yamaha.  Traci, fresh off a nice vacation, ran in the A class that started on the front row with the Pro riders and let me tell you she held her own a week ago at the Coyote Kill II Hare Scramble.  She spent two or three laps running in front of Kaleb Nicholson. Johnny Gallagher had to be a class A cheerleader after blowing up both of his quads in a one week time period and not having enough time to get one ready in time for the race.  John G Senior dropped down some age classes and had his way with some of the Florida regulars on their home turf.  Looks like he is gearing up for another Polaris victory this season.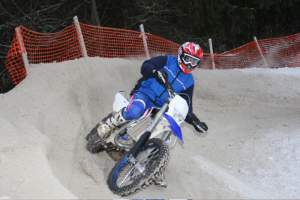 With time running out and Ricky Towery itching to throw the first GNCC green flag, there are not many week ends of racing left before we all head south to start the opening of the 2009 season.  We are hoping that the lower fuel costs will make the trip easier for all of the racers who plan on competing for the elusive championship title of a GNCC racer.  But here's a word to the wise for those coming to Florida to get some last minute training.  Croom seems to be the place where most of the riders end up, and it has become a hotbed for thieves.  While we were in Florida for the last race, which was held at the same exit as Croom, there were multiple thefts of bikes, quads and trailers that were still hooked up to trucks.  One of the new things that the thieves are doing is taking plasma cutters and cutting the sides off of trailer and stealing the contents!  I know we all work hard to get our stuff for racing, just pay real close attention to it if you plan to head down near Croom and that area.

-- Digital Dave

http://www.racedaypix.com

Looks like there's a new (old) option for riding in Florida. Kirton Ranch, which hosted a GNCC back in the early 2000s, is open again. For info, contact ARS Motorsports http://www.arspowersports.com and they'll give you the scoop. The place is open on Wednesday, Saturday and Sunday, and Chris Borich, Taylor Kiser and Johnny Gallagher have been spotted there.


Here's more off-season info:

Jason,

I thought this might be interesting material!!

Recent Mid South Results at the South East Cross Country Shootout!!

Charlie Mullins wins the overall by a mile.

Ryan Mullins wins Open "A"

Ted Mullins wins Lites "A"

Must be something in the genes!

-- Jim Douglas


Meanwhile, there was a different off-season race gathering some talent, the Ironman Team Race in Taylorsville, NC. Our other photog named Dave, David Scearce, got the scoop there:

The team of Barry Hawk and Thad Duvall won the team race. Second place was the team of Robinson and GNCC 4 stroke A rider Jordan Sain. Jason Raines was paired with Doby Leonard finishing 5th overall. Jimmy Jarrett and Wally Palmer finished 6th overall. Shane Watts rode the solo Ironman class finishing a respectable 7th overall.

See you in Florida
DAVE


Okay we have more photographers with news to report. Amy McConnell from QuadZone.com has a new sight going where racers, friends and families can purchase prints, merchandise and original photos after every GNCC event.

NEW for the 2009 season. http://xcountryphotos.smugmug.com.

Also, Amy has put together a great "Season in Review" forum at the Quad Zone. Check it out here!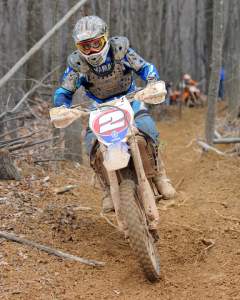 For 2009, the Suzuki RM250 is no more in the U.S. Check out what our buddy Joe V found in England. CLICK HERE.

Looks like the Am-Pro Yamaha team is all set for next year, they sent out this press release today outlining their plans for the race season. Also, Team Am-Pro has confirmed that they are coming to Snowshoe for our first-ever GNCC Weekend on January 30-February 1. They'll be signing autographs, so this if your chance to hang with Barry Hawk, Thad DuVall and Randy Hawkins. Are you coming? You get 10 percent off of rooms and lift tickets by showing your AMA card. Also, Snowshoe has put together 18 snowmobile tours. Make your reservations early and you can get in on it. Ask for Cheryl and she'll set you up.

The Snowshoe # is 877-441-4FUN. Get on it!

Kawasaki has put up a huge contingency program for the GNCC Series in 2009, and they'll provide set-up tips and track support for those who need it in Florida and Georgia. Check it out here.

Here's a note from Shane Watts:


Sumter Enduro - Free Dirt Wise with Shane Watts Instructional Training session

Off-road racing legend Shane Watts is stoked to announce that he will be conducting a free 3-hour sand riding training session on the day prior to Rd. 1 of the National Enduro Championship, held at Sumter, SC.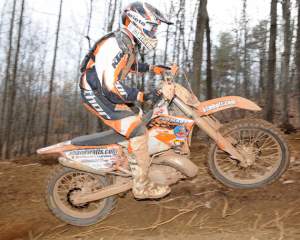 The training session will focus on riding techniques and line selection to conserve energy, and to increase your speed and safety over the loose and rough ground that will be encountered during the Enduro.

The training session will be held approximately 5 miles from the Enduro start area (SERMA club grounds) at the public off-road riding area. Start time will be 11:30am and will conclude at 2:30pm. This training session is open to any of the National Enduro competitors and is a great way for you to become comfortable and confident in these advanced conditions, under the expert tuition of this multiple winner of previous GNCC races conducted in the thick sands of Florida.

Please email us at [email protected] if you plan to attend. If you are unable to attend this session to ride and learn with us please be sure to visit us, after 3pm on Saturday, in our pit area at the National Enduro to receive your free autographed poster and to view portions of Volume 1 in our new series of Advanced Instructional DVDs. Volume 1 will cover an in depth analysis of Mud, Sand, and Rough Ground conditions, along with bike preparation and suspension tuning tips.

For this class we will meet under the shelter in the staging area at 11:15am so as to be ready to start the class at 11:30am. You are welcome to arrive later than this and join the class when you arrive. Address to the staging area is:

OHV Staging Area
5775 Camp Mac Boykin Road
Pinewood, SC 29125

You will be required to purchase a day use Permit before arriving. This is a $5 fee, and you can get them from the rifle and pistol range, which is open at 8:30am on Saturday. They are located half way between the SERMA Club grounds and the OHV staging area, right beside Hwy 261. The address is;

Rifle and Pistol Range
5415 Hwy. 261 South
Pinewood, SC 29125

SERMA Club grounds address:

2300 Spots Rd.
Wedgefield, SC 29168

One more thing to note. Old-school off-road fans, if you're looking for something cool to do during Daytona Bike Week while we're down there, check out this Dick Burleson tribute:

Dick Burleson's achievements in racing and in the motorcycle industry are numerous and memorable. Dick always had a keen sense for racing talent and was a most willing mentor for many that went on to huge success as competitors and champions. His colleagues and friends want to acknowledge his contribution to racing and the industry by hosting a dinner that is open to everyone. The Burleson Tribute event is conveniently scheduled the evening prior to the AMA Alligator National Enduro, in Daytona Beach on March 5.

Of the 48 years the National Enduro Championship series has spanned, we have 39 years of Champions attending the dinner, including GNCC's own Jeff Russell.   It's going to be a really terrific night.  In addition to the many friends that Dick has in racing and in the industry itself, Moose Racing and Parts Unlimited are the Host Sponsors of what should be a fantastic evening. Check out our web site at www.Dickburlesontribute.com



- Greg Davis



Okay gang, that's all from GNCC HQ. See you next week, and hope you stay out of the cold this weekend. And oh yeah, the office staff here wanted me to add this: Go Steelers!