Jason Weigandt
Quick Fill #2: This Week in GNCC
Thursday, January 8, 2009 | 5:15 PM
Welcome to Quick Fill. The rules are almost complete.

This week we wrestled with a few new issues that we didn't expect. First came a suggestion to allow 250 two-strokes to race in the XC2 Lites class. We mentioned this one here last week, and it all started because it looks like things are going that way for the AMA Motocross Championships this summer. A lot of people are fans of this idea, since two-strokes can keep the costs of racing down, which is big in today's environment. So after the suggestion came in for motocross, we considered it for GNCC. We first asked the manufacturers what they think, and they were all pretty cool with it (obviously, some liked it more than others, but no one objected like we thought they would). And a few riders liked the idea. But not everyone was for it. This late in the game, a lot of riders have already bought bikes and signed deals, and when you planned on racing a 250F, someone else swooping in on a two-stroke doesn't seem fair. So, we're going to hold off on this idea for a year. If it passes muster in pro motocross this summer, we'll probably bring it to the GNCCs in 2010. But for 2009, the class will work under the same 125cc two-stroke/250cc four-stroke rules we have always used.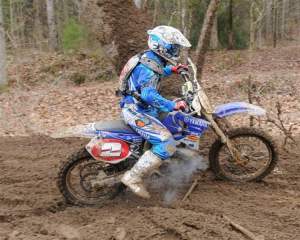 This week I talked to a ton of people on the 250F versus 250 two-stroke issue, and opinions were all over the board. Barry Hawk told me he thinks the performance differences between the bikes is small, and a few mods here and there can make all the difference as to which is better. A mechanic of one of the riders currently racing in the class told me he thinks the 250 two-stroke is still better. And for everyone who thinks the four-strokes cost too much money to race, Scotty Watkins told me this week that he didn't even go through his parts allowance with Kawasaki in these last two seasons racing XC2 on a KX250F. Scotty says the four-stroke doesn't require any more work to keep up than his KX250 two-stroke did racing in the 250 A class. And for sure, we haven't seen many engines blow up in the GNCCs in that class. As always in racing, it's hard to get everyone to agree on anything.

Watkins will be a part of the big effort JG Racing/GEICO team, which will also house Paul Whibley and Jimmy Jarrett. The GEICO squad started small these last two years, but they're going big for 2009, looking for wins, podiums, and who knows, maybe even some championships. Big pat on the back for GEICO for hooking the GNCC team up with even more support.

On the ATV side, another potential rule change nearly took place. This one regards our Sport 400 (15+) class, as there was a consideration to bump that class back up to a 16+ class. It's a tough sell trying to have a 15+ class when the rule on full sized ATVs has always been "no one under 16 on full-sized ATVs." The AMA/ATVA created this new class last year, though, and we weren't sure if it would get the green light again.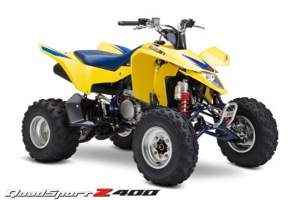 Luckily, it has. The Sport 400 (15+) class will remain in GNCC Racing for 2009. However, we have been forced to move the class back into the morning race. Some asked for this move, some asked for us to keep it in the afternoon, but at this point, we're just lucky to still have the class at all.

And, luckily, we won't have to start that class in the back row like we have to do with the Schoolboy 0-300 class.  Unfortunately for the Schoolboy racers, we still have to start them in the back row.

Okay, what else is happening? I heard from Walker Fowler's camp this week that he's running the College A Class this year on his YFZ450. He doesn't have full factory support or anything from Yamaha, but he's made the commitment to race ATVs full time and give up the bikes, so we'll see where he goes.

Other Yamaha ATV riders are pushing hard right now. Bill Ballance, Traci Cecco and Johnny Gallagher have been riding every day preparing for the new year, Johnny G told me he even rode on Christmas Eve and New Year's Day! Boys (and girls) in blue will be ready. But don't worry, Team Yellow (Chris Borich) and Team Orange (Adam McGill) are ready, too, with their deals locked in for '09. Same with the other Team Yellow (Can-Am) who has Chris Bithell and Chris Jenks back for the New Year. Can-Am, by the way, plans on having a big contingency program for DS450 riders this year, look for details soon.

And just so I don't leave anyone out (contenders like Cook, Sommers, Yokley, Ockerman, Kiser and McClure), we have our new reporter, Rachel, on the case updating our GNCC Pro Profiles for 2009. Look for a whole new set of profiles up next week!

Anyone going to the Indy tradeshow in February? The Hatfield and McCoy trail system in West Virginia will have a booth there, and they will have GNCCers Jason Raines and Randy Hawkins singing autographs at the booth throughout the weekend. Surely, this will be the first of many GNCC autograph opportunities at the Trade Show.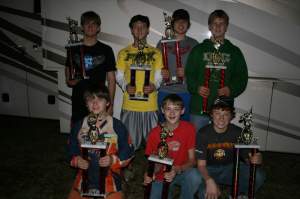 Another Baylor family update:

During holiday vacation at the Durhamtown Plantation in Georgia, a few West Virginia GNCC riders combined forces with a few South Carolina riders for a winning day at an 8-hour Team Race in Georgia.  Zack Nolan and Steward Baylor took the Overall and 1st in the 250 Expert Class; followed by Corey Arbogast and Michael Ayersman for 3rd in the same class and 5th Overall; with Sam Evans, Hunter Green, & Grant Baylor grabbing first in the 0-250 Sportsman Class and 9th Overall.  

Big thanks to Rekluse for signing back on as a GNCC Sponsor for 2009. Times are tough, and we appreciate the commitment from the automatic clutch folks.

Also, we're loading up the 2009 contingency information onto the website. Two2 Cool Coolant has just announced a program, alongside such notables as Kawasaki, Honda, Yamaha, Can-Am, ITP, GBC, Maxxis and others.

Finally, the hard-training folks behind the Concept2 rowing machine have reported that a lot of GNCCers have shown interest in their machines. I will tell you, personally, that no exercise I've ever done seems to replicate riding like the Concept2 rower. Anyway, apparently Kurt Caselli just had a new machine was sent to his East Coast training compound (AMA Enduro Champion Russell Bobbitt's house) so he can be ready for Florida and beyond. For some action clips of top motocross talent rowing on the rower, check out this link HERE.

That's it for this week. Breathe easy, those who ride 250Fs in the bike XC2 Class, and those who are 15 and planned to race the ATV Sport 400 class. And don't forget Racer TV this weekend, with the Snowshoe bike GNCC on Saturday at 2:30 p.m. You know who watches Racer TV? Ricky Carmichael! He told me himself this weekend at the Anaheim Supercross. Even the GOAT digs GNCC Racing.

Thanks for reading!