Jason Weigandt
Tuesday Toolbox: William Yokley
Tuesday, January 6, 2009 | 4:45 PM
Big personalities come and go, but no one can match the character of William Yokley in the Can-Am Grand National Cross Country Series. Still one of the top ATV pro racers, he has built a legend around his rebellious "Hell Yeah" attitude. But behind his Kentucky boy rep lies a calculated rider who understands the business of racing as well as anyone. Why does William Yokley make a better living as a racer than most? Read on to find out more about the National Guard/Polaris rider.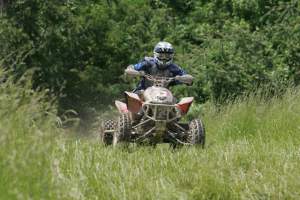 GNCCRacing.com So, hey, do you have time for an interview?
William Yokley: Yeah, but I just want everyone to know I called you first!

Well I'm not surprised. I know you pose as the Kentucky redneck, but you've actually become very adept at the business of racing. When did the light switch on for you, when you started approaching this differently?
Whenever I got the ride from Kawasaki back in 2000, I was able to quit my job in the lumber business. Back then I didn't have any bills at the time really. I was living at home, and all I had was a pistol, a pick-up truck and some money for beer! But anyway, once I got more involved with the manufacturers and doing product development and testing and being in the shop and seeing what they go through and hearing conversations and understanding it all, I was able to see what was involved. I would hear stuff like "Hey, I have to sell five front ends to make enough money to break even on the one I gave you." Companies expect you to try hard to sell their product. I try to show people why one part costs $1500 and another part costs $500, and what the performance differences are. It's just common sense more than anything. People just think they're going to get a phone call or a letter in the mail telling them they're set for life. Well, it ain't gonna' work that way. I always say, "If you want to make a dollar, make one for somebody else, first."

And then just about the time you started working on the business side, the manufacturers started coming in again. For Polaris, this must be a pretty good deal!
Exactly. I started working with them a little bit with the RZRs and stuff and then we flew out to Minnesota and had a great week out there with those guys. Still, it took a lot of things to make me want to go that route. I've done my homework on their four-wheeler. I looked it over through and through, looked over the geometry of the suspension. I called a bunch of people to look into motor, and pretty much all of that was cool. And, I liked the people I was dealing with, and that was important. Riding for somebody that was almost acted like an enemy instead of someone who's supporting you, I ain't even interested in that no more.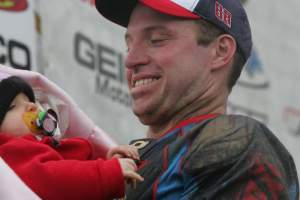 You'd rather race on your own?
Some of my other deals, there wasn't good communication, or a desire for them to really work hard and support the team. Don't get me wrong, I have had a lot of good backing and stuff like that. But, if you can't talk to that guys that actually designed the thing, and you can't make it into a better racer, than what do you have? I didn't come from a fabrication background, I don't have a big shop and all this stuff to build parts, nor do I really want to. It has to be a team effort. Polaris, I've already gotten more help and better communication from them than any other company I've worked with.

Now what about the National Guard gig? How did that come about?
We thought it would be a great fit and it has been, it's the perfect demographic for our military. The men and women, kids and everything that's involved in GNCC racing, is, I think, set aside from most because the type of person that is involved, they have a lot of heart. They're the kind of people you really need a military built out of. This is a great place to come in contact and have a conversation with a young man or woman that doesn't know what direction they want to go in or how to pursue it. Anyway, we thought it would be a great fit and Rod Cooper, my business agent, it took us about four years to get into the door.

Four years?
We never gave up, we kept trying to find different avenues and Rod Cooper finally wound up getting the phone number to a Colonel, and he's actually from the same county I'm from. I didn't really know him, he's a little older than me, but he knew my dad and all my background and I know his family and stuff. He's really highly thought of in the military and the National Guard because his success has taken the state of Kentucky a long ways in recruiting from mediocre in the ranks of top recruiting to the top. He really wanted to do it because he's really ambitious and thinks outside the box. So he bugged and bugged and bugged them in Washington and then finally the guy said 'Alright if you say this is going to work I want to fund it, here's this much money, let's see how it works.  Let's just get into it easy. The first year went pretty good, got some nice results. They went a little bigger last year, they had the position of title sponsor, and they got a whole lot more out of it. They got a lot of recruits out of it. A lot of recruiters were very impressed with how many leads they got.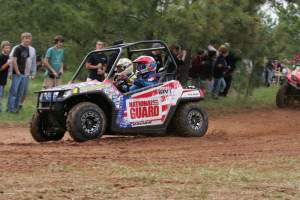 So it really actually made an impact?
I had a kid e-mail me that he joined the National Guard because they sponsored my racing. He was looking to get in the military but he was looking into the Marines and Navy and all that and he's a four-wheeler enthusiast and the National Guard Sponsored me, so he just dug that. We actually got a phone call today that they've stepped it up more this year which is a great thing. I've got more stuff this year than I've ever had in my life. In the worst economy, too, so I'm stoked.

What about the results? Does it bum you out you haven't won the past couple of years?
I definitely think I can win. Yeah, it's a lot tougher than it has been, I'm obviously not getting any younger, and there's a lot more competition. On certain days I may not be able to hang with some of the guys, but on some days I can dust their ass. What happened to me,  too, is fuel injection came along. I think of EFI as I do an STD. I don't even want to go near it! It has problems, you can't get a start, and no one was willing to help me. That's when all my problems really started.

Now, you can answer this anyway you want, and no one is going to believe you because you get paid to ride from Polaris. But, do you at least believe yourself that this machine can be competitive?
I'm more confident than I have ever been my whole life. You know what? I've never been the fastest guy, period, but I do feel competitive on it, and I think we're going to go out and we may not set the world on fire, but I damn sure won't be bringing up the rear. I'd love to get some podiums, I'd love to win a race or two and just prove to the world that the Polaris is competitive. As far as the National Guard, I want to be on the podium to represent and keep bringing them the numbers. I told them something this morning. Even if this whole thing doesn't work, as long as everyone was putting effort into it like they are, I would be okay with it. And I have Mark (Nottman) coming in behind me, and my goal is to set up this program to where he doesn't have to work, and can just step into a situation where he can race for a living. As long as everyone puts in the effort, I think we'll have an awesome year.