Jason Weigandt
Quick Fill #49: This Week in GNCC
Thursday, December 18, 2008 | 4:45 PM
Welcome to Quick Fill.

The proposed 2009 GNCC rules are complete. Click here to read them, and if you have suggestions or questions, send them to us at [email protected]

As always, the rules take a lot of meetings and planning and discussion to finalize. Rest assured, no one person or one opinion decide what we do. So after talking to our racers, our fans, stakeholders like race teams and manufacturers, and of course our entire staff, we come up with a good idea of where to go. You have to talk to everyone and come up with rules as a committee. Otherwise, the rules would be based on whoever calls me on the phone and argues the best, and I feel bad for those that tried, but just convincing me isn't going to get the rules changed.


And there aren't many changes this year, anyway. Highlights of the proposed new rulebook include reducing the age limit in the Supermini ATV class to (12-15), but 12-year-old racers will not be allowed to race 150cc machines (they can race two-strokes up to 105cc or four-strokes up to 125cc). We also boosted the displacement limit in the Open and Limited 4x4 class to 850cc.

UTV rules are still being worked on. The class structure seemed okay last year, but we need to bring in more safety regulations, such as requiring four-point harnesses and possibly window nets. Until we have reached a decision on those safety parameters, the UTV rules are To Be Announced.

And the Pro Rulebook is under review by our manufacturers and teams at the moment.

What else do we have going on this week in GNCC? A few newspapers have checked in with stories on local riders who did well in the GNCCs this year:

Click here for a story on Cole Setser and Lee Smith in 90cc limited

Also click here to read about Canada's own GNCC Class Champion Jeff Pillon. Jeff's a fun guy and I think we owe him a story of his own on our site.

We also have a letter from a proud parent of a Youth ATV Racer. Dustin Adams finished second this year in the 90cc Limited (11-15) Class. He's had quite a year, as this letter is not for the faint of heart.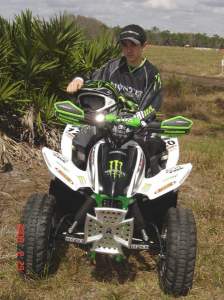 Jason,

Hello!  I am writing about Dustin Adams, #120 in the 90 Limited Stock class. Dustin has been riding since he could walk. I am so proud of him this year for his great finish of second place in his class and grabbing 13 for a National Number. He has come so far and worked very hard. Dustin had a rough year in 2007 as all our family did. It seemed like every time we turned around, it was a bad phone call about someone who died, or was dieing. It started at the Florida race in 2006 when we received a phone call from my parents saying my oldest brother had cancer and was in the hospital. This is someone Dustin admired and looked up to. My brother would take him fishing and even to a rodeo to chase a pig. For the next year we watched my brother (Dustin's uncle) fight his cancer, and nothing helped. My brother loved to ride ATVs and was so proud of how well Dustin did racing. My brother took a turn for the worse a couple of weeks before the Florida race in 2007, and was flown to Winston-Salem due to his aorta rupturing in his neck. He never regained consciousness. My brother lived on life support for about 3 weeks. During this time we also lost a friend that was a senior in high school and someone Dustin had known for a long time. This young man, Roman McPherson, was my sister-in-law's nephew. He died the same week my brother was flown to the hospital. So it was not getting better. For the first three races we would stop at the hospital, and Dustin and his dad would go to the race (some I would go to and some not) and drop me off at the hospital and then pick me back up after the race. The Steele Creek race was the worst, because I stayed at the hospital and Dustin said, "Mom, I will stay here with you and skip this race if you want." I told him no, go race, because his Uncle Buddy wouldn't have it any other way. My husband and Dustin went to that race after dropping me off and on Saturday morning, March 24, 2007 around 11:00 AM my brother, at age 52, went home to be with the Lord. Dustin was having a good race, in second place until his chain broke on the last lap. So they came back to the hospital and we went home to bury my brother. This day was already painful because that date, March 24th, was the 25th birthday of my niece, Tabbitha Richardson, who was killed in a car wreck on Labor Day 14 years ago. So this was not a good day for our family. It did not stop there. On Aug 5, 2007, Dustin's birthday, Dustin's Great Uncle died. In total we lost five people close to us in 9 months. Dustin was a great help to all of our family in our time of need and tried to be positive and make the best of the situations that occurred in our family. Dustin and his dad (Mike) started to build the race bike for 2008 and Dustin asked if he could run a decal on his bike in memory of his Uncle Buddy. Our sponsor Horizon Design made him a decal for his ATV. I can honestly say I had never been prouder. I have attached a picture of Dustin and his ATV in 2008. Dustin is a very special young man who always takes the time before the race starts to go back to the 70 class and wish the riders good luck. I just thought you should know what a wonderful and great person you have participating in your series and just how honored I am to be his mom.


Thank you,
Janet Adams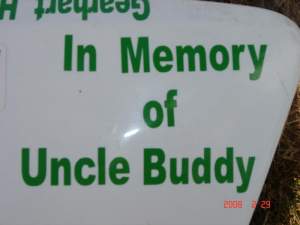 That's some pretty heavy stuff there. Congrats, Dustin.
A eagle-eyed reader found this interview with our Leutenant Trail Boss (course builder) Buren Hamrik. Click here. http://easterndirt.com/11/xmas_4.html


Finally, the folks at Rider Down have a great auction going. Get a Championship bike and help a great cause!


Bakersfield, CA: 12/11/2008

2008 WORCS Pro Champion Bobby Bonds donating to RiderDown!

WORCS Racing's Jason Reed announced his auction today of Team CCR & their former Pro Champion Bobby Bond's 2008 WORCS Pro Championship bike along with a singed set of 2009 AXO Championship gear. Bonds was the underdog in 2008 coming in, but he showed consistency and drive to deliver the 2008 WORCS Pro Championship to his Honolulu Hills/CCR team. This bike has all the goodies, after all, it's the '08 Champion's bike. Most importantly, remaining proceeds from the bike after CCR's initial financial recovery will go to the "RiderDown Foundation." RiderDown is a national non-profit organization based out of Evergreen, CO which helps injured riders and their families. This is a chance to get a piece of history to sit in the office, shop or by all means take out and ride, although it would tend to look clean on the "shelf" along with a donation to a well deserved organization.

"I'm happy to do something like this. This is a part of giving back and I think it's great that Derek and I are able to do this. Jason Reed of WORCS Racing set this up for us. He met Bruce Vermeulen with RiderDown in Vegas at Endurocross last month, launched the idea to Bruce and it was an easy fix. I look forward in giving back to this awesome organization." - Bobby Bonds

"This is such an awesome idea. We at RiderDown are excited and I want to personally thank Jason Reed, Derek Gerecke (CCR owner) and Bonds for doing this. It is such a tough time right now for injured riders and this will be a generous donation to our organization allowing us to help more riders." - Bruce Vermeulen of RiderDown Foundation

Here is a list of what is included in the auction:

2008 KX450F: Curtis Sparks Motor, complete Hinson Clutch Basket, DRD pipe, Flexx handlebars, Works Connection levers & skid plate, Tallon hubs w/excel wheels, new Maxxis tires and GPR stabilizer, just to list a few......

Number plates are signed by the 2008 WORCS Pro Champ himself.

* Included in the auction is a full signed set of 2009 Red AXO gear from Bobby Bonds.

For more on RiderDown, please visit www.RiderDown.org

* I will be using Valley Crating out of Bakersfield for crating and shipping of the bike if purchased outside of local pick-up. Feel free to call David Bonner with Valley Crating @ (661) 587-0974 for a crating/shipping quote to your zip code. Only serious calls for crating costs, please. ALL CRATING AND SHIPPING charges are buyer's responsibility.

Let's raise some money for these fallen riders...

PLEASE VISIT THE AUCTION HERE

That's it. Have a look at the rules and we'll be back next week with some quick Christmas Wishes. Happy Holidays!