Jason Weigandt
Quick Fill #47: This Week in GNCC
Thursday, December 11, 2008 | 3:41 PM
Welcome to Quick Fill. It's quiet time.

Not too much to report in GNCC land this week. We're hashing out the 2009 rulebook right now and hope to have a proposed version up early next week. We'll let you folks check it out as soon as we're ready. One of the only things we really have left to hash out is the Supermini Youth ATV class, as we're trying to figure out the best way to keep that class going. The numbers were pretty low this year on Cobras, and some have suggested allowing hybrid machines into the class (production dirt bike engines in production Youth ATV frames). We've seen documentation showing that these machines could be reliable and fairly inexpensive to build. But, as always, as soon as you open the door to changing engine and frame combinations, you open Pandora's Box, and costs and effort can escalate very quickly. So we're still unsure of where to go on this.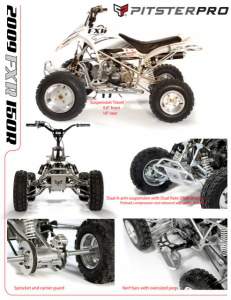 If you're a Youth ATV parent with an eye on the Supermini Class, and we haven't already heard from you, feel free to weight in by sending me an email [email protected]

Otherwise, we don't have many changes planned to the rulebook this year, as we didn't see too many problems this season, and we didn't get that many suggestions at the banquet or through phone calls or emails. I think in these times, people will just be happy to make it to the races at all on whatever they can afford to compete on.

One company is stepping up to help out the Youth ATV parents, specifically. It has been over a year since we've heard rumors of a race-ready 150cc four-stroke ATV from the folks who make Pitster Pro mini dirt bikes, and now apparently that machine is a reality. We were sent this link from an anonymous spy: CLICK HERE

This machine is said to be the real deal and now just has to be homologated by the ATVA/AMA to race. Stay tuned.

Racers are doing their thing and racing, of course, as even those who were burned out after the Ironman are ready to get back into it here in December. Here's a note:

It was awesome to see Hardcore's Sam Evans racing in SC on Saturday, where he took 1st in his class for the coveted "Little Brown Jug" trophy that the Greenville Enduro Riders club is famous for. Grant Baylor grabbed the Youth Overall.  Steward Baylor rode AA for his 3rd overall win.  Check www.setra.org for this winter's schedule if you're interested in joining the fun. 

Merry Christmas,

Jeanette Baylor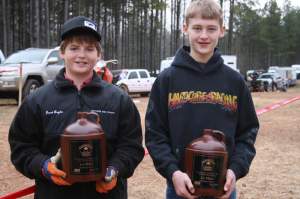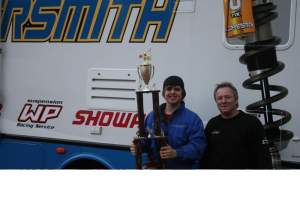 So some racers are starting to go racing again. And you know if people are racing somewhere, anywhere, than you can guarantee Paul Whibley is racing, too. The guy just never stops. Last weekend The Axeman found two races in New Zealand and won them both on his brand-new KX450.

Here is a Whibs race report:

Race Report: NZ GNCC (Sat), Bel-Ray XC (Sun)
Rider: Paul Whibley
Team: AFC Kawasaki/GEICO Team
Bike: Kawasaki KXF 450
Result: 1st, 1st

With the new KXF loaded into the van, I was keen to get some races under my belt too learn about the bike and aid in the suspension testing that I have been doing with MotoSR/RG3.
The first race was the NZ GNCC at Waimiha. Gary Powell always lays out a great track and this was no exception. This is probably the closest NZ has to a race in the States.
Chris Power and I rubbed elbows all the way to turn one but I had the advantage of the inside line. I led lap one and really enjoyed the track and the new bike. The loop had cut up from the morning race so there were some nice ruts and plenty of exposed roots to inspire concentration. By the second lap I had a good lead and began thinking about suspension and how we could improve the setting. Rory Mead was riding well and by the half way point in the race had closed the gap. I was informed that he was coming so I put the testing side of the day to the back of my mind and turned back to race mode. I was lucky and sneaked in an extra lap putting my bike time close to three hours. That's my first win for the Kawasaki brand!

Sunday, was off to Huntly for a round of the Bel-Ray series. Jehi Willis had been flown in from Australia so I had some serious competition for the day.

From the dead engine start the KXF started really fast and I rounded turn 1 in second. I soon moved to the lead and built a gap. A lot of time and effort had gone into marking the track, providing a more challenging and safer layout. With a lower overall speed and some great use of the terrain, the track was by far the best Bel-Ray XC I have raced.
By the third lap fuel stop I had a comfortable lead and was enjoying the ride. Mark Penny was running second and riding really well, I was able to monitor the gap as I could see him on another part of the loop.
The Kawasaki's motor impressed me. With the smooth power, I could find some traction in the slippery grass early in the event and as things carved up, I had plenty of boost to power through the loose soil.

After 2 hours I grabbed the win.

Thanks to my sponsors in NZ:
Kawasaki, AFC, GEICO, Moose, Shoei, Sidi, Smith, Pirelli, Spectro, DID, JT, Vesrah, Acerbis, Moto SR, GHQ, IMS.

Good work, Paul. Could the Axeman deliver Kawasakis first GNCC Title since....wait, has Kawasaki ever won a GNCC title? This could be a first!

Also got this top-secret spy picture of a still unreleased 2009 item:

Nathan Kanney's new helmet!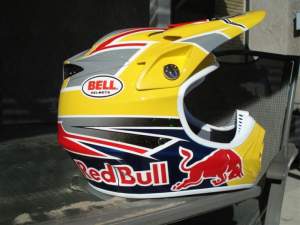 We also have a note from Jessica Coombs here in the office:

If you haven't received a UTV trophy from previous races, please send me (Jessica) an email and we will ship it out to you: mailto:[email protected]

Thanks

Jessica

P.S.- There will not be a shipping charge for these guys.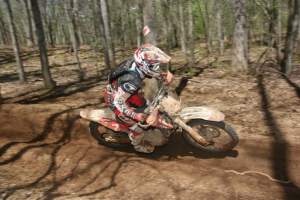 Times may be tough for some manufacturers, but Husqvarna North America continues their revitalization efforts through the posting of a big new contingency program for 2009. Husky's Scot Harden sent us the details, but it's all packed into a 37-page document so that might overwhelm you a bit. So I'll list the classes that pay here:


AMA Grand National
Cross Country Series
(GNCC)
 
 
AA/Pro, 0-200 A, 250 A, Open A, 4-Stroke A (0-300cc), 4-Stroke A (301cc+), 0-200 B, 250 B, Open B, 4-Stroke B (0-300cc), 4-Stroke B (301cc+), Vet A, Senior A, 0-200 C, 250/Open C, 4-Stroke C (0-300cc) 4-Stroke C (301cc+), Vet B, Senior B, S.Sen A, S.Sen B/C, Vet C, Sen C, Masters, Womens, Schoolboy
Doesn't that cover just about everyone?
Finally, Shane Watts checked in with this update just before we posted:
As announced in our last "Watts Happening" Newsletter, the big news is we will be conducting before the first two National Enduros (South Carolina Jan 25 and Georgia Feb 22) some 5-day Dirt Wise Camp, focusing on skills improvement and physical training for the more committed rider. These schools will be limited to seven students and will be conducted from our home base of Hickory, North Carolina. The tuition fee will be $1250 per student per Camp which is more than half the cost of any other comparable program out there for you to attend. The Camps will be conducted from 8:30am to 5pm, Monday Jan 19 to Friday Jan 23 for the first Camp, and Monday Feb 16 to Friday Feb 20 for the second Camp. We will be utilizing the awesome training facilities we have available to us. For those guys located a long way from us we will have the opportunity for you to fly in, stay with us, and rent a bike for the full week, including the race if necessary. Included in these classes will be a period of time set aside to utilize our professional and very well accredited suspension provider and tuner to help set your bike up for free! These 5-day schools are going to be huge and such a beneficial advantage to those wanting to get ready and prepared not only for these two races but also for the full race season ahead. Plus we'll have just such a bonza time shredding our local tracks and trails apart!!!

Every student receives a free copy of Volume #1 from our new In-Depth Riding Skills analysis and Instructional DVD series currently being produced. Featured topics for Volume #1 will be Mud, Sand, and Rough ground trail situations, along with separate segments on suspension set-up, bike prep, goggle prep, and training for these conditions. Also we will be showing some trail side maintenance techniques and plenty of other extremely necessary and important tricks of the trade! This DVD goes on sale on Jan 24, 2009 and is an essential must have item to all offroad riders and racers.

So there is no better way to prepare for the upcoming race season than to spend a week of high level training and skills improvement than with Offroad legend Shane Watts, the first rider ever to perform the Grand Slam of Offroad racing, by winning the GNCC Pro Championship, the World Enduro Championship, and the Overall at the annual ISDE race. Registration is now open for these Camps and they are filling up fast. For more information about the Dirt Wise Academy of Offroad Riding school 5-day Camps please email [email protected]

-- Shane Watts
Okay gang, that's it this week. Stay tuned next week for a proposed rule book.