Jason Weigandt
Tuesday Toolbox: Tom Wright
Tuesday, December 9, 2008 | 1:50 PM
Tom Wright has an appetite for adventure. He's the new GNCC Senior A (40+) ATV Champion, and he's looking to turn pro for next year. In between, he ran the Baja 1000 and nearly won it, and wants to find some riding partners to take on long endurance races all over the world. That's more than enough to make him the subject of this week's Tuesday Toolbox.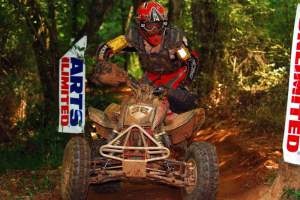 Okay Tom, how tough was it to win that Senior 40+ title?
It was pretty tough; I had to work for it a little bit. Me and Dave Simmons battled back and forth each race.

Did you have races where you and Dave battled all day, or was it pretty much whoever had good luck?
Well, a little bit of both. Most of the time one would get out front, and if one guy made a mistake, we're pretty close on speed so it's hard to make up time. But racing in the back of the A class is tough. I don't think you can show your real skill level, because the fastest guys at the front of each A class are so much faster than the A riders in the back of the other classes, that you get stuck trying to get around those guys. The few races where we both got good starts, we did battle bar to bar the whole way. And Dave is aggressive, and that's great because I'm not afraid to get in there and bang bars, so it's fun to race like that.

This year Dave broke his collarbone, last year you broke your leg.
I had him beat clean last year, he needed to win all four races at the end of the year last year, but I broke my ankle at Yadkinville and had to get two pins put in it. This year, he really stepped it up, and we were back and forth every week. What makes it tough, though, is even if one of us has a bad race, we'll still finish second. So I don't think we should run the A class. I think we should move up, and I know I certainly will next year.

Yeah I heard that.
Yeah I'm going to try it, I should do it now. I'm 43 so I'm not going to get faster as the years go on. I like the challenge of it all. And I don't have much experience; I only started in the C class four years ago.

So how did you get started in this?
I was 39 when I started. My family has a house on the Wisp at the lake. We showed up, and I had a Raptor, and I wanted to just find a place to ride in the mountains somewhere. I saw there was a race in town, the GNCC just happened to be taking place when we were there. I had never even heard of it. So I tried it, and my wife raced it, too. She broke her arm, I broke my thumb, and we had a blast and we've been hooked since!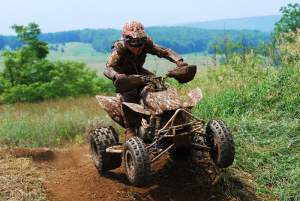 That's crazy!
Yeah! I raced a few GNCCs after that one and realized that Raptor wasn't the way to go. I got hooked up with the East Coast ATV guys and they told me to get a Honda. I took his word for it and won the C class with no problem. I went to Vet A that same year for the last few races, and I was getting top three just coming from the afternoon. The track was a lot rougher, so I knew I had a lot to learn. The next year I raced for a championship with Chris Earlywine. He was a great guy, but he, of course, passed away. He was like Dave, we would have some aggressive battles, and one time he came up and found me in the pits just to say "hey good race!" He beat me for the title that year, but really the only reason he beat me was because I didn't know the '06 Honda, it was such a different setup, we had to change a bunch of stuff. I threw my old parts on there and it didn't work. So I struggled that year. I'm not quad mechanic, I'm a contractor for a living doing concrete and brick work. I was going to race against Chris again the next, but after he passed, I looked at the chart and saw the Senior Class, and I figured I would go race this Dave Simmons guy. Then I met up with Chris Borich and his dad, and they really helped me set it up. So I told Dave, "Hey, I'm gonna' get you if I can." He had won for so long I don't think he expected it to happen, but last year I had him beat clean. This year, he really brought it, and it was actually more fun.

So you're racing pro next year?
What I've found out is the Pro-Am guys aren't really any faster than me or Dave, either. By the time we fight through five rows of the A class, we never see the top ten of the Pro-Am, and since we run about the same speed of them, we don't catch them. So I'm not going to mess around with that, I'm going to run pro next year. I figure I'll be around 18 to 20 in the pro class, but that's okay, I want that challenge. I'm more interested in the Baja, the 12-hour, long endurance races like that. It's not just the nuttiest 12-year-old kid who can go fast who wins. You have to have smart and have strategy and be prepared. I really like those races.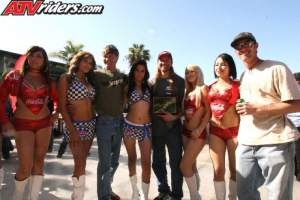 What about Baja?
Baja was good. Last year I went with Mike Penland, but although Baja was great, I saw that Mike and I don't do things the same way. I learned a lot from it, though, and his son got hurt, and at that point we were just more concerned with finding his kid in the dark. So I realized that being prepared was key, because safety is a major issue. This year I wanted to so my own deal. I'm good friends with Andy Lagzdins, we ride together a lot. He invited me to race La Tuque in Canada. It was a 12-hour, and I realized that's what I like to do. So we decided to run Baja. Our partner from La Tuque broke his collarbone, so then Jim Stack fell into place, because the team he was on fell apart. Jim, I don't know him well at all, but he's quite a character! He knows a lot about the bikes and set it up. He was a great teammate. We started off, I didn't realize how dusty it was, with Mike we started in the back of the pack. This year we were in the middle of the pack. I couldn't see a thing. I rode the first part and got into the lead, then I got lost and we lost the lead. But by then, those guys on the West Coast knew they had their hands full. Andy got the lead back, held it, Jim got on and maintained it, we were leading the whole time. We had a 20-minute lead, but somehow Jim got misdirected and went 10 miles the wrong direction. We lost 40 minutes. We came back from third, Andy got us within ten minutes, and I charged my way to the front with 140 miles left, but then out lights went out, and I had to ride the last 20 miles in the dark. I had to stay behind a dirt bike just to try to use his lights, but was trying to lose me. It wasn't easy! Still it was good, we had fun and we're ready for next year. I'm planning next year right now! But the guys who got first place decided to pick up Andy, because they didn't like the competition. They didn't like East Coast ATV on the side of the machine beating them, so they picked up Andy, and he's going to do it because he's got a free ride. So I'm trying to find riders for next year. But I think we've proven we can go down there and get it done.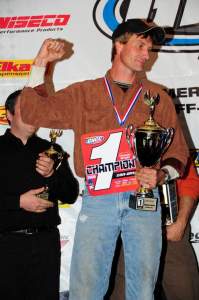 So were the West Coast guys questioning your set up?
Yeah a little bit. I didn't want to buy the motocross front end and shocks for one race. So I didn't have the wide front end, and they were telling me this wasn't going to work. But I think us East Coast guys have the speed. You get so many terrain changes. It's not like the Dust to Glory movie where it's just whoops and sand, it's mountainous rocky and rough. Think about it, it's like riding from West Virginia to Florida off-road the whole way. So, I want to do all of these adventure type races.

How do you think you'll do in Pro next year.
I raced it in Indiana. I jumped out front, and I expected them to just walk away from me. But I was in the train just like I was in any other class. It almost shocked me that I could ride with these guys. The thing I noticed, I saw Kiser and Jenks pull some crazy moves that I would have never even thought about. Jenks jumped into a ditch, landed sideways, ran down the ditch and made a six man pass in one move. It was amazing! It's gonna' take me time to learn that. But I'm really starting to like these adventure type races. I may run all the GNCCs this year. It's up to my wife, really. I want to be known for the guy that does the extreme racing. I've done ice racing, I want to do these 12 hours, I want to go to Africa, Japan, and I want to go to some wild races. I love the GNCCs and it's a great series, but I don't want to go race Millfield, Ohio every year for 15 years. I want to do some adventure stuff. If anyone wants to do it with me, I'd be glad to put a team together so we can get it done like we did in Baja.

If you would like to contact Thomas Wright about racing Baja with him next year, email us and we'll pass the word to him.

For Andy Lagzdins race report on the Baja 1000 on ATVRiders.com, click here