Jason Weigandt
Quick Fill #46: This Week in GNCC
Tuesday, December 2, 2008 | 6:11 PM
Welcome to Quick Fill. We're exhausted.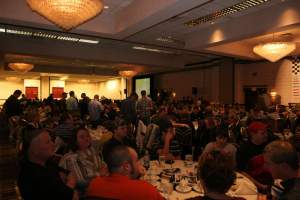 The GNCC Banquet has turned into a Las Vegas like weekend. Everyone works and plays hard, and it's an epic-level good time for everyone involved.

A few of us were looking for relief when the week began, because last week, getting that show together, was tough. But there is no rest around here, because the week after the banquet is known s "Phone Call Week," as I just get flooded with calls with rules suggestions, questions and ideas. Hence, I haven't been able to get much work done, and Tuesday Toolbox, which was supposed to cover the banquet, never happened.

So, we're going to do some right sizing and consolidating of our own. We're combining the banquet text that was supposed to be Tuesday Toolbox with the info we've gathered for Quick Fill, and we're running it all right here.

So, first, on with Quick Fill:

Finally, completely, officially, our 2009 GNCC Series Schedule (with locations) is all set. Ready?

Rd. 1    Feb 28-Mar 3    River Ranch    River Ranch, FL
Rd. 2    Mar 7/8            The General    Washington, GA
Rd. 3    Mar 21/22        Steele Creek    Morganton, NC
Rd. 4    Apr 4/5            Big Buck    Union, SC
Rd. 5    Apr 18/19         Loretta Lynn's    Hurricane Mills, TN
Rd. 6    May 2/3           The Titan    Lafayette, TN
Rd. 7    May 16/17       Mountain Ridge    Somerset, PA
Rd. 8    Jun 6/7            The John Penton    Millfield, OH
Rd. 9    Jun 27/28        Snowshoe    Snowshoe, WV
(Summer Break)Â Â  Â 
Rd. 10    Sep 12/13     Unadilla    New Berlin, NY
Rd. 11    Sep 26/27     Yadkin Valley Stomp    Yadkinville, NC
Rd. 12    Oct 3/4         Power Line Park    St. Clairsville, OH
Rd. 13    Oct 24/25      The Ironman    Crawfordsville, IN

Note the two new rounds, the opener in Florida and the round six in Tennessee. Yes, we've had to find a new place in Florida again, which we hate doing, because we basically lose all the things we learned from working at a place the year before. We hope we can stay at this new place for a long time. The West Gate River Ranch is an amazing facility, but don't be scared off thinking it's too high end, because we'll allow camping at the track just like always. Check out their website: http://www.wgriverranch.com/

The new track in Tennessee is actually right next door to Kentucky. The facility is run by people who are really into GNCC Racing. In fact, former GNCC ATV race winner Brad Page originally came to us with the idea to hold a race there, so you know these people know what they're doing. Should be good.

We found a really cool local story on Youth ATV standout Kamren Bobb. Kamren tied for second in points in her class in her first year in GNCC Racing, and did it while raising funding for a good cause.

Also check out Paul Whibley's website for an update on him. Read closely and you'll see Paul leaks his big sponsor for 2009.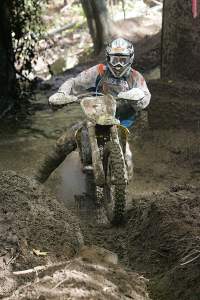 This week we heard a crazy rumor that Suzuki was pulling the plug on all amateur racing next season, and that could have meant the GNCC team, too. Even riders with existing contracts could have been bought out, which means they team would pay the salary but not actually send the riders to the races to save on travel and bonuses. Well, the axe came down but the GNCC team has been spared. So, if you hear some rumors over the weekend, know that things are bad, but they could be worse.

Now about all those calls we've been taking this week. It's all ATV stuff (amazingly, not a single bike amateur attended the riders meeting on Sunday morning, and we haven't had a single amateur bike rider make a suggestion on rules for 2009). Most of our rule scenarios deal with Youth ATVs, and all I can say is, please try to patient, because once you set the rules, you have to live with them, so we talk to a lot of people and get a lot of ideas before we set it in stone.

So now, onto what was supposed to be Tuesday Toolbox. Enjoy your banquet coverage. And thanks to Jason Hooper for photos.



The 2008 Can-Am Grand National Cross Country Banquets

In the NFL, no pre or post game analysis is complete without considering the "12th man," which is a common term for the home team crowd. In GNCC Racing, we hold 13 events per year, but the series cannot be clearly understood without considering the "14th round," which is the annual Series' banquets.

Every GNCC race is more than just a race. For those that follow the series for points, the races become grand hang outs with close friends. Competitors may not live in the same area, but once every two weeks, they get to live in the same neighborhood, and as a result, the bond between GNCC racers and families is as strong as any.

You don't always notice this at the races, because most of the attention at the end of the day goes to the results. But the banquets show just how tight-nit this group is. Not only did 1200+ people choose to spend their Thanksgiving Weekend celebrating GNCC Racing, each one of the racers made sure to thank the main people who helped them get to the races this season: family and friends first, and then sponsors.

If you missed the banquet, you're missing a key element of this series, the family element. If you made it, you still may have missed something, because these are long shows. We'll try to explain it all.

ATVs-Friday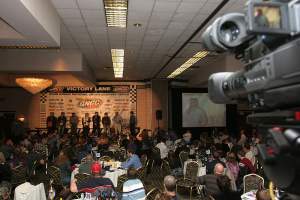 At the banquet, the top ten riders in each class are invited to come on stage and thank the people that made their season possible. Every rider gets the chance to do it, because if you made the top ten, you deserve your time in the spotlight. The riders gather in front of the traditional GNCC Podium backdrop, and class champions are moved to center stage for their interview.

Series sponsors get their love, too, as ITP Tire's Jim Pinkston, Maxxis' Jeff Horton, Can-Am BRP's Jeff Proctor, GEICO's JT and Gretchen Bennett and Wiseco's Al Pizzino came on stage to thank racers for their support. Horton announced that he won't make all of the races next year, but Maxxis will have a truck and staff in his place no matter what.

A highlight of the evening comes through the announcement of Specialty Awards. Some are voted on by racers, some selected by the Racer Productions team. Highlights included:

Bryan Buckhannon was named Utility Rider of the Year after winning the Open 4x4 Championship, and Josh Merritt won Youth Rider of the Year after capturing the Overall Youth Championship. Merritt has his award presented to him by Bill Ballance. XC2 Champion Donnie Ockerman won the Most Improved Rider Award, and his considerable fan base went crazy. It soon became apparent that a group of racers from the mid-west, SICC racing and the IXCR gang, was the liveliest in the room. Powered on by crazy-man Garon Davis, the Indiana boys cheered loud and hard, and when Ockerman won Most Improved, they literally carried him onto the stage to accept his award.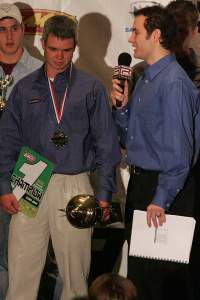 Ockerman was a deserving winner, and credit also goes out to award nominees Kristen Atwell and Bryan Cook.

Cook got his love, though, when he was voted Good Samaritan. His fellow Mid-East Series Racers were pumped on that.

The Sportsmanship Award began with an explanation of excellent Sportsmanship from a pair of Vet B racers, Mark Spaturo and Mark Harrup, who got into the infamous fight at the Snowshoe GNCC. Everyone had a laugh about that. Privateer racer Shawn Hess also collected a lot of votes for Sportsmanship, but in the end the award went to Johnny Gallagher, the do-it-all fan of GNCC Racing.  

The Sport Ambassador Award goes to someone who works hard to promote GNCC racing to the outside community. Rod Cooper, William Yokley's agent, got credit for bringing The National Guard into the sport. The award went to the Shaver Family, landowners for the Ironman GNCC in Indiana.

Racer Productions invented a Bad Ass Award for 2008, celebrating a rider who shows an extra dose of toughness (this award used to be known as the Swamp Fox Award, and it seemed like Matt Smiley used to win it every year). Bill Ballance received a nomination for literally pushing his machine up and over the finish line at Unadilla, but the award went to youth racer Charlie Welch. Welch raced Youth ATVs and Youth bikes in 2008. The Award had to be renamed Bad Butt because Welch is only 10 years old.

Yamaha won the Manufacturer's Cup, based on the finishes of each brand's top two overall riders in each race. Pennsylvania won the State Championship Trophy for the second year in a row, based on winning the most GNCC Titles of any state. All the Pennsylvania Champions got to come onto the stage and grab the trophy, Josh Konecheck, Joey Margueria, Cory Blinkiewicz, Gary Parmerter, Brian Stump, Samuel Williams, Traci Cecco, Samantha VanBuskirk, Derric Robinson, Cheyanne Shadron and Jay Shadron.

Several riders were nominated for the Hard Luck Award, including Youth Rider Gabriella Espinosa, and Adam McGill. But the award went to Chris Bithell, who didn't even finish in the top ten this season, and only came to the banquet to cheer for his brother Jamie in the College B class.

The Rough and Ready Pit Crew Award went to Novice Racer Michael Bailey, who pits for five riders in the afternoon race. Credit also goes out to award nominees Big Nutz Racing and Team Yamaha.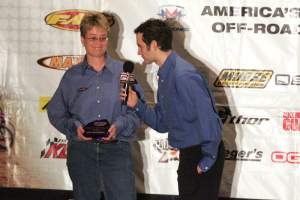 And XCountry Photo's Amy McConnell collected the Award of Media Excellence. Head to www.quadzone.com to check out Amy's mammoth photo gallery from the banquet.

Can-Am grabbed the Sponsor of the Year Award, which in the past has gone to helpful folks like Maxxis and GT Thunder. Can-Am's sponsorship money goes right into the funding of our GNCC TV shows on the Versus Network. So even if you don't ride a Can-m, if you watch the TV shows, they've helped you out.

On a sad note, GNCC Racing presented a Tear Drop Award for the family of Brent Foltz, a College A rider who passed away in an accident just days after racing the Ironman GNCC in Indiana. Brent was just 21 years old. The room gave him a standing ovation.

Luckily for everyone, William Yokley returned to the top ten this year after taking #11 in 2007. This meant Yokley got to come back on stage and make a speech in the XC1 Class, and what a speech it was. First, Yokley demanded Racer Productions co-founder Rita Coombs come into the room to hear the speech. Then he began on a long rant about how much he loves his grandmother, and how she makes a giant Sunday dinner every weekend. "It doesn't matter how many people show up at the house, Grandma will always be ready with plenty of food for everyone, and everyone has a good time," said Yokley. "If you ask me, these are the old-fashioned values we're all missing today. And a lot of people are saying America is in trouble, but I know we'll be fine, because this is the greatest country in the world."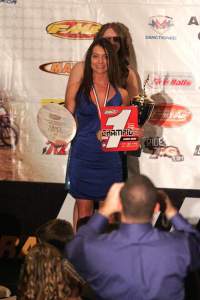 The crowd cheered, but at this point it didn't seem like William was going anywhere with his speech. But then, amazingly, at the final moment, he pulled it out. "These old-fashioned values are what we need to get back on track. So I think everyone here needs to give Rita Coombs a big round of applause, because she serves up her own Sunday dinner at these races for us every two weeks, and we all get to hang out like a family!"

Later, Yokley generated more laughs when he came up to collect his UTV Championship. Let's hope Yoke doesn't ever fall out of the top ten again!

When the rest pro riders came up, Ballance dropped a shocker on the crowd when he announced the 2009 season would be his last in full-time pursuit of a championship. "One of the biggest regrets of my career was not knowing that when Barry Hawk was racing, that it was going to be his last year," said Ballance. "Knowing that, maybe I would have done something different, like not try to develop that Kawasaki. It was my last chance to beat him, and I'm not saying things would have been different, but I will always wonder. So, I'm letting everyone know right now so they can come at me hard for next season. I'm 32 years old, and I'm going to try to go out on top with ten straight. I still have the fire in my gut, and I'm still going to push it as hard as I ever have. But mark it down, this will be my last run as far as I can tell, so I want everyone to get one last shot at me and give it 100 percent."

At the end of the night. Ballance was presented the Rider of the Year Award.

But the banquet isn't complete without the classic Best Bod Contest. After the Women's class receives their trophies, they are given about an hour to put together a nomination list of men to compete for the coveted Best Bod Atlas trophy. The ladies picked a big group, including Adam McGill, Brandon Sommers, Taylor Kiser, Jeff Pickens, Jason Hooper, Garon Davis and eventually even Yokley's name was called, a chair came flying onto the stage and the Yoke showed off his chiseled body courtesy of Moto Pro Training.

The win went to Garon Davis, who was easily the best built. Or at least he had the biggest cheering section courtesy of those Indiana boys.
Afterwards, DJ Jeff Horton (the Maxxis Man) spun the tunes on the DJ table. Everyone had a good time and stayed up late, adults in the dance room and kids on the Guitar Hero setup over on the big screen TV.

But enough people were up early to go to the Rider's Meeting the next morning.

Bikes-Saturday

The bike show packed in as many people as the ATVs, so that's two big shows in two nights. Fun stuff, too, with plenty of parents and friends and families packed into the room.

A number of sponsors came to the stage, including Pirelli's Josh Whitmire and Jake Hamlin, Moose's Steve Van Zuylen, Jeff from Maxxis, Al from Wiseco and JT and Gretchen from GEICO. The GEICO team was pumped to announce a three-year extension on their deal, so they'll bring in outside money until at least 2011. They're also going to go big with deals in the XC1 pro class, but they weren't ready to announce with who yet.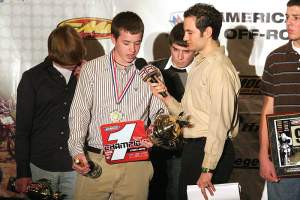 Also, a get well soon to Rekluse's Patrick Koether, who would have come, but he broke his leg a few days before the show!

The Hard Luck Award went to Bryce Martin, in a landslide vote, too. In fact, so many people called and emailed us about Bryce that we eventually had to tell them to stop! Bryce's bike caught on fire at the John Penton GNCC and pretty much burned to the ground.

Also credit goes out to Doc Magee, who had a box van break down on the way to the Snowshoe race, so he just took his bike out of the truck and rode it 40 miles to the track, raced, and rode back!

Barry Hawk won the Sportsmanship Award. This year Barry got injured and had a tough season, but he really helped the other riders on his team, like Thad DuVall and Joe "Dirt" Scherer. In fact, it seems like everyone who races and lives near Barry runs Yamahas and
MSR gear. Now that's an influence!

The Sport Ambassador Award went to Dennis Decker, the Senior A Champion who represents our sport so well at the ISDE and other races every year. Women's Class racer Claudia Danielewicz took the Good Samaritan Award. No one enjoys the races and enjoys racing her competitors more than Claudia. Just ask her!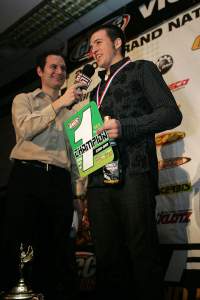 The XC2 Lites riders hit the stage to celebrate their second great season. Dustin Gibson and Thad DuVall made it clear that they're both hitting the XC1 class next year, and DuVall said, "If people want to hype it up, that's fine, I'll deal with it. If I do bad, I do bad, and I'll be okay with that. But I'm going to work hard and I hope to be up front."

The pro class received a special visit from Paul Whibley, who sent in a video along with his girlfriend Katherine from New Zealand. That was cool. And Nate Kanney stirred up the crowd like only he can when he said, "I'm tired of everyone telling me the ATV crowd has more fun and puts on a better party than the bikes. Let's get this going."

Nate's words worked, because the bike crowd did deliver with a lot of fun Saturday night. I'm not sure who was better, but both sides definitely gave it their all.

The fans then got to watch a special David Knight video, and then the Knighter himself spoke about the past, present and future of his racing. "I had actually had an offer to race the GNCCs all the way back in 1999, and I've always wanted to do them," said Knight. "But I felt like I needed to win a World Championship first. It was good to come here. My second year winning the World Championship, I had a perfect season. It wasn't so easy the first year here, we had some bad luck. I think that made my first title here feel the best, because it was so tough. I think Juha raised the level of all of these guys, and as you can see from Whibs and Strang, there are still riders coming over here and making it hard on these boys. It should be good next year."

Knight said he hopes to get in some races next year. We'll see!

It wasn't over for Knight, though, who had to present the Youth Rider of the Year Award to Steward Baylor. Knight hadn't ever interviewed anyone before, and he said to me simply "I can't talk rubbish like you can." But we made him stick it out. Clearly, Steward couldn't understand a word Knight was saying with his thick accent, so finally, Baylor asked simply, "What did you say?" The crowd roared with laughter, and the interview came to an end.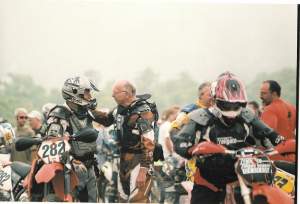 The bike ranks named RidePG.com KTM's Cory Buttrick the Amateur Rider of the Year. Cory B has seven titles in eight years of GNCC Racing, and he has never, ever, DNFed a race. That's amazing. Other top amateur mentions went to Joe "Dirt" Scherer for winning the Open A Title, and Jordan Ashburn, for taking the 250 A Championship in dominant fashion.

Glass teardrops were presented in memory of members of the bike racing community lost in 2008. Golden Masters (58+) bike racer Dick Sirmons, Pat Sheppard, a race organizer and mother of a family of racers, and Ray Lang, who lost his life at the AMA Amateur Motocross Nationals at Loretta Lynn's. Sheppard's son races the Series and was able to accept the Tear Drop on behalf of his family. For Sirmons, who passed suddenly just a week before the banquet, his friend Don Singer took the award and also thanked Dick's sponsors and family for him when Sirmons class came to the stage.

FMF Suzuki standout Joshua Strang grabbed the Most Improved Award for climbing to third in the final standings and notching his first career win. Suzuki also scored the Manufacturer's Cup, an award based on each brand's top two overall finishers in each race.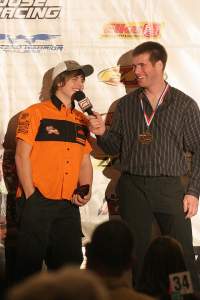 Another emotional moment came with the announcement of the Bad Ass Award, which went to Masters A (50+) racer Don Bigley. Don broke his femur early in the season and had to endure painful surgery, but he vows to be back on the track in 2009. His nomination letter came from his wife, and Don was in tears when he came on stage to accept that award.

American Suzuki won the Manufacturer's Cup for amassing the most points based on their top two overall finishers in each race, and Ohio claimed the State Championship for amassing the most GNCC bike titles. Congrats to our champions from Ohio, Cory Buttrick, Christopher Douglas, Todd Mount, Mandi Mastin, Robert Sheppard and Aaron Plessinger.

The Award of Media Excellence went to Jeremy Saylor, who produces the GNCC Television Shows on the Versus Network. It might seem like a whole crew puts those shows together, but it's really Jeremy working tirelessly on his own to get it done.

The Rough and Ready Pit Crew Award went to Ricky Mair, who wrenched Jason Thomas to the XC2 win in Yadkinville. Both sat up in Canada waiting for Jason's Visa to come in and allow him to enter the U.S., and when it, they trucked it across the boarder, raced and won!

Finally, the top five riders in each GNCC Class received contingency awards and prizes from sponsors such as Can-Am, Moose, Thor, Maxxis, ITP, Pirelli, Wiseco, Klotz, Elka, FMF, Scott, Rekluse, Twin Air, Laegers, HiPer, Cometic, Acerbis, GEICO, Racer X Illustrated, Ogio and The National Guard. Also, a big thanks goes out to the local hotels, restaurants and the Chambers of Commerce around our races. They donated several free hotel night stays and dinner gift certificates to help off set the racing costs for a few lucky racers next year.

Oh, and what about the bike best bod? Contestants included Nate Kanney, Jason Hooper (again), David Knight, Thad DuVall, Joe "Dirt" Scherer, and super-trainer Camren Dirks. Best part was that Kanney made our own Carrie Coombs Russell sit on stage so the racers could give her the treatment. It was awesome. I think Dirks won. I don't even know. It was that crazy.

Good times all around. See you next year.