Jason Weigandt
Quick Fill#45: This Week in GNCC!
Thursday, November 20, 2008 | 12:23 PM
Welcome to Quick Fill. 'Tis the off-season.
By now most all of you have probably put your machines in the garage for the winter. If you live down south, you've probably been riding hard for a year now, but with holidays and shopping and family duties coming up, it's not a bad time to take a break, like it or not. If you live further north, Mother Nature isn't giving you a choice. Here in Morgantown, we had six inches of snow this week (or eight in the micro-climate at my house). I know a few hearty souls still go and ride and train in this stuff-I remember ATV pro Chris Bithell telling me he would go out on frozen ground in 10 degree weather in Pennsylvania-but for most of us, the grind of a long season removes any desire to put yourself through that kind of torture.
In fact, I've spoken to a lot of top riders lately who have explained their mental and physical state by the time they take the checkered flag at the Ironman. Almost all of them turn the month of November into one giant party, because they've been burning the candle at all ends since January. Red Bull KTM's Nathan Kanney, in fact, was told by his trainer Steve Hatch to stay off his bike altogether, no matter how badly he wants to ride. This is time to rest and relax and let that fire build back up, both literally and figuratively.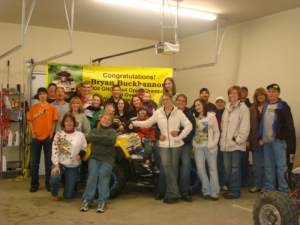 Want an example of a party? We got this note from the Bryan "Open 4x4 Champ" Buckhannon fan club
We had a surprise party for Bryan "Buck-CAN-AM" this weekend and I thought I would share some pictures with you.  His mom thought it would be a great idea to make him practice opening some champagne bottles so he wouldn't have to ask the girls for help next year if he podiums!  We all agreed and he loved it! 
Most of us did not get to travel to Unadilla or Indiana to see him win those overalls, so we got to enjoy a little champagne bath as well. It was an unexpected because we were all in the garage and he said he wasn't going to do it, but he did! 
We all had a blast!  All of the men in this picture raced in at least one GNCC race this year except for Bryan's dad Melvin (his mechanic) on the end, and all of the kids except for one raced this year!  Even we girls were considering racing in Ohio but I broke my left arm the weekend before. I was in surgery on Wednesday night and at the racetrack on Friday being the GNCC pit crew mom the next day!  We all love our GNCC racing and are thankful to Bryan for getting us involved, it has made us all closer as a family and we have a new race family as well!
Marlene Campbell - Bryan Buck-Can-Am fan club
Yes, that gang from Beckley, West Virginia is pumped on their champion. Word is that Bryan will have more help, support and attention next season, and we should be able to tell you more about that soon.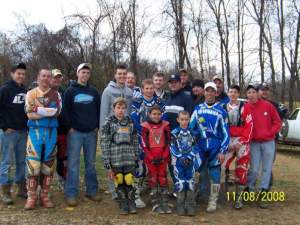 Some other riders were having fun at the annual MX4MS Charity Ride, organized by GNCC bike racer AJ Stewart.
We would like to thank Racer Productions and all the GNCC racing families and friends that supported the 7th Memorial Charity Ride for Multiple Sclerosis. Thanks to all the generous people who supported AJ, he raised over $3,200.00 this year. This brings his seven-year total to over $26,000.00. That total will probably be higher because we are still getting donations in the mail daily!
The day turned out to be a little cool, but not bad for this time of year in Pennsylvania. What a great time we had. We had great food, and once again the hill climb seemed to be a favorite for the riders and spectators. The younger riders really enjoyed the autographs Barry Hawk gave them on their helmets, bikes, and posters. A special thanks to Barry for supporting the Charity Ride every year.
I would like to acknowledge the riders that participated: Barry Hawk, Joey Sherer (Joe Dirt), Shawn Remington (Shotgun Shawn), EJ Petcheny, Brian and Andy Lake, Dave Muchisko, Cody Dice (Codeman), Jim Dice, Nick Wise, Jeff Miller, Corey and Russ Williams from DGS Suspension, Mike Myers of MRP, Brian Vasko from Waynesburg Yamaha, Allan Stewart (Dad- the mechanic), Brad Swaney, Brian Brady and Dylan.
Thanks again for your continued support!
The Stewarts
Good times from that gang of Yamaha boys, and another tip of the visor to young AJ Stewart, who really has his heart in the right place.
Meanwhile, more boys in blue are heading to Las Vegas as we speak to race the EnduroCross. Jason Raines, Joe Dirt, Ryan Belue and Hayden O'Kelley are road tripping it, and they should arrive by the time you read this. EnduroCross is cool, but it's become very specialized, and I think our GNCC guys are just looking to give it a shot and have some fun, as often said in Vegas, I'm not sure if winning is in the cards. But good luck to the EnduroCross folks, we hope they have a good event.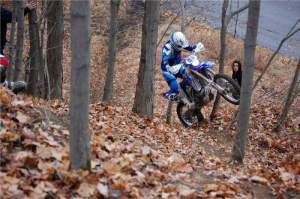 In past years, the EnduroCross shared a Las Vegas weekend with the AMA Sports and AMA Pro Racing banquets. But this year the banquets moved to the Barber Motorsports Museum in Alabama. More Yamaha folks, specifically Traci Cecco and her mechanic Johnny Gallagher, are headed to 'Bama to grab their accolades there.
We do have news regarding other non-blue brands. KTM has announced an awesome new ATV contingency program, click here for that.
And Adam McGill has signed a new deal and will stay on orange for 2009. We have heard, though, that Taylor Kiser will be putting together his own deal for next year and will not be KTM mounted.
Also, note that Polaris is looking for riders to support in their grass roots campaign.
On bikes, word is that the FMF Suzuki team simply ran out of budget, and both Paul Whibley and Jimmy Jarrett won't be able to race on the team next year. Tough break for those guys, as they both had great seasons but unfortunately ran into the economic brick wall our industry is facing. I've now heard they're trying to piece together a deal to ride Kawasakis (taking advantage of the massive Kawasaki contingency program) and may even have help from an outside sponsor. Good luck, men.
Bad news for our Youth Bike 85cc Champion, Aaron Plessinger. AP broke his lower leg (fibia) practicing at the Millsaps Training Facility in Georgia. He'll have to miss the big Mini O's Motocross race in Florida, but he'll be fine and ready for GNCC Racing next year.
A few GNCC racers are not quite ready to put their machines away for the winter. They're racing the mega-grueling Baja 1000 race down in Mexico, and we hope to have some news and info at our banquet next weekend. I know our Senior A ATV Champ Thomas Wright is down there teaming with the legendary Jim Stack, and to all of those who passed me Tom's contact info last week, thanks! I'll ring him up and get a Baja report. ATVs and Motorcycles take off from Baja at 6:30 a.m. PST Saturday morning, and they must reach the finish within 31 hours. Best of luck to our GNCC racers down there!
We started this Quick Fill talking about championship parties, and we'll have the biggest one of all next weekend at the banquet. We know these are tough economic times, so we've tried to sweeten the pot by getting some cool door prizes together that can save you some money next year. A few of the communities that we race in have stepped up with hotel and restaurant gift certificates, and we'll hand some out next weekend. Hopefully it will save you a few bucks next year!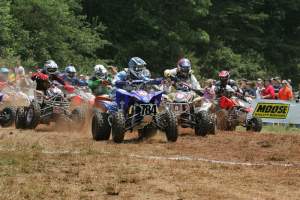 And don't forget our Riders Meetings after the banquet. If you're awake enough to join us Saturday and Sunday morning, we'd love to chat GNCC Racing with you. Right now I'm looking at two potential issues on the ATV side. At the beginning of the 2008 season, we announced a 450cc limit on the ATV XC1 and XC2 classes. A few privateer racers have asked us to revisit that rule, and we will. Also, we've had a few really fast 4x4 racers ask us to look into allowing aftermarket frames in the 4x4 Open Class. Apparently, the speeds have gotten so fast in that class that they're pushing the big machines beyond their limits, and a few companies are ready to produce stronger frames to support the riders. If you're a pro ATV racer or an Open 4x4 class racer and have an opinion on these things, shoot me an email [email protected]
This week we switched servers for our company websites, a move that should make everything work more smoothly. You may have noticed a few subtle updates to our site that will make it more user friendly. Anyway, the server switch ate up a few of our old files. The Class Top Ten and GNCC National Number files have disappeared, so we're working on reposting them. There will be no changes though; the numbers and class rankings are set.
Jason Hooper put up and awesome new video covering the Ironman GNCC bikes. Check it out back on the main page.
And how about some love for a Youth racer? This week we interviewed Youth ATV (and bike) racer Charlie Welch for Tuesday Toolbox.
And don't forget to get your GNCC TV fill this Sunday at 2:30 p.m. EST with the Elka Yadkin Valley Stomp GNCC. This is the ATV show, and then next Sunday we'll have the Yadkinville bikes. Click her for the full TV schedule.
Okay gang, that's it for this week. We'll skip Quick Fill next Thursday so everyone can enjoy Thanksgiving dinner with their families, but stay tuned to the website throughout the week for banquet updates. Otherwise, we hope to see everyone at the Four-Points Sheraton in Mars, Pennsylvania next weekend. Thanks for reading!