Jason Weigandt
Tuesday Toolbox: Charlie Welch
Tuesday, November 18, 2008 | 5:07 PM
Sometimes kids just can't make up their mind, and that's the case for 10-year-old Charlie Welch. Charlie is already a solid ATV racer, but this year he started racing a bike, too. The result? Second in his ATV class, and top-ten on the bike. And today's Tuesday Toolbox.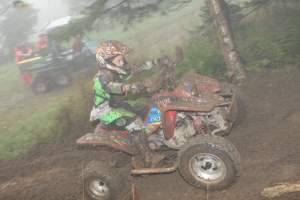 Charlie, what are you doing now? Making dinner for the family?
No. My dad is doing that.
Do you ever help out with that?
I do sometimes.
You a pretty good cook?
Sometimes. I try to be.
Not bad. Any other chores to do?
Not really, just put up my clothes in my room.
How messy are you? Is your room clean?
I think it's pretty clean.
Do your parents think so?
Yeah, they do.
So what do you do this time of year?
Just go to school.
Do people at school know what you do?
Well they don't really talk about it much, most of the kids are into other sports like basketball and football and stuff.
Don't they all want to come over and borrow your quad and ride?
I've had a few ask that, but I said no!It's pretty cool that your whole family is into this.
How did you and your sister start racing?
We would go to the fairs and everything. We would watch, and then I started racing it, and then we started local stuff, and then we started GNCC.
So you just went to a fair and saw an ATV race, and decided you wanted to do it?
Yeah.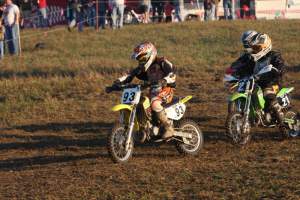 How old where you when you started?
Four.
How old are you now?
Ten.
So you're a veteran, experienced racer, now.
Yeah! But I've only raced the GNCCs for four years, I raced the other stuff for two more years.
So you and you sister raced ATVs. What made you decide to try bikes?
Well, we got them just to kind of play around. But then the talk got around, and we started talking about me trying to race one. I tried racing a bike last year at Ironman on a Honda, and then we did the whole series this year.
Your mom says you've fallen down quite a bit this year on the bike, but you're not letting it get you down.
Yeah.
You got tenth in the 65cc (7-11) class. Do you like racing the bike?
I'd say the ATV racing is more serious for me, but the bike is starting to get a lot more fun. By far. Florida wasn't fun for me on the bike at all. But by Power Line Park and the Ironman, it was a blast on the bike.
So you've gotten better on it after a year of racing.
Yeah much better.
Do you get tired racing both?
It's more tiring. Like when I go to sleep and stuff, I can tell.
How do you fit all of this racing in with school?
I have to skip school on the Fridays before the race, because we have to walk the track and stuff. But like, when we're down in Florida for a week, I have to skip school that whole week, so they give me a huge stack of papers and homework to do.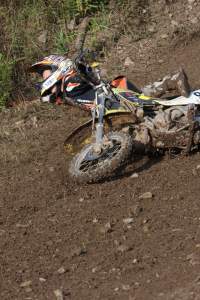 What about these interview skills? Most people don't like talking in public, but you're always asking me for interview time on the podium. You're not scared at all, are you?
No. I like to talk.
It's pretty fun, right?
Yeah! I think it's fun.
You want to take my job next year.
Uh, no.
Not yet?
Yeah, not yet. I'm racing right now.
You battled for the championship in the 70cc ATV class, and finished second for the year.
It was either hero or zero, we say. It was either running good and getting a second or a first, or we were breaking. That's how my year pretty much was.
You ride a DRR?
Yes. It's an automatic two-stroke.
How does it get around out there?
I think it's designed pretty good. Like most of the quads out there. It can maneuver the woods pretty good.
So a 70cc rider can get through the woods and hills and mud pretty good?
Yeah. It can be a little tough, but not too much.
What about next year?
I might stay in the 70 class, or I might ride a Yamaha 90.
What do you do this time of year for riding?
Well, we just finished our local state series last week. And I beat all the 90 classes riding the 70. I won that, and I got third on my bike. Now, I just ride my bike around.
Do you hang out with some other racers at the track?
Yeah. After the races we all kinda' hang out. We'll go over to the podium and stuff for the 10 a.m. race. Then I usually go into the woods to watch the pros, me and Logan Merriman and Matthew Harris, one of them. We watch the pros.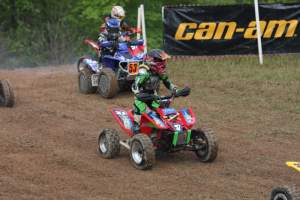 Do you try to get goggles and stuff from the podium?
Yeah I do.
What have you gotten?
I got a first place bottle, and a couple of seconds and thirds. I got a couple of jerseys.
Somewhere down the road, are you going to be giving that stuff out?
I hope so.
So do you have some sponsors to thank?
Yeah. Midwest Moto , DRR, IXCR, 317 Graphics, Racedaypix, Family and Friends.
Thanks for the interview, Charlie. I knew you would be good.
Thanks!