Jason Weigandt
Tuesday Toolbox: Steve Hatch
Tuesday, November 4, 2008 | 12:00 AM
Steve Hatch was a staple at the front of the GNCC bike pack until he retired at the end of the 2004 season. Hatch stepped away while still possessing the speed to win races, but of course, "Mr. Wide Open" couldn't just leave it like that, so he started training some racers. Last weekend, Hatch's two main GNCC riders, Nathan Kanney and Kailub Russell, won their classes at the Ironman GNCC. In addition, Steve has just recently launched of a new website, www.stevehatchracing.com, and he's so pumped on it that he gave us a call.
So Steve, how did you get going on this training deal?
In 2005, I decided to switch it up and start spending more time with my family. I had spent the summer in New York, and I ended up working with some great riders from New York, Nate Kanney, and motocrossers Paul Carpenter and Bobby Kiniry. I had been around a long time, and I could easily see what they needed to tweak to help their program. At first, it was just a way to help out my buddies. That was three years ago, and we've come a long way now.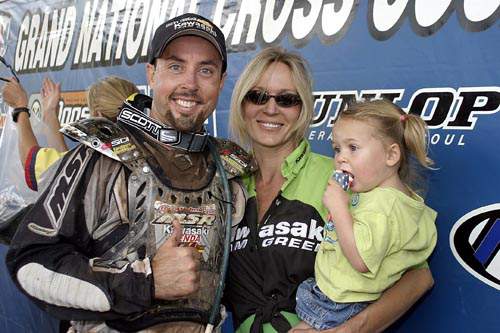 Steve Hatch and family at the 2004 Wisp GNCC.
Brian Barker photo
You were always a big trainer guy.
I was a train-aholic! That was my empowerment. Back in my early days with Suzuki, I was teamed with Rodney Smith and Randy Hawkins, and we all had our little things where we drew our strength. Rodney was brilliant with his bike set-up, Randy had his gear, and for me, it was just knowing no one trained or worked harder.
What do you mean by, "Randy had his gear" ?
He would customize his gear! Cutting the liner out of this, drilling holes in his visor, whatever, I don't even know if it helped but that's what he liked to specialize in.
And does that point to how big the mental side is?
At the pro level, about 95% of it is mental. At the elite level, there's only one or two percent difference that will separate everyone, and one of the ways to do that is to know, mentally, that every base has been covered. There are so many things you can do, then, and it's not just the physical side, it's knowing you've done it mentally. So with my riders, I work on everything, nutrition, flexibility, how you practice and how you race, mentally, visualization, so you can put yourself in that scenario, so you're never caught off guard. I did this stuff for 18 years as a factory rider, and I knew how to develop mental strength. I would run to the top of mountains without a Walkman or anything, just so I knew I was suffering and working harder than everyone else, and having that confidence really helps on the last lap.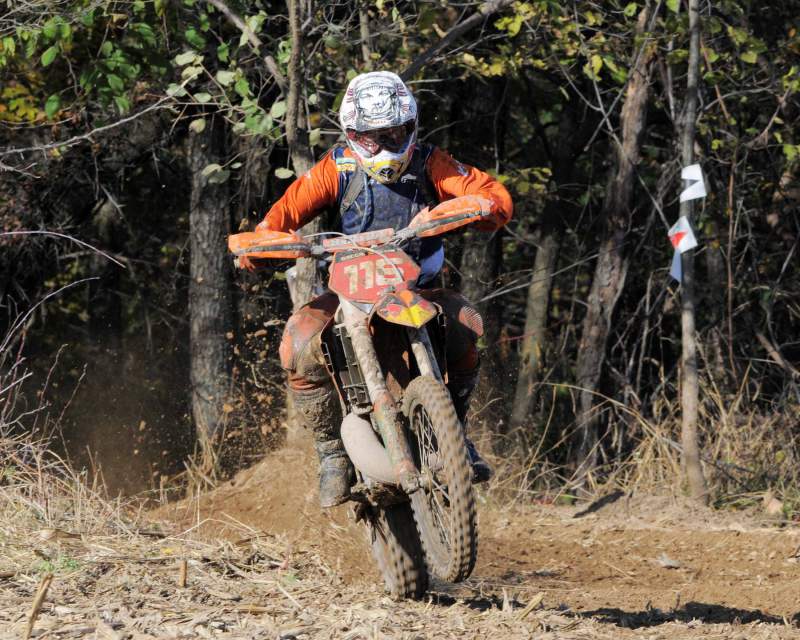 Nathan Kanney.
David Scearce photo
Is it true that, no matter what kind of shape you're in, you're going to get tired at some point, anyway, and then it's a matter of pushing through it better than the competition?
That's an interesting point. The last few years of my career, I felt rock solid physically so it wasn't too bad. But I had to know I had left everything out there. I try to let my riders focus on themselves and their program, and not to think about anyone else or what anyone else is doing. Coming to the race, you need to feel like a caged lion, so they're excited and not over trained so they can put their best race forward. At that point, you can leave the race feeling like you gave it everything you had. That keeps the pressure off. All you can give is all you have. It's a very simple way to look at it.
So then, your plan can work for anyone. It's not about just winning the race for a pro, but for anyone who wants to just give it their all, no matter where they finish.
Absolutely. I have about 12 riders I work with, and only five are pro riders. Some just want to ride better, and in fact, a lot of guys just want to be safer, so you learn technique, and what's supposed to run through your mind when you're riding. There are so many things you can do to improve your program. So we do a lot of evaluation. We talk on the phone on Monday after every race. It's my job to read between the lines and see what the riders can't see about themselves, so we can find their weaknesses. I get so fired up watching the live results on the web, that I'll start doing pushups! My wife, Denise, she couldn't believe it. But she has seen me get like that before, where I was physically in the room, but I was checked out and my mind was somewhere else. And we know our riders need to feel that empowerment. Because it's not just about racing, we want to improve them as people. Racing is just a template for life, so we try to make them well rounded.
Talk about your website, www.stevehatchracing.com
We have a lot of stuff on there, not just training. We have a new video section that is shot entirely in high definition, and we break down riding technique into bare facts. It's not a jump video or something for fun, these videos are designed to really help you improve your technique in everything, from rocks and ruts, hills, everything. You can sign up for a membership, and you get access to the videos and documents, and you can learn without actually having to come out here to Arizona. Every month we give you access to new videos and techniques and documents, and if you sign up for the full one-year membership, we'll give you basically what comes out to two months free.
How much do you wish stuff like this was available when you were coming through the ranks?
Oh my. I would have been doing backflips. A lot of what we know comes through trail and error over the years, and my wife Denise and I have such a wide background, because she knows so much about training and flexibility and nutrition and yoga, man, if I would have had this knowledge from day one, I would have avoided a lot of overtraining and frustration and broken bones or whatever. The other thing, as a racer, you're often too quick to try to reinvent the wheel. So I try to tell my guys maybe we don't need to reinvent the whole wheel, just tweak a few parts. The perfect example is a guy who thinks he is out of shape, and he gets third and trains harder and harder and gets seventh. It's hard to know when you're overtraining, or when to have hard days and easy days. With Nate, he likes to only look at the schedule as it comes up so he can be surprised each day. He knows to trust the process.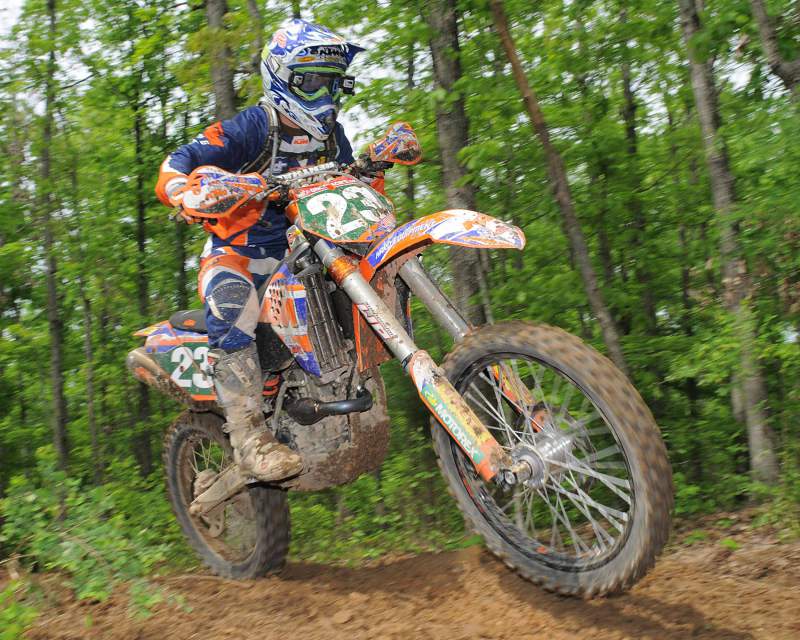 Kailub Russell.
David Scearce photo
You retired when you were still competitive. Do you have any regrets?
No, not at all. I was blessed to do what I loved to do for as long as I did. I'm the type of guy who is either all or nothing, so if I'm not going to be in there giving it my all, I don't want to waste anyone's time. At that point I was trying to spend more time at home, my son was 15 and my daughter was five, and that was a huge load on my wife to have to take care of that. Another thing we've been able to develop are week-long programs at the house, called Chiseled into a Champion, where people get to come out and stay in our guest house, use our gym, our race shop, trials bikes, we work on everything in these camps. It's really fun. I'm finding a way to give back what I learned all of those years, instead of just going on to regular job.
Yeah don't you have a college degree?
I do. Coming from a family of teachers, education was first, and that's something I definitely believe in. So I have a two-year degree in business administration and a Bachelor's Degree in economics and management science. When I started, Dave Bertram, who raced for the Suzuki team, he was starting a very successful business called Cycle Gear. I asked him about being a successful person in business, and he told me he always regretted not giving racing a 100 percent focus for one year. He was always running his company and racing the same time, and really just doing 80 percent of both. So I took that advice and decided to give it one good year out of college, and I ended up getting second in the championship that year, which turned into an 18-year career. Looking back, I have no regrets. Watching these riders get better is very satisfying, so I don't think I left too soon. When Nathan first came to me he was getting close, he was getting fifths and sixths, and then after we started working together he won two GNCCs and a National Hare Scramble.
You were always known as the most wide-open rider on the tour. I didn't realize there was so much technique to riding like that!
Yeah. That's funny, you're right, that's just the riders' personality, and I'm learning everyone rides differently. I just really loved to race and really love to go fast and push it, and that was just my riding style and way to have fun, to be aggressive on a bike. But yeah, there are still techniques to everything, and we're really having fun on the website showing them.